It's always good to try a web hosting service before investing in it; this is one of the primary reasons why web hosting businesses offer a money-back guarantee.
While some web hosts legitimately provide a seamless refund policy, there are some hosts that do not stick to what they claim.
When asked for a refund, users might start experiencing slow response times by customer care. People who test and review web hosting services often experience a wide array of difficulties in getting a refund.
Bluehost is one of the prominent names in the web hosting industry. They offer a 30 days money-back guarantee with their hosting plans.
Let's explore more about the money-back guarantee offered by Bluehost and the terms and conditions involved in it. Here's presenting a review of the Refund Policy and Money-back Guarantee of Bluehost.
Does Bluehost have a money-back guarantee? What is it exactly?

Bluehost is a popular and reliable web hosting service provider with more than 2 million hosted websites.
Activate Bluehost Discount

What happens if you have purchased a Bluehost hosting plan and you want to cancel it after a few days?
If you are canceling the hosting plan within 30 days of your purchase, you can place a cancellation request. When the cancellation request is placed, Bluehost's refund policy is applicable.
After the entire process is completed by Bluehost, you will receive the money-back to the PayPal balance or credit card linked account.
However, Bluehost is against providing a refund after 30 days from the date of purchase. If you wish to cancel the hosting service purchased from Bluehost, you are eligible to receive a 100% refund only within the period of 30 days.
The Bluehost's refund policy was updated in 2017. Some of the changes that came into effect thereafter are mentioned below:
Bluehost web hosting accounts that were created before 4th January, 2017 were eligible to receive the prorated refund in the case of cancellation.
During this time, if you wanted to renew the account or if you wished to make amendments to the term or adjust the account in some ways, you would be eligible for a prorated refund.
The no refund policy is only applicable after 30 days to the new web hosting accounts created after 4th January, 2017.
What are the criteria to be eligible with Bluehost's refund policy?
Before requesting a refund, understand that there are some specific rules, limitations, and terms to follow. The rules/terms of the Bluehost refund policy are simple and easy. The eligibility for Bluehost Refund Policy includes:
You are only eligible for a refund if you cancel the account within the first 30 days of the date of purchase. The 30 days refund policy, however, shall not cover any additional services such as domain registration.
If you choose to cancel the account within 30 days, you would have a chance to register your domain name for free. Bluehost shall deduct a nominal charge of $15.99 as the non-refundable charge from the paid amount. This would not only cover the domain name registration cost but also ensures that you do not lose your website domain name. If you want to transfer the domain name to some other registrar or point the domain name to another web hosting service, you can do that.
If your website is involved in any kind of prohibited activities like illegal actions, hacking, confidentiality violation, breach of intellectual property rights, or other activities that go against the Bluehost policy, you are not eligible for a refund.
Once you complete the process of refund, the billing department will process your refund shortly. The refund amount is processed in the same way (through the same payment channel) in which the payment was made.
How to get money back from Bluehost?
Being one of the most trusted web hosting brands, Bluehost has always prioritized customer satisfaction. They give great importance to their services; and as a result, they have a 30-days money-back policy.
If at any given point of time, within the first to the 30th day of purchase, you are not satisfied with the services, or if you think that you can get a better hosting solution, or this is not exactly what you wanted, you can cancel the hosting account and request a refund.
Bluehost would respect your request and verify every detail of your hosting account before processing the refund. There are a few important things to consider when you want to get your money back:
You are only eligible for a refund if you cancel the account within 30 days of your purchase.
If you choose to cancel after those 30 days, you would only receive a partial refund.
Note that addon services such SEO tools or Sitelock Security, and free domain name registration are non-refundable.
Bluehost money-back guarantee is only applicable to hosting services on all addon services like SSL certificates and domain name registrations.
When you are looking for a hosting service, always remember that the refund policy is a decisive factor. You need to be careful right from the beginning so that you don't waste your money.
How to turn off auto-renewal on Bluehost?
Bluehost is definitely the most popular and cheapest web hosting company. You can purchase any of the hosting plans for setting up your blog or website. If you wish to close your hosting account for some time, you must disable its auto-renew billing.
Bluehost offers these plans under its shared hosting category. While the lowest plan is the "Basic" plan and the highest is the "Pro" plan.
Bloggers promote the Bluehost services to earn affiliate commissions. Do not overlook the available details mentioned below:
All the plans are on auto-renew billing.
The initial offer is only for 3 years of the contract term
The rate of renewal is approximately 300% more than the price offered initially.
Auto-renewal, however, becomes a major problem. For instance, if you don't cancel this feature for the Basic Plan, you would be paying $323.64. Although Bluehost sends reminder emails before billing, these emails are generally ignored by people.
To cancel Auto-renewal, get prepared. Bluehost charges at least 15 days before the date of expiry of the current plan. To avoid credit card billing, change the settings to manual renewal from auto-renewal. You may also disable the renewal function completely.
Login to the Bluehost account
Click on the profile icon and choose the option "Products"
Visit the "My Products" page that shows the products you purchased under Bluehost. Click on the "Renew" button.
On the next screen, you will see an option that says "renewal" that is selected by default. You may check the expiry date of the current plan and the billing date of auto-renewal.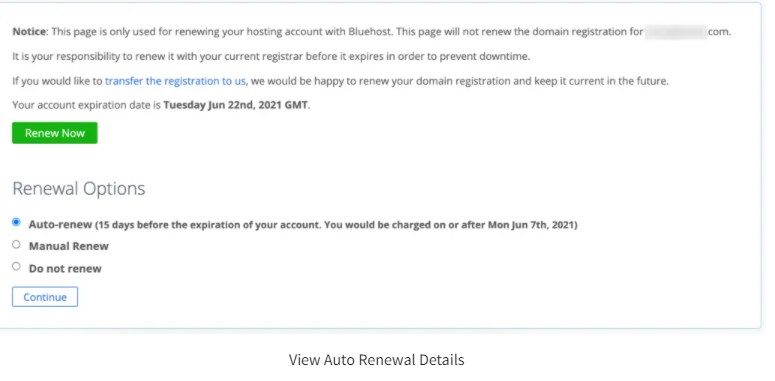 Choose the option, "Manual Renew" or "Do Not Renew" to cancel the auto-renew option.
When you opt for "Do Not Renew", Bluehost shows a pop-up with their customer care contact numbers. If interested, call the number and clarify the details.
If you are not interested in contacting customer care and you choose to cancel the auto-renew option, choose the next pop-up and mention a reason to cancel the billing process. You would see a long list of valid reasons, choose the appropriate one.
Bluehost then shows a warning pop-up that indicates that you should take care of the domain connected to the hosting plan. Click "OK" and confirm.
Finally, you can see that the current plan shows up with the expiry date. Bluehost sends an email to the registered email address.
NOTE: Remember, both 'manual renew' and the 'do not renew' options are kept the same till the time your current hosting package expires.
How to cancel Bluehost account?
Canceling a Bluehost account is straightforward. Bluehost guarantees its customers a seamless experience. They process the cancellation flawlessly without any stress on the customers' side.
You can simply request a cancellation and the refund policy by contacting the support staff over Bluehost live chat or help desk.
However, Bluehost does not have an auto cancellation feature. Therefore, you must talk to your account manager. Everything is possible through the live chat option, which is pretty simple. You will have to submit the cancellation request to the agent through live chat.
Once you make up your mind about cancellation, contact their customer support billing section. There are different channels for doing this:
Send an email to 

[email protected]

Call on their toll-free number (while having direct access to your Bluehost account).
Join the Live Chat and speak to their agent.
Before any of that, you must verify the ownership of the Bluehost account you wish to cancel. Once that is done, Bluehost will process the termination and consider your refund submission.
Bluehost refunds would be processed through the same channel that you've used for paying. If you have paid through Credit Card, funds would be transferred back to your Credit Card.
If you have used PayPal, you would receive a refund in your PayPal account.
Credit Card refund can take around 10 days depending on the bank.
PayPal refund requires 24 hours only.
Step 1: Visit Bluehost Website and Go To Live Chat
As there is no automatic cancellation option on the Bluehost website, you have to contact the support team. The only way to do this is to visit the website of your country and on the home page; you need to click on the 'chat' icon.
Step 2: Fill In Your Details
The chat window opens up instantly. Select your option as an 'Existing Customer' and fill in your details including the Domain name and click on 'NEXT'.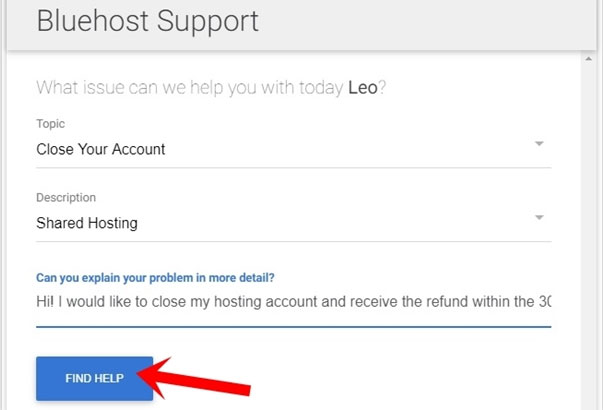 Select the 'Close your Account' option. Choose the 'Type of Hosting Plan' and type a short note with a request to cancel the hosting account and refund.
You can then click on the button 'FIND HELP' to initiate the Live Chat.
Now click on 'START CHAT' and you can start discussing with one of their customer care agents.
Step 3: Verify your Bluehost Account
Immediately, a representative initiates the chat and requests you to validate your Bluehost account.
You have to validate the account ownership with Email Token, after which you can proceed with the cancellation process and refund.
Once you provide the token received in your Inbox, the representative ensures that you have a backup of the website before canceling the hosting service.
Step 4: Confirm
Now all you have to do is confirm the account cancellation. The refund should be processed within 5 to 10 days.
To summarize, Bluehost refunds can be swift and easy with no counter questions. Honestly, this company has a reputation for having a customer-centric approach towards beginners. So, you are always safe with the Bluehost refund guarantee.
Can I Get a Refund on Bluehost Auto-Renewal?
Yes, you can, but with certain limitations. So, read the auto-renewal and cancellation policy carefully.
At times, the hosting account bill is automatically paid as the account is on auto-renewal and some users don't remember about this while canceling the account.
This is a very common situation and you have to pay attention to all the important aspects that affect the cancellation process.
In case you don't remember to cancel the hosting and if auto-renewal happens, you can still cancel it by contacting the customer support team. You can follow the process mentioned above for cancellation.
IMPORTANT: You can get your refund on the auto-renewal fee only if you contact the support within the first 15 days of the renewal billing date.
Conclusion
One of the major problems with Bluehost is its high price of renewal. There are other shared hosting service provides like DreamHost that offer a complete refund if the plan is canceled within 97 days of activating the account. This applies to monthly as well as annual plans.
However, Bluehost Refund Policy and Money Back Guarantee do not consist of any hidden fees or commitments, which is a positive sign.
You are free to use their service or cancel the service depending on your priorities and needs. Before you take any action with your Bluehost hosting account, make sure to understand different sections about refund and money back policy, terms, and conditions, and then make your decision.
You have to decide whether you want the service or not, or you want to try it for some time just to make up your mind. Do not exceed 30 days, as you would not get your refund in that case.
Claim Bluehost Discount

With more than 2 million happy users worldwide, Bluehost is an exceptional web host that offers robust hosting solutions for small businesses and prompt customer care services.
When you choose a hosting solution, you should always know what you can do and what options you have before moving ahead.
Build a schedule for the new website and choose the best web hosting platform that enables you to progress. It would ensure you have a robust foundation to sustain through competition and succeed.
If you want to add to the information mentioned in this review or if you want to provide more information on the Bluehost money-back guarantee, you can put up your views in the comments section below.