Are you looking for an inexpensive and cheap German dedicated server to utilize instead of a VPS? Well, that's what we are going to talk about in this guide. You will have to keep a few things in mind.
Although a few good companies are offering affordable servers, not all of them are reliable. So, you need to do your due diligence before setting up your server in Germany.
Thinking it is a hectic task? Don't worry at all, we have already done the research and collected a list of almost 7 reliable servers with locations in Germany.
Let's get started.
7 Cheap German Dedicated Servers
You need to make sure to go through the entire description as we have covered everything you need to know.
1. Hetzner (Best price)
Hetzner is an amazing German inexpensive dedicated server provider with data center locations in Nuremberg and Falkenstein. With the headquarters located in Deutschland, the company has been in the industry since 1997.
Their dedicated servers start at a very low rate. The base plan has enough specs to deploy your web-app with support for adding extra resources. They provide complete configuration options. Users can even add a USB stick to their servers.
By default, the price is at a minimum. If you want advanced servers, you can add an NVME drive, ECC RAM, etc. For the same reason, most of the dedicated servers aren't provided instantly.
You will have to wait a few minutes to several days to get your server up and running.
Hetzner provides multiple OS support including Windows and many distros of Linux. It allows users to configure the software as needed. You can add your preferred control panel to manage the server.
The biggest drawback of Hetzner is their support as replies are too slow and might take days to solve in case of issues. You are pretty much on your own. However, the good part is that their servers are fully controllable.
So, with a bit of tech knowledge, you can solve the issue.
If you want an even cheaper rate with instant delivery, you can go with their auctioned servers. These are servers that were already in use but abandoned for some reason. They install a rescue system for your delivery.
Unfortunately, these servers are not configurable.
Starting price: €44.40/m ($49.26/m) for a new server.
Specs of Cheapest Plan:
CPU: 6 cores 12 threads at 3.6 GHz(AMD Ryzen™ 5 3600)
RAM: 64 GB DDR4
Storage: 2 x 2 TB SATA HDD (2 extra NVME, SATA, or HDD slots)
Bandwidth: 1 GBit uplink with unlimited traffic.
Visit Hetzner

2. Contabo (Best specs)
It's impossible to forget about Contabo when we talk about cheap Germany dedicated servers. They have 5 German data center locations including Frankfurt, Munich, and Nuremberg.
However, keep in mind that you can only pick "Germany" and not the main data center location.
Contabo is a well known company established since 2003 offering cheap rates and high-spec configurable servers. You can add a higher uplink as the server is easily configurable to get more bandwidth and more storage.
Contabo is great even if you want to host a video streaming site. Extra GPU can be added for better graphics support. For OS, they have all Linux and Windows versions available. If you want to install an OS that's not available, you can bring your ISO file and upload it.
They support multiple control panels. If you don't want to manage the technical part, you can get the server management addon. Their human support is somewhat average. So, you should try to add scripts and customize the software accordingly.
Regarding performance, it is not quite good enough as their hardware is not capable. In price, it is worth going with Contabo. They have AMD and Intel processors available at a cheap rate.
In case of a plan with less than 12-month billing, they ask for a setup fee.
Starting price: $134.99 / month
Specs of cheapest plan
CPU: 10 x 2.20 GHz (Intel Xeon E5 2630v4)
RAM: 256 GB REG ECC
Storage: 480 GB NVMe
Bandwidth: 1 GBit uplink with 32 TB in & unlimited out traffic
Visit Contabo

3. Vultr
Vultr is a cloud platform with servers all around the globe including Germany. The data centers are in Frankfurt. If you are looking for the most simplified and user-interactive panel, you will love Vultr. It comes with a mobile-friendly UI which is rare.
It's good for beginners as you can install any OS you want. They even support ISO upload. You can select your preferred control panel. To set up or deploy popular apps, their marketplace will help you in installing the apps with just a few clicks.
Coming to the performance part, Vultr Guarantees 100% SLA uptime. The hardware is amazing, offering both Intel and AMD processors. To improve performance, they have an Nvidia GPU.
The base plans have SSDs and higher plans allow storage types such as NVMe.
Vultr offers many dedicated servers with up to 25 Gbps bandwidth and 128 cores. Therefore, people with big sites or web-apps often prefer Vultr. You can start small and go as big as you want. The support can be lousy sometimes. Overall, the response is average.
If you already have a network at your premise, you can use their Vultr Direct Connect. It allows you to connect Vultr Cloud to your current network.
Lastly, the pricing starts at an affordable rate. The good part is that you can pay by the hour. So, no need to make long-term contracts. You get better discounts with plans of longer duration years.
However, it's recommended not to go with higher plans as Vultr sometimes charges without consent. There are multiple negative reviews regarding the same.
Starting price: $120/month
Specs of cheapest plan
CPU: 4 cores / 8 threads @ 3.8GHz (Intel E3-1270)
RAM: 32 GB
Storage: 2 x 240 GB SSD
Bandwidth: 5 TB at 10 Gbps
Visit Vultr

4. OVHCloud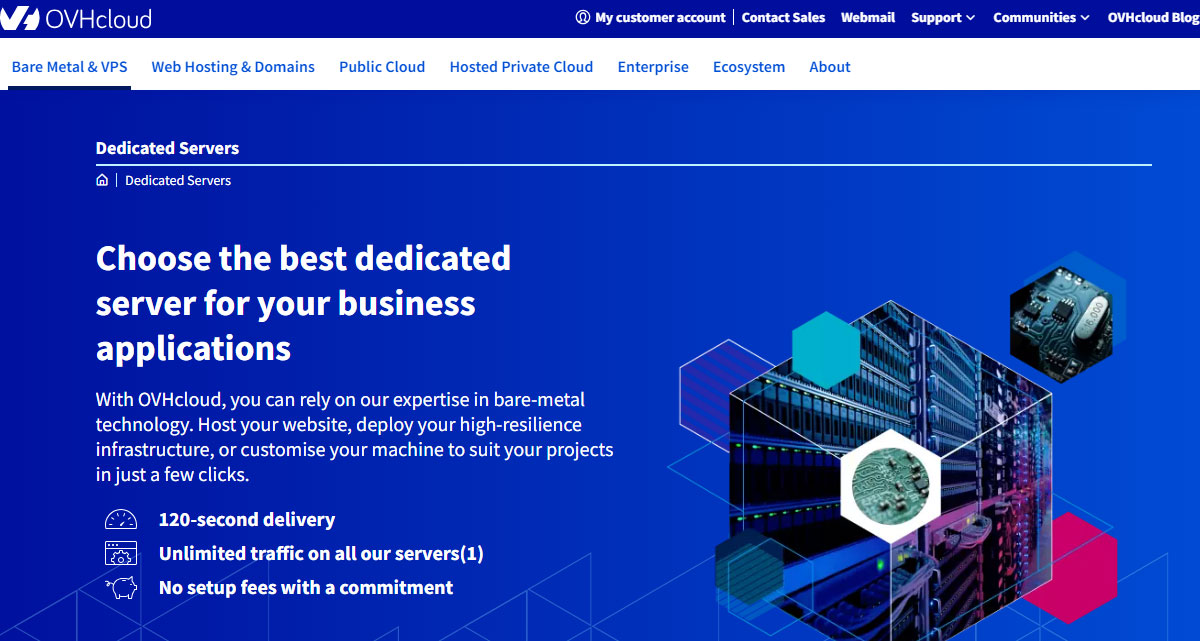 OVHCloud has a data center in Frankfurt, Germany. They offer multiple types of servers. Their German-based Rise dedicated servers are cheap yet offer 99.9% uptime.
For better gaming performance, you can go with advance, scale, high-grade, storage, or dedicated servers.
You can use OVH for every use case. Usually, people use it for VPNs, game servers, and resource-intensive apps. Rise is recommended if you are looking for a shift from VPS to dedicated servers. Other than that, you should at least prefer advanced servers.
They offer AMD or Intel processors and selection of preferable configurable servers. The available storages are SSD NVMe and HDD SATA. The base plans don't have private bandwidth whereas advanced servers have it.
OVHCloud has unlimited traffic for all servers.
The security is excellent. DDoS protection is included for all the servers. If you want better performance, it's recommended to get private bandwidth. You will get your server setup within 2 minutes of your order.
Their support is the worst. They have a premium support (starting at $56/month) option where you will have to pay extra and even that is for non-critical environments. You will have to go with 12-month support.
However, there is no commitment required for dedicated servers.
Starting price: $44.51 per month
Specs of cheapest plan (Rise Game 1)
CPU: 6 cores 12 threads (AMD Ryzen 5 3600X at 3.8 GHz/4.4 GHz)
RAM: 32GB DDR4 ECC 2666MHz
Storage: 2× 500GB SSD NVMe
Bandwidth: Unlimited traffic at 250 Mbps public bandwidth
Visit OVHCloud

5. Ultahost
With the servers located in Frankfurt, Ultahost is a managed cheap German dedicated server with 24/7 support as well. Till now, most of the dedicated hosting providers had bad support or premium support, that's not the case with Ultahost.
It's a managed host which allows benefits like automated backups, unlimited app installation, regular security patching, 24/7 real-time monitoring, etc.
The servers  are auto-healing capable. So, if there are any technical issues, your data is migrated to the working node. You don't need to worry at all as they also provide 99.99% service uptime.
Their optimized server will make your web app even faster.
The servers are HTTP/2 enabled and have Bitninja security with anti-DDoS protection. For OS, they support Linux, Windows, and custom ISO. Further, you can choose your preferred control panel.
Already have a license for a control panel? you can use it here.
Customizing a server allows you to add additional storage, RAM, SSL, and even a GPU. Want to migrate your servers? They offer free hosting migration in case you already have hosting. Their team management feature will help give proper permissions to your team.
Overall, Ultahost is the best yet cheap German-based dedicated server to go with. There are fewer cons which are not important for most users.
For instance, it lacks IPv6. Apart from that, the port speed is quite limited. It starts with 1 Gbps which is decent. However, even the advanced plans have 2 Gbps which can be a bit disappointing as Ultahost has constantly exceeded all expectations.
Starting price: $129.90 per month
Specs of cheapest plan
CPU: 6 core 12 threads (Intel Xeon at 2.80-3.20GHz)
RAM: 64 GB RAM
Storage: 2 x 960GB SSD
Bandwidth: Unlimited traffic at 1 GB Port Speed
Visit Ultahost

6. HostArmada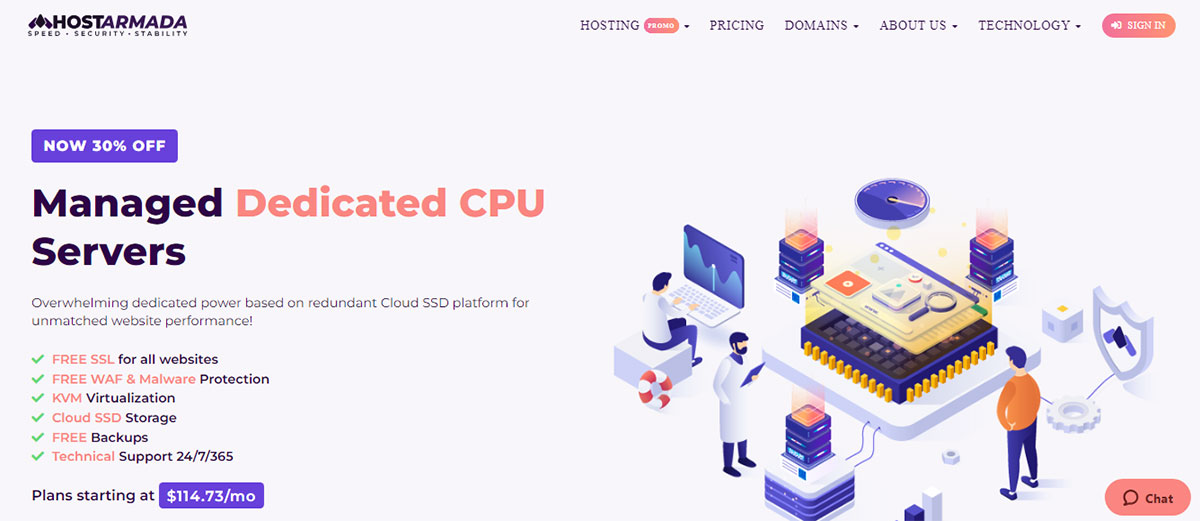 HostArmda has servers located in Frankfurt. If you have concerns regarding the security of your server, you should go with HostArmda. It's a managed server. So, you can leave the technical stuff to the team.
You will also get 24/7 technical support from the team if you face any issues with the server. The server is monitored 24/7 and sends you a notification in case of any issues. The support also helps you with hacked websites.
This is why it's the best server if you want security.
Without a doubt, you will get concrete security with their WAF and IP Firewall. It includes malware scans and removal as well. You will get free backups and free SSL certificates for all your websites. The server uses KVM virtualization and is powered by Ngnix.
The server doesn't have high-spec but still comes at a high rate. So, it's expensive for many people. With amazing security, you can rely on the server. Talking about the performance, you will get a 99.9% uptime guarantee.
When you want to host a web app, it's not just about the root access. You also need to have the best UI to manage it. Well, you will be amazed to see the interactive user-friendly UI here.
It's safe to say apart from pricing, everything is worth it. Therefore, if you are fine with the pricing of HostArmada, it's a great managed dedicated German server to host your site.
Please note that they only have 3 plans but you can contact them if you want to have a higher-spec server.
The customer reviews are top-rated. If you already have servers in other hosts, HostArmdada provides free host migration. They don't have a private port. The total speed for all the data centers is 7 Gbps+ (network out).
Starting price: $114.73/mo
Specs of cheapest plan
CPU: 4-core CPU
RAM: 8 GB RAM
Storage: 160 GB SSD
Bandwidth: 5 TB (no specific port speed)
Visit HostArmada

7. IONOS

IONOS has 2 data centers in South and North Germany in Frankfurt and Berlin. You can choose from any of these data centers. These data centers are operated by reputed Equinix and United Internet AG respectively.
So, you can rely on the server.
They have an advanced firewall to protect you from all the attackers. The API and cloud integration make it easier to distribute your load across various servers.
This is great when you scale up your server and start getting more traffic and need new resources.
Although, you don't need to worry about the traffic as you are getting unlimited traffic. However, other specs are quite limited.
The host offers a cheap dedicated server located in Germany having AMD and Intel processors. AMD processors are of Ryzen and EPYC, and Intel processors are of Xeon. For the base plan, you will get an HDD by default. You can go with NVMe SSD if required.
Talking about their operating system support, they don't offer ISO support and allow only Windows. You can add your desired panel from the options given.
If you need extra space, you can either add backup space during checkout or go with their storage dedicated servers.
The support wasn't good a few years back. However, we have seen a significant increase in the quality of support. Therefore, it's worth going with IONOS if you want to start cheap. Their servers start at a very low rate.
Additionally, they have a pay-as-you-go model. In simple words, you will only pay when you use the server. The rest isn't billed.
Starting price: $70/month (billed hourly)
Specs of cheapest plan
CPU: 6 core 12 threads with 3.6 to 4.2 GHz (AMD Ryzen™ 5 PRO 3600)
RAM: 32 GB DDR4 ECC RAM
Storage: 1000 GB HDD (2 slots)
Bandwidth: Unlimited traffic at 1 Gbit/s
Visit IONOS

Factors to consider before buying a German Dedicated Server
You can always see the features they provide and what are the freebies included. For instance, Ultahost provides the following things.

In the same way, keep following key points in your mind regarding dedicated servers before placing an order.
Data Center Location
As you are looking for a dedicated server which is both cheap and German-based, it goes without saying that data center location is important. You can also consider city names if you have a highly targeted audience.
Performance Requirements
Performance is a mandatory part of any dedicated server. So, you should see the CPU (cores and type), bandwidth, RAM, and even storage of the server. You can see storage and RAM types as well.
24/7 Support and Customer Service
Customer service is important if you are looking for a cheap dedicated server in Germany. As cheap servers usually lack support.
Backups and Data Redundancy
Usually, backups are paid as the companies offering affordable German servers are working on cost-cutting.
Connection Speed
Look for at least 1 Gbps. Further, you can see if they offer extra uplink as a paid add-on. Also, see the incoming and outgoing traffic limit per month.
Scalability
You can see if the server has enough add-ons and if there are enough plans to suit your needs in the future.
Conclusion
You can choose the one that suits your requirements. Make sure to keep in mind the price, specs, support, and performance. If you are still confused, here are the three best German dedicated servers depending on your requirements.
Ultahost is the overall best recommendation in our list due to its solid performance, great customer support, superb server specs, and good pricing. It's a nicely put together package without many compromises.
Best price: Hetzner
Best specs: Contabo
Best overall: Ultahost (Managed host)