Are you looking for cheap HyperV VPS hosting to deploy and run resource-intensive apps on Windows? We got the best ones curated for you.
HyperV virtualization is perfect for you if you are planning to run big apps with large databases. Compared to other virtualization, Microsoft's Hyper-V provides a reliable and optimal performance to run such apps on Windows.
Let's see some of the best options for you that provide Hyper-v as virtualization.
Cheap Hyperv VPS hosting
We have also listed key features of the host to make your selection process easier.
1. InterServer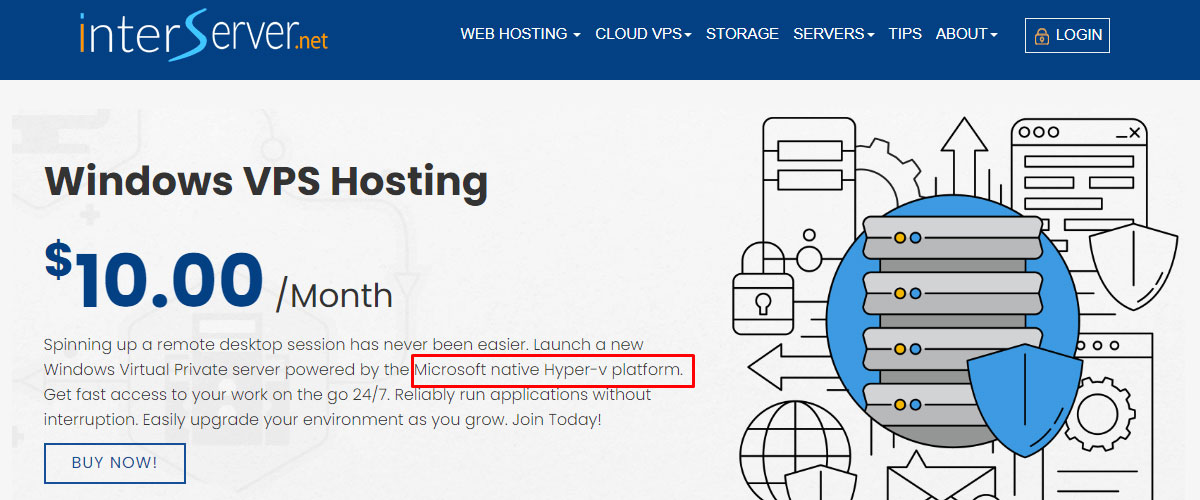 InterServer offers cheap Hyperv VPS hosting on the latest version of Windows (Server 2022). It's powered by the native Windows Hyper-V platform. The fully scalable server supports up to 16 cores.
The scalability is huge as they have 16 plans. So, you can upgrade gradually without a steep increase in your expense.
They use SSDs for storage which increases the speed. If you are looking to manage the server better, you can also add a Plesk control panel here. The resources are dedicated. Therefore, you don't need to worry about noisy neighbors.
They have been in the industry for more than 20 years.
If you face any issues, you will get quick support from their team whenever you need it. The live chat is also available for your help. InterServer provides all the necessary features such as Windows remote desktop, security, and flexible resources. You will get full control over the server.
So, you are free to install any other apps/scripts you want without any restrictions. As to the pricing, it remains the same at the renewal.
Starting price: $10 a month.
Key features of InterServer
Windows Remote desktop.
You will get the latest version of the Windows server.
High-end security for your servers.
Flexible and dedicated resources.
24/7 monitoring of your server.
Visit InterServer

2. Accuweb Hosting (Cheap HyperV VPS hosting)

Coming next we have Accuweb Hosting. They have been in the industry for more than 19 years and offer feature-pack Windows hosting with HyperV. The base plan has Windows 2012 OS whereas the rest of the plans come with the 2016/2019 version. It supports Windows RDP.
The server is fully scalable and offers more than 16 locations to try on. You will also get a 10 Gbps port.
You can either go with the free trial of 1 month or you can benefit from a monthly discount. We would recommend going with the annual plan instead of the free trial. With the annual plan, you can ask for a refund within 7 days if you face any problems.
You can get the server with a self-managed option or they even have managed servers. Further, you will get a Plesk panel on the servers.
Starting price: $6.99 per month (renews at $12.72) or $101.99 annually (renews at $119.88).
Key features of Accuweb Hosting
Remote desktop access with full control over the server.
RDP CALs license to use 2 RDP connections simultaneously.
Plesk control panel for managing the server.
IIS 8 for Windows 2012 and IIS 10 for Windows 2016/2019.
Tech support is available 24/7.
Visit Accuweb Hosting

3. VPSDime
Looking for ECC RAM, SSD storage, and 10 Gbps port speed? VPSDime offers cheap HyperV VPS hosting with similar features. The license cost is included in the plan. You will get Windows server 2019. The OS installation is vanilla and unoptimized. However, as they offer excellent CPU specs, you will get optimal performance.
On the positive side, you will get full access to the system. The control panel is super-easy to use and comes with all the features. You can upgrade/downgrade your plan directly from the panel itself.
Talking about access, you can also use it as a remote office. Along with dedicated resources and amazing in-house automation, the speed increases. Not only have multiple plans to upgrade or downgrade your HyperV server but you can also add extra bandwidth without upgrading the plan.
You can go with any billing cycle, the cost will remain the same. They have a 72-hour money-back guarantee. They have servers in the US and Europe. However, if you want servers in Europe, you will have to pay extra.
Starting price: $15 a month
Key features of VPSDime
Remote desktop to use from anywhere.
Enterprise-level SSD storage.
Windows 2019 licensed.
Amazing support with 15 minutes of response time.
99% power and network uptime SLA.
Visit VPSDime

4. Contabo (High-specs HyperV)
Contabo is a cheap Hypervisor with high specs. If your script needs more resources such as CPU cores, memory, and storage to run, Contabo provides the resources you need at a very affordable rate.
They have multiple types of pre-configured servers you can use. For instance, you can get one for trading or gaming.
You can choose any version of Windows starting from Windows 2012 R2 to 2022. So, it will be easier for you to choose. There is a small cost you will have to pay for license fees. We have included that in our starting price section.
You will get a remote desktop with complete control and security. The servers are located in multiple regions (5 locations). However, only Germany is free, you will have to pay for US, Asia, and UK server locations.
Starting price: $15.78 per month (Windows license cost starts at $7.29 per month)
Key features of Contabo
Scalable server with up to 32 cores.
Multiple heavy usage servers.
The servers are optimized for Windows.
DevOps features for developers.
Upgraded HyperV manager with enhanced security.
Visit Contabo

5. Vultr
Vultr is an excellent Windows server. By default, it comes with no virtualization. However, if you are looking for cheap HyperV VPS hosting, you can install Hyper-V tools that give the same remote access as HyperV technology.
It's easy to install and only takes a minute or two.
You can deploy your servers in a few seconds. They allow you to install Windows Server 2012, 2016, 2019, and 2022 directly from the checkout. There is a small license fee that you will have to pay.
Additionally, it comes with 100% SLA. It comes with 100% Intel cores as well.
To install any apps, you can use their 1-click install from the marketplace. With their high-performing IP network and 27 data center locations, you will get optimal speed. The security measures are also of the highest grade. You will get native DDoS mitigation.
Additionally, they have a mobile-friendly control panel that is a beginner as well as developer friendly.
Starting price: $10 per month, $14 license fee.

Key features of Vultr
Powerful API to automate.
Custom ISO is supported with all versions of Windows.
Remote desktop access can be added.
Easy to use control panel.
Team management and single sign-on
Visit Vultr

Hosting Requirements for Hyper-V VPS
Your hosting requirements will depend on the type of web app you want to host and the total workload. You can always start with low resources and scale up when needed.
Processor (CPU)
12 cores are enough to run a server. To get better performance, you can also increase RAM and storage to decrease CPU utilization. Lastly, you can also have more cores and divide them using virtual machines.
Memory (RAM)
It's recommended to have a bit more RAM than required. So, if you need to use 2 VMs at 16 GB RAM, you can always get 34 GB RAM.
Storage
Hyper V server or Windows server core with Hyper-V takes roughly 12 GB of storage. It's always better to go with 40 GB or more (60 GB would be good) partition as you will keep growing with all the updates.
Ideally, you should have one large SSD array and then you can add a partition for Hyper-V as well as a new individual partition for all your VMs.
Scalability
You will add more VMs as you go. So, make sure that the hosting provider allows you to do the same.
Conclusion
You can always start with small resources and scale up your server as needed. Depending on your workload, you can choose the best HyperV VPS hosting. We recommend you check the version of Windows and the renewal price.
To summarize, here are some of the best choices:
Best overall: Accuweb Hosting
Best price: InterServer (renewal price also considered)
Best performance: Vultr
FAQ
What is Hyper-V VPS?
Hyper-V is a hypervisor-based technology. The servers that use HyperV for virtualization are called Hyper-V VPS.
How much RAM do I need for the Hyper-V host?
You will need a minimum of 4 GB RAM for Hyper-V.
What are the disadvantages of Hyper-V?
If the primary OS crashes, it will crash all the other virtual machines. This is the biggest disadvantage of HyperV.