Want a cheap Windows VPS which can be deployed in no time? Well, your research efforts are over. We are here with a list of cheap Windows VPS with instant setup.
These providers come with various versions of Windows. We have curated the list keeping in mind server management, scalability, price, features, and a lot more.
With this, you will get the perfect VPS for your web app.
7 Cheap windows VPS instant setup
We will now see the best VPS hosting providers you can go with.
1. InterServer (Best Windows VPS)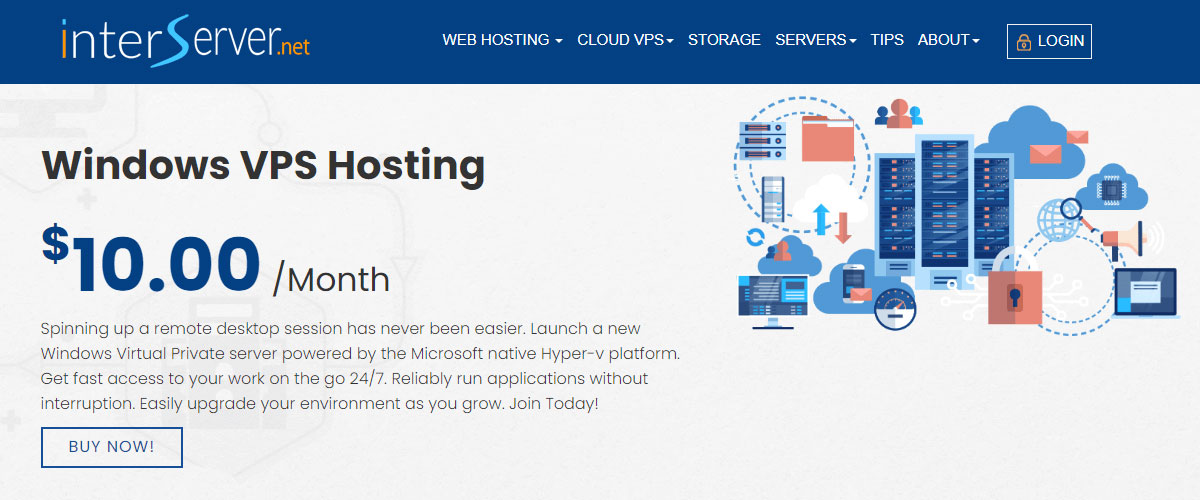 When it comes to cheap Windows VPS instant setup servers, InterServer tops the competition. You can install Windows 10 instantly. They also have Windows servers 2016 and 2019.
You will get dedicated resources. They use Hyper V virtualization. It's native virtualization by Microsoft. Further, they have multiple plans you can choose from.
The base plan starts with 1 core and the best plan can go up to 16 cores. So, you will not have issues scaling up the server.
InterServer also has a remote desktop. With that, you can host any type of server you want including game server, currency mining, trading, etc.
If you are planning on hosting something similar, you will need a good panel to manage them.
Here, you can also add a Plesk control panel for the same. Coming to the Plesk panel has a feature that allows you to test your website with AI. It has AI-powered regression testing.
It includes basic features like backups, cloning, etc. It will cost you extra to get a Plesk panel.
It's one of the cheapest Windows VPS available on the market.
Starting price: $10 per month (no extra cost for Windows).
Features of InterServer
Windows Remote Desktop.
Windows 10, Windows server 2016, and Windows server 2019.
24/7 support for Windows
High-end security to keep VPS secure.
Root access to the server.
Visit InterServer

2. Vultr
Vultr is a Windows cloud platform to host your favorite web apps. It's known for a huge number of OS combinations. You can choose from any Windows server including Windows server 2012 (R2), 2016, 2019, and 2022.
If you want to get core Windows, you can choose from 2016, 2019, and 2022. Looking for an OS that's not on the list? You can also upload your custom ISO.
As it's a cloud server, you can easily scale up as you go. They have more than 25 locations to host your server. The servers are blazing fast for all the locations.
Vultr uses 100% Intel servers. So, it's reliable as well. For the same reason, they give 100% SLA.
Their one-click deployment is the best part. You can create cloud instances instantly. They allow you to have full control over the instance. So, you can add more or delete existing ones with ease.
It's great for every use such as SaaS, game server, and even for a video streaming web app.
The advanced networking ensures optimal performance for the server. Overall, it's a great choice to start and scale up as you grow.
Starting price: The base price is $10 a month, license price starts from $14 a month.
Features of Vultr
Multiple Windows versions to select from.
Custom ISO Supported.
Intuitive control panel for easy management.
Marketplace to install apps in one click.
Powerful API for automation.
Visit Vultr

3. Kamatera
Kamatera provides a wide range of OS combinations. You can either go with the Windows server of your choice from 2012 to 2022 or you can also go with Windows 8.1 and 10. Windows servers have standard versions as well as data center versions.
So, you can choose your favorite OS at the time of installation.
Coming to the deployment, your server will be ready in less than 60 seconds. They have 99.95% uptime. You can choose from various types of servers such as storage optimized, general purpose, availability, etc.
They also allow you to customize the server as per your need.
One of the best features of Kamatera is the OS add-ons. There are many add-ons for your OS. You will find almost all the add-ons that you will require including database add-ons, panels, apps, etc.
We will talk more about it in the features section.
You can scale up your server however you want. They allow you to add individual resources as well. There is no single point of failure. So, you can rely on the server for your high-end projects.
To manage the server, you will get easy to use console and API.
Starting price: If you include a Windows license, the pricing starts at $15.
Features of Kamatera
Windows Remote Desktop addon (TS and user).
Microsoft Office and SQL server add-ons.
Plesk and cPanel addons.
Unlimited 40 Gbit/s bandwidth.
Dedicated resources with instant scaling.
Visit Kamatera

4. Time4VPS (Best for Europe)
Looking for a cheap Windows VPS instant setup in Europe? You should check out the hosting provider known as the heart of Europe. Time4VPS operates from Lithuania and serves a global audience with reliable KVM VPS.
You can install Windows 2016, 2019, or 2022 on the server. The cost of the first invoice is less, the rates will increase at the time of renewal. You can't add individual resources. However, they have multiple plans to get started with.
On the positive side, a Windows license is included for free. The price decreases further if you go with the annual billing term. Yes, they have flexible billing and also allow you to pay monthly.
They have Intel Xeon Gold processors. You will get a 99.98% uptime guarantee. Along with instant setup for Windows, they also have assistance on demand for Windows VPS. The team will help you with the installation for free.
If you are facing issues after installation, you can contact their support at any time.
Starting price: €4.58 ($4.54) per month for annual billing (renews at €9.16/$9.09 per month).
Features of Time4VPS
Free Windows license
Plesk Web Pro panel addon is available.
Init scripts to automate installation (fast and easy setup).
1 Gbps port can be added as optional.
Technical assistance is available.
Visit Time4VPS

5. OVHCloud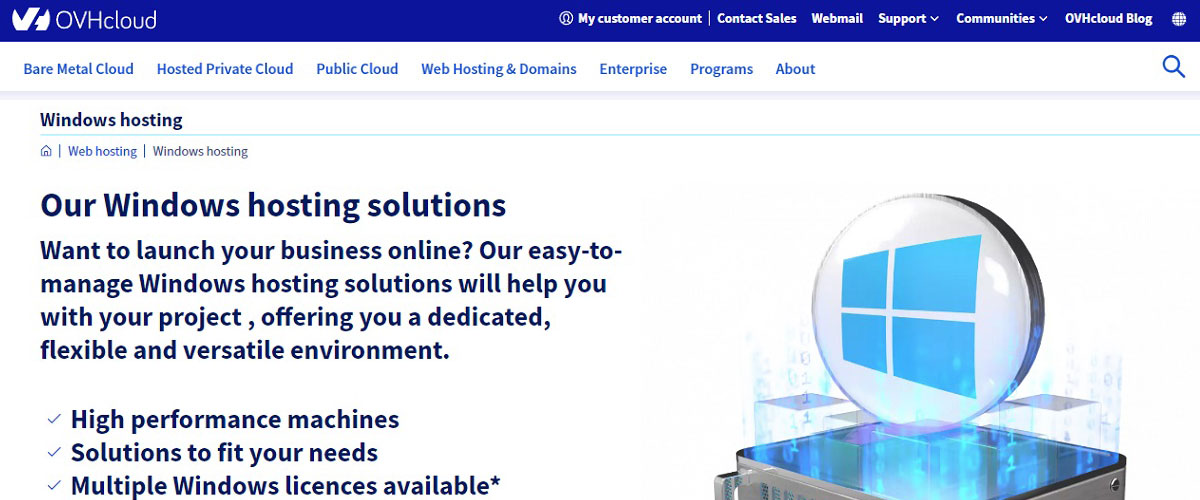 OVH is a secure cloud hosting for Windows. They allow you to install Windows 2016 and 2019 (Datacenter). It's highly recommended if you are looking for an advanced cloud to host an AI app or resource-intense project.
They have a server monitoring feature that monitors the resources.
If you're facing any issues, you can contact their 24/7 support team.
They use KVM for virtualization. So, the resources are isolated from others giving you optimal performance. You will get complete root access to the server. You can add a few individual resources such as storage. However, for others, you will have to upgrade the plan.
OVHCloud increases the uplink and cores as you upgrade. So, you will get the perfect amount of resources as per your need.  They have a fantastic support team to help you out whenever you need it.
The Windows hosting page says they have a Plesk panel. However, you will only get it for Debian. They might soon add it for other OS too. As of now, there are fewer apps you can install at the time of installation.
They have 8 locations available for Windows servers. They use secure and reliable hardware for all of these data centers.
Starting price: $4.75 a month for 12-month billing, Windows license starts at $6.
Features of OVHCloud
Affordable Windows data center license.
Unmetered bandwidth.
Server monitoring and intervention.
Highly scalable server.
Free DDos Protection.
Visit OVHCloud

6. AccuwebHosting
AccuwebHosting has been in the industry for more than 19 years now. They offer affordable Windows VPS solutions. For the base plan, you only have one option to go with Windows 2012 R2. For other plans, you can select 2016 and 2019.
You will get RDP access in all the plans. It's limited to 2 concurrent connections (RAC). For more connections, you will have to get licenses. They use Hyper V virtualization. The connection speed is 1 Gbps.
You will get a free control panel to manage your server. If you are looking for something more reliable, you can also install the Plesk panel.
They use IIS 10 for Windows 2016 and 2019. For 2012, they use IIS 8. You will get complete technical support for all the apps. The Windows VPS will not only deploy quickly but you will also get complete access to the root.
They have almost no restrictions giving you full permission to install and deploy any web app of your choice.
You will get managed support as well. Free support is also available. They have 11 minutes of average ticket response time. So, you will get the answer in a few minutes.
You can also contact their live chat which usually replies within a few seconds.
Starting price: $6.99, renews at $9.99.
Features of AccuwebHosting
IIS and RDP support.
Free MySQL support.
Windows Firewall.
Plesk is available for the addon.
Regular audit.
Visit Accuweb Hosting

#Bonus# – Contabo (Setup time within a few hours)
Love the build quality of Europe but want to host your server in the US or other locations? Contabo is right for you. It comes with German-quality hardware and offers high specs Windows VPS with almost instant deployment.
You can choose from Windows datacenter 2012 (R2), 2016, 2019, and 2022. Their Windows license is cheap. Their base plan starts at 4 virtual cores and can go up to 10 virtual cores. Therefore, you can host any project here.
Some Windows web apps will require more cores, RAM, and storage to run smoothly, Contabo fulfills this requirement.
Further, they have multiple add-ons you can add. For instance, you can use a management addon if you don't want to manage the server on your own. However, managing your server won't be hard as they provide an easy web interface.
You can also add your favorite control panel.
They use KVM and Proxmox for virtualization. You can select NVMe SSD for better read/write speed on your server. Further, they also have unlimited incoming traffic. The outgoing traffic is capped at 32 TB.
Starting price: The plan starts at $6.99 which goes to $15.99 when you add a Windows license + a one-time setup fee of $6.99.
Features of Contabo
DevOps features such as cloud-init, API, etc.
Plesk Panel is available as an add-on.
Multiple Windows data center versions, and Custom ISO support.
Fast NVMe storage.
Awesome security.
Visit Contabo

Buying guide for Windows VPS
We will now see a few things you can keep in mind when you are planning to buy Windows VPS. You can keep in mind these factors before buying your VPS.
Account setup time
Windows license usually takes more time. Therefore, people are looking for Windows VPS with an instant setup. The ones we mentioned will take less than 60 seconds for the complete setup of your account.
If you are still unsure, you can contact the support team.
Windows license type
You need to see which version of Windows is provided. Please note that the license charges will increase as you go with higher plans.
Server management
You need to see if the server is managed or self-managed. You can also see if they provide any panel to manage the server. The Plesk panel will be available as an add-on. Along with this, most hosts also provide a free control panel to manage your server.
Conclusion
These are some of the Windows VPS providers where you can get your server in no time. You can choose the best one depending on your requirements.
If you are a beginner, you need to focus more on price and server management whereas if you are hosting a growing web app, you should emphasize features and scalability.
Here are our top 3 picks depending on your requirements.
Best Price: InterServer
Best Specs: Kamatera
Best for Europe: Time4VPS
FAQ
What is a Windows VPS?
Windows VPS comes with Windows OS compatibility. Most of these servers allow you to install Windows with one click and have an integrated license for Windows.
Will my Windows VPS require Windows Updates?
The hosting provider will automatically install Windows security updates.
How can I get free VPS for Windows?
You can try out hosting providers that offer free trials. There are no fully free VPS for Windows.