If you want your visitors to have faster access to the data, you should favor NVMe SSDs instead of regular drives. It increases the speed between the storage system and server, allowing your users to access your web app at a better speed.
When it comes to NVMe servers, I have used Vultr and Cloudways. Without a doubt, both of them are excellent choices for everyone.
However, this list is not just about the two best servers to choose from. You'll find in this article a list of the cheapest NVMe cloud server providers listed below.
Let's have a glance at the two servers we mentioned and then we will begin the list.
For Beginners: Cloudways is the best option as it's a managed hosting.
For experienced system administrators: Vultr is something that you will love. It's unmanaged hosting preferable for people who can handle the server.
Want to know more about them? Let's start the list. There are three parts, the first one is about cloud servers and then we will see cheap VPS too. We have also listed 2 shared NVMe hosting providers.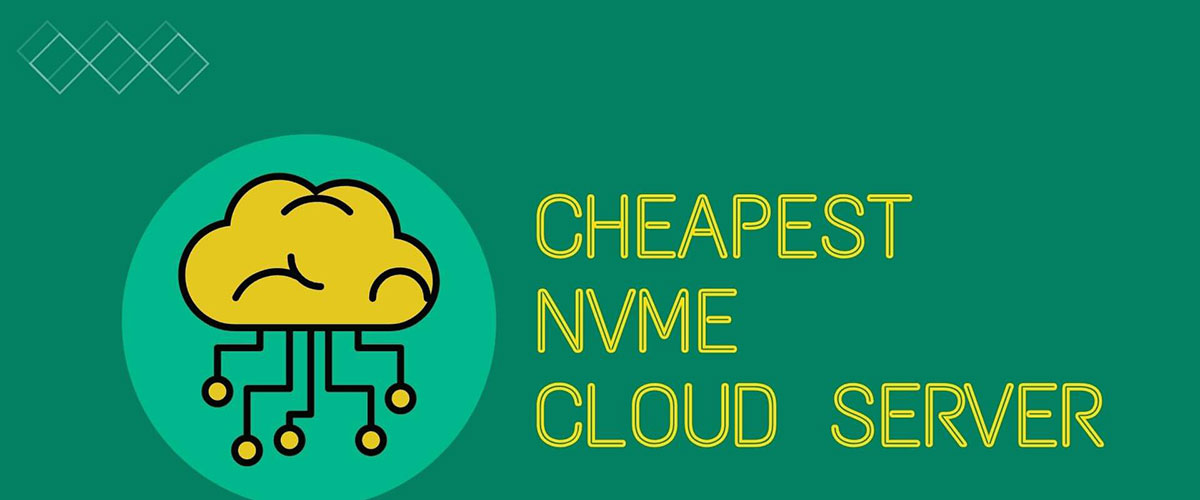 Top 5 Cheapest NVMe cloud server hosting
We will begin with the NVMe cloud servers. These are the five best servers you can choose from.
Cloud servers are preferable when you want to scale up fast and want more resources. The list includes managed as well as unmanaged cloud NVMe servers.
#1 Vultr
Vultr is the best cloud infrastructure with NVMe local storage. It's perfect for anyone who has low-budget and wants to scale up as they go further. In Vultr, the base plan starts at a very cheap rate and it also has enough features. Along with this, you can scale up to a huge extent.
For NVMe, you should go with high-frequency cloud instances. It comes with 100% SSD with global data centers. Deploying your app is super easy with Vultr as it has an easy-to-use control panel. They also have an amazing support team.
Locations
There is a total of 23 locations worldwide. The servers are present in North America, South America, Europe, Asia, and Australia. North America and Europe have a maximum number of locations here. They use KVM-virtualization to provide the same speed everywhere. So, you can choose any of these.
Pricing and Specs
Starting price: $6 per month
Type: Unmanaged cloud
Storage: 32 to 768 GB NVMe
RAM: 1 to 48 GB
CPU: 1 to 12 cores
Bandwidth: 1 to 8 TB
Best Features
Private fast network with 100% SLA.
Huge support for OS including custom ISO files.
Native DDoS mitigation.
Flexible networking with apps marketplace.
Get $50 Free credits

#2 Cloudways
Cloudways offers 5 different cloud providers from which you can choose your favorite one. As of now, we will go with Digital Ocean's premium managed plans. These are the plans that perfectly suit our requirements.
Digital Ocean is a developer's friendly cloud where running and deploying high-load apps is easy. Cloudways will manage the server for you. You can install as many apps as you want. You will also get free support from the team anytime you want.
Locations
Digital Ocean has many data center locations but you can only choose from the ones that are supported in Cloudways. They have servers at 8 locations (for Digital Ocean's Premium) which include London, Singapore, Amsterdam, Toronto, San Francisco, New York, Frankfurt, and Bangalore.
Pricing and Specs
Starting price: $12 per month
Type: Managed cloud
Storage: 25 to 160 GB NVMe SSD
RAM: 1 to 8 GB
CPU: 1 to 4 cores
Bandwidth: 1 to 5 TB
Best Features
Self-healing server that will automatically deploy to another location in case of any technical issue.
Dedicated firewall with regular security patching.
Unlimited apps installation and AI-based smart assistant for help.
Automatic backups.
24/7 Real-time Monitoring.
Try for 3-Days

#3 Digital Ocean
Loved the previous one but you want something more affordable? You should go directly with Digital Ocean's droplets. Digital Ocean is an unmanaged cloud hosting. So, you won't get some services like free automated backups, free migration, etc. In simpler words, you will have to spend more time managing the server.
Overall, it will cost you less. The performance difference isn't that big. Cloudways configures the server in the best possible way to give optimal performance. Here, you will have to do it yourself.
Locations
Digital Ocean has 8 data center locations, two of which are in the United States. Other than these, there are servers located in Singapore, India, Netherlands, Germany, and Canada. Some countries have more than 1 DC location.
Pricing and Specs
Starting price: $6
Type: Unmanaged cloud
Storage: 25 to 320 GB NVMe SSD
RAM: 1 to 16 GB
CPU: 1 to 16 cores
Bandwidth: 1000 GB to 6 TB
Best Features
Basic VM to speed up the server and save the cost.
AMD and Intel CPUs.
The API is powerful which makes development easier.
Marketplace to install any app you want with one click.
Cloud firewall, droplet monitoring, and more similar tools.
Visit Digitalocean

#4 Hetzner
Hetzner is yet another great cheap NVMe based hosting provider to have a look at. You can choose from AMD and Intel processors here. One of the reasons why it's perfect for you is because of the volume block. You can increase the block storage with just one click.
Further, if you don't want to share the resources with others, you can go with a dedicated CPU. It's a developer-friendly cloud as you can access all the features using API.
Locations
Here, you will get limited location options. They have servers located at three places which include the USA, Finland, and Germany. Not all the plans support all the locations. You will see the supported locations in the plan details. So, make sure you see if your preferred location is available for the plan you are selecting.
Pricing and Specs
Starting price: €3.49 (Roughly $3.95)
Type: Unmanaged cloud
Storage: 20 to 360 GB NVMe SSD
RAM: 2 to 32 GB
CPU: 1 to 16 cores
Bandwidth: 20 TB
Best Features
Load balancer to automatically distribute traffic.
API to access all the features.
Stateful firewall along with other security tools.
Intel and AMD processors.
Quick provisioning with unmatchable performance.
Private network with floating IPs.
Visit Hetzner

#5 OVH Cloud
OVH cloud is a cloud server with 99.9% SLA uptime. They make it easier to scale up your server anytime you want. You will get full control over the server here. So, the flexibility of OVH is high. One of the greatest advantages of OVHCloud is the unlimited bandwidth. You don't need to worry about the traffic here.
If you commit to 12 or 24 months, you will get better discounts in the price range. Don't worry, even if you go with a monthly plan (without commitment), the overall price is still cheap.
Location
There are 8 locations you can use here. It includes France, Germany, the UK, Poland, Canada, Australia, and Singapore. They use KVM-based virtualization to get the best speed for every data center.
Pricing and Specs
Starting price: $6 (without commitment)
Type: Unmanaged cloud
Storage: 40 to 640 GB SSD NVMe
RAM: 2 to 32 GB
CPU: 1 to 8 cores
Bandwidth: Unlimited
Best Features
Dedicated resources.
Unlimited traffic starting from 250 Mbps.
The custom control panel makes scalability and management easy.
There is 24/7 monitoring and interventions.
There is anti-DDoS attack protection and root access.
The virtualization is done with KVM.
Visit OVHcloud

Top 3 Cheap NVMe VPS hosting
The next option for you is VPS. VPS is great for people who want something better than shared hosting. It's a bit cheaper than the cloud. Most of the VPS are now cloud-based. So, the performance is similar. Let's have a look at three cheap NVMe VPS.
#6 Ramnode
Ramnode is the best NVMe VPS hosting server. It's a high-performance cloud that uses KVM for virtualization. There are many types of virtual servers available here. However, you will only have to choose premium KVM VPS. These are the only plans where storage is NVMe.
The pricing is flexible and there is no commitment needed to start with. You can also pay using cryptocurrency. So, if you are a fan of Bitcoin, you can use it for payment. They have been on the internet since 2012. Therefore, it's reliable to go with them.
Locations
There are 5 locations from which you can choose your favorite one. The virtual servers can be deployed in Seattle, Los Angeles, New York City, Atlanta, and the Netherlands. You can choose one of your favorite servers at the time of payment.
Pricing and Specs
Starting price: $12
Type: Unmanaged cloud VPS
Storage: 50 to 400 GB NVMe
RAM: 2 to 16 GB
CPU: 1 to 4 cores
Bandwidth: 3000 to 6000 GB
Features
Instant deployment with tier-1 networking.
Various OS support with cloud-init.
Custom ISO support.
Custom Ramnode control panel to manage the server.
KVM-virtualization.
Visit Ramnode

#7 Contabo
Yet another great VPS that you should surely have a look at is Contabo. They offer premium services at an affordable rate. They have super-fast gen 4 PCIe NVMe storage for faster performance. The company uses high-quality standard hardware to give better performance.
There are many advantages you will get. To begin with, there are no extra fees for the traffic. The DNS management is done through the web interface. All these make it easier for you to manage the server.
Locations
The servers are located in 5 regions. It includes the west, east, as well as central US. The 2 other regions are Germany and Singapore.
Pricing and Specs
Starting price: $6.99
Type: Unmanaged VPS (Managed can be added as an addon)
Storage: 50 to 400 GB NVMe (Extra storage can be added as an addon)
RAM: 8 to 60 GB
CPU: 4 to 10 cores
Bandwidth: 32 TB traffic with unlimited incoming traffic
Features
1 IPv4 & /64 IPv6 Network is included.
You will get a complete uptime monitoring feature.
VNC access comes with the VPS along with full control.
Web interface for DNS management, server upgrades, etc.
Snapshot tech and DDoS protection with all the plans.
Unlimited incoming traffic.
Visit Contabo

#8 Knownhost
Knownhost also offers managed and unmanaged VPS hosting at a very cheap rate. For the people who are looking for cheap managed NVMe VPS, Knownhost is the best provider here. Most of the other hosting providers have high rates when it comes to managed hosting.
The server monitoring is done all the time. That's the core reason why they guarantee you 99.99% uptime. If you go with an annual plan, it will cost you a bit less. The CPU specs are different from managed and unmanaged hosting. So, you can choose the perfect plan accordingly.
Locations
The servers of Knownhost are located at Seatle, Atlanta, and Amsterdam. You will get almost the same speed at any data center. Therefore, you can host your virtual servers at any place you want.
Pricing and Specs
Starting price: $12 for unmanaged, $44 for managed
Type: Unmanaged and Managed VPS
Storage: 40 to 320 GB NVMe
RAM: 2 to 24 GB
CPU: 1 to 6 cores
Bandwidth: 2 to 6 TB
Features
You will get enterprise-grade redundant (NVMe) storage.
The CPU is of high frequency and RAM is guaranteed.
Software as well as team-based monitoring of your server.
They have got DDR4 RAM for all the plans.
Full access to the root along with 99.99% uptime.
Visit Knownhost

Last but not the least, if you want the cheapest option, you can also go with shared hosting. It's not recommended as the control is very much limited. If you have small websites and just want to get started, shared hosting is preferable.
#9 InMotion Hosting
InMotion's shared hosting is the premium hosting where you will get NVMe storage. It's developer-friendly as well as you will get a 20x faster website. As we are seeing shared hosting, you will also get cPanel here which is a great thing.
Their core plan doesn't come with NVMe storage. So, you will have to go with the second plan if you want NVMe storage. There are a total of 3 plans you can get for NVMe storage.
Location
They have all the servers located in the USA. Half of them are on the east coast whereas the rest of them are on the west. There are no options to choose the location.
Pricing and specs
The plan starts at $6.99 per month if you go with the annual billing period. You will get 6x extra stack. Just like all the other shared hosting providers, you will get unlimited NVMe storage, bandwidth, etc.
Best Features
Security suite which includes firewall, malware scanner, DDoS protection, etc.
Backups are automatic.
There are marketing tools available.
Google workspace is also included in the plans.
Caching, cPanel, etc are also available in this hosting.
Visit InMotion

#10 A2Hosting
A2Hosting is one of the most popular shared hosting services you can sign up for. They offer turbo speed which is 20x faster than others. Not just speed, you will also get 5x more resources.
There are two shared hosting plans where you will get NVMe storage. The renewal cost is higher as compared to its competitors. However, the features you are getting are surely worth the price.
Locations
There are two data centers in the USA at Michigan and Arizona. Along with this, they also have servers in Singapore and Amsterdam. You can choose the server located at the time of purchase.
Pricing and Specs
The base pricing starts at $10.99 per month if you go with a 1-year billing period. On the other hand, if you go for 3-year, it will cost you $6.99. You will get unlimited NVMe storage, bandwidth, websites, etc. You will also get 20x speed. If you go with the 2nd plan, you will get 5x more resources.
Best Features
Litespeed server with reinforced DDoS protection.
5x more resources and 20x turbo speed.
ESI, QUIP, and other technical features.
A lot of support (toolkits) for CMS such as WordPress and Magento.
Virus scanner, brute force defense, and other similar security tools.
Visit A2hosting

Final Words
To conclude, these were some of the best cheapest NVMe cloud servers you can go with. All of them are great as per your requirement. Depending on your budget, performance requirements, and expertise level, you can choose the best server.
We have listed out the hosting specs of the basic and the best plan. This will give you a proper idea of the pricing and specs you will get when getting started. If you are a beginner, you should prefer managed hosting as it will make your work a lot easier.
On the other hand, if you are confused or have other requirements, here are quick suggestions from our side.
Cheapest option: Hetzner
Best for performance: Cloudways
Best for Asian Locations: Vultr
As we have mentioned in the intro, Vultr and Cloudways offer a similar type of experience. So, you can expect the same thing from them. Cloudways is for beginners as it's managed whereas Vultr is for system admins.
So, what's your selection out of these 10? Comment below and let us know your selection as well as the reason for selecting that particular server as your cheap NVMe hosting.
Read Also: