Adobe ColdFusion accelerates application development on the cloud – streamlining coding, integration, and deployment. If you have built a website or application using this platform, you might be considering a hosting provider that is reliable, fast, and robust.
However, ColdFusion isn't much popular as a web development framework, and therefore, looking for a good web host can be difficult. Let's face it – Most of the hosting providers do not support ColdFusion.
In reality, there are a few hosting providers that offer shared as well as virtual private server (VPS) plans. In this article, we have outlined the 7 best ColdFusion VPS hosting providers that deliver improved performance and reliability.
#1 ColdFusion VPS Hosting – Author's Choice!
Our No.1 choice for ColdFusion VPS hosting is Hostek. Hostek provides some striking benefits, have a look:
Affordable pricing – It is ideal for startups, freelancers, and established organizations.
They have a 30-day money-back guarantee and no long-term contracts are involved.
You can customize your ColdFusion server the way you want.
You can add more RAM, CPU, storage capacity for scaling the server.
Hostek has special plan features for small businesses and cloud server hosting available at an affordable cost.
You can see a live demo of the ColdFusion control panel to see how you can work with it.
They take care of all the server issues and ColdFusion updates very efficiently while you focus on your business.
Hostek has a team of ColdFusion experts.
'Fusion Reactor' is a ColdFusion Monitoring Platform that ensures the smooth functioning of your website or application.
These benefits make Hostek a complete value for money.
#7 Best ColdFusion VPS Hosting Providers (2023)
Discussed here are the top 7 VPS hosting providers to power your ColdFusion application.
1. Hostek
Hostek is an official partner of Adobe ColdFusion. Its reliable server performance and advanced features make it one of the best hosting providers to handle your ColdFusion applications. It offers VPS hosting on ColdFusion.
Key Features
ColdFusion tuning and server optimization
Load balancing and Geo-Failover
Supports up to 25 GB SSD storage with shared VPS hosting
Unlimited bandwidth
Supports ColdFusion versions 2021 or 2018
ColdFusion ORM Enabled
CFImage, Solr Search, Flash Remoting
Dynamic HTML5 charting
HTML5 Web Sockets, and ContentBox Installer
Pricing
The Hostek VPS Starter Plan starts at $6.99/month, while the Business Plan is priced at $20.99/month. Custom server (with free trial) has a special pricing depending on the features you add.
2. CFDynamics
CFDynamics provides reliable hosting services for ColdFusion webmasters and developers who need robustness, high-speed delivery, security, and a stable platform for application development & hosting.
An Adobe ColdFusion Partner allows hosting powerful and feature-rich websites regardless of the CF version you are using.
The advantage of hosting on CFDynamics is that you can host multiple websites on a single server, without worrying about downtime or poor performance. Gain more control over your hosting environment, while you get support for multiple levels of access and users – including resellers.
Key Features
Windows VPS hosting with ColdFusion
Supports ColdFusion 2018 and 2021 trial versions
Up to 50 GB disk space and 500 GB bandwidth
Simple end-user interface with DNS management
Control Panel access
Enterprise load-balanced mail service
Supports unlimited domain aliases
Up to 10 private SSL allowed along with 20 DB users or Admin FTP
Pricing

CF Dynamics offers 4 plans with ColdFusion. You can select between ColdFusion 2018 or ColdFusion 2021. The price starts from $24.95/month and the prices go higher according to the configuration you choose.
3. Viviotech

Viviotech is one of the top ColdFusion VPS hosting providers, powered by Adobe's Platinum Support and their own SysOps Support. One of the best things about this platform is the customization it offers with your preferred features and configurations – available both with Vivio Classic and Vivio Velocity hosting platforms.
All plans are protected by Velocity Backups that not only offer business-grade SSD storage options, but also the ability to backup, restore, and manage your cloud platform. The hosting provider supports both Linux and Windows with Adobe ColdFusion.
Key Features
Supports ColdFusion 2018/2021 Enterprise versions.
2 Classic vCPU/Velocity cores on Linux or Windows.
Ubuntu Linux.
Managed cloud backup service.
Fiber-optic networking
Ultra-fast NVMe SSD & ultra-fast failover
Exceptional speed and redundancy even with multiple websites
In-place scaling and AMD Epyc compute nodes
Pricing
The advantage of hosting ColdFusion applications on Vivio is you pay only for what you need. That means, the plans are fully customized and the pricing will vary depending on the features and capabilities you add.
The price starts from $58/month for the Classic ColdFusion plan.
4. HostMedia
HostMedia provides fully managed VPS hosting, with ColdFusion Enterprise as an addon. The platform facilitates instant ColdFusion hosting because everything is already set up and ready to be used – no need to wait for ColdFusion to be enabled. You also get access to the cPanel CFManager Plugin, which allows setting up your ColdFusion Datasource Names.
Through this plugin, you can also create, remove, or update data sources as you want.
The ColdFusion VPS hosting is powered by Virtual Machine solutions, hosted on high-end servers, and enhanced by Intel Xeon Gold Processors. More cores and higher thread counts ensure superior performance.
Key Features
High-speed MPLS enabled low-latency network, designed for speed & security
DDoS protection included
RAID Storage and Solid State Drives to improve performance and security
Full set of Linux operating systems to choose from
Host unlimited websites
Up to 100 GB SSD storage
Adobe ColdFusion v11 Enterprise
Free SSL certificates
Free migration
Pricing
At HostMedia, you can choose to opt for monthly or annual billing. The basic plan starts from £3.60 / month. The price goes higher as you choose higher configurations.
5. Media3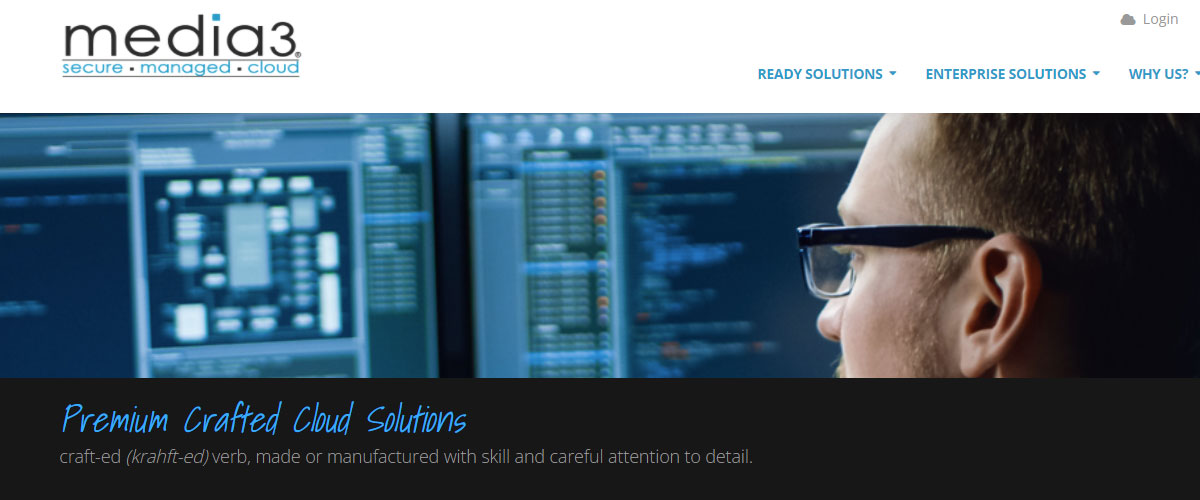 An Adobe ColdFusion Partner, Media3 is one of the best VPS hosting providers for ColdFusion – secure, reliable, and affordable. The platform supports hosting single sites, can efficiently manage load-balanced clusters, and provides dedicated cloud servers.
They support all versions of ColdFusion, starting from 2011.
Interestingly, the official website of Media3 is itself powered by ColdFusion, including billing, control panel, sales, and support functions. This enables them to provide "premium-crafted cloud solutions" for ColdFusion.
Key Features
Supports CF Enterprise versions 2018-2021
Fully managed VPS hosting solution
Dedicated memory up to 16 GB
Supports cloud storage up to 128 GB SSD
ColdFusion Optimized Environment that is blazing fast, secure, and scalable
Exchange-level Mail Server Software
Total control with ixCloud Control Panel
SmarterStats Web Analytics, SEO, and site tuning software
Barracuda Networks Technology powering email spam and virus protection
Free migration assistance
Server OS Windows 2019 DataCenter
Pricing
Media3 offers three unique ColdFusion VPS hosting plans – Foundation, Enhanced, and Advanced. The basic Foundation plan starts is priced at $179/month while the Advanced plan is priced at $291/month.
6. Firstserv

Firstserv offers ColdFusion VPS hosting solutions on either Linux or Windows. With Firstserv, you get the flexibility to host your ColdFusion service on a dedicated physical server or VMware virtual servers.
High-load or high-availability applications can be hosted on clustered dedicated servers or Enterprise ColdFusion.
Leverage Firstserv's decades of industry experience and certified ColdFusion programmers who can provide the required support and knowledge. Also, leverage the potential of ColdFusion tuning and optimization for improved reliability and performance. Firstserv also offers free migration for your website.
Key Features
On-demand, self-healing cloud hosting, powered by VMware
Supports up to 200 GB SSD storage
Unlimited bandwidth
99.9% uptime SLA
Load balancing for high availability
DDoS protection
Non-disruptive scalability
Pricing
There are 3 Firstserv ColdFusion VPS hosting plans, starting from £187/month. The premium ColdFusion CS 8.0 plan is priced at £262/month.
7.DailyRazor

If you are looking for one of the best and most reliable VPS hosting that is an official Adobe ColdFusion Partner, then DailyRazor is a preferred choice. They have dedicated servers configured specifically to run ColdFusion applications.
Enjoy fast, reliable, and secure ColdFusion web hosting, with a 99.9% uptime guarantee and round-the-clock professional support.
The ColdFusion VPS hosting plans are fully customizable and provide a wide range of features that support hosting multiple, large web applications.
Key Features
Supports hosting unlimited domains/websites
Up to 4 TB bandwidth with 99.9% uptime guarantee
Free complimentary website builder
Access to raw log file
Unlimited sub-domains and parked domains
Up to 4 GB RAM with 80 GB disk storage support
1 IPV4 address
OS templates
30-day money-back guarantee
Pricing
DailyRazor ColdFusion VPS hosting plans start from $4.08/month. The premium plan, with up to 4 GB RAM and 80 GB disk space, is priced at $31.61/month.
Hosting Requirements For ColdFusion VPS
The following specifications apply for hosting the ColdFusion applications on VPS: 
Java 11 (updated version 11.0.2 or later) is necessary.
64-bit versions required.
Adobe ColdFusion 2018 (minimum update 11) and 2021 (minimum update 1).
Lucee 5.3.7.47, with OpenJDK 11; Adopt OpenJDK recommended.
Supported databases for Adobe ColdFusion 2021 include:
SQL Server (2016 SP2 Standard or Enterprise, 2017 and 2019).
Oracle (NLS_CHARACTERSET setting must be 'AL32UTF8', 12c release 2, and 19c or 18c).
MySQL (manually download MySQL JDBC driver, and 8.0 with InnoDB storage engine).
Supported databases for Adobe ColdFusion 2018 include:

SQL Server (2014 SP3 Standard or Enterprise, 2016 SP2 Standard or Enterprise, and 2017 Standard or Enterprise).
Oracle (NLS_CHARACTERSET setting must be 'AL32UTF8', 12c release 2, and 19c or 18c).
MySQL (manually download MySQL JDBC driver, and 8.0 with InnoDB storage engine).
If you are looking to host your ColdFusion applications, you'd be overwhelmed between choosing "shared" hosting or "virtual private server." Which should you consider?
VPS ColdFusion hosting is a preferred choice because it is low cost as compared to dedicated hosting, but offers improved security, reliability, and performance in comparison to shared hosting.
Additionally, users get full root access to the server, which gives them the flexibility to make changes and install applications on their own – unlike shared hosting where users have to go to the hosting provider to make changes.
A limitation of shared hosting is that bigger sites may face redundancy and poor speed. Scripts may take too long to load – affecting the overall performance. Downtimes are more frequent with shared resources, especially if you host multiple sites. Hosting on VPS ensures greater speed, reliability, and performance.
However, ColdFusion VPS hosting plans are costlier, especially for beginners who are hosting their applications for the first time and have a limited budget. It is preferable to opt for shared hosting first as it is a cheaper option for the short term.
And once your website starts to grow and website requirements become more complex, you can seamlessly upgrade to a VPS hosting plan.
Verdict
Which is the best ColdFusion plan for you?
Based on overall performance, reliability, security, and pricing, Hostek is the top ColdFusion VPS hosting plan.
However, if you are considering a cheaper VPS hosting plan, DailyRazor is great to start with – At just $4.08/month, you can enjoy a host of features and an excellent uptime guarantee that makes it a perfect choice for ColdFusion hosting.
And if performance matters to you the most, you can consider these three options – Viviotech, Media3, and Firstserv. They have dedicated ColdFusion VPS hosting plans, with customizable features and configurations. This enables you to scale the plan as your website grows.
Powerful features, combined with professional support, high-end security, and reliability make them the ideal choice for ColdFusion VPS hosting.
To conclude, these are some of the best ColdFusion VPS hosting providers you can consider. Depending on your budget and the features you are looking for, you can pick any of them for your ColdFusion application. And if you are starting new, consider signing up for shared hosting and then you can upgrade to a VPS plan as your business scales.