Elasticsearch is a distributed search and analytics engine. An optimized Elasticsearch VPS hosting service allows you to run multiple search operations and processes with the best performance.
Therefore, it's important to choose the right cloud provider.
To make things a bit easier for you, we have created a list of cheap and managed Elasticsearch hosting providers to meet the needs of various proficiency levels, from beginners to experts.
Let's start the list.

Hosting Provider
Starting Price
Starting Price
$11/month
$14.99 to 74.99/month
$2.99 to $89.99/month
5 Cheap Elasticsearch VPS Hosting
People typically want to start with cheap prices and scale as they grow. As a result, there are many hosting providers in the market that offer cheap Elasticsearch VPS with scalability.
1. Cloudways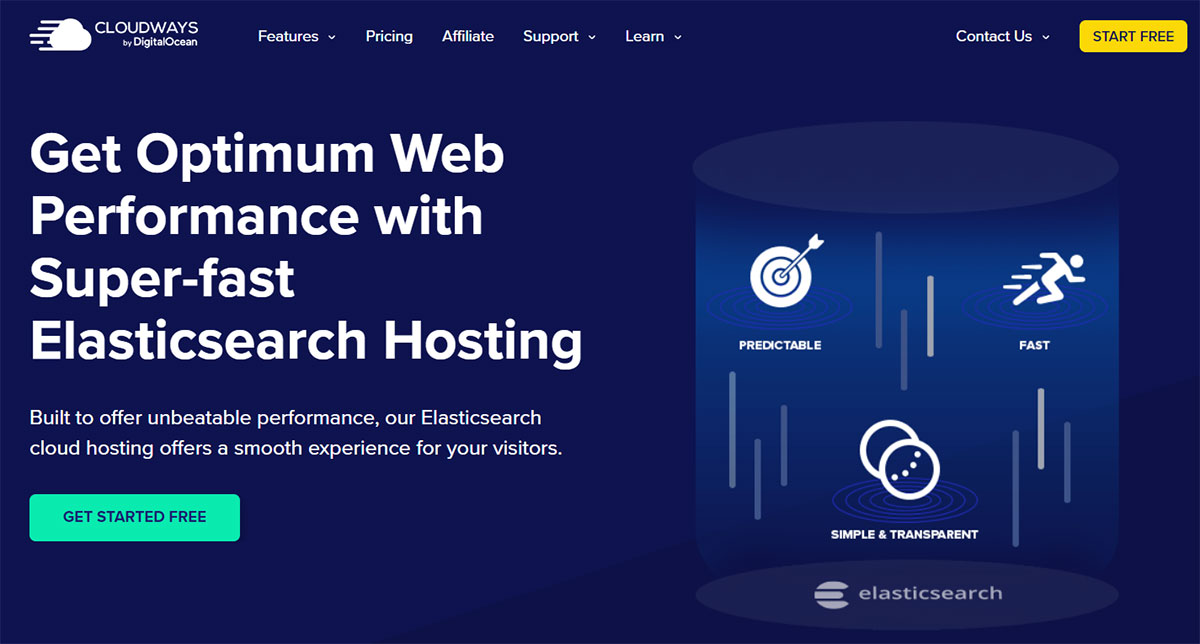 Cloudways is a managed cloud provider that acts as a perfect Elasticsearch VPS-based hosting service. Their servers are highly optimized and you can choose from three cloud providers: Digital Ocean, Google Cloud, and AWS.
If your priority is cheap Elasticsearch hosting, you can opt for Digital Ocean. With one-click Elasticsearch activation, you can easily get started with your preferred app and work on the big data.
They have automated backups and staging environments to make your production easier.
Cloudways definitely delivers on performance. They offer 24/7 real-time monitoring and regular security patching with a dedicated firewall. They also guarantee 99.9% uptime.
Please note that the plans and their features may vary depending on the cloud provider. For instance, Google Cloud allows you to get more storage on pay-as-you-go while AWS provides the maximum number of cores.
But each plan still gives you a solid bang for your buck.
If you are still not sure, you can always get a 3-day free trial before you decide.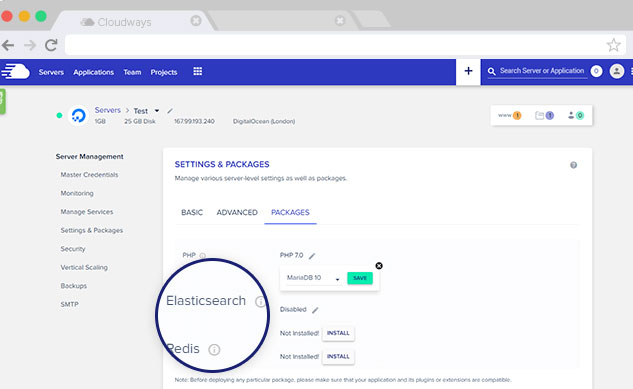 Cloudways Plan Details
Monthly Pricing: $11 (Digital Ocean) to $3569.98 (AWS)
CPU: 1 core (Digital Ocean) to 96 cores (AWS)
Memory: 1 GB (Digital Ocean) to 384 GB (AWS)
Storage: 20 GB (AWS, Google Cloud) to 320 GB (Digital Ocean) — More available on a pay-as-you-go basis.
Visit Cloudways

2. A2Hosting
A2Hosting is an affordable Elasticsearch VPS host that comes at the price of shared hosting. Their plan starts at a very cheap rate, with services particularly suited for people who are looking to migrate from shared hosting to VPS.
For advanced users, their Turbo VPS is a solid option. Its plans come with NVMe storage while the regular plans only have SSD. Given that Turbo plans have more cores as compared to the regular ones, a few of their plans have as high as 20x faster servers than the Standard VPS.
Coming back to the hosting service, A2Hosting is known for providing some of the best customer support. Their support staff is available 24/7 to help you whenever you want.
Along with amazing security and a 99.9% uptime guarantee, they also give you the option to have custom software that is optimized for Elasticsearch.
If you don't want to handle technical stuff, A2Hosting also offers managed VPS.
A2Hosting Plan Details (Unmanaged)
Monthly Pricing: $2.99 to $89.99 (for annual plan)
CPU: 1 to 10 cores
Memory: 1 to 32 GB
Storage: 20 GB SSD to 450 GB NVMe
Visit A2Hosting

3. InMotion Hosting (Managed VPS)
InMotion hosting is ideal for people looking to transfer their website from another hosting provider fast as they offer a free migration facility. When working with big data, people often struggle with bandwidth usage.
Some InMotion plans offer unlimited bandwidth in VPS — which is quite rare in the industry. Unfortunately, there is no auto-installation of Elasticsearch so you will have to do it manually.
They have a tutorial on how you can do it.
For manual installation of Elasticsearch, you can contact their team for help, but it still requires some amount of technical expertise. However, even if the installation is manual, you need not to worry about optimization as their managed services provide free server optimization.
InMotion managed VPS services offer 99.99% uptime. And you can easily scale your server to as high as 32 vCores.
If you still want to know more, they also have a 90-day money-back guarantee that you can use as a trial run.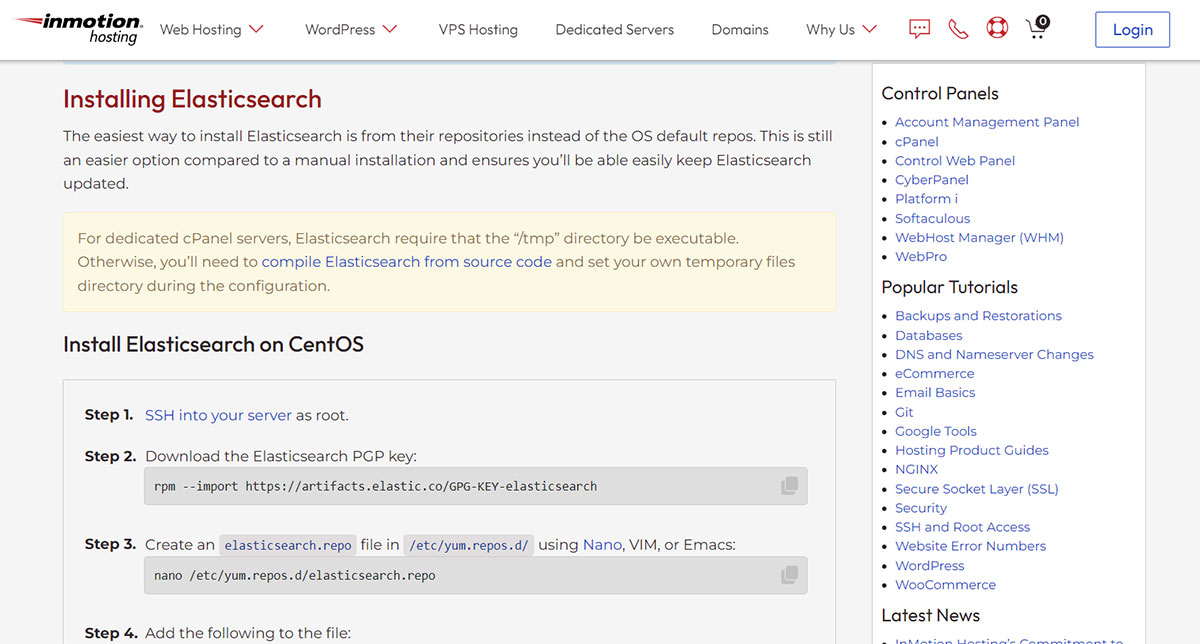 InMotion Hosting Plan Details
Monthly Pricing: $14.99 to 74.99 (for a 6-month plan or longer, renews at a higher rate)
CPU: 4 to 32 vCores CPU
Memory: 4 to 32 GB RAM
Storage: 90 GB SSD to 540 GB NVMe
Visit InMotion Hosting

4. DigitalOcean Droplets
DigitalOcean is known as a developer cloud. It's one of the cheapest Elasticsearch VPS hosting services catering to a very large range of VPS needs.
The regular ones are minimally featured and cheap, but you can also get premium AMD or Intel CPUs for higher performance.
They also have memory-optimized and storage-optimized servers, which are fully customizable and can be automated using their powerful APIs.
The cheaper price comes at the cost of manual Elasticsearch installation requiring a minimum of 4GBs of RAM. So, make sure you choose the plan with the given RAM. There is a complete tutorial for doing installation.
However, the overall support quality at DigitalOcean is average.
If you are a developer, you will love working with DigitalOcean. If not, you can opt for Cloudways (#1 on our list) and choose DigitalOcean as the cloud provider.
This way, you can get DigitalOcean's cloud services alongside Cloudways management.
DigitalOcean Hosting Plan Details
Monthly Pricing: $24 (with 4 GB RAM) to $1,310 (storage VPS is not counted, price may increase if you add SSD variants)
CPU: 2 to 48 vCores CPU
Memory: 4 GB to 160 GB
Storage: 80 GB to 500 GB
Visit DigitalOcean Droplets

5. RoseHosting
Looking for the highest possible speed in VPS hosting for Elasticsearch? You might just want to check out RoseHosting. They have 100% uptime with free weekly backups.
Moreover, as it's a managed service, you can completely rely on their support team.
There are no arbitrary limits here, be it on the number of websites, email accounts, or databases. In simple words, you can use their resources unlimitedly without any worries.
RoseHosting uses a Dell server with KVM virtualization, which allows you to have resources isolated from other server users. They also have free proactive monitoring for the security of your server and unmetered data bandwidth.
Given all their features, their base price is definitely higher. On the other hand, you will get a small discount if you go with the yearly plan and the renewal price does not skyrocket.
Their biggest setback, however, is their range of service. Unfortunately, they only have servers in the US.
RoseHosting Plan Details
Monthly Pricing: $39.59 to $395.99 (for a 1-year plan or more, renews at a higher rate)
CPU: 2 to 12 cores
Memory: 2 to 64 GB
Storage: 50 to 400 GB PCIe4 NVMe
Visit RoseHosting

2 Managed Elasticsearch Hostings
So far, we've seen unmanaged and partially managed services that emphasized more on being affordable rather than offering ease of use. Let's take a look at fully managed services now to see how they might be different.
1. Esclusters
If you have small to mid-sized apps and are looking for stress-free managed Elasticsearch hosting, Esclusters is here for you. All of their plans come with a single node with unmetered bandwidth. They also have insolation-based security and 99.9% uptime.
Their managed Elasticsearch services not only include maintenance but also system administration and security. Moreover, they support the full ELK stack (Elasticsearch, Logstash, and Kibana).
Despite all these positives, the reason we only recommend Esclusters for small to mid-sized apps is because of their limited scalability. You can only upscale to 6 cores.
They have reasonably priced services. But if you are still doubtful, you can use their free trial to make sure you're satisfied with their service before purchasing.
Additionally, if you are a small agency providing services to your clients, they also have membership options that can save you a fair amount.
Esclusters Hosting Plan Details
Monthly Pricing: $4.99 to $31.99 (for the 2-year plan)
CPU: 2 to 6 cores
Memory: 2 to 16 GB
Storage: 60 to 240 GB SSD (same amount of additional SATA backup storage)
Visit Esclusters

2. Elastic.co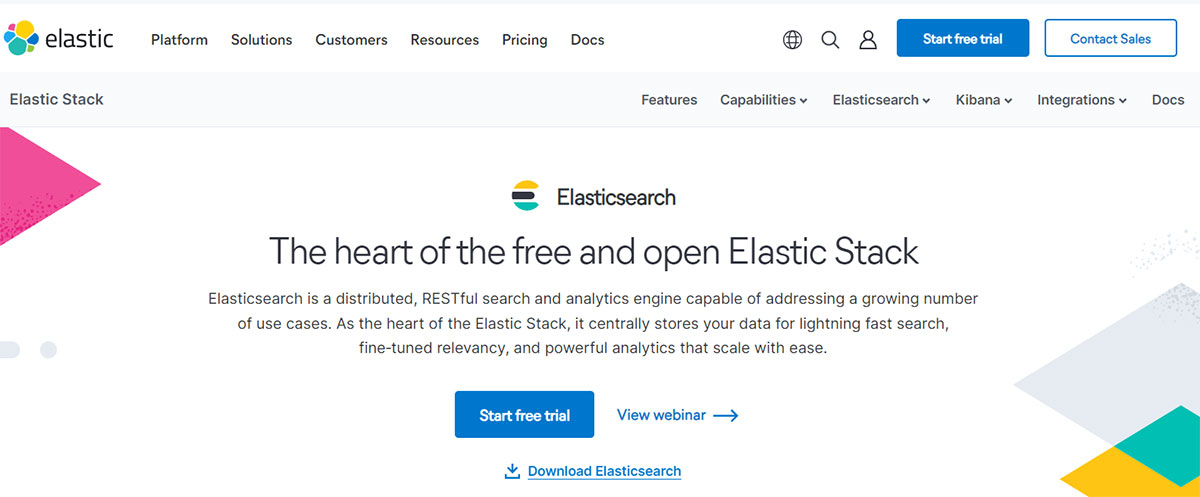 If none of the above hosts suit you and you are looking for something more concrete, you can directly try the official website of Elasticsearch. They do offer managed hosting, but it's pretty much professional or premium level.
They use Google Cloud, AWS, or Azure Cloud. So, when you opt for the pricing, you will have to pay for Elasticsearch as well as the cloud providers. With this, the overall pricing increases by quite a lot.
It's only recommended to people who want to have an enterprise-level service.
Elastic-managed cloud service allows you to customize all the features, stacks, resources, and cloud providers. So, it's not possible to provide the pricing range for a plan, and you instead have to get an individual plan estimation based on your needs.
Please note that the cloud specs will depend on the type of cloud you choose. For instance, if you go with a CPU-optimized cloud, you will get more cores and less storage.
In the same way, storage-optimized has more storage and fewer cores.
Elastic.co Hosting Plan Details
Monthly Pricing: $95 to $175 (rates are for Elastic pricing, cloud will cost extra)
CPU: 2 to 1024 vCores
Memory: 30 GB to 1.80 TB
Storage: 30 GB to 150 TB
Visit Elastic.co

Elasticsearch VPS requirements
The recommended memory for Elasticsearch is 8 GB and storage is 10 GB. However, these prerequisites entirely depend on the data you have.
If you are new to Elasticsearch, it's always recommended to run your program in a free trial hosting or contact the support.
Some hosting providers have optimized their stack in such a way that Elasticsearch can run on a lower-spec. But, this is possible only if the hosting provider supports it.
Conclusion
Elasticsearch needs a properly optimized stack to get the best performance out of it. This in turn means that the host you chose needs to be properly equipped to handle these requirements.
A managed service is always recommended for beginners. And managed doesn't have to mean more expensive, as there are several base plans for managed services that are still reasonably affordable.
You can start with low pricing and go higher as needed.
Out of all the Elasticsearch hosting services we have reviewed today:
Best Priced: A2Hosting
Best Managed: Cloudways