Looking for a decent plan where you can host a few websites? GoDaddy deluxe Linux hosting with cPanel seems like a great option.
This guide will cover whether or not you should go with this plan. We will also discuss if GoDaddy as a hosting company is worth going with.
We will discuss the pros and cons. Lastly, the guide also answers some essential questions regarding costs.
Let's begin with the overview.
What is GoDaddy deluxe Linux hosting with cPanel?
GoDaddy deluxe hosting is one of the shared hosting plans offered by GoDaddy. It comes with cPanel to control the server.
You can host up to 10 websites. The total amount of space allocated to your web hosting is 50 GB. Along with this, you can have up to 25 databases. Moreover, you will also get 3 Microsoft 365 for free.
They even offer a free domain. We will talk more about it in the pros section. Before that, it's important to understand that the free stuff applies only if you go with at least a 1-year plan or more.
Pros of using the GoDaddy Deluxe plan?
Most of the pros are visible in the feature section of the plan. We will mainly focus on the advantages that are worth mentioning.
When it comes to features, GoDaddy is transparent. You will see the limits on the number of files you can host and the speed of I/O.
Many hosting providers don't directly show them on their pricing page.
Now, let's jump to the actual advantages.
Not just the features but even the performance is better as compared to their economy plan.
It allows you to host up to 10 websites.
Although most people choose their Linux plan, they also allow you to use Windows OS.
You get a free domain name forever during signup. The domain will renew for free if you renew the deluxe plan.
They have a pre-installed payment platform to accept payments from customers. It's only available for US-based stores.
What are the cons of using the GoDaddy Deluxe plan?
You need to keep a proper eye on the cons of the hosting company and the plan you go with. This will decide your online business's performance, reputation, and overall experience.
Therefore, we have carefully considered all the disadvantages.
The loading speed and overall performance of the websites are extremely slow. This is, in fact, the biggest issue of going with the GoDaddy deluxe Linux hosting plan or other plans.
Limited resources:

CPU and memory easily reach their limit. Their plan allows 10 websites but the memory and CPU get exhausted with 2 or 3 websites.
Further, if you use any memory-consuming plugins like WordFence or other security plugins, GoDaddy servers become slower, and you might even experience a site crash.

Same file storage for all the plans:

The storage limit increases as you go with higher plans. However, the number of files you can host on the server remains the same. You can only host up to 250,000 files.

Not just the addons but even the hosting price becomes almost 3x expensive at the time of renewal.
The package is not value for money.
Even the email package is paid. So, if you want to send emails, you will have to buy an addon.
For backups, you will have to pay extra. Although you can use plugins for backups to backup the entire server, there is a considerable price.
Their support is extremely slow. They offer live chat, but sometimes, you must wait more than 30 minutes to get a response.
Limited support:

Slow support is one of many issues. Unlike their claim, you won't get 24/7 Ticket support is a paid option.
Not just this, but when you need help with a technical issue, the support won't be of more help. The support team has limited access to your files. So, you are pretty much on your own. From a security point of view, it's a good thing. However, you won't get the issue solved.
Pricing of GoDaddy deluxe Linux hosting with cPanel?
Let's talk about the pricing now. Like every shared hosting, there are multiple prices. You will have to pay less if you go with a higher billing term. Here's a breakdown of all the prices with all the tenure.
The plan starts at $7.99 a month if you go with a 3-year term.
For a 2-year term, it will cost you $8.99 per month.
For a 1-year term, you will have to pay $9.99 per month.
If you wish to pay monthly, the price skyrockets to $15.99.
If there is an offer going on, you might get slightly more discount. However, in most cases, the offer doesn't apply to the renewal price. Wondering what's the renewal price? Let's talk about it.
How much does GoDaddy deluxe hosting renew for?
As we discussed in the cons, GoDaddy has a very high renewal rate. Let's see the renewal rate for GoDaddy deluxe plan in shared hosting.
For 12, 24, and 36 months billing terms, the renewal rate is $13.99 per month. For monthly plans, the renewal rate remains the same as the initial price ($15.99).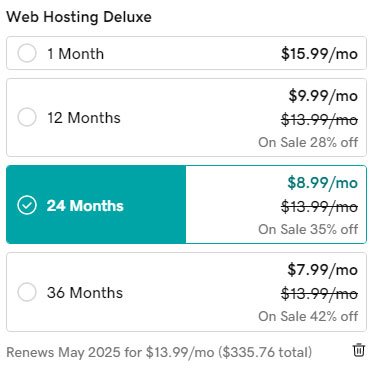 To compare it, GoDaddy's VPS plan starts at $9.99/m when you pay for 3 years.
Who is GoDaddy's Deluxe Linux hosting plan for?
GoDaddy Deluxe hosting plan is suitable for hosting multiple websites with low to moderate traffic. You should prefer other alternatives if you have eCommerce websites or any other revenue-generating online business.
On the other hand, if you have a client who specifically wants to go with GoDaddy, you can go with the deluxe plan.
For serious businesses, you might often face downtime and extremely slow loading speeds. It might even result in a decrease in your income. This might risk your website's reputation.
Should you choose the Deluxe plan with GoDaddy?
No, the GoDaddy Deluxe plan is not the best choice to go with.
Over the years, GoDaddy has gained a bad reputation in the hosting market. Due to their poor performance and lack of support, it's not the best choice to go with.
Over the past few years, many complaints have been about their speed, performance, support, and high prices (especially renewal) with fewer features.
Therefore, there are better choices than GoDaddy to go with. Instead, you should prefer other hosting alternatives that provide similar services at similar costs with better performance.
Yes, there are other alternatives available where you will get better features in the same price range.
Best Alternative to GoDaddy deluxe hosting plan
The best alternative to GoDaddy deluxe hosting plan is A2Hosting's Drive plan.
Here, you can host unlimited websites along with A2's lighting-fast support. You can be worry-free regarding security as they have proactive monitoring, a virus scanner, and a firewall and provide free SSLs.
The support is fast and helps with all the technical issues as well. You will also get cPanel to manage your server, just like GoDaddy.
The annual term costs $5.99/mo, which renews at $12.99. You will get more discounts if you go with more tenure.
Visit A2Hosting

Verdict: Should you choose the Deluxe plan with GoDaddy?
No, you shouldn't choose GoDaddy deluxe plan. There are better alternatives available. GoDaddy has poor performance and support. Talking about the deluxe plan, you will get the same amount of file storage limit as the base plan.
So, it's better to look for an alternative.
You can surely go with the A2Hosting drive plan instead. They offer better performance, features, support, and even security. Additionally, the price is less as compared to GoDaddy.
FAQ (Frequently Asked Questions)
What is the difference between managed GoDaddy WordPress and deluxe Linux hosting?
The managed WordPress only supports WordPress websites, and GoDaddy manages updates and website maintenance. Deluxe Linux hosting is a shared hosting where you can host any website. You will have to manage it using cPanel.
How many websites can I host on GoDaddy deluxe cpanel hosting?
They allow to host up to 10 websites. However, seeing their poor performance, you can hardly host a few websites as they can't handle more.
What's the difference between Windows and Linux hosting on GoDaddy?
Windows hosting uses Windows as its operating system, whereas Linux has Linux distribution installed.
How much traffic can a GoDaddy website handle?
The plan allows you to have unmetered bandwidth. However, it can hardly handle a few thousand visitors a month.