The HostGator Baby Plan is for people who want unlimited hosting abilities through one hosting account. It is one of the most affordable shared web hosting plans by one of the web hosting mavens, HostGator.
Not only that, but the HostGator Baby plan also ensures no downtime issues. So, you hit that jackpot with this one.
Most of the hosting services have one common problem – the cost of hosting. This is one of the key reasons why bloggers either choose free hosting or opt for cheap hosting services under $1 per month. If you are planning to make some big bucks online through blogging, do not make these mistakes.
Undoubtedly, HostGator has some of the cheapest plans for hosting, and it's especially true for shared hosting. Shared hosting offers an excellent opportunity with various features and affordable prices.
So, if you want a budget-friendly web host for hosting unlimited domains or sites on one hosting account, you should go for HostGator Baby Plan.
HostGator Baby Plan Features
The Baby Plan has ultimate features for you to consider:
Unlimited domain hosting
Unmetered bandwidth
Free SSL certificate
Unlimited FTP accounts and MySQL databases
Create unlimited email addresses & subdomains
Free website transfer
Free domain transfer
Website builder drag & drop
Uptime Guaranteed 99.9%
Get access to popular web hosting control panel or cPanel
24x7x365 support through live chat and phone
Access to more than 4500 free templates with a website builder
Quick installation of scripts
45-days money-back guarantee
Let's have a deeper look at the features offered:
Unlimited Domain Hosting
Many web hosting companies restrict the account to one domain – you cannot host more than one website on the server. However, with the HostGator Baby Plan, there is no restriction. Regardless of the domain in use or the niche of the site, you are free to launch multiple websites with the plan.
Unmetered Bandwidth
Bandwidth is the total data that a website receives or transfers. For instance, if a website page is 785 KB and visitors access it, and if you do not have Gzip caching enabled or you have set an expiry time for the HTTP header of static files, the website would transfer 785 KB data to the browser of the visitor.
If you use the HostGator Baby plan, you need not worry about optimization or bandwidth. The plan allows the site to function through unlimited resources. Furthermore, HostGator Gzips the content of the site and adds an expiry time to the static file header of the website to make the web page load faster.
Free SSL Certificate
SSL certificate ensures encrypted communication between the server and the visitor for added security. Though there is no harm in maintaining an HTTP-only website, Google announced recently that HTTPS is just a ranking signal.
Honestly, it is difficult to install SSL certificates and renew them manually. If you do not configure the redirects and certificates correctly, the search engine visibility of the website would be affected.
With the HostGator Baby Plan, you can get GUI-enabled tools to add HTTPS on the website and manage it. If you switch from HTTP to HTTPS, there is a HostGator code snippet you should copy in the .htaccess file. The code would redirect the HTTP site traffic to the new HTTPS website.
Once the SSL certificate is activated, there is no need to renew the certificate or watch the expiry date of the certificate. HostGator manually renews the SSL certificates.
Unlimited FTP Accounts and Database Access
FTP accounts allow non-technical users to associate with the software of FTP client to the server. As the software establishes a successful connection, users can manage the files on that server just like managing files on the PC with a Windows OS. The HostGator Baby plan also enables users to create limitless FTP accounts.
Create Unlimited Email Addresses & Sub Domains
The Baby plan provides you the freedom to create multiple email addresses as well as subdomains. As a result, you can create different sections of the site, which would be dedicated to various aspects, like having another blog. You could also divide the website into different spaces for users. You can create an interesting forum too. No matter what you need, this plan gives you the green signal you always wanted, with no conditions attached.
Free Website Transfer
If you sign up for the HostGator Baby plan, your website is transferred for free, while other hosting service providers have additional costs for the transfer process. This is an added advantage.
When you buy the hosting plan and you want to transfer the website all you have to do is fill in the transfer form for free, sit back, and relax!
Free Domain Transfer
You can register a new domain or transfer an existing one for free with all newly bought hosting accounts under the Baby plan. You can choose any preferred domain name without additional cost as you choose the 12 months cycle for billing. You can also have the required domain name that ends with .com, .net, or .org, and use the same for free for the first year.
Website Builder Drag & Drop
Moving from one website to another using the drag and drop feature makes website building easier. HostGator Baby plan is the only plan that allows a seamless drag and drop feature.
Uptime Guarantee 99.9%
HostGator Baby plan ensures 99.9% uptime to users. It is one of the most promising hosting plans with uncompromising uptime that ensures the continuity of the website.
Get Access To Popular Web Hosting Control Panel Or cPanel
Create an email address, monitor resources on the server, create subdomains, install necessary software scripts such as WordPress, and a lot more with the cPanel. It helps in managing everything together.
Ease of use is ensured through the cPanel control panel that allows you to manage everything smoothly. Even if you are a beginner, you will be able to work with cPanel. Simply log in to HostGator cPanel, and follow these steps to manage the domains, emails, etc.
You can view everything at a glance on the cPanel dashboard. You get all the options starting with a file manager to your latest email accounts and WordPress installer along with many other options for managing a website or a blog. You will also find other necessary elements like:
Website builder
Google AdWords and Bing credits
SSL certificates
File manager
FTP accounts
Backup
Domains
Disk usage
24x7x365 Support Through Live Chat & Phone
HostGator provides decent customer support. You can get assistance through Live Chat, email, and call.
You can easily contact the customer support team whenever required.
Access To More Than 4500 Free Templates With Website Builder
HostGator has a personal website builder. It also has a drag and drop editor with more than 4500 templates to use.
However, if you want the most popular and the best content management system, it is WordPress. Over 30% of the websites across this world are now on WordPress. It is a free and widely recommended content management system to make money from a blog or website.
It is easy to install WordPress on any HostGator plan you choose.
Quick Installation Of Scripts
The HostGator Baby plan allows easy installation of applications. cPanel gives you access to Softaculous that features more than 75 applications. Some of the common examples are WordPress, iGalerie, phpBB, MediaWiki, WebMail Lite, and pH7CMS.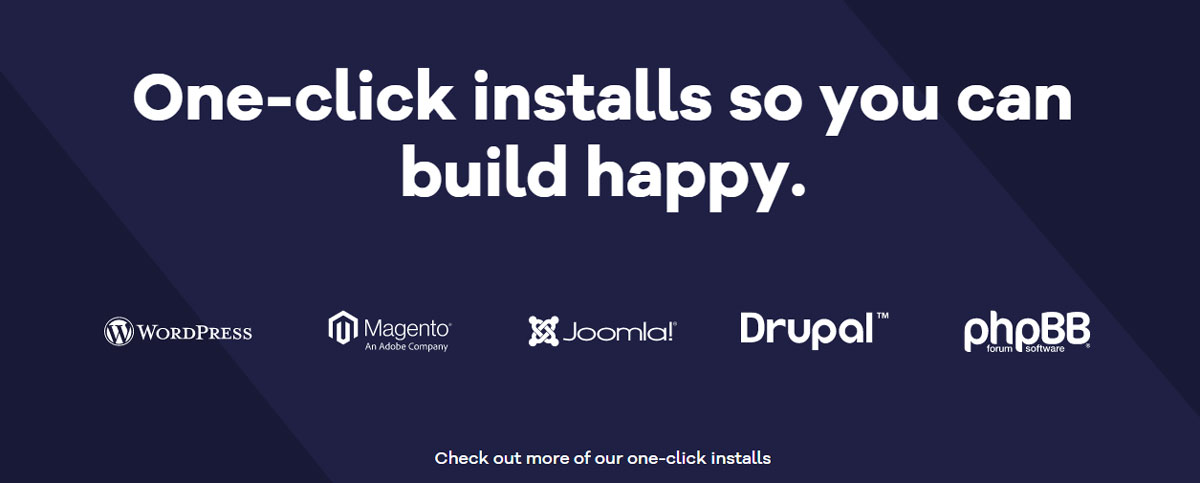 45-days Money Back Guarantee
If you don't want to continue using the HostGator Baby Plan, you can get the 45-days money-back guarantee from the date of purchase. Of course, this does not include the charge you paid for domain name registration, which is sent to the ICANN. HostGator provides a refund for the balance amount without any questions asked.
While most web hosting plans provide 30 days money-back guarantee, the HostGator Baby plan provides a longer money-back term of 45-days, which is appreciated.
Cons of HostGator Baby Plan
No Backup
There is no backup feature given with the HostGator Baby plan, which is a real downside to this hosting plan. You would not find a reliable way of restoring your website data if something does not work well for you. Although HostGator says that it takes random backups of the website every week, there is no guarantee. So, for better security, they always encourage users to buy the CodeGard addon plan, which is also not very good.
No Free Addons
Unfortunately, the HostGator Baby plan does not provide any extra addons to users. For all the extra addons available, such as SiteLock monitoring, professional email, site backup, and HostGator SEO tools, you have to pay additional monthly charges.
Discount Available Only Against Long-Term Commitment
You can only get the best discount on HostGator Baby Plan when you commit for 3 years. Otherwise, it is an expensive plan.
Expensive Renewals
HostGator renewal plans are expensive at $11.95 per month. Despite all odds, it is too much of a price to ask for.
HostGator Baby Plan Prices
The HostGator Baby Plan is priced at $3.98 monthly with an additional discount of 60% using the exclusive affiliate link from other affiliates; otherwise, it costs $8.96 monthly.
For uninterrupted services, all HostGator accounts should be renewed biannually or annually. You can consider monthly renewal as well, depending on the choice of the initial plan. To renew the Baby Plan, you must pay $11.95 per month.
NOTE:
Paying monthly for the first time can be a good option to test their services. But doing so, you won't be able to benefit from the free domain, and the big one-time discount.

HostGator Addons
HostGator offers some premium addons for an additional charge.
SiteLock: With SiteLock activated, HostGator periodically monitors the website and finds malicious codes. Upon detecting malware on the website, it makes the user aware of its presence so that the required action can be taken in time.
Professional Email: If yours is a business website, getting a professional or branded email address is important. Professional emails are important for executives in all industries. This is an addon feature powered by Google's email hosting.
SEO Tools: HostGator developed various SEO tools. To access the tools, you have to select the addon when you purchase the HostGator Baby plan.
Backup: HostGator's backup is very weak. You can choose to enable this service to backup the website and its databases automatically for an extra cost.
While all these features are available with the HostGator Baby Plan for an extra cost, you can get these features for free in the site plugins of WordPress.
Who Is This Plan For?
The HostGator Baby Plan is perfect for bloggers under two categories:
Beginners: If you are new to the world of blogs and websites, this is just the right plan for you. You can use the one-click WordPress installer with the cPanel software to manage your hosting and domains.
Advanced Bloggers: Even if you host multiple websites, you can still save a huge amount of money when you move the websites to HostGator. The HostGator Baby plan ensures ease of managing multiple websites hosted on one server instead of managing websites on multiple servers.
How Much Traffic Can it Handle?
A website with a HostGator Baby plan can handle anywhere between 7000 to 8000 visitors a day, and a maximum of up to 10,000 visitors. If it exceeds 10,000 visitors a day, it is better to choose cloud hosting or VPS.
HostGator has specified in the terms of service that an account cannot use more than 20-25% of system resources for over 90 seconds.
Best Alternatives To HostGator
Here are some worthy alternatives to HostGator:
DreamHost: It is the best hosting option when you want a quick, responsive change in your website. With comprehensive tools like user-friendly website building software, security options, a liberal money-back guarantee, unlimited storage, and professional emails, DreamHost hosting is a complete value for money.
Bluehost: It is excellent for hosting WordPress websites and blogs. Bluehost is reliable, fast, and provides affordable web hosting plans with round clock prompt customer support.
Hostinger: Hostinger offers the best low-cost options for shared hosting. It is a reliable web host that offers profound and feature-rich hosting plans. Hostinger is a worthwhile investment for your website as it offers an excellent uptime guarantee and premium features for a not-so-expensive price.
CloudWays: CloudWays is an incredible managed cloud host for a powerful hosting environment. This web host balances affordability and functionality with its cloud-based WordPress hosting plans. Their hosting servers have a comprehensive feature set and you get the ability to scale the hosting resources as your website grows.
Siteground: Siteground is a great hosting provider when it comes to website uptime and speed. One of the best things about Siteground is that your hosting is backed with a knowledgeable customer support team that is fast and friendly. Siteground offers the best hosting options for beginners. All the hosting plans by Siteground comprise of SSL certificate, CDN, and professional email accounts.
Nexcess: Nexcess provides a great set of features with its hosting plans. Right from free website migration to, 100% uptime guarantee around-the-clock with quick customer support, Nexcess is a great web host for all hosting requirements. Nexcess is a good hosting option for anyone who is looking for a robust WordPress hosting solution.
Conclusion
HostGator is one of the best web hosting providers for first-time website builders and bloggers looking for a reliable hosting platform. With the HostGator Baby Plan, you can get many hosting options and access to extra perks like free domain registration and an SSL certificate. The best thing about the HostGator Baby plan is that you can start small and then upgrade as your website grows.
HostGator Baby Plan would be the cheapest hosting plan at the moment for users wanting to launch several websites or blogs. However, if you are looking for more addons and more free features then you must opt for the other web hosts mentioned in this review.
If you have any suggestions or if you would like to add up to the review, you can post your opinions in the comments section.