Are you planning to buy a new web hosting plan from HostGator?
HostGator has multiple web hosting plans, which makes it one of the most reputed companies with huge benefits. This is an informative review about the two widely used HostGator shared hosting plans – The Hatchling Plan vs Baby Plan.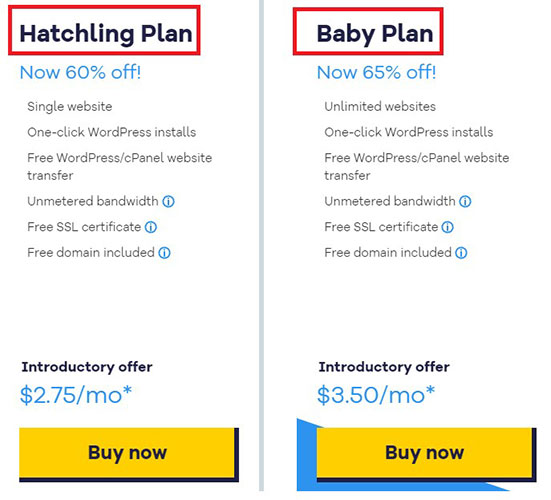 Users generally just select any plan of HostGator without differentiating between the plans. Unarguably, the Hatchling plan is the best plan for beginners. It offers a reliable hosting platform at the most affordable price and premium features like free SSL, domain name, and unlimited storage.
Why HostGator?
Here's why you should host with HostGator:
They have active customer support and you can contact the customer support team anytime.
You get a comprehensive list of exclusive features by HostGator like website migrations, custom website design, and SEO services.
Their servers offer the best hardware required to host your website whether you opt for a shared server or a dedicated server.
Their servers are compatible with a large number of third-party software and services.
They offer a great website builder and access to Softaculous through which you can install and use the applications you want.
SSL certificate is offered for free with the shared hosting plans.
They have various web hosting plans that are ideal for the website needs of business owners, bloggers, web developers, and ecommerce websites.
HostGator Hatchling Plan – Explained
Whether you are a blogger, a developer, a techie, or a startup, HostGator Hatchling plan is just the plan you want. It hosts a single domain and provides multiple features to get the website up and running. This is the best plan that beginners can use.
Features
Free SSL Certificate:
The Hatchling plan features a free SSL certificate. It ensures that your website is secure, not flagged. HTTPS is seen in the browsers with a unique padlock icon indicating a "secured" website. This feature is extremely important to make sure visitors feel safe when they are browsing your website.
Unmetered Bandwidth: 
This is also a crucial feature to consider when you are choosing a web host. Some hosting services offer only limited disk space and bandwidth. Before a blog or website is monetized, you have to upgrade the plan. Fortunately, the HostGator Hatchling plan provides unmetered bandwidth that gives you the freedom to concentrate on your blog or site and let it grow.
Although it is not unlimited, it provides adequate disk space as well as bandwidth needed for standard operations for individuals and small business sites. Hatchling Plan can be considered if your blog or website is new, your website has low traffic, your website does not feature products for download, and if your site is not self-hosting multiple high-resolution pictures.
Free CPanel/WordPress Website Transfer:
The Hatchling Plan also features a free site transfer service. As a result, you can seamlessly transfer the website from another hosting service to the HostGator Hatchling plan.
One-Click WordPress Install:
Besides hosting, this plan allows users to create their website with the help of an intuitive website builder with just a few clicks. HostGator features an incredible number of more than 4500 templates. You can drag and drop the editor and start building your website. WordPress is unparalleled. It is one of the best platforms that more than 35% of sites use worldwide. With HostGator, you can set up one-click WordPress installs quickly to get started.
HostGator Hatchling Plan is priced at $2.75/month. 
HostGator Baby Plan – Explained
HostGator Baby plan is another interesting plan that allows unlimited domain hosting. The HostGator Baby plan is suitable for an ecommerce website as well. HostGator Business has several advanced features that can also be used for building online stores, whereas the Baby Plan does not support advanced features. Nevertheless, the multi-domain web hosting plan is a good option for beginners. Users can rely on this plan to build average traffic functional websites.
HostGator Baby Plan is priced at $3.50/month. 
Features
Free Domain Registration:
New web hosting accounts get a free domain name registration with the Shared Plans. Choose a relevant domain name without any extra cost by choosing the billing cycle of 12 months. You can get the preferred domain name like .com, .net, or .org, free of cost for one year.
Unlimited Hosting:
With the HostGator Baby Plan, users can host an unlimited number of domains. It is a great advantage for users.
Unmetered Disk Space and Bandwidth:
When you choose the HostGator Baby plan, you need not stress about upgrading the hosting plan often because it offers sufficient disk space and bandwidth. Using an unmetered hosting plan means users are not charged extra for more bandwidth and disk space used.
Free SSL Certificate:
"Let's Encrypt" is a free SSL to keep data secure on the internet. The Baby Plan supports this feature and automatically renews the certificate after 90 days regularly at no additional cost. It is very important to present a secure site to customers to build loyalty.
Free WordPress & cPanel Website Transfer:
The HostGator Baby plan includes free website transfer services (limited) for new web hosting accounts within the first 30 days of signing up.
HostGator Hatchling Vs Baby Plan – The Differences Explained
The two noteworthy differences between Hatchling Plan and Baby Plan are:
The HostGator Hatchling Plan has been created for single sites while the Baby Plan supports unlimited sites.
With Hatchling, you can park domains while you do not have this option with the Baby plan.
Apart from this, both the plans have similar features. In a maximum number of cases, the Baby Plan has proven to be a perfect choice. Users can host several websites, which is affordable.
Here's A Structured Comparative Review
The choice between the Hatchling Plan and the Baby Plan is overwhelming for any blog or website owner. A comparison of both plans will give you insightful clarity.
Domain Name Hosting
The most important difference between HostGator Hatchling and Baby Plan is that the Hatchling plan allows users to host only 1 domain whereas the Baby plan allows you to host multiple domain names.
This indicates that if you select the HostGator Hatchling plan, you cannot host more than one domain name, you would have to purchase another hosting plan if you wish to host multiple websites. However, this would increase the overall cost of hosting.
Here the Baby plan wins because it saves money with the unlimited domain name hosting plan. In both the plans, 1 domain name is offered for free for the first year.
Utility

A significant difference between the two plans, Hatchling and Baby is the user base they can support. The hatchling plan is perfect for beginners with limited domain name hosting. Beginners starting their journey in web hosting or blogging can use this plan. It is the best choice for basic personal uses as well as small businesses.
On the contrary, the Baby Plan comes with its unlimited domain name hosting feature, which is excellent for growing businesses that receive medium traffic. It is suitable for hosting multiple business domains too. The HostGator Baby plan is ideally designed for business purposes and eCommerce hosting.
Features

Both the web hosting plans, Hatchling and Baby, offer shared hosting along with similar features. The plans also include a free SSL certificate to ensure fully secure and encrypted website data.
Similarly, unmetered bandwidth and disk space are two mentionable features of these two plans. Users are not charged based on the amount of disk space or bandwidth used. If the disk space or bandwidth is limited for users, they have to upgrade it when they exceed the limited bandwidth set for use.
In addition, the plans also offer seamless and fast website transfer. However, the HostGator Baby plan provides another feature – free domain name registration when you choose a 12-months billing cycle. This feature allows you to choose the desired name for your domain and use the same for free for one year.
Email Hosting
Both Hatchling and Baby Plans allow users to create unlimited email accounts. Most importantly, the host uses industry-leading servers for email, which allows users to send as well as receive emails faster and more efficiently.
With an unlimited plan for email hosting, users can get features like unlimited autoresponders, mailing lists, and email forwarders with spam assassin.
Uptime & Performance

Both these shared hosting plans have no remarkable difference when it comes to uptime and performance. Both Baby and Hatchling plans share one server. There are just a few dissimilarities between the two.
HostGator guarantees 99.99% uptime. User reviews suggest that the performance and uptime are 100% reliable.
Users can sign up for HostGator Hatchling or the Baby plan based on the type of website, target audience, and hosting resources needed for the website.
Control Panel
Both the Hatchling and the Baby Plan are powered by the cPanel control panel. It ensures seamless use and a range of personalized options.
HostGator offers easy-to-use plans with a simple setup process that allows you to host your website or blog quickly and easily.
Website Builder

The website builder available with all HostGator plans aims to make the setup process easier for blogs or websites. It has a drag-and-drop editor and thousands of customizable templates that allow quick execution of every task. You can create a visually attractive website or an engaging and informative blog or even a fully functional eCommerce portal.
Advertising Credit

Both the Hatchling and the Baby plans offer Google Ads credit of $150 and Microsoft advertising credit of $100. With this ads credit, you can mark the beginning of your online presence. You can use this feature by logging into your HostGator account. You can use the Google Ads credit of $150 only after you spend $25 on Google Advertising by yourself. You need to be aware of the terms and conditions laid out by HostGator for using these advertising credits.
Pricing
The prices of HostGator Hatchling and Baby Plan are given below. Besides the extremely low cost for over 36-months plans, there are some short-term plans too. If you want the maximum savings, you can opt for the 24 or 36 months plans.
| | | |
| --- | --- | --- |
|   | Hatchling Plan | Baby Plan |
| 36 Months | $2.43/month | $2.95/month |
| 24 Months | $2.78/month | $3.28/month |
| 12 Months | $3.13/month | $3.58/month |
| 6 Months | $10.95/month | $11.95/month |
| 3 Months | $10.95/month | $11.95/month |
| 1 Month | $10.95/month | $11.95/month |
IMPORTANT
Note that these are just the introductory prices. Pricing is applicable for the entire term of the plan. The cost of renewal remains the same or even lesser than the monthly price.
HostGator Hatchling Or Baby – Which Is A Better Plan?
Here is the comparison at a glance:
| | | |
| --- | --- | --- |
| | Hatchling Plan | Baby Plan |
| Number Of Websites | 1 | No Limit |
| Domain Registration | Free (1 Year) | Free (1 Year) |
| Sub-Domains | Unlimited | Unlimited |
| Control Panel | cPanel | cPanel |
| SSL Certificate | Free | Free |
| Bandwidth | Unmetered | Unmetered |
| Storage | Unlimited | Unlimited |
| FTP Accounts | Unlimited | Unlimited |
| Parked Domains | No | Unlimited |
| HostGator Website Builder | Included | Included |
| Money-Back Guarantee | 45 Days | 45 Days |
| Domain/Website Transfer | Free | Free |
| IMAP Support | Yes | Yes |
| Dedicated IP | No | No |
| Support | 24/7/365 | 24/7/365 |
Now that you know both the hosting plans clearly, it is time to choose a plan that suits your business needs.
The choice between Hatchling and Baby Plan would depend on the type of website or blog you have and the features you need.
The Hatchling Plan is perfect for:
New bloggers or new websites
Amateurs without technical knowledge
Low-traffic websites
Websites that do not consist of high-resolution images
Small business websites
The Baby Plan is perfect for:
Websites receiving average traffic
Accounts that need unlimited domains
Ecommerce business
Bloggers with high traffic websites
Conclusion
The uniqueness of HostGator lies in the reliability and high utility it provides for all the plans. Both the shared hosting options, Hatchling Plan and Baby Plan, are great choices, with a couple of differences and both these plans offer a good website speed.
You can try either of these to start your blog or run your small business or eCommerce website. You can easily upgrade your hosting plan if you have heavy traffic typically exceeding the usage limit of your hosting plan.
What is your experience with the HostGator shared hosting plans? Do they offer value for money in your opinion? Mention your views in the comments section.
FAQs
📌 Does HostGator have customer support?
HostGator provides 24/7 customer support through live chat, phone calls, and email. You can expect a quick reply from a well-informed support team.
📌 Is HostGator Hatchling and Baby Plan safe?
Yes, all shared hosting HostGator plans are safe as they feature a free SSL certificate. They offer SiteLock that protects your website by detecting and removing malware.
📌 Is HostGator Hatchling and Baby Plan safe?
Yes, all shared hosting HostGator plans are safe as they feature a free SSL certificate. They offer SiteLock that protects your website by detecting and removing malware.
📌 Can I choose to host more than one website using HostGator?
HostGator has shared hosting features to allow users to host multiple addon domains. It permits unlimited domain hosting. However, this feature is available for Baby and Business Plans, not for the Hatchling plan.
📌 Do HostGator Baby and Hatchling plans include monthly terms?
Yes, there are monthly plans with HostGator. However, if you want to save big, choose the plan for 36 months. Longer commitment ensures maximum saving.
📌 I want to use HostGator Baby Plan. Will I get free domain hosting?
Yes, the HostGator Baby plan allows free domain hosting.
📌 Do I have to use SEO tools for HostGator?
No, you can use a free WordPress Plugin called Yoast SEO.
📌 Does HostGator accept PayPal?
Yes, HostGator accepts PayPal for all the web hosting plans.
📌 How much does the HostGator web hosting plan cost?
The price of the basic shared hosting plan of HostGator – The Hatchling plan starts from $2.75 per month if you signup for a 36 months term.
📌 Can I upgrade my HostGator Plan?
Yes, you can easily upgrade your HostGator plan by contacting the customer support team.