Are you confused between Kinsta and o2switch for your website? If yes, then this Kinsta vs o2switch guide will clear your confusion. We will highlight the key differences between the two hosts.
Kinsta WordPress hosting platform is very different from traditional hosts. Its infrastructure uses Cloudflare and Google Cloud. On the other hand, o2switch is a DIY hosting provider.
Our research reveals that Kinsta is the better choice. However, we'll dive into the comparison details below.
Let's get started.
Kinsta vs O2switch: Overview
Kinsta doesn't fall into the traditional shared, VPS, or dedicated infrastructure categories. Conversely, O2switch is no different than any other traditional host.
Let's have an overview of these hosting providers and look at their pros and cons one by one:
Kinsta overview
Established in 2013, Kinsta is suitable both for beginners and advanced users. The scalability it can offer for your website makes it stand out in this comparison.
Since the host offers a managed WordPress solution, its customers don't need to worry about server maintenance tasks. Thus, Kinsta manages performance optimization, updating of CMS, and backup creation for your website.
Pros of Kinsta
Kinsta servers are extremely fast.
The host has 35 data center locations spread across all continents.
You will receive excellent security and uptime for your website.
Kinsta has one of the best technical support in the industry.
All host servers are well-optimized for high-traffic and eCommerce websites.
Cons of Kinsta
Kinsta hosting plans can be pricey for some website owners, especially beginners.
The host has a lot of WordPress plugin restrictions because of incompatibility.
You won't receive any phone support for resolving urgent queries.
Kinsta doesn't provide email hosting or domain registrations.

O2switch overview
O2switch is a French hosting provider with over 15 years of experience in the hosting industry. It offers an unmanaged shared hosting solution for your website.
O2switch provides a single plan with unlimited features that serves the needs of all website owners. The company owns a data center in France and is 100% independent, making it stand out in this duel.

Pros of O2switch
O2switch provides an affordable hosting plan with no increased renewal rate.
You will get unlimited disk space and bandwidth for your website.
The host provides a free domain with its hosting plan.
O2switch allows you to choose a desired IP address with ipXtender.
Since the host has its data center in France, it is a great choice for website owners targeting French users.
The hosting provider's support team is proactive and, thus, responds quickly to all customer queries.
Cons of O2switch
Since O2switch offers only a single hosting plan, you do not have the option to upgrade your resources when your website grows.
It is not possible to use an external email SMTP server with O2switch.
You might experience slow speed and bad website performance occasionally.
Since the company has only a single data center worldwide, you do not have the option to choose a server location depending on your website audience.

Visit O2switch

O2switch vs Kinsta: Features
Let's compare Kinsta and O2switch features side-by-side:
| | | |
| --- | --- | --- |
| Features | Kinsta | O2switch |
| Global Data Centers | It has 35 server locations worldwide. | It has only one server location worldwide. |
| Starting Price | WordPress plans start from $35 per month. | O2switch's only hosting plan is available for $7.54 per month. |
| Free Automatic backups | Available | Not available |
| Email & Domain Hosting | Kinsta doesn't provide email hosting or domain registrations. | O2switch provides email hosting and domain registration as part of its hosting plan. |
| Free Site Migrations | Available | Not available |
| Free DDoS Protection | Available | Not available |
| Inodes/files limit | Unlimited | 500,000 |
| Staging Environment | Available | Not available |
| Multilingual Dashboard | Kinsta offers a multilingual dashboard that currently supports 10 languages. | O2switch doesn't have a multilingual dashboard and depends on cPanel translations. |
Winner: Kinsta wins in the feature comparison by offering more hosting features than O2switch.
Kinsta and O2switch: Ease of Use
Kinsta provides a custom MyKinsta dashboard to help you manage your hosting account. On the other hand, the o2switch plan gives you access to the popular cPanel installation.
Kinsta: Ease of Use
MyKinsta displays detailed analytics of your website visitors, performance, and bandwidth.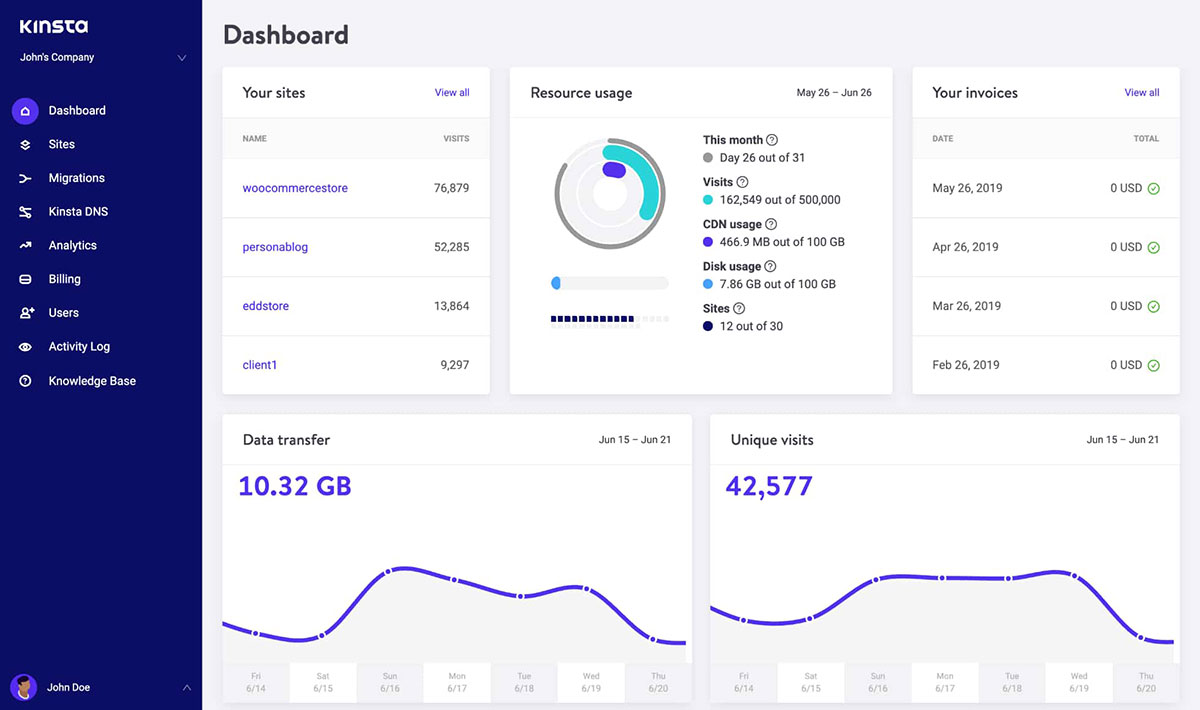 Control panel comparison
Kinsta's control panel is clean, simple, and easy to use.
The host has created an intuitive panel and arranged all the available features/elements well. So it becomes easy for beginners to find their way around quickly.
MyKinsta panel loads pretty fast. Thus working with Kinsta's well-designed user interface is a real treat for its customers.
O2switch: Ease of Use
O2switch can provide only basic information related to resource usage and other statistics via cPanel.
Control panel comparison
O2switch provides the most popular control panel, cPanel, which is extremely easy to work with.
The host offers useful tools like Softaculous to help perform additional hosting functions easily.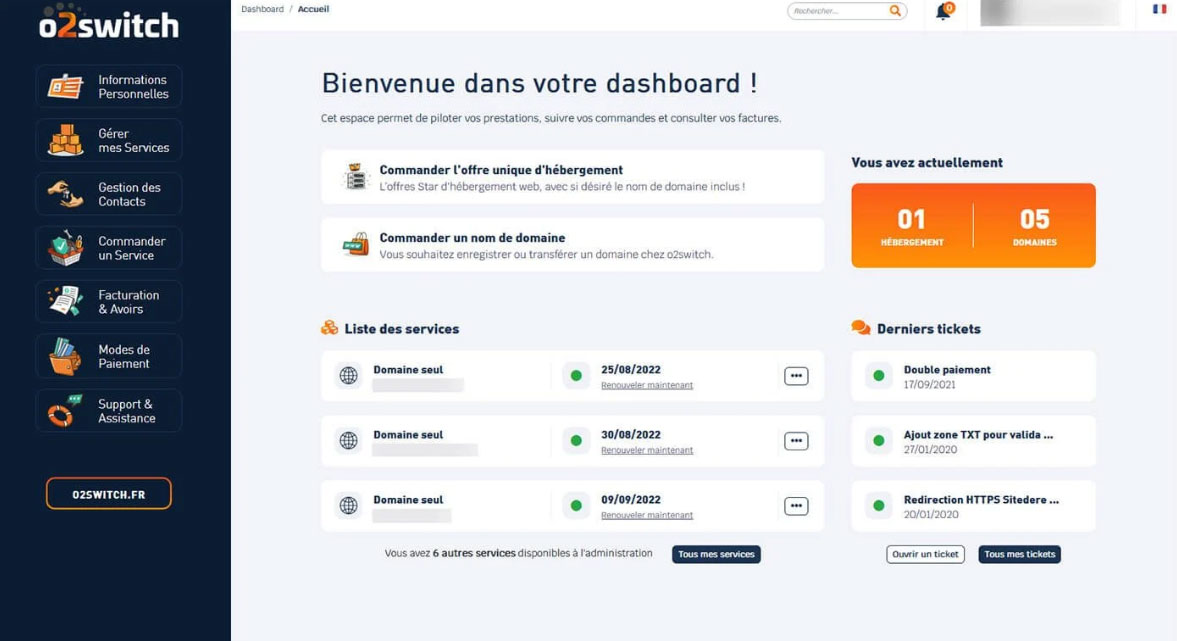 Winner: Kinsta wins by offering a custom control panel built especially for easier management of WordPress websites.
O2switch vs Kinsta: Performance
Kinsta offers managed WordPress hosting, while O2switch provides only shared hosting services. Additionally, Kinsta uses third-party infrastructure from the biggest tech brands, whereas O2switch depends on its owned server and networks.
Let's see how these aspects affect the performance of the two hosts:
Kinsta
Kinsta provides an isolated environment for your website. Each site on the platform runs in a separate container carrying all software resources needed to run it, including PHP, NGINX, Linux, and MySQL.
So the software running each website is 100% private and is not shared even among your multiple sites.
Kinsta utilizes Google Cloud and Linux containers as part of its infrastructure for the underlying container technology. These help Kinsta deliver excellent network timings, as shown below: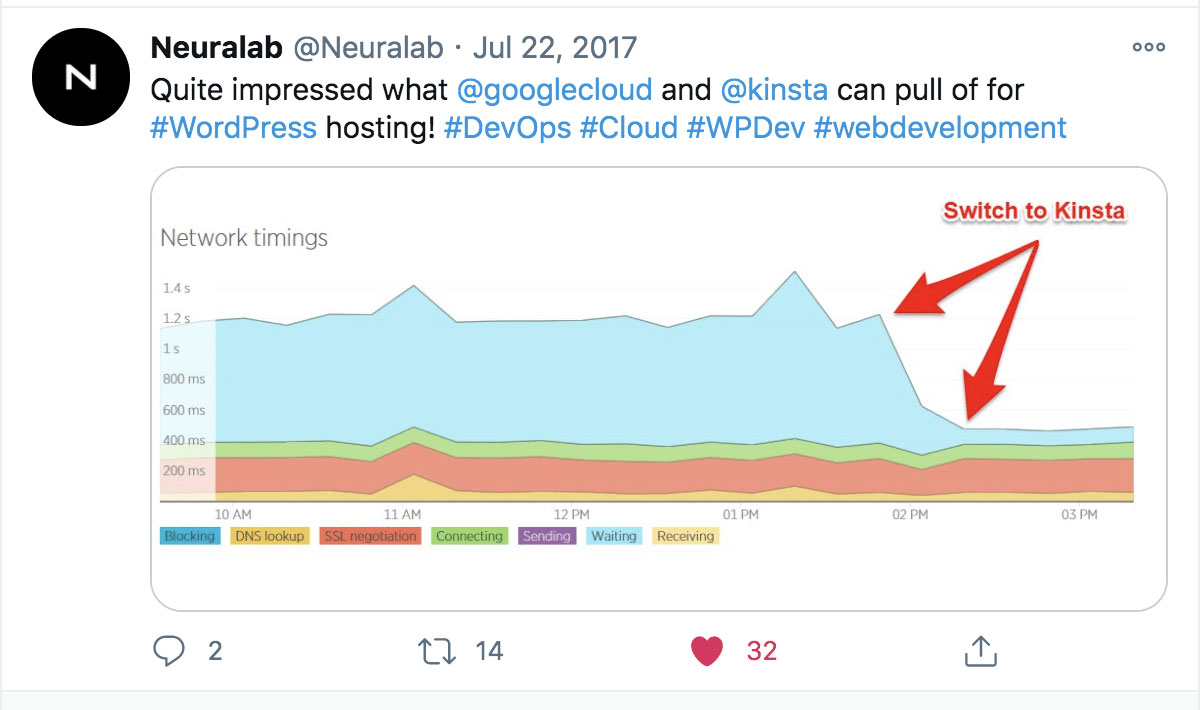 Thus, Kinsta is capable of offering great performance for your website. You can easily get below 500 ms with proper settings.
O2switch
Since O2switch offers only shared hosting services, the host doesn't provide any isolated environment for your website like Kinsta. It leads to substandard performance and inconsistent availability of resources for your hosting needs.
The existing O2switch customers also complain about its poor speed performance at times. It shouldn't be surprising since hundreds of website owners use the same server resources.
Winner: Kinsta is the clear winner in the performance comparison as it delivers faster network speed and excellent website performance.
Kinsta and O2switch Security Comparison
Let's consider Kinsta vs o2switch security aspects below:
Kinsta
Kinsta uses Cloudflare firewall to protect your website from all attacks automatically.
It provides free DDoS protection.
The host performs uptime monitoring for your website after every two minutes.
It offers two-factor authentication (2FA) support for additional security.
Kinsta implements software-based restrictions to enhance website security.
The hosting provider supports only encrypted SFTP and SSH
All Kinsta plans include an automated backups
Its entire system is built on Linux containers to isolate server resources efficiently.
O2switch
O2switch is a shared hosting provider, which makes it more prone to attacks. The neighboring server users might compromise your website's security. However, the host provides a few tools to safeguard your website.
O2switch offers the Tiger Protect tool that works as a firewall at the server level. It carries customized security rules that are exclusive to o2switch.
It provides DDoS protection via Arbor Networks, one of the leaders in website security solutions.
The host owns its data center and protects it with several access controls.
You will receive a free Let's Encrypt SSL certificate for your website.
O2switch allows you to create free hosting sub-accounts via the Web Universe Management tool. It helps you isolate your websites on different accounts and enhance their security.
The host performs 24/7 server monitoring to ensure uptime.
Winner: Kinsta wins in security by providing more security features and isolated site environments.
Kinsta and O2switch Support Comparison
Both Kinsta and O2switch have internal customer support departments and do not outsource this service. Let's check out the differences between the support available from these two hosts:
Kinsta
Kinsta offers 24/7 support directly from the MyKinsta dashboard via live chat. You can also contact the experts via email and the company's social media channels.
Additionally, Kinsta provides sales support via phone, WhatsApp, live chat, email, and online appointments.
Here are some highlights of Kinsta support:
The host's live chat replies within a minute or less.
Kinsta's technical support team is the best in the hosting industry. It comprises system administrators and WordPress experts.
All Kinsta support executives are super-friendly and do everything to help you, whether on the site or server levels.
O2switch
O2switch offers 24/7 technical support only via email and support tickets. Also, you can contact the support team via phone, fax, or live chat during business hours. The company has a separate email dedicated especially to sales support.
Here's an overview of O2switch customer support:
Their executives are quick to respond. They try solving every problem on a single call or email.
The O2switch support team is accommodating and willing to go the extra mile to help you out.
Winner: Kinsta wins in the customer support segment by hiring WordPress experts and providing 24/7 live chat support, unlike O2switch.
Pricing plans of Kinsta and O2switch:
Kinsta provides WordPress hosting plans, while O2switch offers shared hosting, so their pricing is a huge difference. Let's analyze this pricing difference between their hosting plans below:
Kinsta
Kinsta offers a wide variety of plans that are suitable for different business needs.
Its annual WordPress hosting plan offers special discounts like 2-month free If you cancel your yearly hosting plan after a few months, Kinsta refunds the unused portion, so you have no additional risk.
The host offers a 30-day money-back guarantee with all its WordPress hosting plans.
Kinsta is happy to refund your money within the allowed period and has a seamless refund process.
Methods of payment: Kinsta accepts Mastercard, Visa, Discover, Maestro, and American Express. Additionally, you can also pay via ACH and wire transfers but only for the annual WordPress hosting subscriptions.
Starting Price: The WordPress Starter plan costs $35 per month with Kinsta.
O2switch
Unlike Kinsta, O2switch offers only a single shared hosting plan for all website owners. So it is very limited in scale.
The host provides special offers like 3-month free hosting with new annual
Like Kinsta, O2switch hosting also comes with a 30-day money-back guarantee.
Methods of payment: O2switch accepts payments via credit card, bank transfer, PayPal, and checks. The host also allows payment via administrative mandate for communities and public bodies.
Starting Price: The only hosting plan from O2switch costs €7 or $7.54 per month.
Winner: O2switch wins the pricing part by offering cheaper hosting services than Kinsta.
Final Verdict
Kinsta and o2switch are two completely different hosting providers. Their service offerings, data centers, and pricing do not match at all. In the end, you always get what you pay for, which is exactly the case in this hosting comparison.
Let's look at the use cases for Kinsta and o2switch to help you decide which is the right host for your hosting needs:
Use Kinsta if:
You are truly serious about your online venture and planning to run one or more money-making websites.
You have limited technical knowledge or don't want to handle the technical aspects of server management.
Speed and server reliability are the two most important aspects of your website.
You want to host a medium to large WordPress website receiving high traffic, for instance, an eCommerce store.
Use O2switch if:
You have plans to create a small website.
You are a beginner on a very tight budget.
The majority of your target visitors are located in France.
You have some technical knowledge to manage your server without any help.
Visit O2switch