NameHero Vs GreenGeeks is a tough competition as they both offer similar services, and it becomes difficult to choose one.
This is a complete comparison where we will compare the two hosts. We will not only cover the features but will also cover ease of use, performance, security, support, and pricing. In the end, we will have a clear winner among these two.
Sneak Peek: NameHero is better in most situations. Let's begin with the battle and see which is perfect for your situation.
NameHero Vs GreenGeeks Overview
We will start with a basic overview of both hosts to give you a rough idea about NameHero and GreenGeeks.
NameHero Overview
NameHero was founded in 2015 in Wyoming, US, by Ryan Gray, who is also very active in the industry (by delivering keynotes and speaking at conferences). They have over 40,000 customers.
NameHero Pros
Automated backups.
Amazing security with built-in malware scanning.
Fast LiteSpeed web server (faster than Apache).
24/7 super-fast customer service.
Unlimited SSD storage (and unlimited NVMe storage on Turbo plans).
HTTP/3 support for even faster load times.
NameHero Cons
Very deceptive pricing (with a small setup fee for certain plans).
Daily backups expire after 24 hours.
Automated fraud detection system suspends user accounts (without any fault).
Data centers are present only in the US and Netherlands.
GreenGeeks Overview
GreenGeeks is an old company founded in 2008 by Trey Gardner. They have more than 55,000 customers using their services.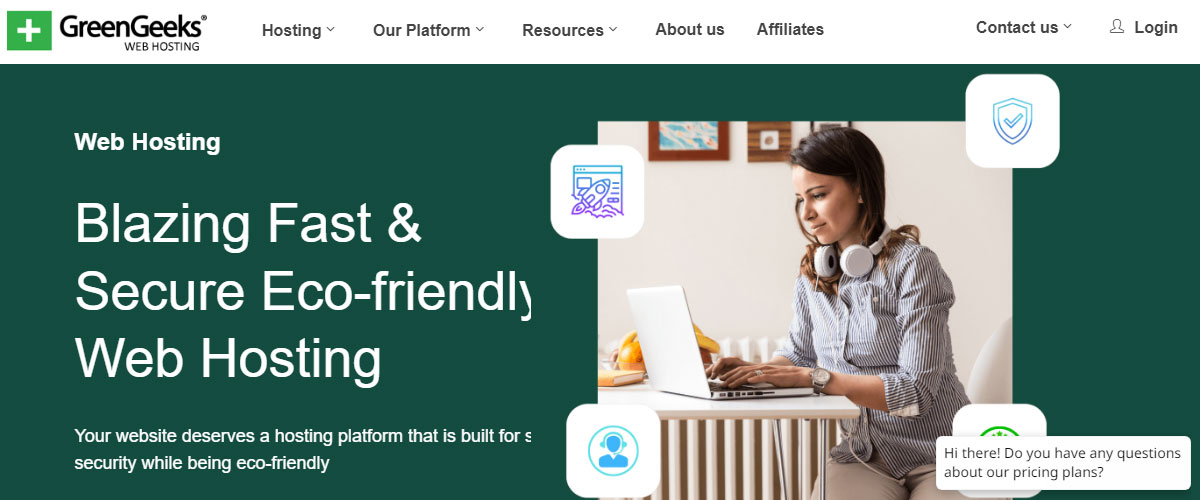 GreenGeeks Pros
Optimized for beginners.
Solid Security Package.
Choice of different server locations.
Unlimited resources for most plans with tons of features.
300% green energy match.
GreenGeeks Cons
SSL certificate is not activated by default (they have an automated tool).
Customer support is not very helpful (technical support is bad).
No 24/7 phone support.
A massive increase in price during renewal.
Many customers complain about their refund process.
Setup costs and domain fees aren't refundable.
Features Comparison
Let's see a quick comparison of the features.
| | | |
| --- | --- | --- |
| Criteria | NameHero | GreenGeeks |
| Starting Price | $2.69/month | $2.95/month |
| Website Migration | Free | Free |
| Free Backups | Daily backups | Nightly backups |
| Free SSL certificate | Yes. Let's Encrypt SSL certificate | Yes. Let's Encrypt SSL certificate |
| Free Domain | Available in the last 2 plans with a billing period of 2 years or more. | Free for the first year with an annual plan |
| Firewall security | Advanced firewall with AI | Advanced firewall with AI |
Winner: NameHero is slightly better due to its low price as other features are similar.
Backups (snapshots)
Both hosts provide free backups, but certain conditions exist. Let's look into it more deeply.
NameHero Backups
NameHero uses JetBackups for automated backups. The daily backups expire in a day. You can add premium backup with 30-day retention starting from $5.98 for 5 GB.
GreenGeeks Backups
Free nightly backups are available in all the plans. However, on-demand backups are available only from the Pro web hosting plan, starting at $4.95/month.
Winner: It's a draw as they offer free daily backups, and you can also use cPanel for backups.
Data Center Locations
If you have more visitors from a specific country, it's better to look for the nearest locations to that country. Let's see where the data centers are located.
NameHero Locations
In the US, they have centers in Michigan, Arizona, and Missouri. They also have a data center in Amsterdam (Netherlands).
GreenGeeks Locations
The data centers are situated in Chicago (US), Montreal (Canada), Amsterdam (Netherlands), and Singapore (SG).

Winner: GreenGeeks has more global data centers and is green web hosting.
As the name says, GreenGeeks gives back to the planet by matching your server usage with 300% green energy.
Storage
Disk space depends on the plan you choose. However, you need to check the storage type as it will determine your server storage's read and write speed.
NameHero Storage
NameHero uses SSD storage for the first two plans. It comes with RAID 10 redundancy, meaning recovering data in a RAID 10 array is fast, resulting in little downtime.
From the Turbo plan, they have NVMe storage. It's pretty rare to find NVMe storage in shared hosting. They have unlimited storage on all the web (shared) hosting plans.

GreenGeeks storage
GreenGeeks use SSD storage. On the negative side, you will get limited space on the base plan of shared hosting.
Winner: NameHero is better due to NVMe storage and unlimited storage space.
Ease of Use Comparison
You need to consider two main things here. The first is the account dashboard, where you manage the hosting packages and domains. The second is the control panel, where you will manage your shared hosting.
NameHero: Ease of Use
If you have ever used any hosting service before, you won't find it difficult to use NameHero.
Account Management Dashboard
The account management dashboard is quite user-friendly. Like all the hosting services, they use WHMCS for client management. You can easily manage your hosting and domains from the dashboard.
Control Panel Comparison
You get free standard cPanel with NameHero branding. The user interface is clean, easy, and simple to navigate around.
GreenGeeks: Ease of Use
GreenGeeks has an easy-to-use account management dashboard where you can manage your hosting services and domains. Let's learn more about it.
Account Management Dashboard
Regarding the account management dashboard, you get easy navigation in GreenGeeks compared to NameHero. You can find all the menu options from the left panel and log in to the control panel from the same area.
Control Panel Comparison
Coming to the control panel comparison, even GreenGeeks uses standard cPanel. So you will get a user-friendly interface.
Winner: GreenGeeks has a slightly beginner-friendly dashboard. The control panel is the same.
Performance Comparison
Let's come to the main part of the NameHero vs GreenGeeks comparison. Performance is the core part of the battle.
We will look at various aspects which determine the performance of web hosting.
Speed
The screenshots indicate the page score of the website hosted on the particular host. We will use GTmetrix speed for comparison.
NameHero Speed
When it comes to speed, NameHero tops the competition by providing amazing speed. As shown in the below GTMetrix score, the NameHero-hosted site gets a 100% performance score. On this website, LiteSpeed was activated.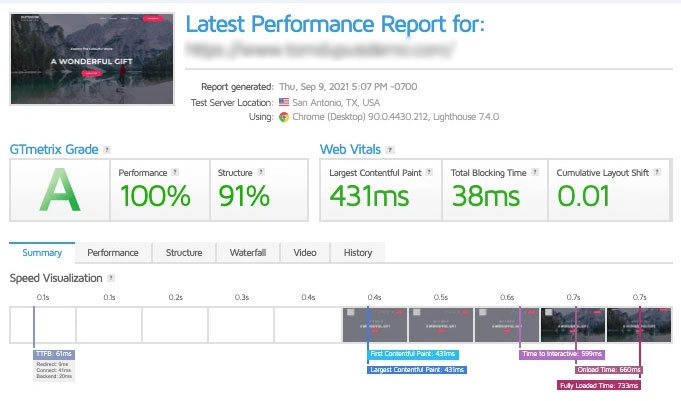 Along with the remarkable consistency in the speed, their feedbacks are also positive.
GreenGeeks Speed
GreenGeeks, on the other hand, offers similar speed. In the GTmetrix, you can see 94% performance with grade-A ratings.
Winner: NameHero is a winner when it comes to speed because of a 100% performance score.
Uptime
Uptime is the amount of time your website is live. It's measured in percentage. In the case of GreenGeeks and NameHero, the uptime is the same as promised.
NameHero Uptime
NameHero provides 99.9% uptime. They guarantee website uptime. So, there is no playing with words like "network uptime" or "Server uptime."
GreenGeeks Uptime
GreenGeeks delivers an uptime of 99.9%. The websites hosted on GreenGeeks rarely go down.
Winner: It's a draw. Both of them claim 99.9% uptime and deliver.
Server Technology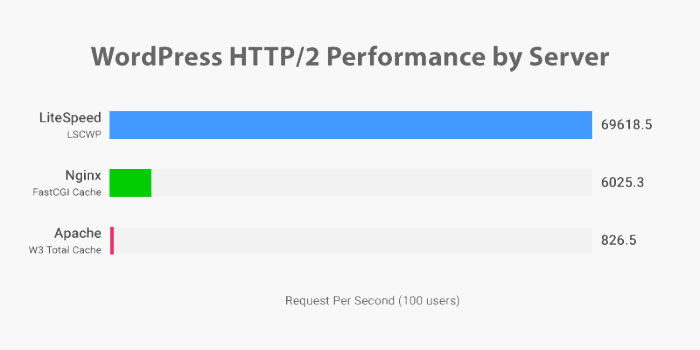 NameHero Server Technology
NameHero uses the LiteSpeed server and LScache. A few advanced shared hosting plans also include a speed boost with LiteSpeed. That's a brilliant combination of speed and reliability.
Along with this, they also use MariaDB instead of MySQL. So, you can expect better database redundancy. They also have WordPress LScache integration which is super fast.
GreenGeeks Server Technology
GreenGeeks also uses LiteSpeed webserver and MySQL/MariaDB database servers as their technology stack. For caching, they use Redis and LScache.
They use container-based technology, which is good for scaling projects.

Winner: NameHero has a LiteSpeed speed boost and a slightly better stack for WordPress.
Security Comparison
For shared hosting, security is usually good. However, you still need to ensure that the host has robust security.
NameHero Security
They offer free "Let's encrypt auto-install SSL" along with Cloudflare CDN.
Daily backups for free.
Free malware detection with Imunify360.
AI-powered advanced server firewall with a proactive defense.
Proactive Security & Monitoring.
Isolated container for each account to safeguard from neighbor's activities.
WordPress shield to identify and stop malicious logins, patch security holes, and more.
Jailed SSH access is also available.
Automatic malware scanning and removal (costs an extra $5/month).
GreenGeeks Security
Free "Let's Encrypt SSL" and free Cloudflare CDN.
Free nightly backups and they also have on-demand backups for specific plans.
Container-based technology for account isolation.
AI-powered Enterprise-level firewall with DDoS Protection.
Secure virtual file system with SFTP and SSH access.
Advanced clustered threat analysis with proactive server monitoring.
Real-time security scanning.
Free malware cleanup (experts will help you with cleaning).
Winner: Both of them provide high-level protection. However, NameHero is slightly better due to the WordPress shield, jailed SSH, and auto-install of SSL.
Customer Support Comparison
Customer support is an integral part of any hosting service. Even if you use shared hosting, you should choose a host with good customer support. The support should be fast, reliable,  available 24/7, and technically knowledgeable.
NameHero Customer Support
NameHero customer support is available 24/7 via live chat, ticket, and email. The response is fast and reliable. They don't compromise the support even with their cheap hosting plans.

There are multiple similar reviews where people have shifted to NameHero from other hosting providers, such as SiteGround.
GreenGeeks Customer Support
GreenGeeks has decent customer support that usually replies to all queries. However, when it comes to technical questions, you can't entirely rely on them. You can contact them via live chat, ticket, email, and phone. Phone support is available every day from 9 AM to 12 AM EST.
Winner: Even though NameHero lacks phone support, their support is more reliable regarding technical queries.
Pricing Plans Comparison
Hosting prices can be confusing. So, here's a clear pricing picture for you.
NameHero Pricing
NameHero users often get confused with their pricing plans.
Their base plan costs $2.69/month for 3-year, $2.99/month for 2-year, and $3.29/month for 1-year billing term. The base plan renews at a regular rate. They charge $10.95/month for an annual term, $9.95 for a 2-year billing term, and $8.95 for a 3-year term.

Moreover, their Turbo and Business cloud plans also allow you to go with monthly pricing.
NOTE: If you go with the monthly billing term of these two plans, you will have to pay an extra setup fee. So, it's recommended to go with a 1-year term instead.
GreenGeeks Pricing
The base plan starts at $2.95/month for a 1-year term. They don't have other discounts if you go with a higher term.
The plan renews at $10.95/month. You will have to pay the same rate if you want to go with a monthly payment. They also have a 30-day money-back guarantee.
Winner: NameHero is slightly better as the renewal rate is lower.
Final Verdict
In the GreenGeeks vs NameHero battle, both the hosts gave tough competition. However, NameHero is better in the majority of features discussed. So, we recommend you go with NameHero.
Here are a few situations when choosing one of the given hosting services.
Use NameHero if
You want reliable web hosting with fast servers.
You want a lot of free add-ons where you don't need to pay separately.
You're a small business or an individual looking for excellent web hosting.
You want to migrate from older hosts to improve website loading times.
Use GreenGeeks if:
You're looking for a beginner-friendly hosting service.
You want to host a small-medium website.
You run an eCommerce store.
So, you can choose one of these hosts depending on the above-given scenarios.