Are you confused between Ramnode and Vultr? Welcome to the ultimate comparison of Ramnode vs Vultr.
We will go through every segment of the hosting providers to see which one is better. It's not just the overview, we will see an in-depth comparison of all the factors that affect your hosting needs.
To have a sneak peek, the winner is Vultr in the comparison battle. Let's see why.
Ramnode vs Vultr: Overview
We will begin with the basic overview where we will take you through the basics of each host to get a rough idea about them.
It will also include the pros, and cons of both the hosting providers. Thereafter, we will begin the Ramnode vs Vultr battle.
Ramnode overview
Ramnode is a powerful simplified OpenStack cloud hosting. You can surely rely on the provider because they've been acquired by the famous hosting company "InMotion hosting".
Additionally, their plans are attractive and you will get decent performance as well.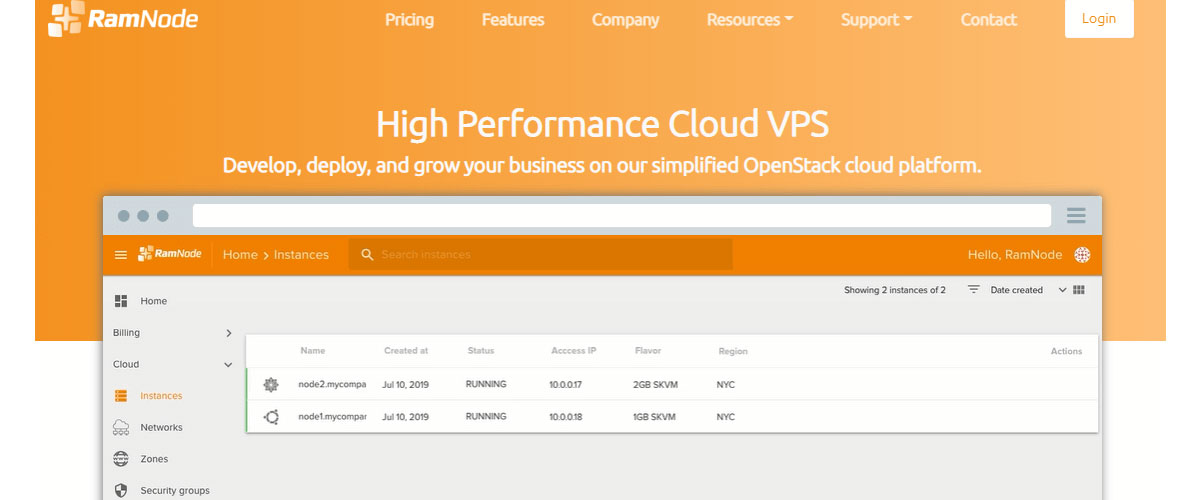 Pros of Ramnode
Affordable Pricing.
Daily Backups.
Unlimited domains.
Unlimited bandwidth.
The server setup is instant.
Softaculous auto-installer.
Free Websites Migrations.
Cons of Ramnode
They don't have phone support.
Scaling is limited.
The strict identity verification can be a headache sometimes
Very few data centers (only 5), none in Asia.
Many cloud features are missing.
There is no dedicated email service in Ramnode.
You can't buy domains from here.
Vultr overview
Vultr is a cloud-based platform that offers many products under one roof. You will get a fast-performing cloud along with affordable pricing options.
Pros of Vultr
They have super-fast NVMe SSD storage.
You will get a dedicated IP address as well.
You can easily scale up your server.
The cost is reasonable.
The user interface is simple.
Vultr has excellent security for your server.
The performance is unmatchable.
You can select the data centers from 25 locations across 12 countries.
They also have hourly billing if you don't want to go with monthly billing.
Cons of Vultr
Phone support isn't available.
The pricing can be confusing if you are new to the cloud.
There isn't enough information available for the physical safety of the data center.
Ramnode vs Vultr: Features
| | | |
| --- | --- | --- |
| | Ramnode | Vultr |
| 1-click server deployment | Yes | Yes |
| 24/7 Live chat support | No, but it has IRC | No |
| Backups | Only snapshots | Yes |
| Staging environments | No | No |
| SSL certificates | Yes | Yes |
| Server caching | Manual | Manual |
| Number of datacenters | 5 | 25 |
| Free migration | No | No |
| Dedicated Firewalls | Custom | Web-based |
Winner: Vultr has slightly better features.
Ramnode vs Vultr: Ease of Use
One of the core parts of choosing a hosting service is the user interface. It will determine how fast you can do a specific task and how easy it is to use the cloud.
Ramnode: Ease of use
We will now see how user-friendly the control panel of Ramnode is. They have a sidebar where you will all the menus.
You can easily create the instance with just a few clicks. You can select the configuration and you are good to go.
In one menu, you can only do one specific task. For example, if you head over to the "Instances", you can only create the instance.
So, if you want to upload the ISO file or you want to see the active snapshots, you will have to head over to the different menu.
Overall, it's very easy to use and beginner-friendly as well. So, you won't have issues working with the control panel.
Vultr: Ease of Use
Vultr on the other hand goes one step further when it comes to the control panel. They have an ultimate control panel that includes all the features in one place.
The first tab is the products tab where you can create an instance, see the snapshots, manage load balancers, and all the other similar features are available here.
You can also manage the billing from the left menu bar.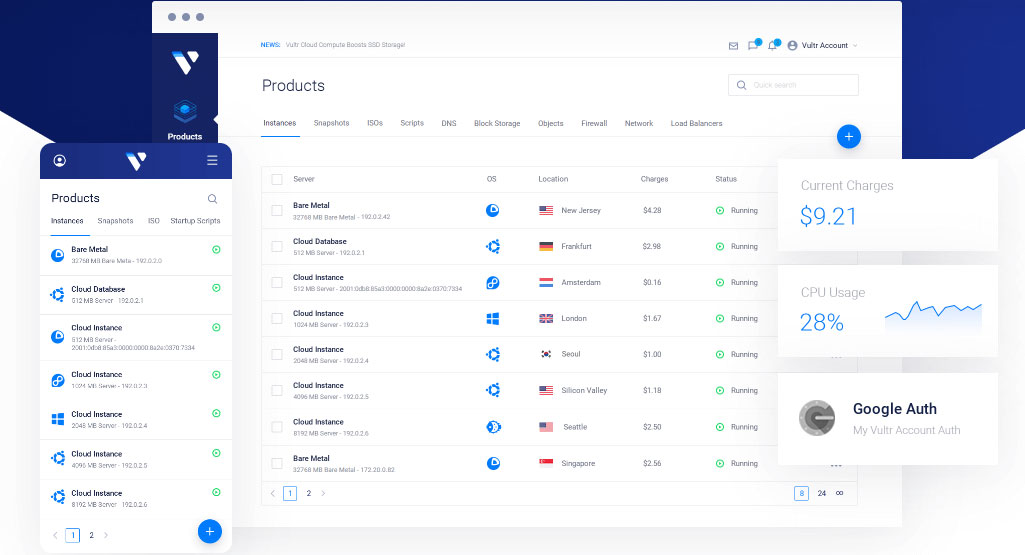 Above all, Vultr has a mobile-friendly control panel. So, if you want to make a small change, you don't need to head over to your computer. You can make the changes from the mobile with ease.
Winner: Vultr wins the competition because of the ultimate interface and mobile-friendly panel.
Ramnode vs Vultr: Performance
There are certain performance factors to consider when comparing Ramnode and Vultr.
We will take a look at the speed, and uptime, and also see about the stress testing. We will declare the winner after analyzing all these factors.
Speed
Let's start with the speed to get the basic idea about the Ramnode vs Vultr comparison.
Ramnode speed
Ramnode offers a decent speed. They have servers in the United States and Europe. So, if you have visitors from these locations, you can expect less waiting time.
If you take Amsterdam's server ping test, here are the results. We have used Amsterdam's server location.
The time taken for the IPv4 ping is 2999ms which is great.
Vultr speed
Let's have a quick look at the ping test from the same location.
As you can see that it took only 57 ms to ping the IPv4. Therefore, we can conclude that Vultr has a better speed.
Now, Vultr has multiple server locations where you can host your website. So, we can't take one location and consider the speed.
Therefore, we will test the speed from all the data center locations to see the difference. Below given in the screenshot of the speed test in Vultr cloud.
As you can see, the speed is almost the same on all the servers. Therefore, we can conclude that Vultr's speed is better compared to Ramnode.
Uptime
We all see uptime written on their website. However, the question is, do they follow the same? Let's find out.
Ramnode uptime
Ramnode provides a 99.9% uptime guarantee. However, the server goes down more often as compared to their promise.
Below is a screenshot of a website hosted on Ramnode's Atlanta location.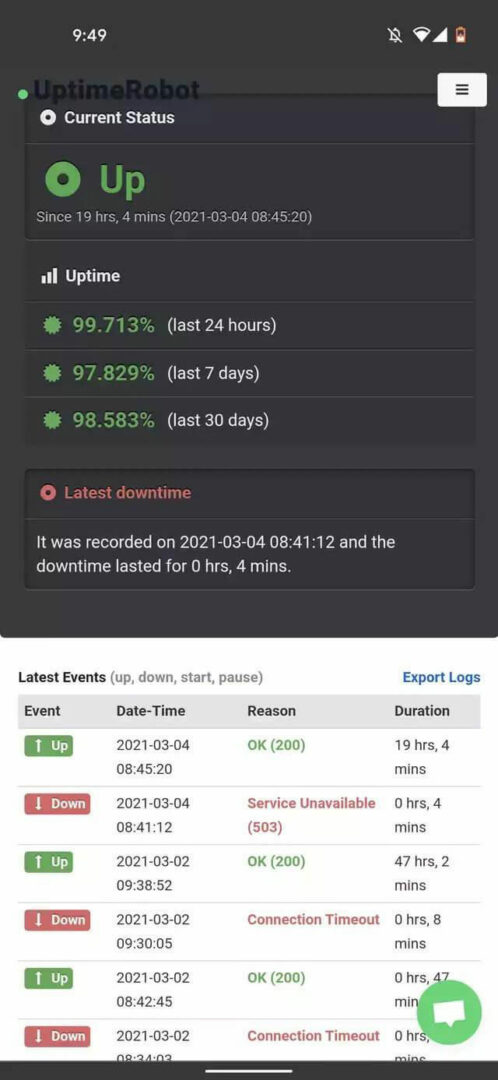 The uptime is roughly 98.6% if you consider 30 days.
Vultr uptime
Now, when it comes to Vultr's uptime. They have a 100% credit-based guarantee. So, if your project has any downtime, you will get the credits back.
However, they sometimes face outrages that may cause downtime. As you can see in the Trustpilot reviews, their customers sometimes face downtime.
Many other customers are also facing the same issues.
NOTE: If Vultr fails to deliver a 100% uptime guarantee, your account will be eligible for credits based on any affected instances. You will get those credits in your account.
Stress testing
When you run a web app, you might have certain traffic spikes. Your server needs to handle the stress without crashing or causing any issues. That's what we will talk about here.
Ramnode stress
Here is a screenshot of the CPU usage in Ramnode. It's a local (EU) busy website that has an average of 1000 visits every day. That sums up to a total of roughly 30k visits a month.
It's a WordPress website with 120 articles, 50 videos streaming, and many forms where users can submit the data. The CPU of their servers from cloudlinux visual statistics is never 25-30% of the total power.
However, if there are traffic spikes, you can expect the CPU usage to be 100% quite often. This can be an issue for the people getting huge traffic.
Vultr stress
Vultr's CPU usage doesn't generally hit the 100% consumption mark because of its load balancer. Whenever there is a heavy load, they will distribute the traffic among other instances.
In this way, the load gets balanced and you won't get warnings. So, if you are getting more traffic spikes, you should consider Vultr.
Winner: Vultr is better overall when it comes to performance.
Ramnode vs Vultr: Security
As we mentioned above, there could be traffic spikes. We need to ensure that the traffic is real and not a DDoS attack. That's where security comes into the picture.
Ramnode
Ramnode has got secure servers. However, they only have the paid DDoS addon. You don't get anything for free.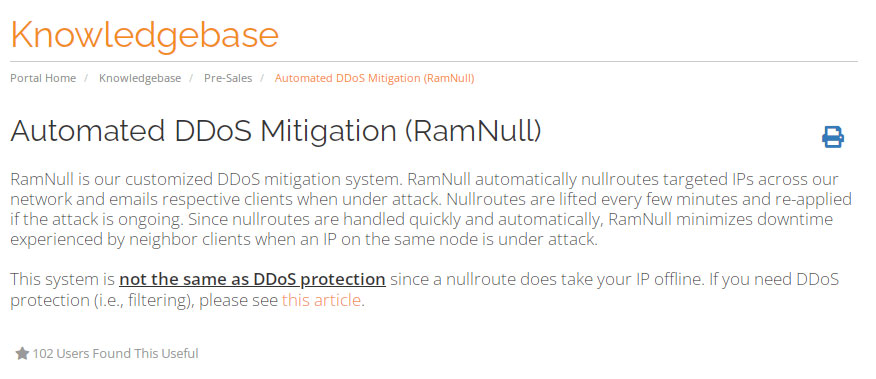 It will cost you $3 per month if you add DDoS protection. It will filter the IP and works on the cloud.
Further, you can get backups as well. Just like DDoS, the backups are also paid.
Vultr
The DDoS mitigation is Vultr is powerful. However, the cost of DDoS protection is higher compared to Ramnode. If you are concerned about security, you should surely go with Vultr.
There is almost no chance of DDoS attacks on their servers.
Further, you will also get VPC peering. With this, you can segment virtual private clouds in separate instances with ease. They have secure private networking as well.
You will get all these for free. You only have to pay for the DDoS.
Winner: Vultr is better when it comes to security. It might cost you more for DDoS but with their security features, you will get better protection.
Ramnode vs Vultr: Support
Eventually, you will need help from the support no matter how experienced you are. Therefore, it's always better to see the available support options.
Ramnode
For support, you can contact them via email or you can also open a support ticket. You have to option to contact them via IRC (Internet Relay Chat) or you can also use Discord to talk with the team or community.
The support ticket is superfast. Even if your ticket has "low priority", it will get answered within a few minutes. In the below screenshot, you can see the answer came within 15 minutes as the ticket had "medium priority".
It's not the generic automated answer but the human support.
Vultr
When it comes to Vultr support, they only have a ticket system. You can choose your problem and the relevant team will contact you.
Along with the ticket system, you will also get a lot of documentation, FAQs, and blogs to get a solution to your problem.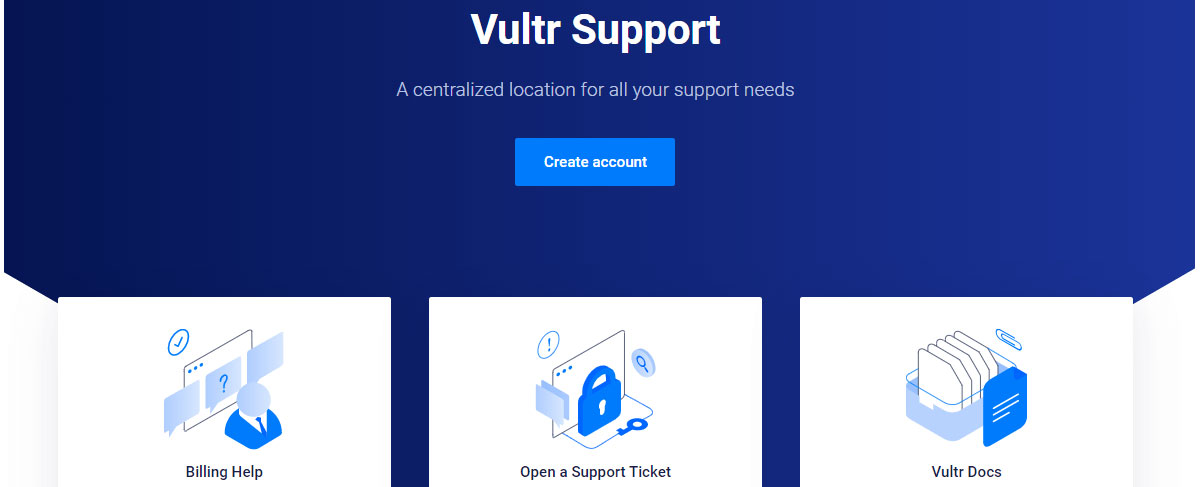 Without a doubt, the support is awesome. However, it takes time to get a response.
Winner: Ramnode is a winner. Both the hosts have great support but Ramnode is faster.
Ramnode vs Vultr: Pricing plans
Let's talk about the important element – pricing.
Ramnode
Ramnnode has various plans that start from $3 per month.
RAM: 512 MB
CPU: 1 core
Storage: 15 GB SSD
Bandwidth: 1000 GB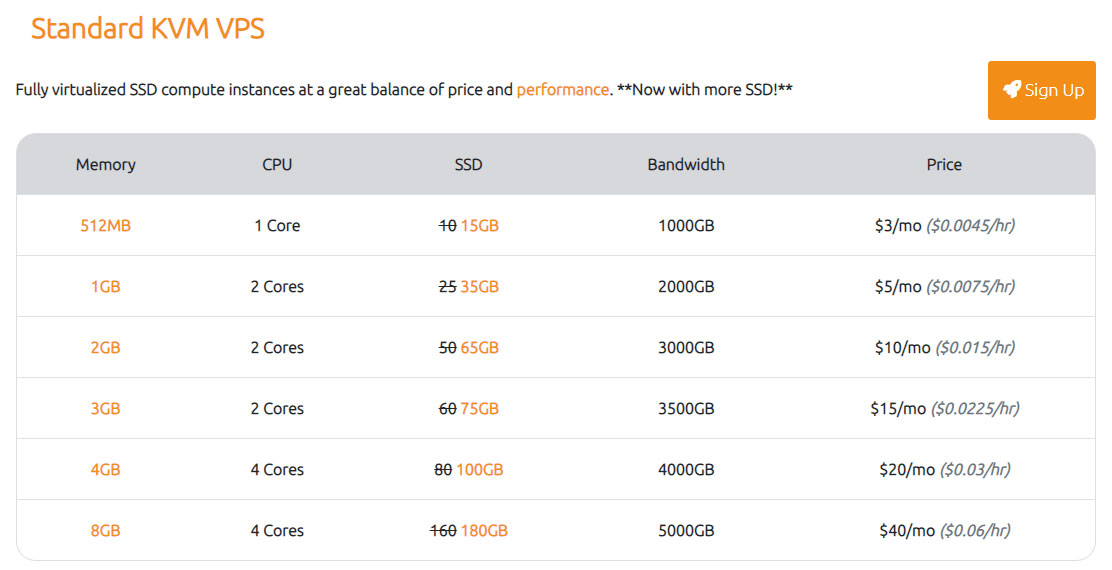 This comes in the standard VPS. There is also a premium VS. The plans for premium KVM start at $12 per month. The specs are as follows.
RAM: 2 GB
CPU: 1 core
Storage: 50 GB NVMe SSD
Bandwidth: 3000 GB
One of the downsides of Ramnode is that you have to go through strict identity verification.  Sometimes, it may mark the new user registration as fraud. Therefore, the onboarding process might take a while.
They only have a 3-day money-back guarantee for the first invoice. You don't get refunds on Bitcoin payments.
TIP:
If you want even more affordable options, Ramnode offers an
OpenVZ plan
at $15/year. That's $1.25 per month.
Vultr
Vultr offers various types of hosting. One of them is regular performance hostings. It has a regular SSD. The plan starts at $2.50 per month.
RAM: 0.5 GB
CPU: 1 core
Storage: 10 GB SSD
Bandwidth: 0.5 TB
They have high-performance AMD and Intel servers with NVMe SSDs. The plan starts at $6.
RAM: 1 GB
CPU: 1 core
Storage: 25 GB NVMe SSD
Bandwidth: 2 TB
You will get $50 free credits to try out Vultr. It's valid for 30 days. You can test the server before you pay for it.
However, once you pay the money, there is no refund guarantee.
Winner: We can say it's a draw as the pricing for both are almost similar. So, you can go with any of the services you want.
Final Verdict
If you compare all the factors of Ramnode vs Vultr, Vultr remains a superior host overall. Therefore, our recommendation would be to go with Vultr.
Here is a glance at which host to choose depending on your needs.
Use Ramnode if:
You want to host a few websites for testing or these are small projects.
You're a complete beginner in server administration.
You're not expecting to scale anytime soon.
Use Vultr if:
You want fast scalable hosting with excellent performance.
You're an experienced developer who will need more tools and a developer-friendly cloud.
You want more data center options.
You're running a business and want reliable hosting.