Virtuozzo VPS hosting providers offer you a faster-performing server where you can easily scale up without a single second of downtime.
If you're looking for similar virtual servers, you are at the right place. We will see the assembled list of such providers that you can rely on.
These are feature-rich services with affordable rates.
5 Best Virtuozzo VPS hosting
Let's start with the list and see which is the best Virtuozzo VPS hosting provider you can go with. We have also mentioned the cheapest plan available for that hosting.
1. InterServer
InterServer is a versatile server that offers Virtuozzo virtualization. They offer many virtualizations. You can select your preferred one. This Virtuozzo cloud VPS offers lightning-fast speed. The server doesn't have any extra useless scripts which might slow down your web app. So, you will get better performance with maximum resource usage.
With that being said, they have 99.9% uptime. You can also add the control panel for an extra cost. They have decent customer support. If you go with more than 4 cores of CPU, you will get managed support as well.
Sometimes due to the nature of Virtuozzo, the server might face some issues if your neighbors are using too many resources. In that case, InterServer's self-healing hardware will be of great use.
If there are any problems with the server, it will automatically transfer your website to another server. This will bring stability to your server.
NOTE: InterServer offers Windows VPS services as well, however only under the Hyper-v virtualization.
The server is priced at a reasonable rate. You can scale your server up to 16 cores. They have multiple plans. So, you will have no issues in upgrading your server as you grow. Therefore, it's a decent service if you are looking for a Virtuozzo VPS.
Starting price: $6 per month and it renews at the same rate.
Features of InterServer
Security is amazing.
You get dedicated resources.
20x faster with SATA SSD drives.
Team collaboration feature.
Root access to your server.
Visit InterServer

2. InMotion Hosting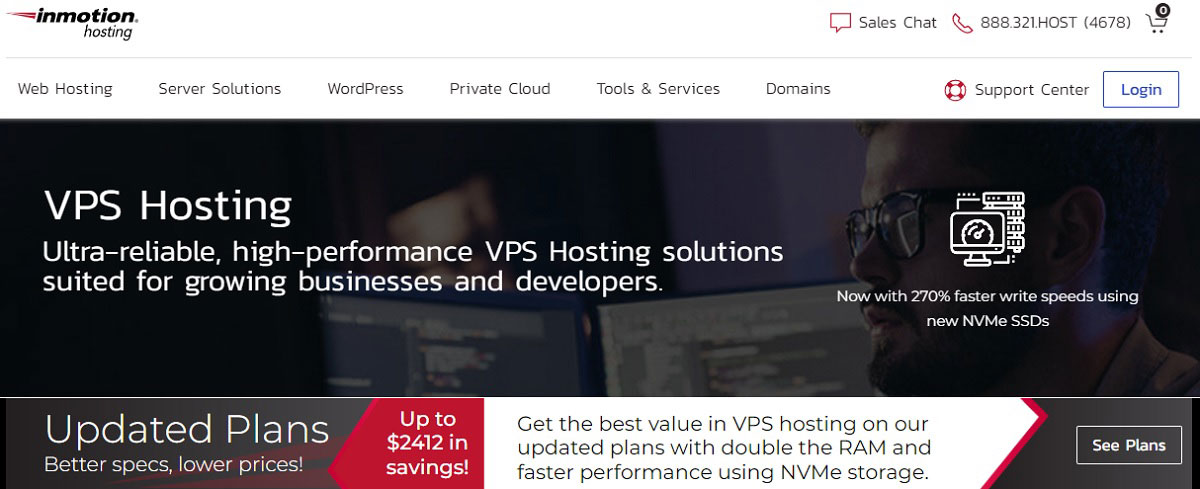 InMotion hosting is a premium VPS with great speed and stability. It comes with cPanel and WHM. You will get Virtuozzo with CentOS 6 in all their VPS plans. The OS will have regular updates. It's a managed VPS service.
So, you will get free website transfer and launch assistance. You can optimize your server for PHP, WordPress, or select standard configuration.
It comes with an NVMe disk. The VPS is 20x faster than others due to those features. You will also get amazing security from DDoS as well as spam attacks. They offer dedicated resources. You can also monitor them with the resource graph.
The hosting is optimized for eCommerce as well. Additionally, they offer 99.99% uptime.
NOTE: Their pricing depends on the billing term. They offer a huge discount for the first invoice. So, the renewal rate is a lot higher. Let's talk more about it.
Starting price: $24.99 per month if you go with the annual plan (renewal price is almost double, you can contact them to get a small discount). The price decreases if you go with a 3-year billing term. In the same way, the cost for a 1-month billing term is too high.

Features of InMotion Hosting
Unlimited bandwidth for most of the plans.
Ultra stack infrastructure for better performance.
Developer-friendly hosting with major technology support.
Root access to the server with 24/7 US support.
2 hours of launch assist.
Visit InMotion Hosting

3. VPSDime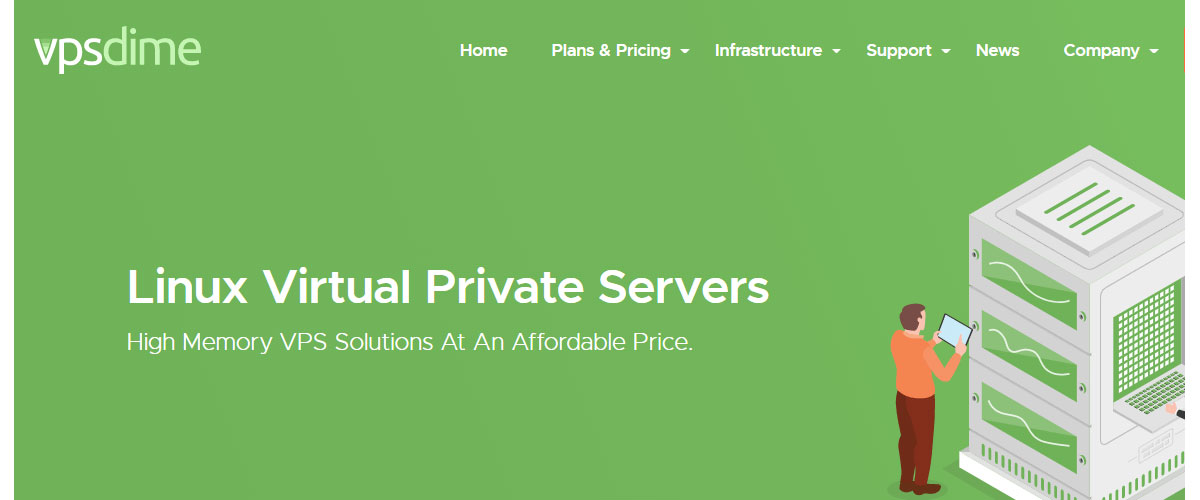 VPSDime is for people looking for a huge uplink. It comes with a 10 Gbps uplink. The base plan has got enough resources for you to get started. It comes with 6 GB ECC RAM. It will increase as you go higher. Along with a high-spec server, it is also one of the cheapest Virtuozzo VPS hosting providers.
They have their own control panel. It's simple and easy to use. You will have root access to the server and permission to reinstall OS anytime. Talking about OS, you can install any Linux distribution.
When it comes to Virtuozzo, noisy neighbors can be a small problem. VPSDime's system ensures that no noisy neighbors are stealing your resources. They have automatic node balancers to help you with that issue. Along with this, there is no overselling.
They use Intel® Xeon® E5 processors. With all these, the performance is awesome. You can scale up or down without a single second of downtime.
Starting price: The price starts at $7 per month.
Features of VPSDime
99% uptime.
ECC RAM with SSD for storage.
Free DNS hosting
Direct support with less than 15 minutes response time.
Addons like Offloaded SQL, Varnish, cPanel hardening, etc.
Visit VPSDime

4. The OnionHost
Most people would have understood by the name, that it's a privacy-focused offshore hosting company. They have DMCA ignore policy. So, you will get full advantage of the freedom of speech. If you have a website with sensitive topics, you can use this hosting provider. Coming our main topic, comes with Virtuozzo OpenVZ 7 virtualizer.
They have instant automatic provisioning. As they focus more on privacy, you will get amazing security as well. They provide basic DDoS protection with 10 Gbps. You can increase it by adding an addon. You can also add extra IPs.
The server is self-managed. However, you can add cPanel if required. Along with amazing support, you will also get a personal account manager. They have fast and efficient upgrades. You can upgrade or downgrade your server with a few clicks without facing any amount of downtime. They offer multiple Linux distributions to install on your server.
Lastly, if you want more privacy, you can also pay using crypto payments. Overall, it's great hosting if you want secure Virtuozzo VPS.
Starting price: $17.25 per month.

Features of The Onion Host
RAID 10 pure SSD for faster read/write speed.
Failover hardware.
1 Gbps port.
Privacy-focused with enhanced security and ignores false DMCA.
Custom control panel with technical support.
Visit The Onion host

5. A2Hosting
If you have researched Virtuozzo VPS hosting before, you might know that A2 was providing Open VZ virtualization. However, they have now shifted to Virtuozzo 7 which gave a huge boost in the performance as well. A2Hosting is known for great support, security, as well as performance.
Due to support for all technologies, developers love going with this. It's an unmanaged server but comes with a Webuzo control panel.
The turbo mode makes your VPS 3x faster and can handle up to 9x traffic. Coming to scalability, you will have to choose a different plan if you want to upgrade. They offer a 99.9% uptime commitment. You will also get green (environment-friendly) hosting. You will have multiple data centers across the globe.
They have four locations. The support is awesome. Their guru crew is always available to answer all your questions whenever required.
Starting price: $6.59 per month, renews at $7.65 per month (annual term). You can get a discount if you go with a 2-year or 3-year plan. The monthly plan costs you $6.99. The annual plan will be perfect for most people.
Features of A2Hosting
10 Gbps redundant network.
AMD EPYC servers with NVMe RAID 10 SSDS.
Expertly tuned servers with 24/7 network monitoring.
Reinforced DDoS protection with 24/7 support.
Turbo plans for better performance.
Visit A2Hosting

Virtuozzo vs KVM: Which one should you Choose?
Virtuozzo provides burstable resources. It's the best thing to have if your website is getting sudden traffic spikes. On the other hand, the biggest problem is also the same. It makes your website a lot less predictable.
If the other users on your server are greedy, they will use your resources causing your website to slow down.
You won't get fully dedicated resources. For example, a server with 6 GB RAM will have 4 GB of dedicated RAM and 2 GB of burstable RAM. So, technically, you can only use 4 GB fully. If other people in your server are using more amount of RAM, you won't get the complete 2 GB of burstable RAM. For this reason, the server becomes unpredictable.
Further, Virtuozzo provides container-based virtualization whereas KVM offers hardware-level virtualization. Therefore, the resources are not fully isolated in Virtuozzo. So, if you are using a resource-intense website, you should prefer KVM over Virtuozzo.
Coming to the advantages of virtualization, Virtuozzo has a slightly better speed as compared to others. So, a Virtuozzo setup will provide a bit better performance as compared to KVM or even XEN virtualization with the same specs.
Therefore, we can say that both of them have their advantages and disadvantages.
You can go with KVM if you want a dedicated environment.
On the other hand, if you want to go with a bit faster performance, you can go with Virtuozzo.
Conclusion
If you're looking for a reliable VPS, you can always go with KVM or XEN VPS. They offer better resources and an isolated environment. Virtuozzo and OpenVZ are the least predictable when it comes to performance.
InterServer or VPSDime will be a good choice to go with if you are looking for Virtuozzo providers. Lastly, it's up to you. You can surely check out the best KVM VPS providers.