When you are new to server management, you will be looking for an easy option to manage your panel. Webmin makes it easier for you to control your server.
For the same reason, you might be looking for Webmin VPS Hosting.
You are at the right place. We will see some of the best and cheap Webmin hosting providers you can try.
Webmin makes it easier to create and edit Apache vHosts, setup SSLs, and other protocols. Let's see what are the best options available on the market.
7 Webmin VPS Hosting
These are some of the Webmin VPS hosting services where you will get pre-installed Webmin. In some of the given hosts, you will have to install it manually via the command line. It usually takes a few lines to type in.
The hosts have a proper tutorial for the same and you can even contact the support if you are facing issues during installation.
1. Vultr (Best Overall VPS)
If you are new to server management, Vultr will be the perfect cloud to start with. They make it extremely simple to manage your server. Coming to Webmin, you can deploy with a single click.
They have a marketplace where you will find all the apps. The marketplace also includes Webmin.
Vultr has a powerful beginner-friendly API you can use to automate the cloud. You can also use the default control panel to manage your server.
Everything is available in the control panel. You will get full root access to the server.
With 100% SLA uptime and Intel servers, you will get amazing performance. Vultr is available in 25 global locations where you can deploy your server. Their optimized cloud instances are capable of running any app smoothly.
As it's a cloud platform, you can also scale as you go.
You can use your favorite operating system here. They also allow you to upload custom ISO. Overall, Vultr is an amazing Webmin cloud hosting for beginners as well as for experienced. It's great for large projects as well.
So, you won't have to switch hosting once you start growing big.
Starting price: $5 a month
Features of Vultr
API & Terraform for ease of use.
One-click install for Webmin.
Scalable infrastructure.
Root access.
Optimized server for Webmin and other apps.
Visit Vultr

2. Contabo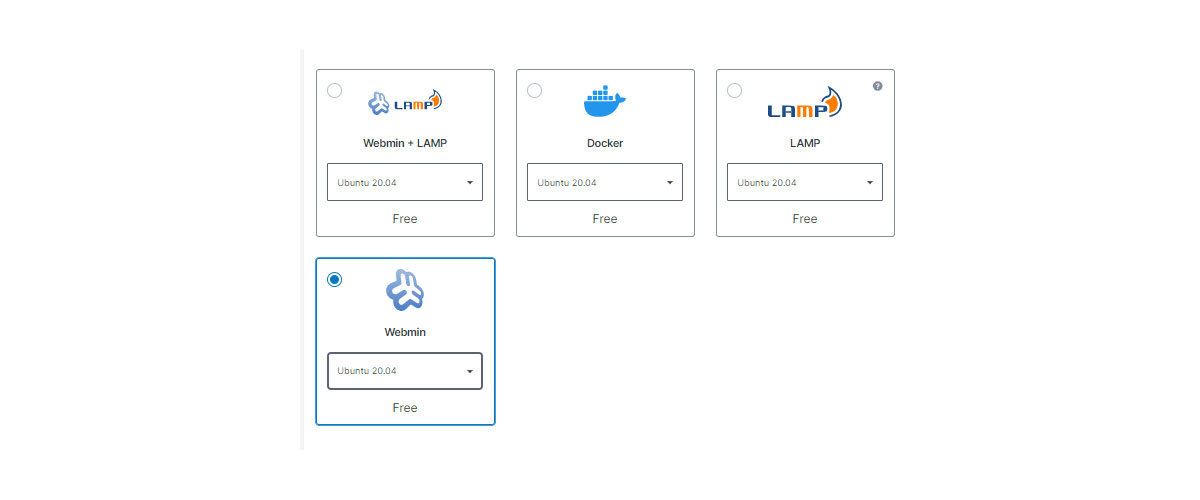 Contabo comes with the highest number of cores for Webmin VPS hosting. It allows you to choose the OS and install Webmin with a single click. They also have an option to install Webmin with LAMP stack.
So, if you are a technical person, you can install LAMP as well.
They use German-quality hardware for better performance. You will get unlimited incoming bandwidth. You will get all DevOps features that allow you to use SSH, Cloud-init, CLI, etc.
Contabo allows you to configure your server at the time of buying.
You can add private networking as well as you can add management option. It will get you 2 hours of technical support every month.
However, for most people, the price will be high for the managed server.
Their data centers are available in 6 regions and 10 locations. You can choose the server from there. It uses an AMD EPYC server. This brings down the overall cost of the server.
You will get full DNS management. When it comes to scaling, you can add resources anytime you want.
Starting price: $6.99 per month.
Features of Contabo
DevOps features.
One-click install for Webmin.
NVMe storage for faster performance.
Web interface to manage your server.
Good security with DDoS protection.
Visit Contabo

3. Accuweb Hosting
Accuweb hosting is a managed Webmin VPS hosting with a very reasonable price. If you already have a website hosted anywhere else, they will migrate it for free. You can install Webmin at the time of purchase.
There is a small setup fee you will have to pay if you want Webmin. It won't cost you more even if you include a setup fee.
They also include a free panel to manage your VPS server. They use XEN virtualization with a SoluVM panel.
The server has a ton of features and configuration options. You can select any OS or panel, and you can also select a web server from Apache, Ngnix, or LiteSpeed.
Further, it includes a free SSL certificate and a 7-day money-back guarantee.
They have 16+ global locations to host your VPS. All of them have a minimum of 1 Gbps port speed. Accuweb Hosting has world-class support with an average ticket response time of 7 minutes.
The live chat's average response time is 7 seconds. Their staff has enough tech knowledge to solve your queries.
Starting price: $5.99 ($30 one-time setup fee if you want to install Webmin)
Features of Accuweb Hosting
One-click install for Webmin.
Daily and weekly backups for all the servers.
They do regular audits for hardware performance.
99% uptime.
Complete root access with dedicated IP.
Visit Accuweb Hosting

4. Hostinger
Hostinger offers one of the cheapest Webmin hosting services. You can install Webmin directly when you install Centos, Ubuntu, or Debian. It also allows you to install Virtualmin or LAMP.
You will get full control over your VPS. By default, it comes with a user-friendly web panel.
They have a 100 Mb/s Network which shows 99.9% uptime. They have multiple OS with various panels/apps. However, that's the only customization you can do. When you want to scale up your server, you will have to change the plans. There are many plans you can choose from.
So, you can scale up to a certain extent. You won't face downtime when switching plans. However, on the negative side, you won't be able to add individual resources.
Hostinger uses OVZ virtualization. They have multiple data centers. It's a cheap server to get started with. The price will increase at the time of renewal. You can increase the contract term to get better discounts.
Starting price: $3.99 per month, renews at $7.99 (for 12-month contract)
Features of Hostinger
Pre-installed Webmin control panel.
Backup and Snapshots.
Full root access.
24/7/365 Support.
DDoS protection for better security.
Visit Hostinger

5. Racknerd (Cheap Webmin VPS)

As the name says, it's made by the nerds and for the nerds. So, it's a developer-friendly VPS. Webmin doesn't come pre-installed. You will have to install it manually. They have KVM virtualization.
Their resources section has a complete tutorial on how to install Webmin.
If you face any problems, during the installation part, their team is always available to help you. Yes, they have 24/7 support. The company has been made by industry experts.
So, you can surely rely on the support as well.
It comes with RAID-10 SSD cached storage. You can restart your server whenever you want. So, you will get complete access to the server. They use Intel Xeon processors.
The CPU cores go up to 7 cores. Coming to managing the server, you will get an intuitive control panel.
Every plan comes with a 1 Gbps plan. They have 20 data centers across 17 locations. Their main location is Los Angeles. So, you will get more benefits if you go with that location.
Starting price: $22.99 per year (Roughly $1.92 per month)
Features of Racknerd
Intuitive control panel.
1 Gbps port with large bandwidth.
SSD Cache SSD with RAID 10.
They have 99.999% uptime.
Free dedicated IP Address.
Visit Racknerd

6. Hostwinds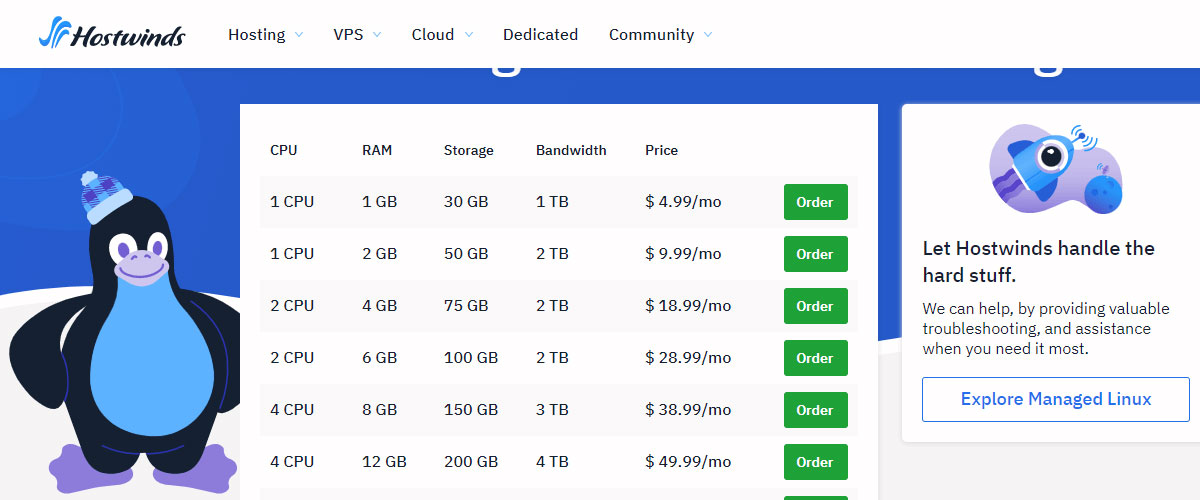 Hostwinds is a cheap server to start with. The unmanaged Linux server comes with decent performance and full control. You can install any app on your server. They don't restrict anything. With that being said, Webmin doesn't come pre-installed.
You can install it with a few commands. The server is optimized for it.
They offer decent scalability. You can't directly add more resources. However, you can upgrade the plan for scaling up. The security is great as they provide firewall and DDoS protection.
To secure your data, they have nightly backups.
If you already have a website hosted elsewhere, they will transfer it for free. You can get started at a cheap price. You don't need to worry about the upside as you can scale up to 16 cores.
If you want better support, you can also go with the managed server. So, you can always go with the server if you want.
Starting price: $4.99 per month, the managed server will cost you $8.24 per month.
Features of Hostwinds
1 Gbps port for all the plans.
99.99% Uptime.
Root access to the server.
Monitoring system to see the resource usage.
Snapshots and backups to protect your server.
Visit Hostwinds

7. InterServer
InterServer is yet another Webmin VPS for you. You will have to install Webmin manually. They provide you with complete root access to the server. The server runs very fast as they have little to no scripts installed.
You can access your data anywhere and anytime. They offer better team collaboration. So, if you have hired a developer who will develop the apps for you, InterServer allows you to create a separate account for them.
Further, they have self-healing hardware. So, if one of the VPS has some technical glitch, the AI will automatically transfer the data to another.
Last but not the least, you can select from KVM, Openvz, Virtuozzo, and Hyper-v for virtualization. Thye offer managed support if you go with 4+ slices. You will have to get at least 4 bundles of resources (CPU, storage, bandwidth, and RAM).
In simple words, you will have to go with a minimum of 4-core CPUs to get the managed support. Their base plan starts with 1 core.
Starting price: $6 per month
Features of InterServer
Easy and instant providing of the server.
Self-healing hardware.
Top-notch security with DDoS protection and Firewall.
Remote backup service.
Developer-friendly VPS.
Visit InterServer

Conclusion
If you are new to web server administration, it might be a bit difficult for you to install scripts including Webmin. Therefore, you can go with pre-installed Webmin. Most of these hosting providers we mentioned have a tutorial on how to install the panel.
The support will also help you if you are facing a problem.
On the other hand, for bigger projects and revenue-generating businesses, you can consider servers with cPanel.
FAQ
Is Webmin same as Virtualmin?
Webmin is the web interface that makes your server management simple. Virtualmin is a plugin that runs on top of Webmin. Both of these make it super-easy to manage your server.
Is Webmin any good?
Yes, Webmin is amazing if you are hosting a small project. For the more advanced projects, it misses some features and makes it a bit hard. You can surely get started with Webmin and switch as you grow.
Is Virtualmin free?
Yes, Virtualmin is free to use. You can install it on top of Webmin. Webmin is also free.