We have curated a list of the best Webuzo VPS hosting providers offering pre-installed or one-click installs for Webuzo.
Webuzo is a multi-user control panel to manage your VPS or cloud. It's been in the industry for many years. Nowadays, many hosting providers have started giving pre-installed Webuzo control panels.
It's a user-friendly control panel allowing you to install any app with just a few clicks. The new Webuzo v3 has got all you need.
So, one can use it to manage the cloud or VPS.
6 Best Webuzo VPS hosting providers
Let's begin with the list of the best Webuzo VPS hosting providers. We have listed out the key features as well as starting price for 1 GB RAM (Minimum requirement for Webuzo).
1. InterServer (Cheap reliable Webuzo VPS)
InterServer provides you with the paid version of the Webuzo panel without any additional cost. It comes pre-installed. So, you don't need to worry about installing the panel on your own.
Further, the hosting service allows you to deploy any of the 100 apps with one-click.
There are no restrictions on the server. All your data is stored in one place. With that, you can have better collaborations with your developer team. Not to mention, you will get dedicated resources as well.
You can scale up your server to a huge extent as they offer up to 32 GB RAM.
In case of any technical glitches, their self-healing hardware will automatically transfer your website from one node to another. One of the best benefits of going with InterServer is customer support. Their live chat is available 24/7 for pre-sale as well as after-sale support.
So, if you are not sure about any feature or compatibility, you can shoot a question to the live chat.
Starting price: $6 per month

Key features of InterServer
Self-healing hardware to minimize downtime.
Standard security with virtualization.
100s of apps with full control over the server.
The paid version of Webuzo is included.
24/7 customer support.
Visit InterServer

2. Hostinger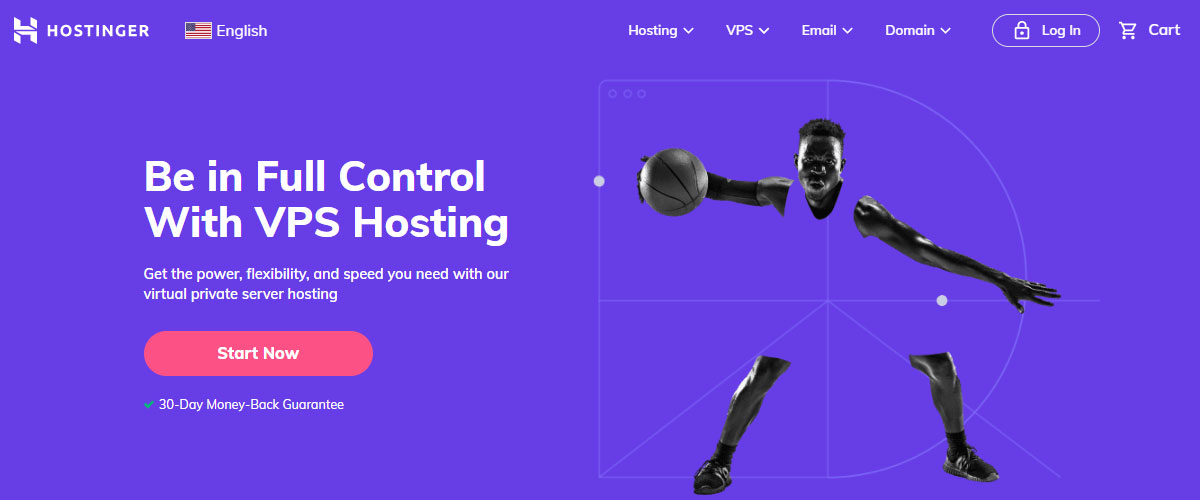 Hostinger offers many technical features for hosting customers. They offer Webuzo VPS hosting at an attractive first invoice rate. For the first invoice, the rates are affordable which increases when you renew.
There are multiple plans. So, it's easier to scale your Webuzo VPS hosting.
Coming to Webuzo, you can choose Webuzo from the OS templates when you go ahead with the VPS configuration. Don't worry if you made any mistake here as you can change the OS template anytime you want. Webuzo is included along with the OS.
For instance, you can select "CentOS 7 64bit with Webuzo control panel".
There are many amazing features such as full root access, dedicated IPv6, SSD storage, and many more. With over 100 Mbps server, you will get reliable performance with over 99.9% uptime.
For storage, you can also mount an extra NFS to the existing storage. There is an inode limit which is mentioned on the pricing page.
Starting price: $3.49 per month (renews at $8.99 a month)
Key features of Hostinger
Secure server with DDoS protection.
They have automatic backups.
Friendly feature-rich dashboard to manage your server.
24/7 support along with documentation.
Dedicated resources with full flexibility.
Visit Hostinger

3. A2Hosting (High-performance Webuzo hosting)

A2Hosting is known for security, support, and speed. They have Webuzo VPS hosting plans some of which offer turbo speed. With turbo mode, your website or web app will load 20x faster. All the plans come with RAID 10 SSD storage.
The turbo ones have NVMe. So, you will get better performance as compared to the regular plans.
It's unmanaged hosting. However, as this is a Webuzo VPS server, the panel will allow you to manage it effectively. A2's support is incredibly reliable. You will get a proper response within a few minutes. The servers are configured and tuned by experts.
So, you can easily run any app here. They offer a one-click install for popular apps.
Want to change your OS? A2 has on-demand options to reload or change the OS. With reinforced DDoS protection and 24-hour server monitoring, the server is fully reliable. The cost will change if you increase the term.
So, if you go with 36-month, you will pay a very less amount. You can also go with 3-year as they have a 30-day money-back guarantee.
Starting price: $6.69 per month if you pay annually ($4.99 for 3 years)

Key Features of A2Hosting
Ultra-fast with up to 40% extra performance.
Highly customer-friendly support.
Their custom software makes managing hosting easier.
Multiple data centers with 99.9% uptime.
10 Gbps redundant network with full root access.
Visit A2Hosting

4. Milesweb
Milesweb is a feature-friendly and enterprise-level server provider. It comes with full SSD-NVMe storage. They offer a Webuzo panel. However, it's not included for free. You will have to pay the monthly license fee. You can either get it for 1 account or an unlimited account.
Milesweb offers a managed Webuzo VPS. So, you can focus on your business while leaving the security, configuration, and maintenance on the team.
The security is amazing. You will also get SFTP for secure file transfer. With full root access, you can install any tool or script you want. It uses KVM for virtualization. They claim to have the best price-to-performance ratio in the market.
Keeping that in mind, you get a 99.95% uptime guarantee.
The price will surely increase as they are a managed hosting service and you will also have to pay for the Webuzo license. It's great for people who are looking for servers in India (recommended for Asian regions). You can try it risk-free for 7 days.
Starting price: $9 per month for the annual plan, $3 for Webuzo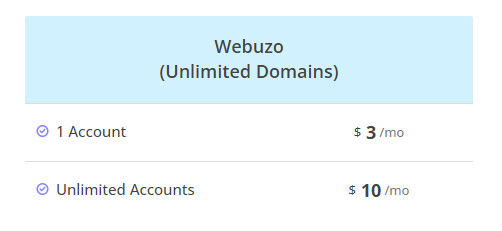 Key features of Milesweb
It comes with SSD NVMe.
You will get guaranteed resources with a 100 Mbps network.
KVM virtualization for dedicated resources.
Support is incredible. You can also call them anytime.
Full control along with managed services.
Visit Milesweb

5. Linode (Cloud Webuzo VPS)
Linode is a premium high-performance VPS provider. It's a simple cloud with predictable pricing. Their global infrastructure comes with 11 data centers. They have an interactive panel to manage your server. For automation, you will also get API.
The team is always available for help. You can contact the team anytime you want.
They have a marketplace where you can install your favorite apps. Webuzo is available over there. You can install it with just one click. The server fully supports the panel. In the same way, if you want to install any other apps, you can do it from the marketplace.
There are two types of VPS you can go with. The affordable one is a shared CPU and you can also go with a dedicated one. As of now, we will talk more about sharing. Webuzo works perfectly in a shared CPU (VPS).
It's great for developers as well as beginners.
Starting price: $5 for shared CPU
Key features of Linode
It comes with the highest performance and 99.99% uptime.
The intuitive cloud manager and API make it easier to manage the cloud.
Marketplace with 100 apps.
Award-winning support to answer even your technical queries.
Highest security with cloud firewall, DDoS protection, and more.
Visit Linode

6. Hostsailor
NOTE: Hostsailor is a great option if you want Webuzo VPS. Before we learn more, don't get lured by the attractive price you see on the homepage. The pricing is for the cheapest plan. Webuzo will require at least 1 GB of RAM. So, if you want to go with the cheapest Webuzo VPS hosting, you will need to go with the plan with 1 GB memory.
You can choose from RAID 10 SSD or HDD storage. The locations are the Netherlands, Romania, and the US. The security is solid. However, scalability is very limited here for HDD. For KVM SSD servers, you can go up to 8 GB RAM plans.
The Webuzo is not included by default. You will have to add the addon during the purchase. Just like Webuzo, you can add more add-ons. You can add extra DDoS protection, bandwidth, and many more add-ons.
Starting price: $6.99 per month for 1 GB RAM and $2.5/m for Webuzo auto installer.
Key features of Hostsailor
24/7 support is available.
They have smart security to protect your server.
You will also get a 99.9% uptime guarantee.
By default, they have a SoluVM control panel. You can add Webuzo as an add-on.
RAID 10 SSD or HDD storage with 1 Gbps network.
Visit Hostsailor

Buying guide for Webuzo hosting
We will now see a quick buying guide for choosing the best Webuzo hosting.
Memory
Webuzo has a minimum requirement of 1 GB RAM. However, due to configurations, it's recommended to go with at least 2 GB of RAM.
Disk space
Disk space is not an issue as all the VPS provide at least 10 GB of storage which is the recommended disk space. The minimum disk space is 5 GB.
Multiple services
You should ensure that the VPS has PHP, Apache and MySQL enabled on the server.
OS
CentOS is the common OS for Webuzo. You can also run Red Hat Enterprise Linux, Scientific Linux, or Ubuntu LTS.
1-click install
It's always good to look for a pre-installed Webuzo panel. If it's not pre-installed, you can look for a one-click installation as opposed to a manual installation.
Conclusion
Webuzo VPS hosting servers are the ones where you can easily install the panel with one click or it comes pre-installed. If you can use SSH commands, you can install the Webuzo panel on any server.
FAQs
Is Webuzo Free?
Webuzo offers a 15-day free trial version for premium. They also have a free version.
Is Webuzo secure?
Yes, Webuzo is a secure panel. It assigns a self-signed SSL certificate for better security.