If you do not want your website to be subjected to any arbitrary takedowns due to the Digital Millennium Copyrights Act, or DMCA, you must look for an offshore DMCA ignored hosting. However, the terms and conditions of every DMCA ignored hosting solutions are different.
Therefore, you have to make the right choice as the website could end up in a legal arbitration, and it might end up going offline. While some hosting providers claim to allow only DMCA-protected content, a legal removal notice leaves them with no option.
It is critical to know what kind of content the hosts are likely to approve of, test the website performance, and then decide.
Best DMCA Ignored VPS Hosting Providers
Let's see the 4 Best VPS selections. They come from different locations around the world. So you get to pick and choose the one that suits you best.
Offshore VPS
Offshore Locations
Offshore Locations
Russia, Ukraine, Iceland, Finland, Romania
Europe & Asia
Bulgaria / Finland / UK / Australia
Security Features
Security Features
SSL certificate, and DDoS protection
DDoS protection, Anti-hacking protection
Malware/Trojan protection, DDoS protection
Starting Price
Starting Price
$20.00/mo
$11.90/mo
$18.25
#1 The OnionHost
OnionHost is a widely popular web host. It provides fast, secure, reliable, and affordable packages for DMCA ignored hosting along with DDoS protection. It is an offshore VPS Hosting resource that offers customizable features. It also has a 7-Days money-back guarantee.
Although the servers are not located in the United States, they provide comprehensive DMCA ignored hosting services with anonymity and utmost privacy.
Features
Disk Space: 1 GB – 6 GB
Bandwidth: 2 TB – 3.5 TB
Uptime is guaranteed at 99.9%
Security Features
DDoS Protection
Malware/Trojan Protection
Failover Hardware
SSL Certificate – $17.95/Year
Datacenter Locations
Sofia-Bulgaria
Pori-Finland
Sydney-Australia
Berkshire-UK
DMCA Policy
The strictly prohibited content includes:
Criminal or fraudulent activity like porn, phishing, hacking, etc.
Running game server.
Proxy Scripts
IRC Scripts/Bots
Bruteforce Scripts
Mail spam Scripts
Mirror Scripts
According to their terms and conditions, if you utilize 90% of your VPS resources for more than 90 seconds, your account will be suspended.
Pricing
DMCA Ignore offshore hosting plans start from $18.25/month. Flexible payment options are available for users, which include cryptocurrencies such as Litecoin, Bitcoin, and Ethereum. They accept credit/debit cards, PayPal, and Perfect Money. If there is a DMCA ticket, they simply ignore it.
Visit TheOnionHost

#2 AlexHost

AlexHost offers DMCA Ignored VPS at the most affordable price in the market. You can have customized requirements too.
The hosting solutions enable hosting data outside the native country; data sharing with third parties, and for others who wish to express their right to freedom of speech.
However, this does not give you the liberty to engage in any illegal activities like phishing, spamming, or fraud.
Security is an important concern. AlexHost offers certificates from some of the best providers for 2 years. The network also provides VPN services that feature anonymity with a European IP, internet access, and a secure connection. You also have 24/7 support through Tickets, Email, Phone Calls, and Live Chat.
Features
Disk Space: 1536 MB – 4096 MB
Bandwidth: 10 GB SSD – 40 GB SSD
97% uptime
Security Features
DDoS protection
Brute force protection
Datacenter Locations
Chisinau – Republic of Moldova
DMCA Policy
AlexHost provides hosting solutions for:
For those who wish to host their data outside of their own country.
For those who do not want to reveal their data or identity to third parties.
For those who need freedom of speech.
You are refrained from getting into illegal activities that include but are not limited to spam, phishing, and fraud in case there is a risk of getting your account closed or getting blacklisted. They have laid out all the terms in their DMCA policy.
Pricing

Pricing varies as per the plans available depending on the bandwidth and space requirement. The cheapest plan starts at $4.62 a month.
You can pay through Bitcoin, Litecoin, DashCoin, Monero, PayPal, and credit cards.
Visit Alexhost

#3 Impreza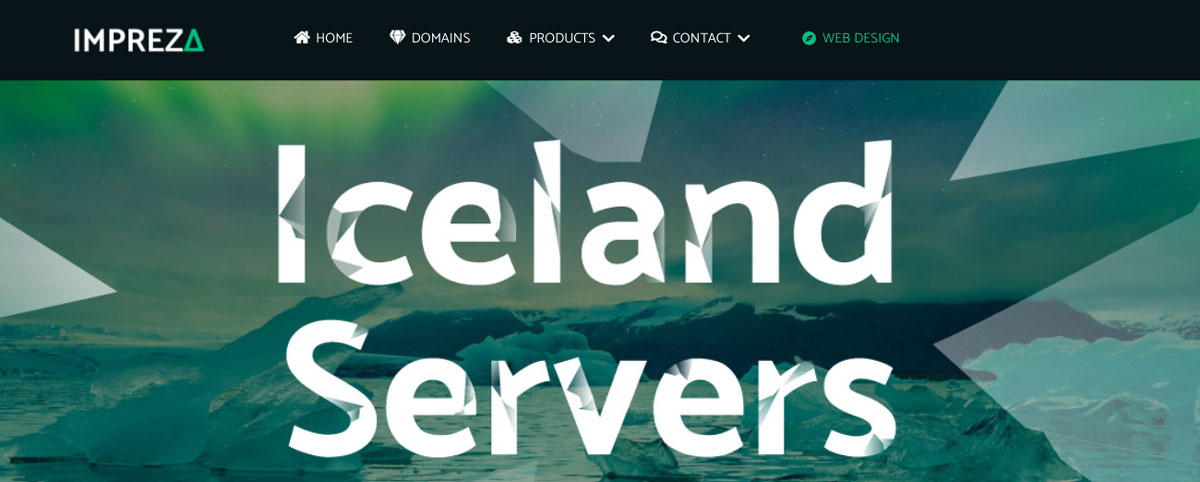 Impreza web hosting plans can be a game-changer. Expect the best performance and relax as your site gets hosted with this service provider. Each of these plans provides total anonymity, simply because during the registration you don't need to provide any personal information. You also receive 24/7 premium support. Users get secure, scalable, and stable hosting based on performance. SSL certificates ensure security.
Features
Disk Space: 20 GB – 120 GB High-Speed Disk Space
Bandwidth: 200 GB – 600 GB
99.99% uptime
Security Features of Impreza
.onion domain included
Tor Compatible
Free SSL Certificate
Datacenter Locations of Impreza
Iceland
Romania
Russia
Ukraine
Finland
DMCA Policy of Impreza
Impreza has a flexible policy when it comes to handling a DMCA request or a complaint. You can see the complete set of rules in their DMCA policy. In case any complaint that falls under categories such as (Network Abuse / IP Spoofing, or Spamhaus listing) is registered for any of the accounts with Impreza, they terminate the accused party's account without any refunds.
Pricing

The price starts at $35.00 for the VPS Starter plan and it increases based on the package you choose. They accept payments in the form of cryptocurrencies like Bitcoin, Ethereum, Litecoin, and many more.
#4 VsysHost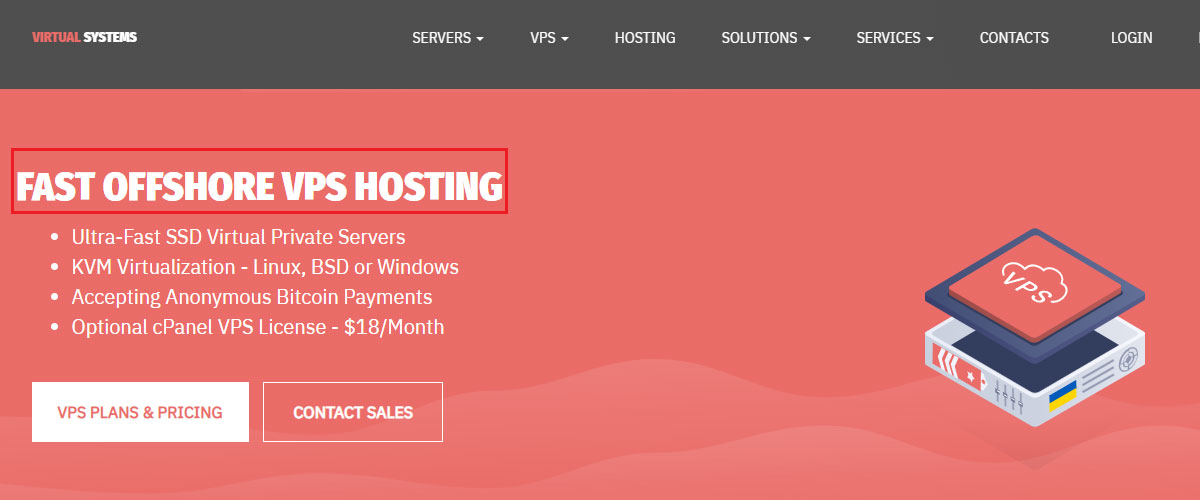 VsysHost claims to be the 100% anonymous and privacy-focused DMCA ignored hosting service provider. The servers of the company are located in Ukraine, in the city of Kyiv. They own hardware and facilitate an in-house dedicated support team.
Vsys ignores all kinds of copyright claims and fake DMCA claims as servers are located within DMCA-free areas and jurisdictions. In Ukraine, DMCA copyright infringement claiming procedure has zero tolerance towards the owners of copyrights.
Features
Disk Space: 1 GB – 8 GB
200 MBPS guaranteed bandwidth
99.97% Uptime guaranteed
Security Features
Basic DDoS protection
DDoS protection up to 2 TBPS at $50
Datacenter Locations
Kyiv – Ukraine
Amsterdam – Netherlands
DMCA Policy
Vsys host operates by the Ukrainian laws that do not force the hosting providers to take down websites based on emails. They need a signed document from the local authority for taking down any certain link.
Pricing
The basic VS-Medium plan is priced at $18 per month. Every plan comprises a 40 days money-back guarantee. The accepted modes of payment include Bitcoins, PayPal, and Debit/Credit Card for payments.
Visit Vsys.host

Cheap Offshore VPS Hosting
For people with small budgets, we've made sure to compile a specific list that is affordable and can still deliver the type of anonymity that you're looking for.
#5 Webcare 360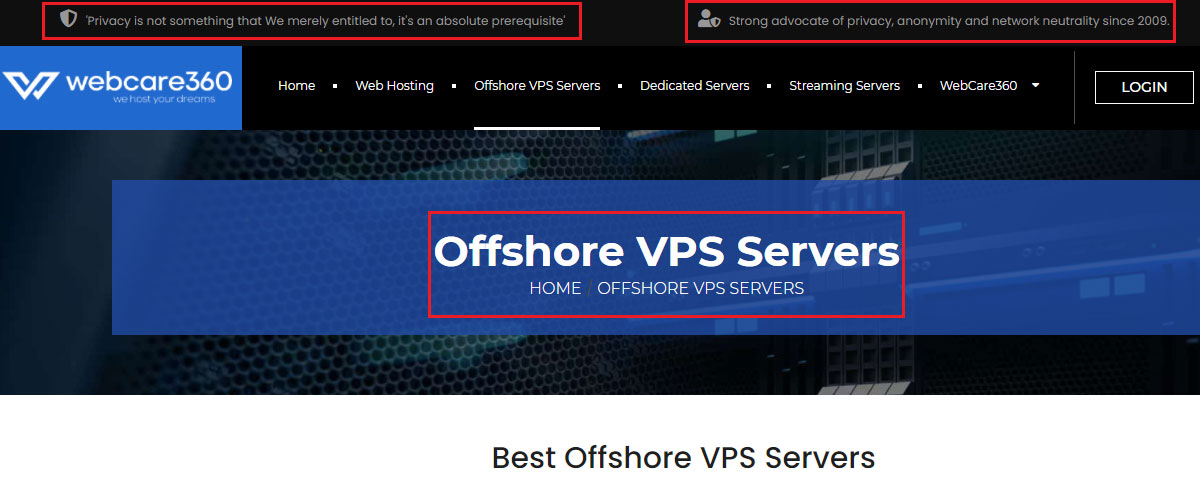 If you want complete privacy with the anonymity of content and website, Webcare 360 is the ultimate choice. They have a much-secured DMCA ignored VPS hosting policy that focuses on reliability and security. Websites are free to publish content and use servers for their requirements. Webcare 360 also ensures that they do not track anything on the server, thus maintaining absolute secrecy.
Features
Disk Space: 10 GB SSD – 25 GB SSD
Unmetered bandwidth
99.99% uptime
Security Features
250 GB FTP storage at €5.99, price increases as you opt for a higher configuration
Rapid SSL starting from €14/year
Redundant server backups that can be accessed through secure SSH
Datacenter Locations
Russia
Bulgaria
Switzerland
Netherlands
Ukraine
DMCA Policy
Webcare 360 is a strong advocate of privacy, anonymity, and network neutrality. They believe in being a free speech hosting provider. Their DMCA policy states that the DMCA law is US-based law and does not apply to their DC locations.
Pricing
The plan pricing starts from €9.99. Webcare 360 gives importance to privacy. They accept different methods of payment like digital currencies and crypto payments to ensure discreetness.
Visit Webcare360

#6 Shinjiru VPS
Shinjiru is the most promising offshore hosting platform with international data centers and Anti-DDoS Attack assurance. This hosting provider is registered and headquartered in Malaysia, and they have offshore servers in several countries that ignore the DMCA regulations. Shinjiru ensures complete hosting anonymity.
Features
Disk Space: 25 GB – 8 GB
1Gbps unmetered bandwidth
99% uptime
Security Features
1 GBPS DDoS protection
100 GB Backup space at $10
Anti-Hacking protection – Server hardening
Datacenter Locations
Hong Kong
Moscow
Malaysia
Bulgaria
Holland
Lithuania
Russia
Singapore
DMCA Policy
Shinjiru does not honor takedown requests. Moreover, the company does not ask for personal details to sign up or register, which ensures absolute discretion.
Pricing
The price of the VPS basic plan starts from $11.90 per month. You will find many VPS plans with different configurations to suit your requirements.
Shinjiru accepts different modes of payment including Ethereum, Bitcoin, PayPal, Credit/Debit Card, Wired Transfer, and Perfect Money Payment.
Visit Shinjiru

#7 Impreza
Impreza is one of the top choices for hosting free content. They ensure complete secrecy of any content that you host on their VPS server. The best aspects about Impreza are that they don't need any documents, no personal information is saved and there is no exposure of information.
Features
Disk Space: 10 GB SSD – 100 GB SSD
Bandwidth: 1 TB – 4 TB
99.99% Uptime
Security Features
SSL certificate for .onion websites $250/Year
Secured VPS at $3.95/Month
Datacenter Locations
Russia
Ukraine
Finland
Romania
DMCA Policy
Impreza is one of the few hosts that do not have any restrictions on the content being hosted on their servers. They are committed to maintaining complete secrecy of content. They have an amazing line of Tor servers and there are no terms and conditions that apply to these servers. They mention that the servers can be used 'as you wish' and there is complete 'freedom of speech and expression'.
Pricing

The prices of offshore Tor compatible hosting plans start from $30/month. This is an efficient and affordable hosting solution that allows you to host the content you want. Impreza accepts payments through PayPal, PerfectMoney, Credit/Debit Cards, Bitcoin, and other cryptocurrencies.
#8 Abelohost
Abelohost provides a secure, resilient, dependable, rapid, and most powerful VPS offshore hosting platform. It ensures 100% data security and privacy. This company offers Offshore VPS plans with resources from the dedicated server. It is a friendly and organized host with different features and functions to facilitate good performance.
Features
Disk Space: 15 GB SSD (RAID 10) – 120 GB SSD (RAID 10)
Unmetered bandwidth
99.9% uptime
Security Features
Cloudflare CDN
Anti-DDoS protection
Data backup starting from €4.87/Month
Datacenter Locations
DMCA Policy
AbeloHost abides by the Dutch Constitution and they do not censor their members based on content unless it is made mandatory by the Dutch laws. There are certain sections mentioned by the Dutch Law about the freedom of speech. AbeloHost restricts the services that are illegal or offensive. You can find complete information about the acceptable terms in their DMCA policy.
Pricing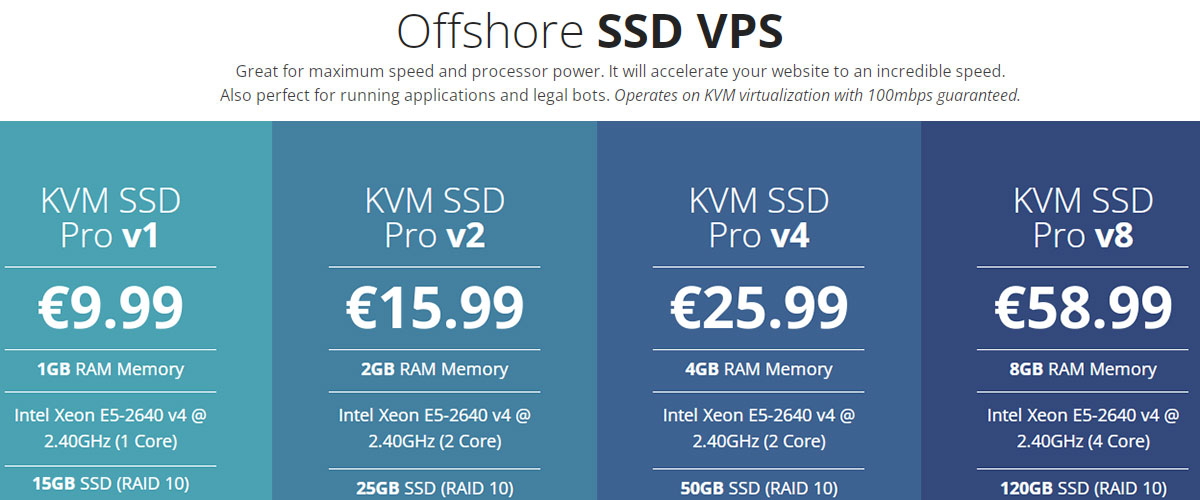 The SSD-powered VPS hosting plans at AbeloHost start from €9.99/month. These plans work great for maximum speed and processing power. They are good for applications and running legal bots.
If you are looking for additional storage for hosting large files along with a good speed, then you can consider the offshore storage VPS plans that start from €11.99/month.
Payments are accepted through Bitcoin, AltCoins, iDEAL, PayPal, Credit Card, Alipay, WeChat Pay, Bank transfer, and WebMoney.
Visit Abelohost

Best Offshore Cloud Hosting
If an anonymous Cloud hosting or a Cloud VPS is what you're looking for, then the following "2 hosts" can interest you.
#9 Swiss Layer
Swiss Layer offers some interesting and dedicated offshore cloud hosting packages. The company prioritizes performance, privacy, and reliability. Highly trained engineers are available 24/7 to address any sales and support-related queries.
Features
Disk Space: 5 GB SSD RAID 10 – 1 TB RAID 10
Bandwidth: 2 TB – 20 TB
99.97% uptime
Security Features
Paid Backup feature (20 GB) at $3/Month
Datacenter Locations
Equinix – Zurich, Switzerland
DMCA Policy
For this web host privacy, performance and reliability are of top priority. They offer high-performance hosting and they are committed to protecting the privacy and security of the client data. Swiss Layer abides by the Switzerland data protection laws that allow you freedom of hosting content with very few restrictions.
Pricing
The price of the basic offshore cloud hosting plan at Swiss Layer starts at $5.95/month. The prices differ according to the different plan configurations.
Swiss Layer accepts all major cryptocurrencies for payment, including Bitcoin, Ethereum, Litecoin, Ripple, Ethereum Classic, Dashcoin, and Monero.
Visit Swisslayer

#10 KnownSRV
KnownSRV is a popular European hosting company, which is relatively new. They provide established offshore Cloud VPS. The company offers shared, dedicated, and VPS hosting solutions.
All the shared hosting plans have free migration service, cPanel installation, and Softaculous app installer. It is a generous web hosting service that offers good value.
Features
Disk Space: 30 GB SSD – 200 GB SSD
Bandwidth: 2 TB – 15 TB
99.9% uptime
Security Features
Basic DDoS protection – Limited and free
DDoS protected IP on network layer (3/4) at $10
DDoS protected IP on both network and application layer (3/4/7) at $10
Datacenter Locations
Luxembourg
Romania
Netherlands
DMCA Policy
All the hosting services provided by KnownSRV are meant for lawful purposes and they abide by the laws of the Netherlands. Known SRV does not allow the infringement of any copyright or trademark. Any material that is obscene or threatening is prohibited, they have laid their terms and conditions in detail.
Pricing
KnownSRV is unbeatable in terms of price. Generally, offshore hosting services are more expensive, but KnownSRV packages are relatively more affordable compared to others. The cost of offshore cloud VPS starts from $19.95 per month.
They accept payments through PayPal, PayZa, Skrill, WebMoney, BitCoin, and PerfectMoney.
Visit Knownserver

What Is DMCA Ignore hosting?
In this digital world, it is very easy to source others' copyrighted materials. Did you ever wonder if this is legal? No, it is not.
Two reasons can be interlinked when it comes to copyrighted content. Firstly, the website hosting services may be located outside the USA as DMCA follows US-based law. Secondly, the host guarantees DMCA ignored hosting.
DMCA ignored hosting is a service provided to clients to enable them to host any content they wish to. This can be achieved by locating the servers in countries free from DMCA. If the country does not follow this law, there cannot be any repercussions of the same.
The DMCA notice might ask the websites to take down their website completely or remove a part of the content. A host-free from DMCA will prevent the same and the website shall maintain its online visibility.
Conclusion
You need an excellent, affordable, and dynamic hosting solution for the content you wish to host. The DMCA ignored VPS hosting providers we discussed in this review.
AlexHost is a great hosting solution because it is one of the popular offshore hosting companies, they have a good range of VPS hosting plans with various specifications and they are more accommodating for hosting the content you want.
If you are looking for a cheap offshore VPS hosting company then Impreza is a clear winner with multiple offshore hosting locations, low-priced VPS hosting plans, and the freedom given to the account holders to host whatever they want.
Swiss Layer is a great choice for offshore cloud hosting as they provide high-performance hosting solutions, a good range of VPS hosting configurations, and is known for protecting the privacy of the clients.
All the hosting solutions mentioned in this review accept payments through cryptocurrencies and other payment methods. Your choice should be based on the location you want, your budget, and the allowance of content that you wish to host.
Choosing DMCA Ignored Hosting Service Provider
Ensure it has an offshore location for the server.
The DMCA policy should be clear, free from any ambiguity.
High level of security for server hosting.
Check for performance.
Ensure the payment methods are discreet.
Have you invested in an offshore hosting platform before? What was your experience? Mention your suggestions and views in the comments section below.