Ever wanted to start a hosting company and offer the best service to your customers? If that's the case, master reseller hosting is what you need to look for. With a master reselling account, you can resell the hosting service to other customers.
We will first see the basic overview of master reseller hosting and then see some of the best picks for reseller hosting that also includes WHMCS. It's a billing software or we can say it's a web hosting management software. Now, let's see what is master reseller hosting.
What is master reseller hosting?
Master reseller hosting is the hosting service that allows to sell reseller accounts to other clients. It allows you to create WHM reseller accounts that you can sell.
Each of the WHM reseller accounts can also allow other customers to buy hosting from them. You can easily start selling hosting services with the help of master reseller hosting.
5 Best Master reseller providers in (2023)
We've assembled the best Master reseller providers, some companies offer WHMCS for free, and for some others, you need to pay monthly for it.
So let's begin with the list now.
#1 InMotion Hosting
InMotion hosting is one of the best companies to start your hosting company. It offers fully white label services with easy setup and the best plans.
They offer managed reseller hosting. Therefore, you don't need to worry about management. If there is anything wrong, you can always contact their support anytime you want.
InMotion hosting is already famous for providing high-performance hosting. So, you can surely trust the service and go with the reseller account.
You will also get access to the domain reseller account as a compliment. So, if you are planning to sell the domains, you can do it here.
You will also get a free dedicated IP address on every plan. You get 24/7 support. If something goes wrong, you can always contact support.
They have one of the fastest and high performing servers. Therefore, you can focus on customer acquisition and forget the rest. They will surely love the hosting which increases the retention rate.
WHMCS license: Included
Cpanel and WHM accounts limit: 25 accounts
Storage: Starts from 80 GB
Uptime: 99.9%
Backup: Server snapshot is automatically taken as well as backup manager included.
Visit InMotion Hosting

#2 ResellerClub
Resellerclub is one of the most popular master resellers hosting with WHMCS. Reseller Club is one of the services that only focuses on reselling accounts.
Therefore, you will get better service as compared to others. It has various other advantages over other hosting services. It's because of the addons they provide. You can also go with their web design and development program if you want.
Further, it also has easy setup and integration for HTTP API to create supersite.
The pricing here is great. If you are looking to create a proper hosting company, you can surely check out ResellerClub.
They have various products and services you can sell to your customers. Also, you will get actionable insights with the help of their business intelligence dashboard.
You will also get easy integration to many products including WordPress, WHM, Comodo, Google workspace, etc. You will get the maximum amount of features here.
This makes it one of the best reselling hosting to go with. If you want to create the best hosting company, ResellerClub is the choice for you.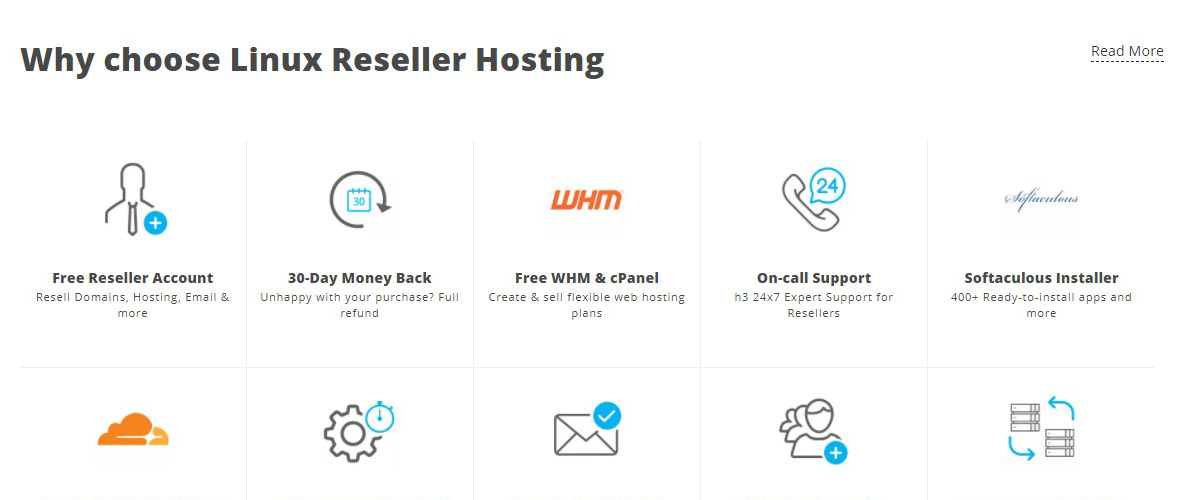 WHMCS: Free
Cpanel and WHM accounts limit: Starts from 40 accounts
Storage: Starts from 40GB
Uptime: 99.9%
Backup: Your responsibility
Visit ResellerClub

#3 NameHero
WHMCS: Free starting from the "Gold" plan
Cpanel and WHM accounts limit: Starting from 40 accounts
Storage: Both SSD & NVMe storage are available
Uptime: 99.9% guaranteed
Backup: Free Daily Automatic Backups with Jetbackup
Activate NameHero Discount (50% OFF)

#4 Hostmantis
Hostmantis is one of the simplest reseller hosting services you can go with. It will ask you for two options, you can either go with the cPanel or you can have direct admin access for your clients.
Depending on that, you will get the pricing. Here, we will focus on the one with cPanel as this is the most preferred one.
You can choose the WHMCS plan by yourself. It will cost you extra. There are all the licenses available that you can use here.
If you don't want to spend money, you can always use Blesta for billing. Blesta is a free software that you will get in Hostmantis. It's much more similar to WHMCS.
Therefore, you can even use this if you want. You can white-label and it also supports overselling.
Therefore, if some of your clients are using more resources, it won't be an issue. The plans are priced at a reasonable rate. There is a limit in the number of cPanel accounts as well as in the storage space. Therefore, the cost is less.
WHMCS license: WHMCS Starter, Plus, Professional, and Business
WHMCS Price: Starts from $12.95
Cpanel and WHM accounts limit: 50 accounts
Storage: 50 GB NVMe
Uptime: More than 99.9%
Backup: Daily
Visit Hostmantis

#5 Damhost
If you are looking for an unlimited master reseller hosting service, you should surely check out Damhost. Here, you will get unlimited WHM accounts as well as Cpanel accounts.
Further, there is no limit on the number of websites you can host. The only limit you will have here is the storage limit. You can choose your favorite plan depending on your requirements.
They have data centers in Germany, the USA, and Finland with excellent uptime as well. They also have extremely good support.
You can talk to their support if there are any issues. You can contact them via email, phone, and chat. There are many free addons for security and performance. You will get free SSL certificates for all your clients.
Their servers are 30x faster which will also increase the performance. You can choose the plan as per your need. They will set up your server within 5 seconds.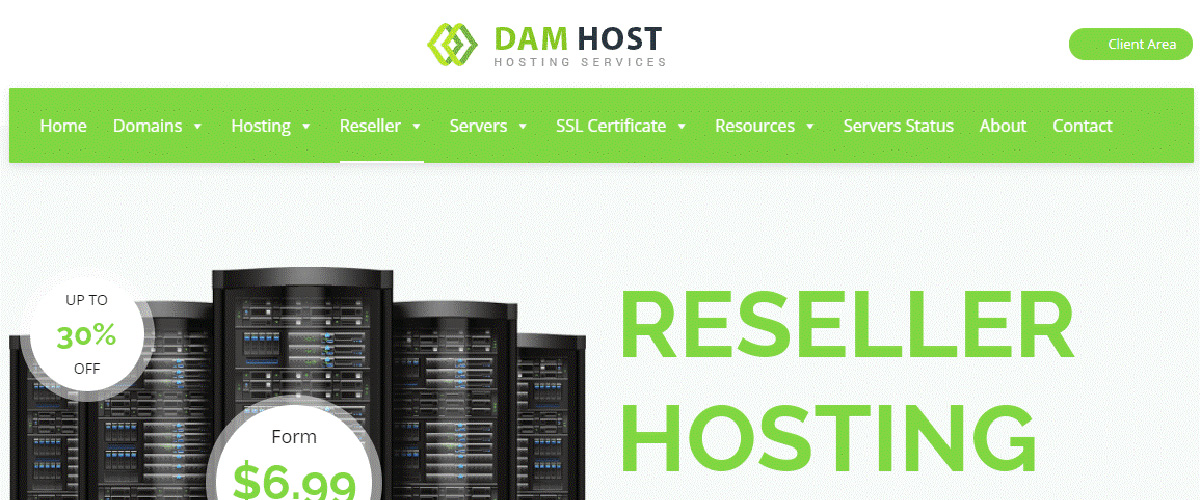 WHMCS license: Starter, Plus, Professional, and business
WHMCS Price: Starts at $10.99
Cpanel and WHM accounts limit: Unlimited
Storage: Starts at 40 GB NVMe SSD
Uptime: 99.9%
Backup: Daily on Amazon S3 Servers
Visit Damhost

Final Words
To conclude, these are some of the coolest and the best master reseller hosting with WHMCS. In some of them, WHCMS is included for free whereas you will have to pay for it in some cases.
If you want to go with reseller hosting, you need to look at the number of cPanel/WHM accounts and WHMCS licenses. Further, you also need to look at scalability. For that, you can check the resources like storage, bandwidth, etc. Extra features like backups and support will make the hosting the best one.
If you want to go with the best reseller hosting, you can go with NameHero.