Are you looking for a cheap bulletproof VPS hosting provider for an anonymous project? Do you want to host a website while keeping your identity completely private? If yes, this list of anonymous hosts is specially picked up for you!
Using a bulletproof VPS-based hosting plan is useful when you want to:
Run Botnets
Create Torrent Sites
Send Bulk Emails
There are numerous other reasons to choose a privacy-focused hosting provider, the major one being freedom of speech. Whatever your goal might be, this list of bulletproof hosts will certainly help you choose the right VPS for your needs.
Let's check it out.

Hosting Provider
Starting Price
Starting Price
$11.99/month
$80/month
$4.21/month
7 Cheap Bulletproof VPS hosting
VPS hosting offers security and privacy for your website files using a container environment for your data. However, it is not enough to host a website anonymously.
To select a bulletproof host, you need to consider the server location and payment methods attached to your VPS plan. To make things easier for you, we created a list of 7 cheap VPS-based bulletproof hosting providers covering their features and plan pricing.
Let's begin.
Black Host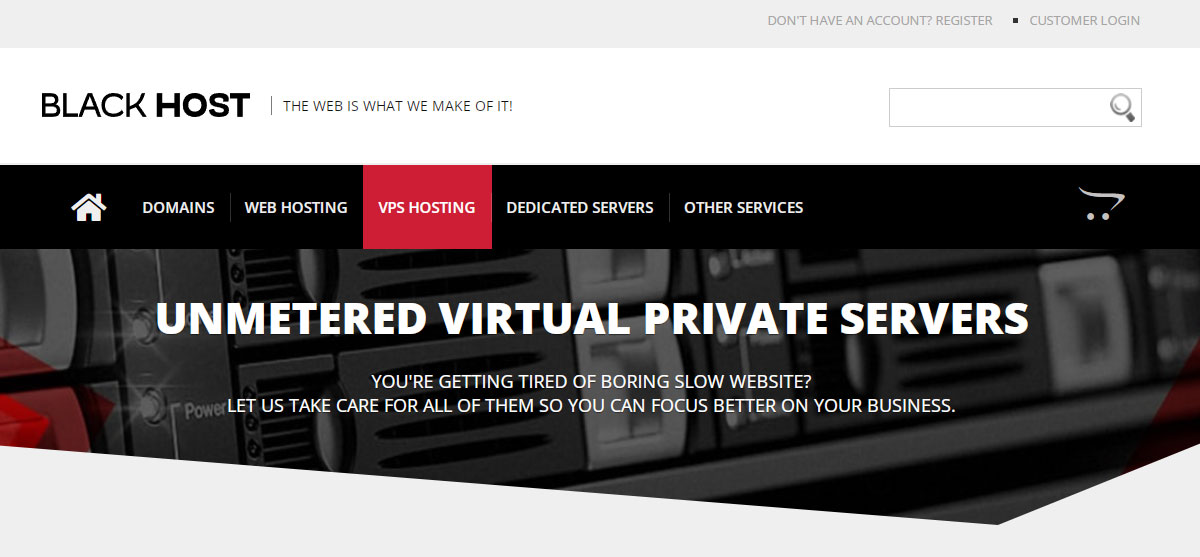 Black host promises not to sell or rent your personal information to anyone. It also provides a "No matter what" guarantee that ensures the protection of your website from dictatorship governments and false DMCA takedowns.
The host has bulletproof data centers with its servers placed in a secret nuclear bunker to safeguard your website against earthquakes, hurricanes, floods, and even nuclear attacks.
The cheapest VPS plan with Black host costs $11.99 per month.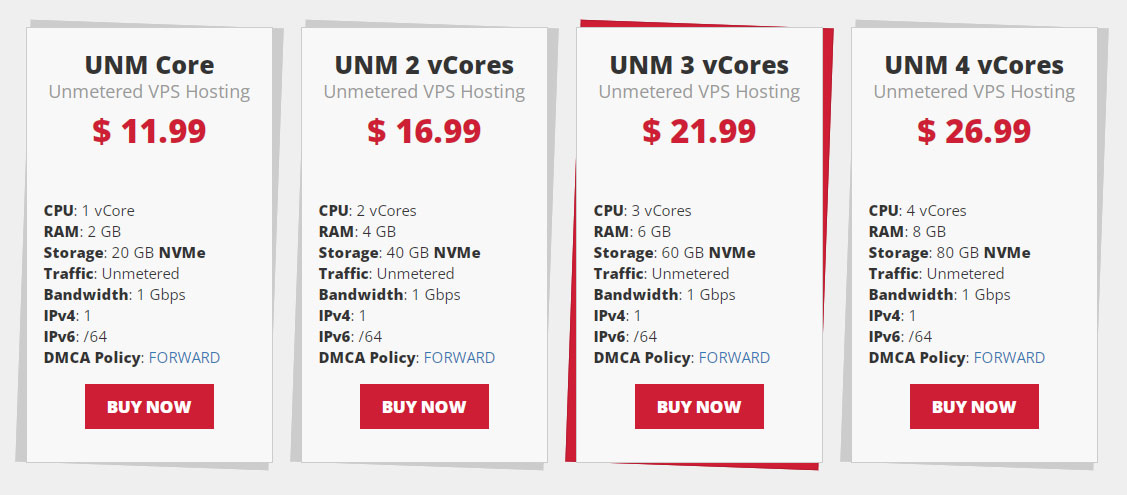 Key Features
 Black host is a Switzerland-based hosting provider which makes it 100% anonymous.
The host provides military-grade storage encryption to ensure full data privacy.
Black host offers point-to-point encrypted email services for carrying out completely anonymous communication.
All VPS plans include unmetered traffic and NVMe storage to deliver excellent performance for your site.
The company protects your VPS from all natural and manmade disasters by strengthening the physical environment at its data centers.
The host ensures to provide 99.9% uptime for all its services, so your website will remain up and running at all times.
Black host prevents any interruption to your website arising from false DMCA takedowns and dictatorship governments.
The host allows anonymous payments via Bitcoin, ERC-20, and BEP-20.
Visit Black Host

Bpserv Host

With the company registered in Malaysia, BPServ is a perfect bulletproof host for anonymous hosting. It offers supreme privacy with multiple offshore server locations, anonymous account creation, payment methods, and bulletproof domain registrations.
The host ensures to provide reliable equipment and services to help you host your website freely and securely. It offers privacy from authorities and protection against any intrusion into your online business.
The entry-level bulletproof VPS plan with BPServ host costs $80 per month.
Key Features 
BPServ has its servers in multiple offshore locations, including the Netherlands, Russia, Malaysia, Ukraine, Moldova, and Romania.
Along with bulletproof VPS hosting, they also offer bulletproof domain registrations.
The company has multiple hosting add-ons to further enhance your security and privacy, like anonymous SSL certificates and DDoS protection for IPs or domains.
BPServ ignores complaints or DMCA takedown notices to allow you to run your website however you want.
The host doesn't store your logs or contracts for complete anonymity.
All bulletproof VPS plans include KVM virtualization, full root access, and unlimited traffic to deliver outstanding performance for your website.
The host accepts payments via anonymous methods, including Bitcoin, Litecoin, and Altcoins.
Visit Bpserv Host

Shinjiru
With over two decades of experience in offshore hosting, Shinjiru is a reliable bulletproof VPS host for all your needs. It allows you to choose between KVM-based and OpenVZ VPS in multiple locations.
Shinjiru has many hosting add-ons to further enhance the security of your server. Its server hardening and firewall services offer excellent anti-hacking protection.
The host also provides an advanced backup and cybersecurity service with ransomware protection. Strongbolt SSL and Sitelock protection are other available security add-ons.
The cheapest bulletproof VPS hosting plan with Shinjiru costs $11.90 per month.
Key Features
Shinjiru has secure servers in multiple offshore locations, including Malaysia, Bulgaria, Holland, Germany, Russia, Hong Kong, Lithuania, and Singapore.
The hosting provider also offers strong bolt private email services with OpenPGP encryption. It allows you to send secure messages and communicate anonymously without ISP interception.
You will get unmetered bandwidth, 24/7 technical support, and DDoS protection with all Shinjiru VPS plans.
Shinjiru provides multiple security add-ons that will help you protect your website by further tightening its security.
It is possible to add Litespeed Cache Technology to your VPS which will suddenly boost the loading time of your website.
The host accepts payments via anonymous methods along with others. It is possible to purchase your hosting with Bitcoin and Ethereum either directly or via the CoinPayments Payment Gateway.
Visit Shinjiru

TheOnionHost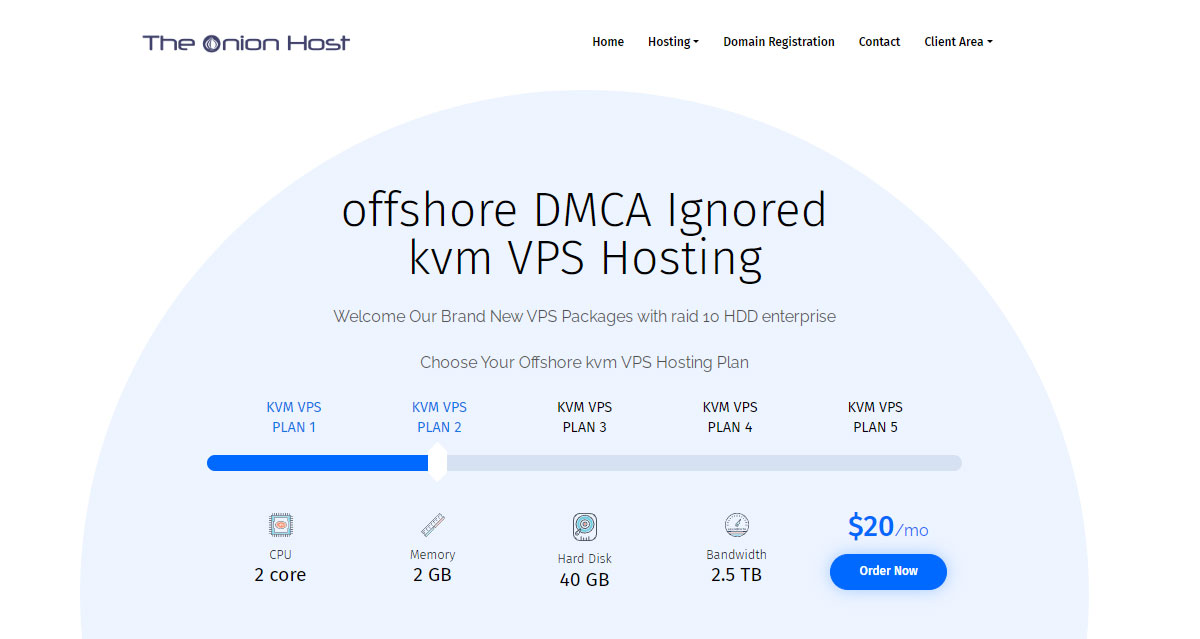 The Onion Host is yet another reliable DMCA-ignored VPS hosting provider. The host provides both OpenVZ and KVM-based virtual servers, so you can select a VPS plan that goes well with your needs.
If you are short on time or have limited technical knowledge, you'll be glad to know that The Onion Host also offers a VPS management service for cPanel for an additional charge.
The cheapest KVM-based bulletproof hosting plan is available for $15 per month while the entry-level OpenVZ VPS costs $19.99 per month.
Key Features 
The host uses the Tor network to ensure complete anonymity of your website and the data transferred over the network.
The availability of failover hardware ensures excellent uptime for your site.
The Onion Host has its servers in Bulgaria, an offshore location where it can conveniently ignore DMCA takedown notices.
The host uses enterprise-grade hardware like RAID10 SSDs to provide excellent server performance.
You will get custom server solutions with The Onion Host VPS where you can choose your control panel, operating system, and other server aspects.
All bulletproof VPS plans of The Onion Host include free advanced DDoS protection for your website.
The host accepts anonymous payments via multiple secure methods, including cryptocurrencies like Bitcoin, Ethereum, Litecoin, Bitcoin Cash, USDC, Dai, and Monero.

Visit TheOnionHost

FlokiNET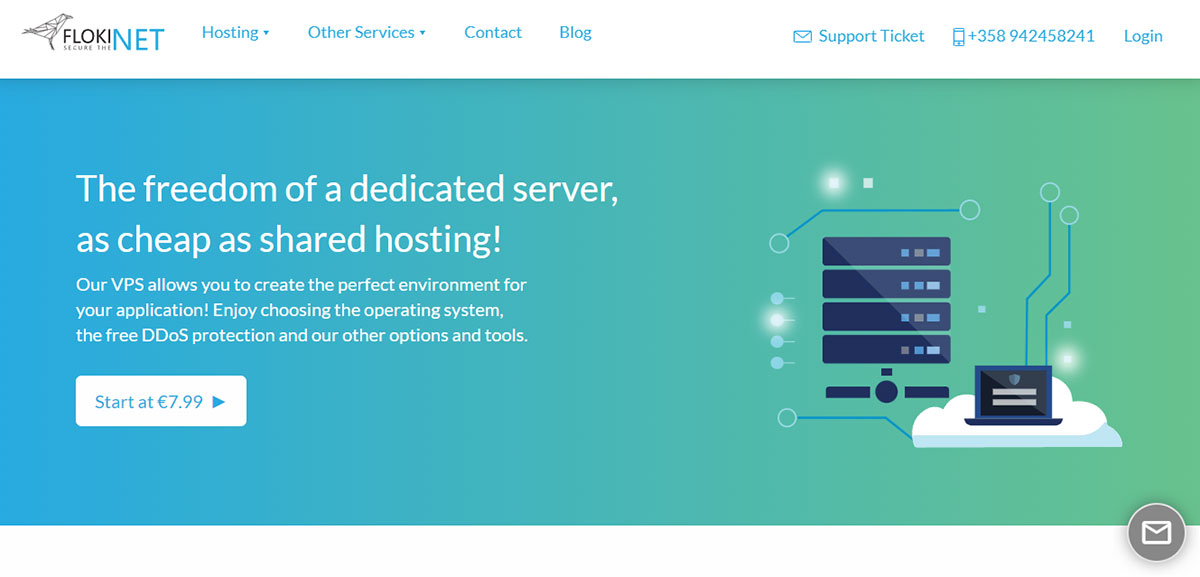 Established in Iceland in 2012, FlokiNET is the best bulletproof VPS host when you need Tor hosting. The company was started to encourage freedom of speech and support whistleblower projects and a free press.
FlokiNET is a reliable hosting provider since it is a RIPE and ISNIC member. It is also a cPanel-authorized partner. The host protects against censorship along with providing a secure and stable hosting environment.
The starting price of an offshore VPS with FlokiNET is €7.99 per month. The host charges an additional amount of €5 as server setup cost with the monthly billing cycle. This fee is waived if you choose any other billing cycle.
Key Features 
FlokiNet has its servers located in multiple offshore locations, including Iceland, Romania, and the Netherlands.
The host allows you to choose an operating system of your choice for the VPS.
FlokiNET uses NVMe storage and enterprise-grade hardware to deliver excellent server performance.
The host also has useful additional services like managed proton for efficient email encryption.
All FlokiNET VPS plans include free DDoS protection for your website.
You can get your hands on several investigative journalism tools like GlobaLeaks, Liquid Investigations, and Aleph for an additional monthly charge.
This anonymous host accepts payments via Bitcoin and many other cryptocurrencies, including Litecoin, Monero, ZCash, Ether, Dogecoin, Dash, BlackCoin, Decred, Nav Coin, Peercoin, Namecoin, Potcoin, Vertcoin, and Startcoin.
Visit Flokinet

AlexHost
Founded in Moldova in 2008, AlexHost is a reliable bulletproof host with 15 years of experience under its belt. The host guarantees complete security of your confidential data with its underground data center which was previously a bomb shelter of a military plant.
The company doesn't ask for any document scans to confirm your identity and, thus, ensures 100% anonymity. Technicians at AlexHost work 24/7 to keep your server up and running, so you can contact them for a quick resolution if a problem arises.
The host also offers managed VPS plans from its offshore server location at pretty affordable prices.
The entry-level and cheap bulletproof VPS hosting with AlexHost costs €4 per month. If you need a managed server, it costs a minimum of €10 per month.
Key Features
The host owns a data center at an offshore location in Chisinau, the capital of the Republic of Moldova. It offers bulletproof VPS hosting in the Netherlands too in addition to Moldova.
The DMCA-ignored hosting from AlexHost offers full privacy and freedom of speech. It also allows hosting adult content but only if you are over 18 years of age.
AlexHost offers bulletproof domain registrations in Moldova with WHOIS privacy protection.
All VPS plans come with NVMe SSD storage and unlimited traffic for efficient server performance.
AlexHost has both KVM-based and OpenVZ VPS plans to choose from.
The availability of 24/7/365 support ensures the continuous running of your website without any interruptions.
You will receive DDoS protection with all anonymous server plans.
The host also offers multiple security add-ons like VPN servers and SSL certificates.
AlexHost accepts payments via Bitcoin and other cryptocurrencies, including Monero, LiteCoin, Ethereum, DashCoin, Tether, Elrond, Utrust, Token, EGold, and USD coin.
Visit AlexHost

Abelohost
With a decade-long experience in the offshore hosting industry, AbeloHost is yet another reliable bulletproof VPS provider. It uses the latest Intel processors and world-class security concepts to provide you with the best server in terms of performance and security.
You will receive free technical support with all AbeloHost bulletproof VPS plans. The host utilizes KVM virtualization on its powerful server infrastructure to deliver maximum speed and work under high loads.
The entry-level anonymous VPS hosting plan with AbeloHost costs €10.44 per month.
Key Features 
The company has its servers located in Amsterdam in the Netherlands which is an offshore location.
All bulletproof VPS plans come with free DDoS protection for the security of your server at all times.
AbeloHost offers daily backup solutions at an affordable additional cost to safeguard your data stored on its offshore servers.
The host allows server customization. You can install an operating system and control panel of your choice.
AbeloHost carries out 24/7/365 server monitoring to ensure uninterrupted server performance.
The availability of a 99.9% uptime guarantee and unmetered bandwidth ensures excellent server performance.
This offshore host has both semi-managed and fully-managed servers, so you can select the one according to your needs.
The host accepts anonymous payments in the form of Bitcoin and Altcoin payments via Bitpay, Coingate, and Coinpayments.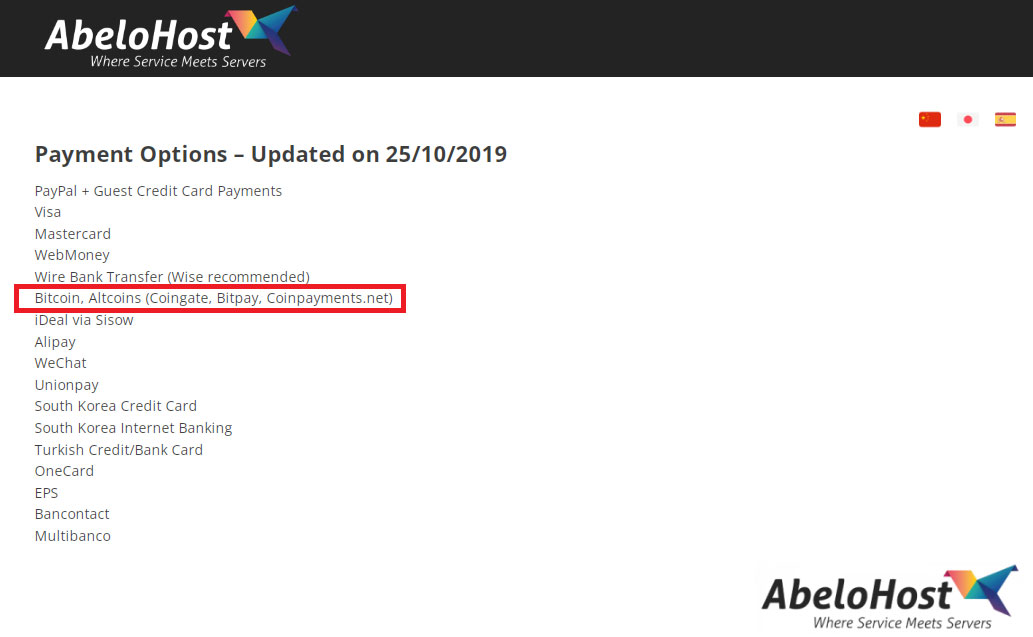 Visit Abelohost

Buying guide for a Bulletproof VPS
Not all bulletproof VPS hosting providers are capable of offering 100% anonymity. Thus, it is important to look for certain aspects when choosing the best offshore VPS for your hosting needs.
Here we list these pre-purchase considerations to help you remain completely anonymous:
Offshore locations
DMCA law does not apply on offshore locations. The government cannot take your website down since the servers are located outside of its jurisdiction.
You will have complete freedom of speech and can, therefore, run a website on any subject without revealing your identity.
So pick a bulletproof VPS host with its data center located in an offshore location like Bulgaria, Russia, the Netherlands, and similar others.
Domain name
We recommend purchasing your web hosting and domain name from different sellers since it is always safer to keep your eggs in different baskets.
Additionally, ditch the popular .com extension and consider using .io or .co domains instead.
Look for a domain registrar offering cryptocurrency payment options. One such reliable domain-providing company is Njalla from The Pirate Bay founder.
Terms of Service
It is always a good practice to go through the terms and conditions of the bulletproof host before buying a VPS. Not all hosting providers allow the use of their servers for all activities.
Some have Terms of Service that disallow certain materials to be distributed online.
So be sure to learn what your preferred host allows on its VPS. If you are unsure, contact them and share your usage plans to know whether or not they approve them.
Conclusion
Finding the right bulletproof VPS host is essential for the long-term success of your anonymous project. As per our research, Black host is the best offshore hosting provider for all needs.
It is cheap yet a powerful VPS solution.
At the same time, FlokiNET is the best VPS for Tor hosting. Both these companies have offshore locations, clear Terms of Service, and more security features than others.
FAQ (Frequently Asked Questions)
What is a bulletproof hosting provider?
A bulletproof hosting provider allows uploading almost any type of content to its servers. Such hosts do not entertain DMCA takedown requests since they support freedom of speech, anonymity, and privacy.
Is Bulletproof Hosting actually anonymous?
Yes, bulletproof hosting is truly anonymous. The level of anonymity, however, differs from host to host. So you must check out the above mentioned buying guide for bulletproof VPS when looking for 100% anonymity.
How much does it cost to host a website with Bulletproof Hosting?
Depending on the host you select, bulletproof hosting can cost you anywhere between $4 to $80 per month.
How secure is a VPS?
A VPS is among the most secure hosting options. Each virtual server is independent of others and secured in a separate shell with all its resources.