Are you bothered with the high license cost of cPanel?
Are you looking for an alternate control panel that is less expensive?
cPanel has been dominating the hosting field and has held its place as the most famous control panel out there for the longest time. However, rising costs have driven users to seek other alternatives.
CyberPanel emerged as one of the closest rivals to cPanel, with many users switching to it. Let's find out the best CyberPanel VPS hosting options.
3 Best CyberPanel VPS Hosting
CyberPanel is pre-installed with all the hosts mentioned in this roundup review, so no manual installation is required.
1. Hostinger (Most trusted CyberPanel VPS hosting)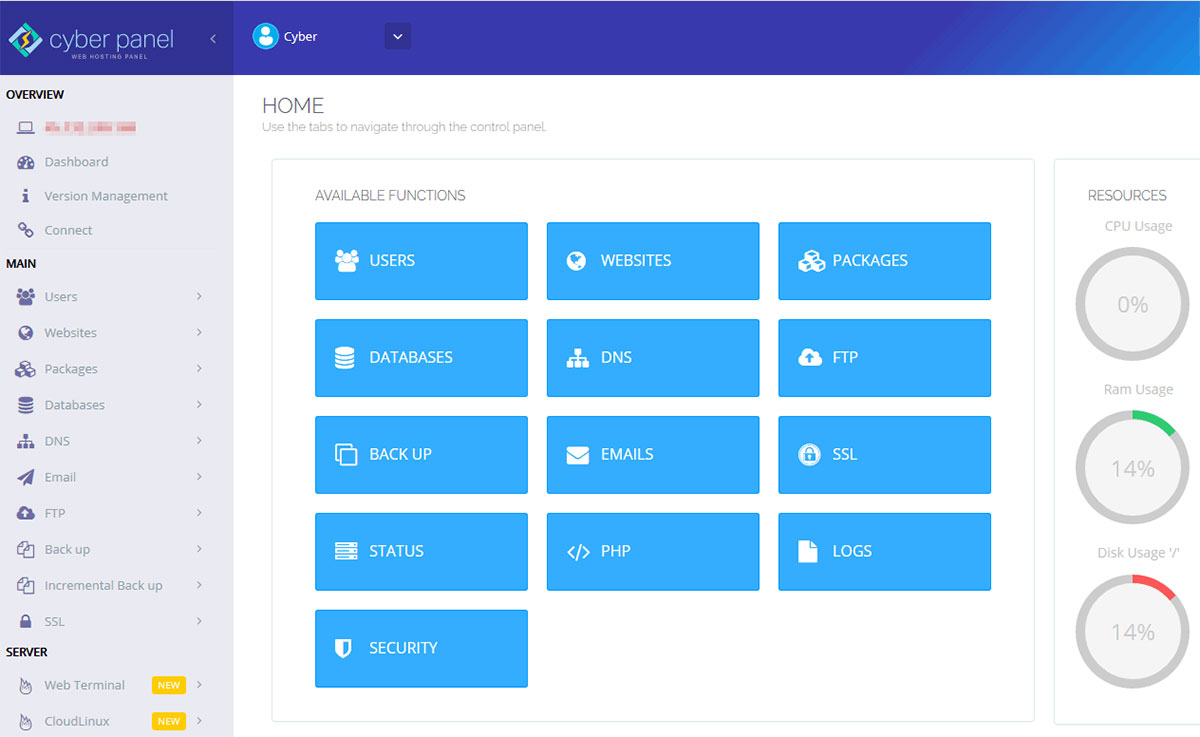 Hostinger is entirely Linux-based and uses LiteSpeed, the same web server as CyberPanel. Hostinger ensures that the most recent updates and features are available to the users. They are known to offer extraordinary services to their users. Most importantly, Hostinger provides WordPress staging for testing the servers before using them.
Hostinger is ideal for those seeking reliable CyberPanel VPS hosting, especially in Europe due to the concentration of data centers in this region. VPS's data center locations include Europe, Asia, and North America.
The basic VPS hosting plan at Hostinger is priced at $3.95 per month.
Key Features
Auto-installer: Hostinger CyberPanel hosting has an auto-installer for one-click installation of WordPress, Joomla, and Prestashop.
LSCache: It offers a built-in LightSpeed Cache module with dynamic content-building plugins, ensuring fast performance.
Easy GIT deployment: You can easily use GIT webhooks to connect Gitlab and Github Repos and deploy your codes.
Backup and restoration: All CyberPanel VPS hosting plans on Hostinger include weekly backups and one-click backup and restore features.
HTTP/3 support: HTTP/3 is supported that enables seamless and fast transfer of hypermedia documents.
Visit Hostinger

2. Vultr (Best overall CyberPanel VPS hosting)
Vultr offers comprehensive CyberPanel VPS hosting plans that are a complete value for money. Vultr has data center locations in Asia, the US, and Europe. Vultr provides easy deploy cloud VPS servers with powerful API.
Vultr is a good choice for 100% SSD high-performance VPS if you are looking for easily manageable and feature-rich servers.
If you choose the basic VPS server with Cloud Compute and the control panel of your choice, the starting price of the server is $3 per month.
Key Features
One-Click Deploy: When you deploy the server, it does not take more than 60 seconds to set up the server.
Backup and restoration: You can back up or restore your website with a single click. You also have the option of auto backups.
Easy management: A Vultr CyberPanel VPS hosting plan comes with features like a file manager, a Git manager, a docker manager, and PHP management. These features make server and website management more convenient.
HTTP/3 support: Vultr supports HTTP/3 on their CyberPanel VPS hosting servers, ensuring a better end-user experience.
Visit Vultr

3. Ultahost (Best managed CyberPanel VPS hosting)
Unlike most web hosting companies, Ultahost owns and runs its data centers themselves. Thus, eliminating the need to involve third parties guarantees greater security and efficiency.
NOTE: They don't have an Asian data center yet but will soon launch one in India and another in Singapore.
Ultahost's CyberPanel VPS hosting plans are comprehensive, feature-rich, and affordable.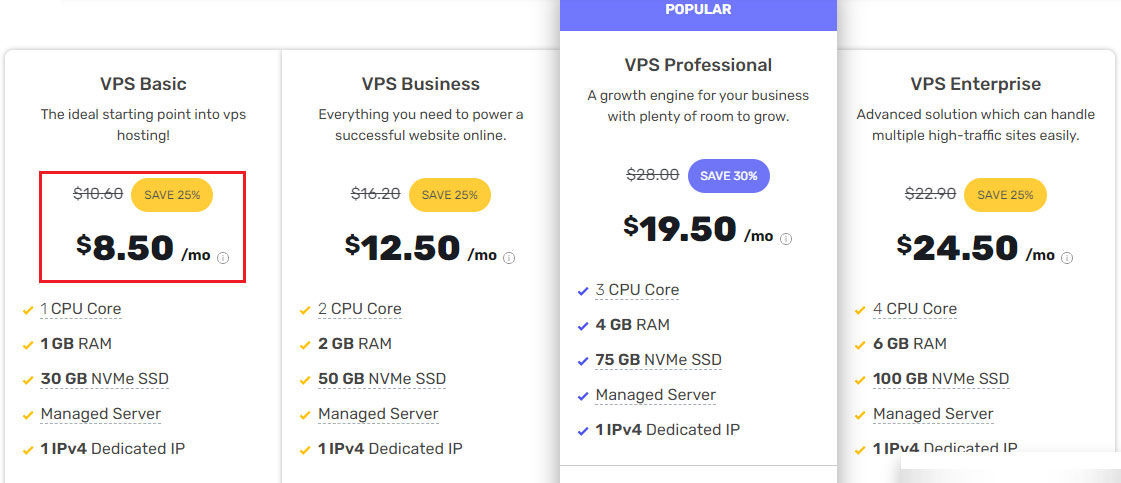 All VPS plans include managed hosting, starting at $8.50/month.
Key Features
30-day trial: Ultahost offers a free 30-day money-back policy. Free trials are always great, as you can try out the service practically before paying for a subscription.
High-security: The VPS hosting provides regular security patches, a dedicated firewall, and BitNinja security with all their VPS hosting plans.
Backup and restoration: In addition to free daily backups with full server snapshots, Ultahost offers 1-click restoration upon request.
Freebies: Ultahost's CyberPanel VPS hosting panels come with free SSL certificates, free migration, and free domain transfer.
High specs: Even the cheapest VPS hosting plan comes with 30 GB of NVMe SSD storage, unlimited bandwidth, and unlimited application installation.
Visit Ultahost

CyberPanel System Requirements
If you plan to use CyberPanel to manage your server, you need a server that meets the following necessary system requirements:
Centos 7.x, Centos 8.x, Ubuntu 18.04, Ubuntu 20.04, or AlmaLinux 8
Python 3.x
RAM: 1024 MB or more or more (at least 2 GB RAM is recommended)
Disk Space: 10 GB
Root server access
Static IP address that is reserved for your server
Although 1 GB of RAM is enough for CyberPanel VPS hosting, it's advisable to use a system with at least 2 GB RAM for seamless performance. Choose a VPS hosting plan that covers the system requirements you need for CyberPanel.
Advantages & Disadvantages Of Choosing CyberPanel VPS Hosting
Before you decide whether to opt for CyberPanel VPS hosting, let's weigh the pros and cons.
Advantages of Cyber Panel
CyberPanel is free: This is why people are switching from cPanel to CyberPanel. As long as you prefer using OpenLiteSpeed rather than LiteSpeed Enterprise, you can enjoy unlimited usage for free.
LiteSpeed support: CyberPanel uses the LiteSpeed Web Server, which is quite rare among server control panels. Most control panels lack native LiteSpeed support and use Nginx or Apache.
Feature-rich: CyberPanel can rival cPanel by offering users every feature they need from a control panel. Be it server management, site cloning, or WordPress staging, CyberPanel has you covered.
Pre-installation: When you choose a CyberPanel VPS hosting, your server has CyberPanel installed, saving the hassle of doing it yourself. Some of the hosting service providers also provide a terminal emulator.
Disadvantages of Cyber Panel
Bugs: As CyberPanel is relatively new, it often has various bugs. This is especially a problem during the release of new versions. However, you can avoid the issue by simply waiting a bit before you apply the updates.
UI: CyberPanel doesn't have the best user interface among the popular server management tools.
No other OS or CP supported: When using CyberPanel, you can't install any software that isn't supported by this control panel or your Linux distribution. You can't use a different operating system or control panel.
Migration restrictions: When switching to a different hosting provider, you can't migrate any feature developed internally using CyberPanel.
Final words
All three VPS hosting companies we reviewed are excellent choices for those planning to use CyberPanel. Overall, Vultr is the winner among the three as they offer the cheapest plans without compromising performance or uptime.
The fact that they have the largest network of data centers also makes it convenient to get a server in a preferred location.
If you're good at server administration, it doesn't matter which hosting provider you choose. You don't even need a CyberPanel VPS hosting service. You can opt for any VPS and install CyberPanel manually, even if it isn't installed already.
FAQ
What is CyberPanel VPS?
CyberPanel VPS refers to a Linux-based virtual server with CyberPanel installed and pre-configured. You can start using this control panel to manage your website and server immediately.
What web server does CyberPanel use?
CyberPanel uses the LiteSpeed Web Server, one factor that makes this control panel unique. It's available in two different versions – open-source and enterprise. The free and open-source version of CyberPanel runs on OpenLiteSpeed.
If you prefer the LiteSpeed Enterprise Web Server, you'll have to purchase CyberPanel Enterprise.
Is CyberPanel fast?
CyberPanel's integration with LiteSpeed ensures superior performance. The use of LSCache, allows CyberPanel to run quite fast. However, it isn't the fastest control panel out there.
Does CyberPanel support Nginx?
CyberPanel has been built exclusively for LiteSpeed web servers, but it does not support Nginx.
Is CyberPanel free?
CyberPanel has free and paid versions. The free version is open-source. The paid version known as CyberPanel Enterprise is priced at $70 per month.