This is a review of GoDaddy SEO services, a service from the host that claims to grow your business.
In my Web Development journey, I've had the chance to work with many clients. And, I saw many of my clients using these SEO services without seeing any noticeable results.
In my opinion, they were wasting their hard-earned money for no SEO results to show. So the purpose of this article is to educate people on this subject so they don't make the same mistakes, and instead, make a more informed decision.
I believe that GoDaddy SEO services are not worth the money you spend on them. The service does not deliver any results, as I've seen with my clients, and has a lot of bad reviews from its past users as well.
Before signing up for these services, you must keep in mind that GoDaddy is not an SEO agency, so it does not specialize in providing this service at all. GoDaddy SEO service is just an upsell by the company along with its main services.
To provide you with a complete picture, this article covers an overview of the GoDaddy SEO service, its pros & cons, and the pricing details. I'll also provide you with some excellent alternatives to the GoDaddy SEO service to help you choose the best for your business.
Keep reading the next part of the article to get into the details of this service offered by GoDaddy.
What is the GoDaddy SEO service?
GoDaddy SEO service is an online marketing service offered by GoDaddy as an add-on to its hosting services. The service aims to improve your website SEO with both on-site and off-site optimization for better ranking on popular search engines like Google.
Here is an overview of the offerings available under the GoDaddy SEO services:
The company first understands your business and its current SEO status.
It then performs keyword research for your niche depending on your location and industry competition.
The GoDaddy SEO team manages your website's SEO regularly and reviews your search engine rankings as well.
You will also have access to the SEO dashboard to track your website traffic, rankings, and overall performance in real-time.
Optionally, the GoDaddy SEO team also provides on-site recommendations of image alt tags and keywords that you can add to your site's meta title and description.
Additionally, the team installs Google Analytics and Google Webmaster Tools to analyze your website's SEO, traffic data, and potential errors.
Once your website is fully optimized for SEO, GoDaddy submits it to popular search engines, including Google, Bing, and Yahoo!.
The GoDaddy team also submits your site to directories.
It carries out the keyword link-building process and social bookmarking for your website.
The GoDaddy SEO services also include content creation in the form of website articles or blog posts that include relevant keywords.

Pros & Cons of GoDaddy SEO Services
Let's analyze the pros and cons of this online marketing offer from GoDaddy here:
Pros of GoDaddy SEO Services
It is a fully-managed service that allows you to focus on your business and leave the SEO task to the GoDaddy team.
GoDaddy SEO service goes deeper into the SEO task by developing content and building links to your website apart from suggesting the relevant keywords.
The company provides you with an SEO dashboard to track your performance 24/7.
Cons of GoDaddy SEO Services
GoDaddy is not an expert in SEO services. It is a hosting company that offers this SEO service just as an upsell to oblivious and non-technical people.
Though GoDaddy offers you a dashboard to track your performance, you can not track the leads or sales coming from your investment in this service. The positional growth of your website in search engine results is also difficult to track.
GoDaddy does not offer any money-back guarantee with its SEO services. So if you are unsatisfied with the results, you cannot ask for a refund of the service price.
This service offers very thin content when it comes to the content creation part. Short articles of about two paragraphs, that are stuffed with keywords, won't lead your website anywhere in the long term.
GoDaddy does not guarantee any SEO results for your website and states this fact on its website as well.
GoDaddy SEO Services price
GoDaddy has not listed the price of this service on its website. You need to get in touch with the team via call and share your business details with them to know your eligibility for the service and price details.
The price of the GoDaddy SEO services will depend on:
your business location
your target audience
the kind of business you are in
and the level of competition in your niche
It can, therefore, range from $50 a month to $500 a month or even more.
The company states that it takes about 6 months for the results to show up. So you will have to commit to GoDaddy SEO services for at least 6 months.
It is worthwhile to mention here that GoDaddy SEO services are not available in all regions. Currently, you can check for your website's eligibility only if you are located in the USA, UK, Canada, or Australia. It is clear from this FAQ on GoDaddy's official website: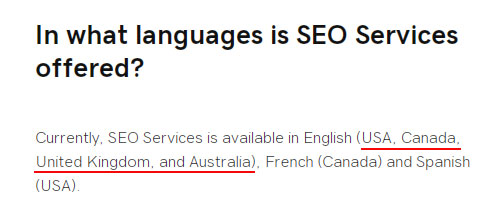 Godaddy SEO Services Review
The users of GoDaddy SEO are the best critics of this service. Here are some of the common problems faced by GoDaddy customers using its SEO services:
GoDaddy tries to upsell everything, including its SEO services, just to extract money from its innocent customers. Many reviews from GoDaddy's existing or past customers at Trustpilot prove this:
The GoDaddy support executives are inefficient to solve your SEO-related issues. Here are some reviews from the users of GoDaddy SEO services that support this fact:
Looking at the above reviews of GoDaddy SEO services, we can safely say that standardized low-cost solutions "for everyone" can not be as good as tailored SEO solutions for your website.
Alternatives to GoDaddy SEO services
With so many bad reviews of GoDaddy SEO services from its users, I'd advise you to stay away from this SEO service and look for better alternatives. It is wiser not to invest your money in an SEO service that has gained a bad reputation for itself because of its poor quality.
Here are some alternatives to the GoDaddy SEO services that you can choose for your website:
SEMrush Premium SEO plans
SEMrush offers SEO management plans with varying features for businesses of all sizes. GoDaddy itself recommends SEMrush among the best premium SEO tools.

Image source: GoDaddy
These SEMrush SEO plans start at $99.95 per month with a year-long commitment and come with a 7-day free trial offer. Here is what the company states about this money-back guarantee on its website:
SEMrush Free SEO plan
You can go for the free SEO plan offered by SEMrush if you are at the beginning stage of your business and cannot afford to pay for the premium plans yet. Though it comes with limited features, it will help your website grow. You can always choose a paid plan for additional features as soon as your business grows.
Hiring a dedicated SEO expert
You can choose to hire a freelancer from Upwork to outsource your website SEO tasks. An SEO expert will be able to provide you with tangible results while costing you a lot less as compared to the overpriced SEO services offered by GoDaddy.
Verdict: Are GoDaddy SEO Services worth it?
No, they are not worth paying for. Although the deal sounds like a "dream-come-true" to every website owner since everyone wants to rank higher on the Google search results, it looks like a way for GoDaddy to extract more money from novice newbies.
GoDaddy offers a few SEO tools worth only $6.99 per month but this specific SEO service is for website owners who are completely new to the world of online marketing.
Unfortunately, GoDaddy is counting on the fact that most of the website owners are unaware of the SEO tasks, which is a very cheap business strategy on its part.
Truly speaking, GoDaddy just performs very simple SEO tasks as part of these services, like submitting your website to different search engines, giving you a list of keywords that are popularly searched on Google and other search engines, and generating low-quality backlinks for your website.
What GoDaddy is offering through its SEO service is not SEO in its true sense but just a very basic service that won't even show any significant results for your business. In other words, GoDaddy is offering "quality" SEO services just like McDonald's is offering nutrition through its food.
Frequently Asked Questions
📌 Does GoDaddy SEO work?
No. GoDaddy SEO services do not provide any significant results for the growth of your website ranking. It even explicitly states that it does not guarantee any SEO results.
📌 Are GoDaddy SEO experts reliable?
No. GoDaddy SEO experts are not reliable at all. They do not have complete knowledge of what they are doing and are unable to resolve your website's SEO issues when you contact them. Many past users of the GoDaddy SEO services complain about this fact.
📌 How long does GoDaddy SEO take to work?
As per GoDaddy, it takes about 6 months for its SEO services to show results. It states this fact on its website in the following manner:
However, you might not see any substantial SEO results for your website even after the end of these 6 months.
📌 Is the GoDaddy website good for SEO?
No. GoDaddy websites are not good for SEO out of the box. You will have to make special SEO efforts to build and improve your GoDaddy website's SEO score.
📌 How do I improve my SEO on GoDaddy?
You can choose to go for the free or premium alternatives to the GoDaddy SEO services discussed above to improve your website's SEO on GoDaddy. Additionally, it is extremely important to create high-quality content for your visitors and earn high-quality backlinks for your website.
📌 GoDaddy SEO vs. Yoast? Which one is better?
Comparing GoDaddy SEO services and Yoast reveals that Yoast offers more features than GoDaddy SEO. Also, Yoast is available for free whereas GoDaddy SEO services do not even offer a free trial.
So, Yoast is truly a winner when it comes to choosing between GoDaddy SEO services and Yoast for your website's SEO needs.