Are you planning to host your website with Bluehost? Do you know the capacity for shared hosting and visitor limits in their shared plans? An even more important question then is how much traffic can Bluehost handle? What are its maximum monthly traffic limits?
If you are looking for answers to the above questions, you will get them all here! We'll also discuss the outcomes of surpassing the maximum visitor count allowed on your hosting plan.
Let's begin!
How much traffic can Bluehost handle?
If you efficiently optimize your website, Bluehost can handle more than 25k monthly visitors—a decent amount of traffic, especially for a new website.
This makes it quite suitable for running a small to medium business. So you can use Bluehost shared hosting for a small eCommerce store, a food blog carrying recipe images, or a portfolio website showcasing your talent in images or videos.
Your website structure and content are the two most important factors that decide your maximum possible visitor count. You can expect Bluehost to manage about 5k daily visitors on a WordPress or similar CMS-based website containing only textual content.
Keep in mind that the capabilities of a shared server are always limited, and it cannot handle more than 50 to 60 visitors in the exact second.
So if your website is growing fast and has started receiving thousands of visitors, consider upgrading to powerful VPS or Cloud hosting plans.
NOTE: Bluehost offers unmetered bandwidth with all its shared hosting plans. But, you must not confuse this feature with its ability to handle unlimited amounts of traffic since there is always a limit.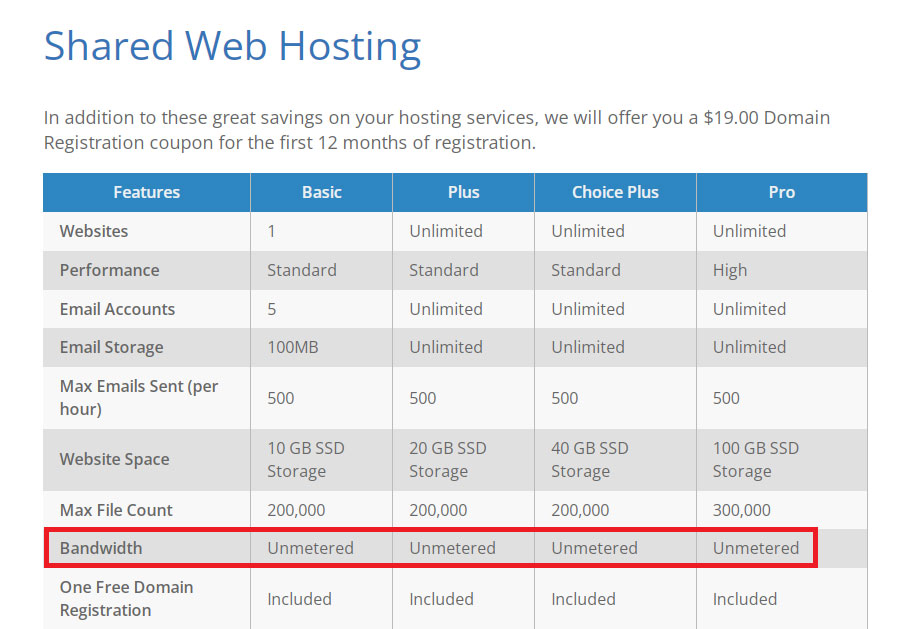 Bluehost traffic limit
Most shared hosting plans usually have a traffic limit, even if the host claims to be unlimited. This limit depends on the distribution of server resources among different website owners.
A server generally supports 12k to 16k hits per hour and 12k to 16k daily visitors. A hit is a request the user sends to the server to download a specific file.
A visit is counted when a user clicks on a web page, irrespective of the total number of files downloaded.
The traffic-handling capabilities of virtual servers differ from those of shared servers. To give you an idea, we used Bluehost VPS hosting on one of our websites.
Here is the screenshot from our cPanel displaying the traffic it handled to date:
Bluehost's "Pro" shared hosting plan comes with the following traffic limits:
| | |
| --- | --- |
| Bluehost Pro Shared Hosting Plan | Traffic Limits |
| Hourly Hits | 12,400 to 16,000 |
| Hourly Visits | 600 |
| Daily Hits | 300,000 |
| Daily Visits | 14,500 |
| Monthly Hits | 8,900,000 |
| Monthly Visits | 446,000 |
NOTE: The numbers above are approximates calculated for minimal simultaneous website users.
Can Bluehost handle 50k or 100k traffic?
No, Bluehost cannot handle 50k or 100k traffic monthly on its shared hosting plans. You must consider moving to a VPS plan when your website receives more than 25k monthly visitors.
And when your traffic reaches millions, shift to dedicated hosting.
It is important to choose the right hosting plan to prevent your website from downtime or loading delays. So, select a plan that meets your current traffic needs while leaving room for future growth.
If you are looking for hosting that can handle over 50k traffic, choosing a VPS or dedicated hosting plan would be the correct decision. You will find better plan options for these hosting types with other hosting providers.
Now you know "How much traffic can Bluehost handle," let's discuss what would happen if you exceed the visitor limit.
What will happen if you surpass the number of visitors allowed by your hosting plan?
All shared hosting providers, including Bluehost, have misleading marketing strategies. Although they advertise offering unlimited resource usage, they will suspend your hosting account on surpassing a limit.
Let's understand the reason behind this. Different website owners share server resources, including bandwidth, disk space, and processor (CPU) in shared hosting.
So, if a single website becomes super-popular and starts consuming extraordinary amounts of server resources, it will negatively impact the functioning of your website.
That is why all hosting providers prohibit "unnatural use of their services" in any manner. You cannot put their servers under heavy load by consuming plenty of bandwidth or storing many files.

In your case, if you surpass the number of visitors allowed by your hosting plan, the host might suspend your not-so-"unlimited" account.
Thus, choosing the right hosting plan for your website is essential, depending on the traffic it receives.
Conclusion
Bluehost will handle limited traffic and is suitable only for beginners or, at the most, small to medium businesses.
If you are serious about growing your eCommerce website and concerned about traffic, consider choosing a reputable mid-range managed hosting provider like Flywheel.
However, if you are comfortable with server management, we have a better, more cost-friendly option for you. Purchase a VPS directly from a cheap and stable VPS provider like Vultr or DigitalOcean and manage it via Cloudways.
This way, you will have a decent server with a better share of resources than those offered by shared or low-end managed hosting. Additionally, you will only pay for the hardware upgrade when scaling it.
Do you have any further website traffic-related queries? Share them in the comments below. We are eager to answer them!
FAQ (Frequently Asked Questions)
Which Bluehost plan can handle 50,000 visitors per day?
Bluehost's shared hosting plans are unable to accommodate 50,000 daily visitors. In the event of such high traffic, your account will be suspended by the host due to over-usage.
Therefore, we suggest considering their VPS plan or exploring alternative options such as DigitalOcean.
Can Bluehost handle 100,000 visitors monthly?
Bluehost's standard shared hosting plans are not capable of handling a monthly influx of 100,000 visitors. Nevertheless, their VPS and dedicated hosting plans are designed to effectively manage such high volumes of traffic.
Can Bluehost handle high traffic for videos?
Bluehost does not have the capability to handle high traffic specifically for video streaming. According to the host's usage policy, utilizing their server resources for streaming services is not permitted.