GoDaddy claims to offer unmetered bandwidth. However, do you want to know how much traffic can GoDaddy handle in reality?
Here, we will see the actual amount of traffic that GoDaddy can handle. We will mainly cover shared hosting. However, a part of this post also covers the traffic limit of Managed hosting.
Let's directly answer the main question you came here for.
How much traffic can GoDaddy handle?
You can expect a few hundred visits per day for the GoDaddy shared hosting plan. Even with these few visitors, your website will load extremely slowly.
Basically, their server response time is slow.
So, when the visitor comes to your website, it takes time to get the data from the server.
Talking about numbers, you can expect 500 to 800 visitors per day on a standard WordPress website using a theme and a few plugins.
If the number reaches 1000 or more, the site becomes extremely slow and even completely unavailable for specific users. This leaves a wrong impression on your visitors.
Not to mention, regular downtimes are pretty expected even if you don't reach the 500 visitors limit.
This is also because you are using shared hosting. In shared web hosting, all your resources are shared. So, if someone registers to your website, they use the same RAM, CPU, and connection with other domain names.
Therefore, you will get limited technical resources. When a specific site gets more traffic, all the other sites are slightly affected by it.
GoDaddy already has a bad name for overselling its services. Meaning there are hundreds of users hosted on that server. The number of users using the same shared same server is a lot more than what other hosting providers have.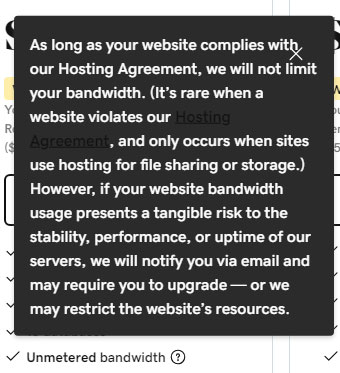 Therefore, when the website uses the same IP, RAM, and CPU, the overall server limit is exhausted too soon. Therefore, there are a very limited number of pageviews a server can serve.
Your website is also hosted on the same server, so you will face many limits.
But Godaddy provides various plans. So, people often wonder if the base plan is good enough for a hobby or side project. Let's check it out.
How much traffic can GoDaddy ultimate hosting handle
GoDaddy offers various plans for shared hosting. The first two plans come with 1 CPU, whereas the last 2 plans have 2 CPUs. Therefore, if you want better speed in shared hosting and only want to go with GoDaddy, we would recommend the ultimate plan.

As per the recommendations, the base plan can handle 25k visitors monthly, whereas the deluxe plan can handle 100k. However, these are just recommendations.
The actual limit is relatively low.
The ultimate plan can handle a maximum of 100k visitors per month across all the websites.
Various things determine the speed and performance of your website. It includes the complexity of your website, code, hosting type, etc.
In shared hosting, your website will get pretty much the same performance in all the plans. Therefore, you can go with other types of hosting for better speed, such as Cloud, VPS, or even Managed WordPress hosting.
People often wonder if the ultimate package can handle such low traffic. How much can the Economy plan handle? So, let's talk about that.
How much traffic can the Economy plan handle?
The base plan of GoDaddy shared hosting is the Economy plan.
Despite providing "Unlimited bandwidth," the plan can't handle much traffic. You can expect hardly 10k monthly visitors.
Many customers complain about their hosting facing an "exceeded resources limit" error, and the website goes down. This is not once or twice but a regular thing for GoDaddy users.
Technically, GoDaddy's unlimited bandwidth limit is even less than the limited (fixed numbered limit) bandwidth that other hosting companies provide.
As we mentioned earlier, they oversell their hosting services. So, even with unlimited bandwidth for the server, the actual bandwidth per user is very limited.
Now that you have a rough idea about the traffic limit in GoDaddy's Economy plan, we will talk about other plans too.
Their Deluxe shared hosting has unlimited storage as well as bandwidth. It's sufficient for any small to medium-sized business. You can host up to 10 websites.
However, the number of visitors your website can handle remains pretty much the same.
You can have 25 databases with 1 GB each, a total of 25 GB of MySQL storage. All shared hosting plans have a file and folder (inode) limit of 250k.
As you can see on the pricing page, both the economy and deluxe plan offers standard performance only. So, if you want to have better speed, you need to upgrade to a better hosting plan.
How many visitors can Managed WordPress on GoDaddy handle daily?
We saw that GoDaddy shared hosting plans can't handle more visitors. Along with the limits, there are many downtimes. This might make you wonder about how much traffic can GoDaddy handle in their managed WordPress plans.
The base plan comes with 1 website usage. With this, your Managed WordPress can handle roughly 15k to 25k visitors in the base plan. So, it's 700 to 1000 visitors a day.
However, the deluxe WordPress hosting can handle more visitors.
It's always better to opt for another hosting provider rather than relying on GoDaddy, even if you are going with Managed WordPress.
Conclusion
To answer, how much traffic GoDaddy can handle will depend on the plan you choose. You can expect roughly 10k visitors on the shared hosting.
Downtime and slow loading speed are the most common issues you will face with GoDaddy.
Our final recommendation is NOT to choose GoDaddy's hosting packages for your websites. Even if you are planning to host a side or hobby project, you can easily find cheaper yet better performing alternatives to any location you want.
Dreamhost is a good alternative if you want unlimited bandwidth.
FAQ (Frequently Asked Questions)
How much bandwidth does GoDaddy give?
GoDaddy claims to offer unmetered bandwidth for shared hosting. However, the actual traffic limit is hardly 10k visitors with many downtimes.
How much is the concurrent connection limit in GoDaddy hosting?
The concurrent connection limit is between 100 to 150, depending on the plan you choose.