Enabling IPv6 in your VPS will give enormous benefits to your web app. You will need IPv6 hosting for it. After enabling IPv6, you will not only get low latency but it will also enhance your server's security and connectivity.
There are plenty of available IP addresses.
Therefore, you can surely enable it on your web server. We will see some of the cheapest IPv6 hosting VPS providers you can go with.

Hosting Provider
Starting Price
Starting Price
$11.99/month
$2.5/month
$1.92/month
8 Cheap IPv6 Hosting Providers
Here are some of the 8 best IPv6 hosting providers. We have also collected features and starting prices.
Let's start with the first hosting.
1. Black.host
Black.host offers unmetered hosting with IPv6 enabled. It's a privacy-focused hosting provider offering /64 IPv6 for its VPS and dedicated server. They use KVM for virtualization. Therefore, you will get isolated resources here.
Their data centers are hi-tech with military-grade protection to protect your data.
For the network, they have a gigabit dedicated network. They have a 99.9% uptime guarantee. You will get 1 to 100 Gbps network speed depending on the plan you select. The VPS plans have a 1 Gbps uplink.
You can also opt for server management where you will get performance optimization.
It's one of the best IPv6 hosting providers if you want better security, privacy, and performance. You can select your preferred operating system, control panel, and location. They have 5 locations to choose from.
They also offer other paid services for security and privacy.
Starting price: The VPS server starts at $11.99 per month.
Features of Black.host
Unmetered bandwidth.
Blazing-fast NMVe SSDs.
Daily and weekly backups.
24/7 support.
Visit Black.host

2. Vultr (Best IPv6 cloud hosting)

Vultr is a cloud server offering scalable virtual machines with instant deployment. They have a public IPv6 network made on the next-gen protocol. You can choose from AMD or Intel for the cloud.
You don't need to worry about reliability as they have 100% SLA.
If you are looking for more technical features, you will also get powerful API, DDoS protection, private networking, and a lot more. They have 25 locations where you can host your cloud.
Further, they also offer infinite OS combinations with custom ISO support.
Vultr is great if you are looking to start with small and scale as you go higher. It's a developer-friendly cloud you can use. They also offer an intuitive control panel for easy usage. You can add a load balancer to handle sudden traffic spikes.
So, you can also add it and divide your traffic across multiple instances.
Starting price: $2.5 for the regular-performance cloud and $6 for the high-performance cloud.
Features of Vultr
Private networking with dynamic changes support.
NVMe SSDs with root access.
Reserved IPs.
Direct Connect feature to connect existing network.
Visit Vultr

3. AlphaVPS
AlphaVPS is one of the cheap IPv6 hosting providers. You will get free IPv6 subnets for free in every plan. It comes pre-assigned. The native IPv6 servers offer better speed. They use tier 1 premium networking which is coupled with many local peering. This gives you a reliable and faster network.
With that being said, they have aggregated network of 500 Gbit/s along with a Juniper-based network.
For VPS, you will get OpenVZ 7 to isolate the resources. You can also use KVM servers. It comes with an instant setup. They have Intel Xeon and AMD Ryzen servers. If you want high performance, you can also go with their AMD EPYC servers.
You can configure the server as per your need.
Starting price: €3.50 per month ($3.51).
Features of AlphaVPS
500+ Gbps network.
Configurable servers with a wide range of servers.
Full root access to the server.
99% uptime.
Visit AlphaVPS

4. Nexusbytes (Windows IPv6 VPS)

Looking for a Windows server with native IPv6 enabled? Nexusbytes is the right for you. You can not only install Windows but also Linux on their servers. For easy management, they offer a free control panel.
Coming to networking, they have a speedy multi-gigabit network. It also has blazing-fast SSDs for better read/write speed.
You can customize the server and also add additional IPv4 and the number of virtual cores. They offer up to 12 virtual cores with 1 Gbps bandwidth. The uplink increases as you move with higher plans. Moreover, you will also get free DNS hosting. They have 8 data center locations where you can host your VPS.
You can surely consider this if you are planning to install Windows. You can install Windows 2012 or 2019 here.
Starting price: $3.20 per month, $10 one-time setup fee for Windows.
Features of NexusBytes
AMD Processors with scalable resources.
Free backups to another location.
Native IPv6.
Free Windows license with custom ISO support.
Visit Nexusbytes

5. Racknerd (Cheap IPv6 VPS)

Racknerd is a developer-friendly hosting provider made by the nerds and for the nerds. So, you will get amazing features here. The company has its primary data center in Los Angeles. Therefore, you will get more features for this location. The same goes for IPv6. Upon request, they will provide up to 100 free IPv6 addresses.
You will have to open a support request for this. It doesn't come pre-assigned. The other locations will soon allow you to add IPv6.
They use KVM for virtualization. They have 1 Gbps bandwidth. You will have full access to the server. It's powered by Noction IRP. So, you will get rocket fast speed. It's one of the cheap IPv6 hosting providers.
You can scale your server up to 7 cores as of now. So, Racknerd is an amazing choice if you want to host a small project.
Starting price: $22.99 per year ($1.92 per month).
Features of Racknerd
RAID 10 SSD Cached Drive.
100 Free IPv6 addresses in Los Angeles Locations.
24/7 support.
Developer-friendly.
Visit Racknerd

6. Contabo

Contabo offers high specs server to speed up the networking. They use German-quality hardware. You will get IPv6 here. If you want to add more IPs, you can add IPv4. The company uses KVM and Proxmox for virtualization.
Moreover, if you want to isolate your resources further, you can also use private networking.
They also offer DevOps features you can use to manage or optimize your cloud. To increase your speed further, you can host your server which is near to the audience. In that case, you can host your data center in 5 locations. The base plan starts with 4 virtual cores.
So, you can easily run high-end apps here, all though the performance at times I known to be inconsistent among contabo's users.
Starting price: $6.99 per month.
Features of Contabo
Unlimited incoming traffic.
Full DNS Management.
Customizable servers.
NVMe SSDs for better read/write speed.
Visit Contabo

7. Hostinger
If you are looking for a dedicated IP with IPv6 support, Hostinger can also be a good choice. Their block infrastructure allows you /64 IPv6 for reliable and faster connection with low latency. For VPS, you will get 100 Mb/s.
You can directly install OS with software. For instance, you can install Docker directly with OS installation.
Hostinger's VPS starts at a very low price but it increases when you renew. The servers are not easily scalable. To scale your server, you will have to upgrade to a different plan. You can't add resources directly.
As there are many plans, it won't be a big problem for you to upgrade. You can expect 99.9% uptime.
Starting price: $3.99 per month, renews at $8.99.
Features of Hostinger
Backups and Snapshots
Dedicated IPv6.
Network File System (NFS) to extend server space.
Bitninja's DDoS security.
Visit Hostinger

8. Dreamhost (Managed IPv6 Hosting)
Dreamhost offers managed VPS hosting. They offer unhindered server performance along with IPv6. You can add as many IPv6 as you want. Yes, they have unlimited IPv6 addresses. Their control panel is easy to use. The resources are dedicated to you.
Coming to resources, you will get unlimited bandwidth. You can scale up by adding more RAM and storage to your existing plan.
They offer 100% uptime for the performance. Dreamhost allows you to add resellers' accounts directly from the panel. So, if you are an agency looking to add more clients, you can use Dreamhost. They have a data center only in the US.
The transparent pricing is yet another thing that we like about Dreamhost. The support is amazing as well.
NOTE: There is no extra charge for adding IPv6 addresses. However, you will have to pay some charges if you want to add an IPv4 address.
Starting price: $13.75 per month.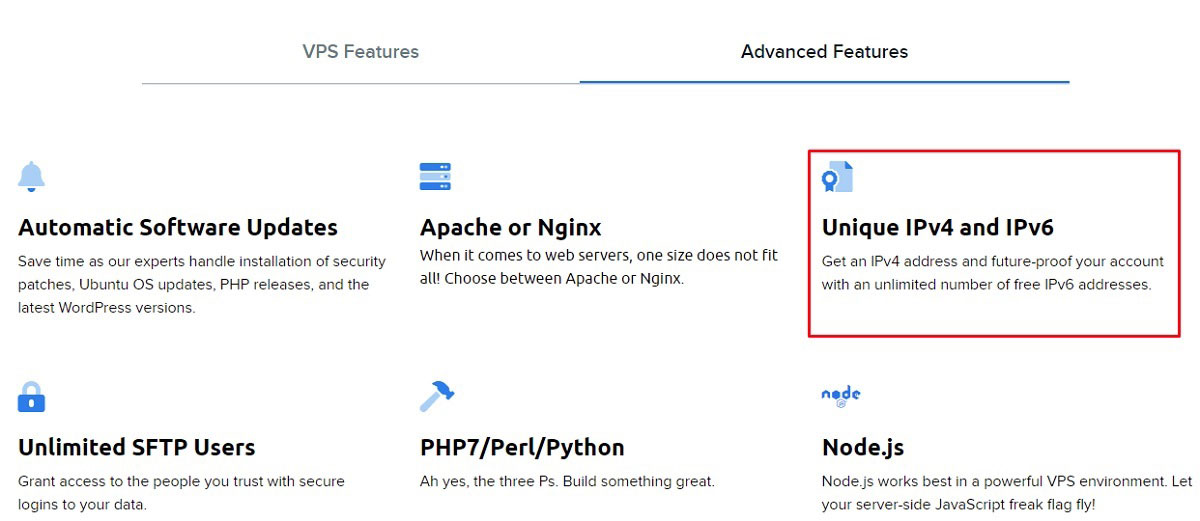 Features of Dreamhost
Scalable resources with expandable RAM.
Technical support for all tech such as Node.js, Apache, Python, etc.
They also support SFTP.
Transparent pricing.
Visit Dreamhost

Conclusion
These are some of the best IPv6 hosting providers. You can select the VPS that suits your needs. Using IPv6 will speed up your website. Therefore, you can choose the one that you like the most. Here is a quick selection of the hosting providers.
Best Price: Racknerd
Best for Performance: Vultr
Best for Beginners: Hostinger
FAQ
Can you host a website with IPv6?
Yes, you can host a website with IPv6. However, people who only have IPv4 won't be able to access your website. Therefore, it's recommended to have both.
Should I use IPv6 for a website?
Yes, using IPv6 will speed up your website giving a more reliable experience to the users.
Is IPv6 faster than IPv4?
Yes, IPv6 is faster and more reliable than IPv4. So, it's always better to enable IPv6 on your VPS.