With Freenom offering free domains to help people enter the online world with ease, an obvious question arises about its safety. If you are also curious to know whether is Freenom safe or not, I'd like to share that it is not safe and involves a lot of risks.
The foremost risk factor involved in getting a free domain from Freenom is the termination of your domain at any moment. This leads to a wastage of all your time and efforts spent on the free domain.
In my web development journey, I've seen many horror stories of people who blindly believed this free domain gimmick of Freenom, only to be surprised later with their domain/account terminated.
So I've researched deeply about this free offering from Freenom to bring a detailed review about its services. Hopefully, this article will help you know what to expect in advance when you are about to use a Freenom domain.
In this article, I address all the safety aspects of a Freenom domain, the legality of Freenom, and any hidden costs involved when taking up a free domain. You will get to know how the company makes money without charging you for the domain.
Let's first address our main question in the next section.
Is Freenom safe?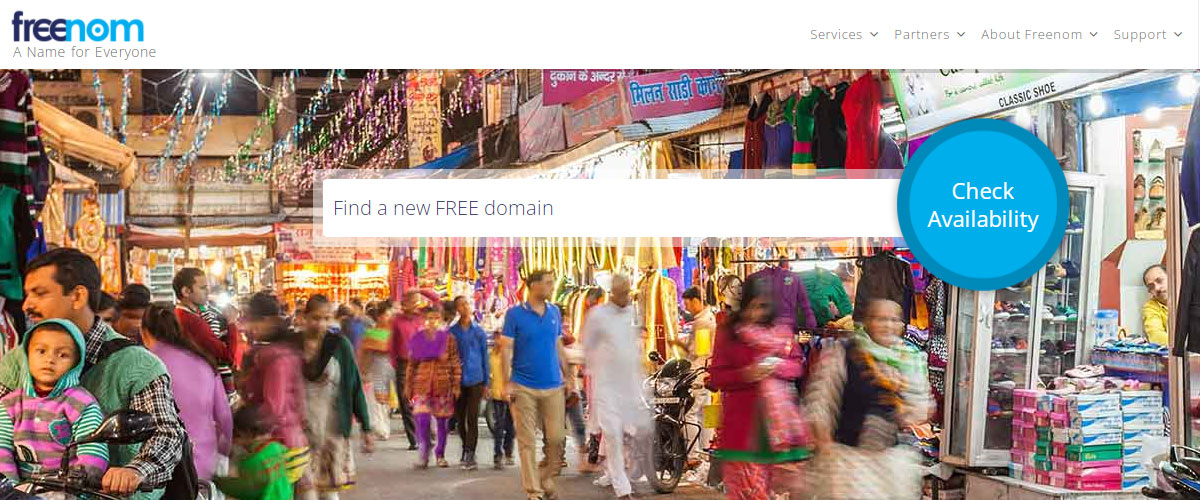 The safety of a free domain from Freenom is truly questionable. In my opinion, the domain that you register with Freenom is not safe at all since you are not the owner of the domain. The company owns your domain and has complete control over it.
You are always at the risk of losing all the resources and time that you invested into the website, without any prior warning since Freenom owns your domain and can take it over whenever it wants. And with no legal rights to your domain, you will be left with no option to claim it.
Freenom also has an automatic traffic analyzer that observes traffic flow at the domains it registers. The company can cancel your domain name if it is not getting any traffic over a period of time.
On the other hand, when your domain starts receiving a good amount of traffic, the company might mark your domain as "Fraud" and steal it from you. It can redirect your website users to another page filled with online advertisements all over.
You will be surprised to know that even the paid domains registered with Freenom are also unreliable. The company resells your domain to the person paying extra money.
Is Freenom legit legally?
No, Freenom does not seem to be legit. Freenom is a fraud company in the manner it conducts its domain registration business.
You will be surprised to know that Freenom had its ICANN registrar accreditation suspended in 2015 for cybersquatting rival companies. The suspension was, however, later lifted.
That being said, the company is now backed by Kima Ventures, a reputed French venture capital firm. So, for now, it is in safe hands and can be trusted a little for the time being.
NOTE: The company will not take away your domain if it points to a website and has at least a few visitors. But if you have no traffic on your site, it will take away your domain without notice.
Freenom pricing
Freenom offers you free domains that can be used like any other domain. You can point your domain to a website and run it with the free Freenom DNS service. You can also consider URL forwarding for the free domain you receive from Freenom.
The company currently offers the following domain extensions for free:
You will find them on the Freenom checkout page after searching for your desired domain name:
The company states that you will only be considered the user of the domain name and not its licensee. It is because Freenom retains the ownership right of the domain that it provides you. So you will not even have any transfer rights to your domain since you do not own it.
How does Freenom make money?
Generally speaking, Freenom waits for your website to gain a little traffic and after some time it parks your domain on a page infested with ads from where it earns money. Let's get into the details of money-making strategies followed by Freenom.
The free Freenom domains granted to the new users expire after 12 months. Then for a little while, perhaps two weeks, Freenom will attempt to sell those domains to the first bidder.
The theory behind this, is that a year of traffic and Google ranking will make such domains more "valuable", especially if none of them has been flagged as sources of spam or illegitimate content.
The domain will only be available if you are ready to pay for it during that period. Later, however, Freenom makes these domains available as free again. Till now, I have been lucky enough to recover my free domains as soon as the 2-week period ends without paying for them.
Since I use Freenom domains only for conceptual demos, testing purposes, and staging websites, I do not mind taking this risk.
Freenom also has a freemium model that comes with many strings attached. The company earns a large share of its revenue by monetizing the traffic received by abandoned domains via an ad network. The company waits for its customers to build traffic to the domains so that they can take them over to earn money from them through advertising revenue.
Domains that are no longer used by the registrant or are expired, are taken back by Freenom and the residual traffic is sold to advertisement networks. So, all in all, Freenom makes money through the efforts of its customers whom it supposedly provides free domains.
When to use Freenom? (exceptions)
Though Freenom is full of problems and cannot be trusted at all, you can utilize the free Freenom domains in some special cases:
The Freenom domains can be utilized for testing purposes like web application staging, preparing conceptual demos, and testing personal projects.
You can also use the free domains for learning purposes. If you are a beginner in the website development world and want to try your hand at handling a website, use Freenom to learn it all for free!
Another way of utilizing the free Freenom domains is for building backlinks to your main website. Though people tend to create such low-quality backlinks to boost their website ranking, I wouldn't recommend it since Google might penalize your website in such cases.
Why should you not use Freenom? (7 reasons)
As discussed above, Freenom has many issues with its functioning and can lead you to several problems. Here are some of these issues that you might face when using Freenom:
1. Domain cancellation
Freenom can cancel your domain at any moment without any explanation. Your free domain is owned by the company and not you. So you cannot even recover it legally in such a situation.
2. No renewal reminders
With a paid domain with any registrar, you will receive reminders to renew your domain. But with Freenom, you are on your own to remember the due renewal date since the company does not send any renewal reminders to the free domain holders.
3. Bad customer support
Customer support is a must when you receive any service, whether free or paid. Freenom does offer support but it is very slow and might take several days to answer your support ticket. In some cases, you won't get an answer at all.
4. Poor performance
Even if you plan to utilize a free domain from Freenom for testing or learning purposes, you expect it to perform like the paid domains. But the performance delivered by Freenom domains is very poor. You will find a buggy user interface and very slow servers with Freenom.
5. Not good for Google rankings
If you are serious about building a business, you must be aware of the importance of Google rankings. Good visibility in search engines is very important for the success of your website. But you won't find any free Freenom domains in the Google search results. These free domains must have been exploited by SEO spammers thereby leaving no value to Google rankings.
6. Risk of being marked as spam
The emails sent from a free domain are usually classified as spam. So the spam filters are more strict on such emails. With a free domain, all your emails bear the risk of being marked as spam and will, therefore, never be read by anyone.
7. Bad reviews
Freenom has earned many bad reviews from its customers over the years. It is because the company suspends its users' domains without any warning thereby leading to waste of all the time and efforts one puts into building a website.
Freenom reviews by customers
Freenom has a bad score rating on both Trustpilot and Facebook since its customers are not at all satisfied with its services.
Here is an overview of what its users say about them:
Many Freenom users complain about its customer support services. The company either responds too late or does not respond at all. Additionally, some Freenom customers complain about the arrogant responses received from the support team while others complain about their lack of knowledge.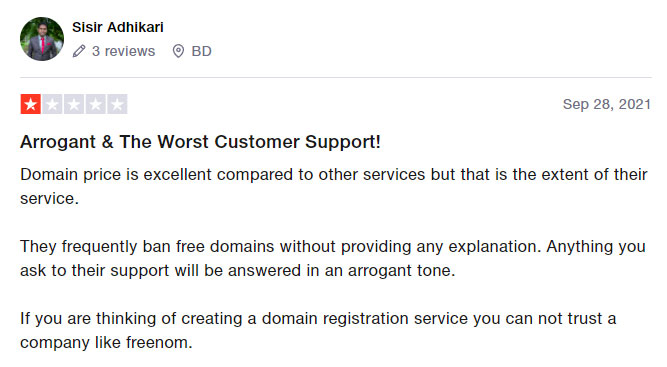 Freenom customers also complain about the unexpected deletion of their domains. Many customers claim to have paid for the domain only to find later that their domains are deleted by Freenom. People are then left with only one option of resorting to another domain registrar and paying again for buying the desired domain name.
The worst part of receiving a free domain from Freenom is getting your website redirected to an adult website. Many Freenom customers complain about this issue and are left with no other option than to let their domains go.
Best Alternative to Freenom
Since Freenom is not safe, choosing an alternative is the best option for getting a domain.
In my opinion, the best alternative to Freenom is NameSilo. It is a trustworthy domain registrar with no shady business tactics like Freenom.
NameSilo is an American hosting company and the domain registrar. It is extremely reliable and highly praised among its users.
NameSilo is the best alternative to Freenom because:
It offers domains at very reasonable prices.
You will receive Whois privacy free for life.
NameSilo has a friendly user interface.
It offers the email forwarding feature.
The company does not hike domain prices on renewal.
Visit NameSilo

Verdict: My final recommendation
I'd recommend Freenom only when you want something quick and free for testing purposes.
So if you are looking to host a website temporarily, "Freenom" might solve your purpose. But using it for any serious purpose is a big NO from my side.
Product
.com Domain Price
.com Domain Price
$9.95/year
$8.98/year
.com Renewal Price
.com Renewal Price
$9.95/year
$14.16/year
WHOIS Privacy
WHOIS Privacy
FREE for life
Lifetime Free
TLDs Available
DNS
For building a stable website for which you are expecting some good traffic in the short or long run, "NameSilo" would be the safest choice to go for.
It is always better to pay for domains unless you have a test project or create a website for your eyes only.
FAQ (Frequently Asked Questions)
📌 Does Freenom have Whois protection?
Yes, Freenom offers Whois protection through its affiliation with ID Shield, a privacy service. It is free to use.
📌 How many domains can you have on Freenom?
You can have unlimited domains on Freenom. A single transaction will, however, allow you to register a maximum of 10 domains. For registering more domains in a single transaction, you can use the Freenom API.
📌 What are the domain extensions that I can get for free?
You can get .CF, .GA, .GQ, .ML, and .TK for free with Freenom.
📌 Is Freenom free forever?
Yes, Freenom domains are free forever. The initial registration period of a free domain is 1 to 12 months. You can renew it for free 15 days before the expiration date. The company allows unlimited renewals (assuming they don't cancel it before that).
📌 How do I use my Freenom domain name for free?
You can use the free Freenom DNS service, consider domain parking, or URL forwarding to use your Freenom domain name for free.
📌 How long does Freenom take to activate?
It takes a maximum of 72 hours to activate your Freenom domain. The company sends you an email to receive your confirmation within 72 hours of completing the registration process. Your free domain is activated automatically as soon as you acknowledge this confirmation.
📌 How to delete a Freenom account?
Freenom does not provide any instructions to delete your account anywhere in its help guide. It only talks about canceling a domain from the Domain Panel.
📌 What is Freenom?
Freenom is a Netherland-based free and paid domain provider.