If you want to increase the performance of your website, you can simply choose the hosting provider that has a LiteSpeed webserver. LiteSpeed hosting gives better performance as compared to the traditional Apache/Ngnix server. Therefore, you can always shift to LiteSpeed hosting. Here, we will cover the best LiteSpeed WordPress hosting providers to go with.
Let's start with the overview.
What is LiteSpeed hosting?
LiteSpeed hosting is the hosting service that runs on the LiteSpeed webserver. It's an alternative to the Apache Web server. It's great for the people who are using WordPress or other CMS. It will increase the performance of the websites. Therefore, people nowadays prefer to go with the LiteSpeed server instead of Apache or Nginx server.
Best LiteSpeed WordPress Hosting Providers
We will first begin with the best LiteSpeed WordPress hosting providers. Most of these are managed WordPress hosting providers. We will surely talk more about it when we get to each host.
#1 Hostinger
When it comes to the best and affordable Litespeed hosting, you can always rely on Hostinger. Their managed WordPress hosting comes with a Litespeed cache engine making it an awesome choice for all people. You get WordPress command-line interface that is WP-CLI to update the data. Along with this, you also get SSH access. There are various plans to choose from.
It also has WordPress Acceleration that will speed up your WordPress website. You will get free SSL certificates as well as a Jetpack plugin for most of the plans. If you ever need support, their team is available 24/7 to help you with it. They also have a dedicated WordPress team for it.
LiteSpeed Licence: Free (They have LiteSpeed Enterprise servers)
CPanel: No, they have their panel (H-Panel).
Datacenter locations: US, UK, Brazil, Singapore, Netherlands, Indonesia, and Lithuania.
Features
It has 99.9% uptime.
You will get free SSL.
WP-CLI, SSH, and Git access are also available.
It's a managed WordPress with a dedicated support team for WordPress.
Cloudflare support.
Advanced plans have many freebies such as the Jetpack plugin, Google ads credits, etc.
You will get SSD storage.
You can request support anytime you want.
Features like DNS management, Cronjob, etc.
Starting price: $1.99 per month
Activate Hostinger Discount (85% OFF)

#2 Chemicloud
Chemicloud allows you to host your WordPress website in one of the most secure environments. Along with the security, they have properly taken care of usability and performance. So, the panel is easy to use and you will get unmatched performance here. All the plans will also leverage browser caching for better performance. The advanced plan also has Memcached, APC, OPCode Cache, Railgun, etc.
Till now, you might have seen many Litespeed hosting providers that offer a free domain for one year. However, Chemicloud is one of the few providers that have a lifetime free domain deal (as long as you pay for the hosting).
LiteSpeed Licence: Free
Cpanel: Free
Datacenter locations: US, Germany, UK, India, Romania, Singapore, and Australia
Features
There are daily backups taken.
It has a free WordPress migration service. Not just free migration, there will be zero downtime.
Free Cloudflare CDN is also available.
You get a WordPress staging feature.
It has Worldwide server locations.
You will get 99.99% uptime which is the best.
GZIP compression and keep-alive are also included.
The security is great. You will get account isolation, firewall, server monitoring, and many other things here.
There is 24/7 support available.
Starting price: $3.95 per month
Visit Chemicloud

#3 Knownhost
Knownhost's WordPress hosting is a managed hosting service where LiteSpeed is installed. The host increases the performance of your website with LiteSpeed and LSCache together. It's a fully managed WordPress service you will get. You don't need to worry about anything if you are using Knownhost. Not just limited to the managed service, you will also get daily backups.
It also includes WP-CLI and immunity360. Many people use WP-CLI for WordPress. So, it becomes a great ecosystem for WordPress users. They aim to provide 100% uptime for WordPress hosting. You can surely expect 99.99% as there might be some glitches. Therefore, you can expect the best services here. It also has unlimited premium bandwidth.
Visit KnownHost

LiteSpeed Licence: Free
CPanel: Plesk Control panel
Datacenter locations: Amsterdam, Seattle, and Atlanta
Features
99% uptime is the best thing here.
WP-CLI, Git, LSCache, and SSH access and SFTP
There are automatic WordPress updates.
Easy control panel even for beginners.
Premium unlimited bandwidth for the traffic.
Free migrations for WordPress.
Free CDN integration supported.
Instant setup with 24/7 support.
Starting price: $5.98 per month
#4 HostArmada
If you want a lot of features with LiteSpeed hosting, HostArmada is the place for you. Here, you will get various features for your WordPress website. They have a very low number of clients on every server. So, it gives you access to more resources. Here, you will get cloud SSD technology. This will ensure 99.9% uptime. There is advanced security available for WordPress hosting. You will get complete protection for your website here.
HostArmada not only provides free SSL but you will also get free renewal as long as you renew the service with them. Many cool features make it perfect for WordPress. This also includes WordPress optimization and WordPress performance boost.
LiteSpeed Licence: Free
CPanel: Free
Datacenter locations: Toronto (Canada), Fremont (US), Newark (US), Dallas (US), London (UK), Frankfurt (DE), Singapore, Mumbai (India), and Sydney (Australia).
Features
There are daily backups taken.
You will get a free web server cache.
It includes unmetered bandwidth.
Daily backups are available.
You will get free speed optimization features.
Fully dynamic caching with Memcache, OPCode Cache, and APC.
The LiteSpeed plan has 3x more resources with 3x less number of clients per server.
Starting price: $5.66 per month (only the Speed Reaper plan has LiteSpeed)
#5 NameHero
NameHero makes it extremely easy for you to run WordPress with free LiteSpeed, cPanel, SSL, and great features. They have various plans from which you can choose. All the plans have LiteSpeed. The advanced plans also have LiteSpeed with a speed boost. They put your WordPress on Steroids where you get an easy, safe, and fast-performing environment.
It has jailed SSH access. It has AI-based machine learning security. Therefore, there are lesser chances of attacks. Your WordPress will work with 20x speed. You get complete control over the server here. Higher plans also offer NVMe storage. The first two plans have SSD storage. They only have two data centers which might be a bit problematic for some people.
LiteSpeed Licence: Free
CPanel: Free
Datacenter Locations: US and Netherlands
Features
LiteSpeed with speed boost is also available.
You can migrate your website for free.
Machine learning security will ensure the safety of your website.
It has 99.9% uptime.
You will also get unlimited bandwidth in all the plans.
They have nightly and weekly backups. So, you don't need to worry about the data backups either.
Starting price: $3.13 per month
Best LiteSpeed VPS hosting providers
If you want faster hosting, you can opt for the VPS. Here are some of the best VPS providers that support LiteSpeed.
#6 Chemicloud
Chemicloud also provides the best VPS services you can use. They have easy to scale server. It has a free cPanel in the VPS also. It provides 99.99% uptime in VPS which is far more than the industry average. You don't need to worry about the management as it's a fully managed server. Their team will handle all the technical things for you.
It also has 15 Days Money Back Guarantee in VPS. All these features are usually available in the free hosting and not for the VPS. However, Chemicloud has got all the additional tools here. You will get Jetbackup for backups and Immunity360 for security.
Litespeed Licence: Free for 5 domains
CPanel: Free
Datacenter locations: San Francisco, Singapore, London, Toronto, New York, Dallas, Frankfurt, Mumbai, Sydney, and Tokyo.
Features
Fully configurable VPS.
It has great uptime of 99.99% SLA.
They will automatically take remote backups.
Free migrations are available for VPS.
They have powerful hardware with AMD EPYC processors.
It has free DDoS protection.
The server has low latency and high availability.
The scalability is extremely easier. You can easily scale up the servers anytime you want.
24/7 support
Starting price: $19.99 per month
#7 Knownhost
Knownhost provides managed and unmanaged VPS services that are fully configurable. You don't directly get the cPanel, LiteSpeed, and other addons. Instead, there are alternatives available that you can use for free. If you want to use LiteSpeed or cPanel, you will have to pay additional charges. This will decrease the price of the server. You can also select whether you want managed server or an unmanaged one. Therefore, many people prefer to go with Knownhost unmanaged VPS.
The uptime here is phenomenal. You get uptime of more than 99.99%. You will get complete root access to the server. It also has complementary DDoS protection. The white labeling feature is a lot useful when you are reselling using VPS. So, if you want to use the white label, you can surely go with Knownhost.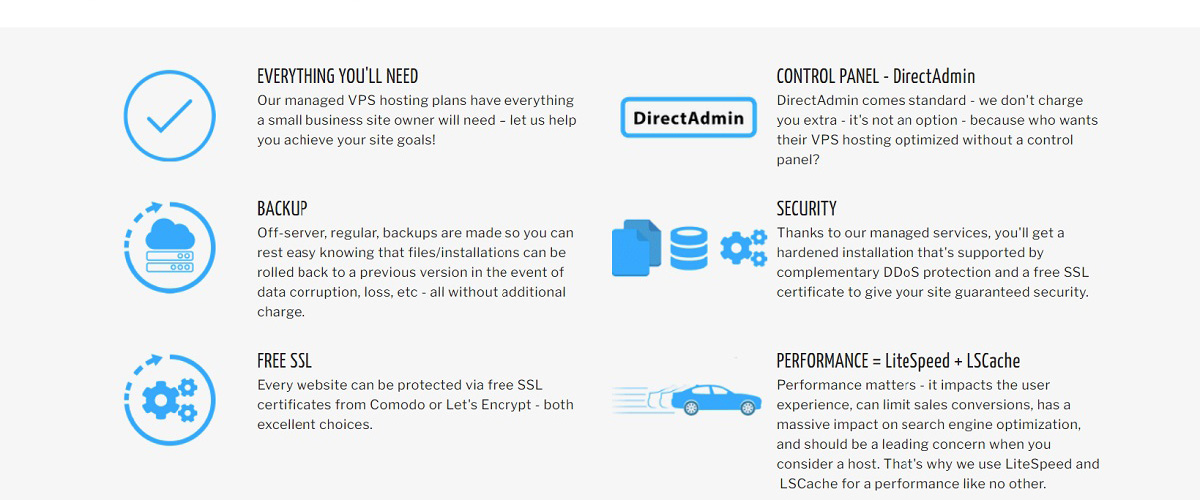 LiteSpeed Licence: Web Server Enterprise Starts at $10.
CPanel: Direct Admin panel is available for free (cPanel's price starts at $10 a month).
Datacenter locations: Seattle (US), Atlanta (US), and Amsterdam (NL).
Features
99.996% Proven Availability.
LiteSpeed and LSCache for the best performance.
White labeling service.
RAID-10 SSD Storage for storage.
Secure and safe data centers with backup facilities.
Fully configurable server.
Starting price: $40 per month for managed VPS.
#8 Scalahosting
If you are new to VPS, you can go with Scalahosting. They have award-winning support with a 100% customer satisfaction rate. They provide managed and unmanaged VPS. However, LiteSpeed is only available in the managed hosting plan. So, you will have to choose the managed hosting here. It gives you 100% of the resources. Therefore, there will be no limit in consumption.
Scalahosting's managed VPS has many tools for organic traffic. It will give you free SEO analysis and will also help you in ranking better. You will also get 8x CPU power with SShield security. Not to mention, as we are going with the managed VPS plan, there is priority support for you.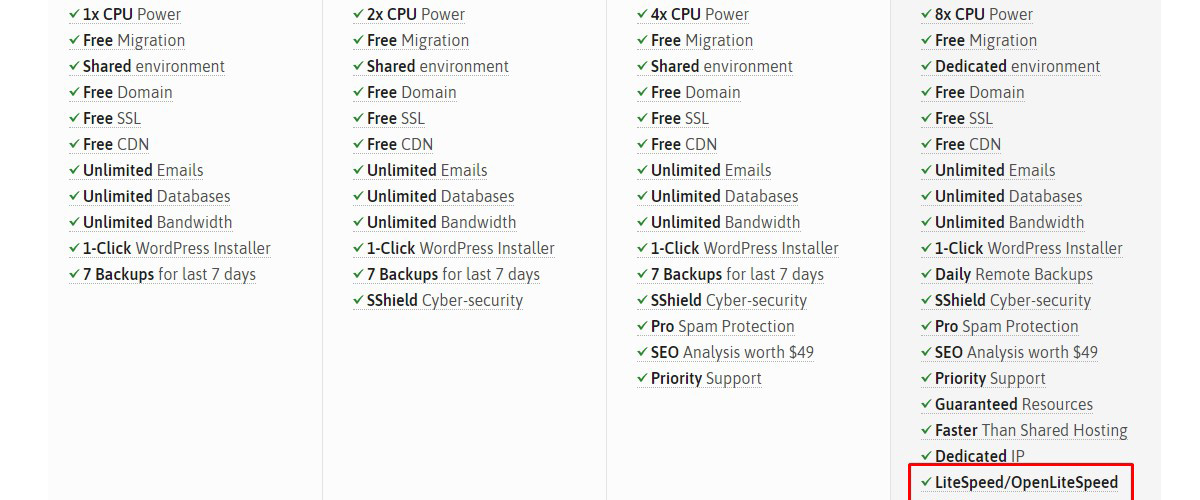 LiteSpeed Licence: Free (Only in Managed VPS).
CPanel: They have a custom Scala hosting panel. (cPanel price starts at $16 a month).
Datacenter locations: Texas (US), Bulgaria (EU), and New York (US).
Features
99% uptime guarantee.
Free domain, SSL, and CDN.
Free SEO analysis and better Google rankings.
Ssheild protection along with pro spam protection.
Daily backups are taken.
You will also get a dedicated IP address.
Free migration for all the websites.
Industry-leading performance of the VPS.
It also supports OpenLite along with LiteSpeed.
Starting price: $9.95 per month
LiteSpeed vs Nginx
LiteSpeed and Nginx are both web servers that can be used for hosting. LiteSpeed transfers the files and data at a better speed as compared to Nginx. According to a test, if we send 10k files in both of these servers, LiteSpeed will manage to transfer more than 90% of the files whereas Ngnix will transfer roughly 50%. However, if you don't have high traffic or data, you can surely go with Nginx.
For Nginx, you can always go with SiteGround WordPress hosting. SIteGround has SuperCacher that increases the speed and performance of your WordPress website. They also have SG Optimizer WordPress Plugin that can be used to optimize your WordPress website. Not to mention, SiteGround is one of the Officially recommended hosting companies by WordPress.org. So, you can surely go with it.
Features of SiteGround
It has a Super Cacher for caching.
SG Optimizer plugin is yet another advantage.
HTTP/2 enabled servers with free CDN.
Few plans also include Ultrafast PHP.
It supports Nginx direct delivery, dynamic cache, and Memcached.
You will get 99.99% uptime.
It uses Google cloud infrastructure.
They have green data centers on 4 continents.
Final Words
To conclude, you can always go with LiteSpeed hosting if you want better speed.
If you want affordable managed LiteSpeed WordPress hosting, Hostinger will be the perfect one for you.
If you want a lot of features, you can go with Hostarmada.
In the same way, for the VPS, Chemicloud will be the preferred hosting.
We already mentioned SiteGround for the non-LiteSpeed host. Not to mention, you can surely choose any hosting providers from the given list.
So, which is the hosting provider that you are planning to go with? Let us know in the comment section.