Are you experiencing speed issues with Namecheap? Is your Namecheap hosting slow? Many other users also complain about Namecheap's slow performance and server ranking.
Perhaps you have noticed a considerable increase in page load times if you use Namecheap's shared hosting plans. Your website might be taking as long as 15 seconds to load now.
Don't worry! You'll know the reasons behind slow Namecheap hosting very soon. Additionally, we'll suggest a better hosting provider that is cheaper and faster than Namecheap.
Why is Namecheap hosting slow? (5 Reasons)
A variety of reasons contribute to a slow Namecheap website. While many customers complain about Namecheap's slow speed, it is not always the host's fault.
Sometimes there's an issue with the website itself rather than your hosting.
Let's discuss these reasons together:
Reason 1: Lack of optimization
Speed optimization of your website is extremely important for faster loading. Sometimes, the website owner cannot perform proper optimization, leading to a slow website.
Optimizing your website means making changes to your site to improve performance and increase traffic and revenue ultimately. You need to optimize your images, web fonts, CSS files, and JavaScript.
Use a cache plugin like WP-Optimize to quickly display your content to returning visitors.
Reason 2: Server Location
The server location of your hosting provider also decides your website speed. Namecheap has only three data center locations worldwide – US, UK, and Europe.
You need to choose a data center based on your target audience's location. But when your website receives traffic from all parts of the world, your website will be slow in some regions.
People belonging to areas closer to your site server will experience faster load times and vice versa.
For instance, if you select the US server on Namecheap's shared hosting, your US visitors will receive better server response times. However, your website audience from all other parts of the world will experience the opposite.
You may use a Content Delivery Network (CDN) for faster website performance in such a case. Cloudflare is the best and completely free option.
Reason 3: Server Infrastructure
The overall server infrastructure also determines your website speed. Most shared hosting providers host 200+ accounts on a single server.
The hosts offering unlimited domains might allocate the same server to more than 200 accounts.
Such overloaded servers perform slower when there are more visitors at those times of the day. Slower Namecheap servers hint towards more cramming of websites per server. It might help the host to offer cheaper hosting prices.
Another reason for slow Namecheap hosting could be the use of the cloud. Namecheap utilizes the cloud for domain name registration, web hosting, and data storage.
Cloud, at times, can be slow to respond, which can further impact Namecheap's performance.
In short, Namecheap is not using its server infrastructure wisely. The major reasons behind its slow performance are its overloaded servers and heavy reliance on the cloud.
Reason 4: High Traffic
Namecheap's shared hosting is not suitable for high-traffic websites. Though not the best, it is an excellent choice for beginners due to its lower hosting costs.
But when your website receives more visitors, you must look for other options. With Namecheap, you truly get what you pay for. So if you face speed issues after creating a large traffic base, consider a new hosting provider.
Reason 5: Limited resources
A shared hosting plan always comes with limited server resources. Such shared cPanel is suitable only for low-traffic websites or ones having low resource usage.
When your WordPress website carries multiple plugins and starts getting a lot of visitors, it might hit the resource limit.
In such a case, you'll experience issues with loading, data limits, inode counts, CPU throttling, and more. Many Namecheap customers face these problems with its EasyWP plans.

Namecheap slow speed test results
We conducted speed tests to determine Namecheap's performance. Our test will measure the total time Namecheap takes to load a standard web page compared to other hosts.
The table below shows the test results. The lower the time, the better the speed.
| | | | |
| --- | --- | --- | --- |
| Host | Average | Best | Worst |
| StableHost | 2.53s | 0.00s | 12.29s |
| DreamHost | 2.65s | 0.00s | 21.25s |
| HostGator | 2.70s | 2.00s | 15.02s |
| GoDaddy | 2.80s | 0.31s | 37.97s |
| Bluehost | 2.89s | 0.00s | 9.17s |
| InMotion Hosting | 2.93s | 0.00s | 14.12s |
| MDD Hosting | 2.93s | 2.00s | 74.96s |
| Namecheap | 3.04s | 2.00s | 72.71s |
| Site5 | 3.05s | 0.00s | 46.29s |
| Yahoo Small Business | 3.84s | 2.00s | 60.96s |
As seen above, Namecheap's performance is average on the Speed Test. The average time it takes to load a standard page is 3.04 seconds. Its best time is 2 seconds and the worst is 72.71 seconds.
What do customers say about NameCheap's speed?
To understand the hosting of your website in practical terms on a Namecheap server, let's look at some reviews of Namecheap customers experiencing speed issues.
The majority of them face Namecheap hosting slow performance.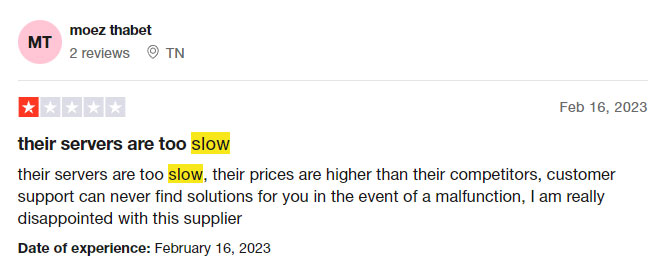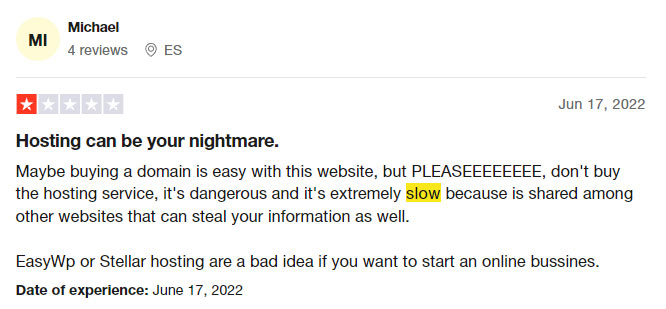 Best Alternative to Namecheap?
The best shared hosting alternative to Namecheap is SiteGround, as it provides excellent speed, performance, and support.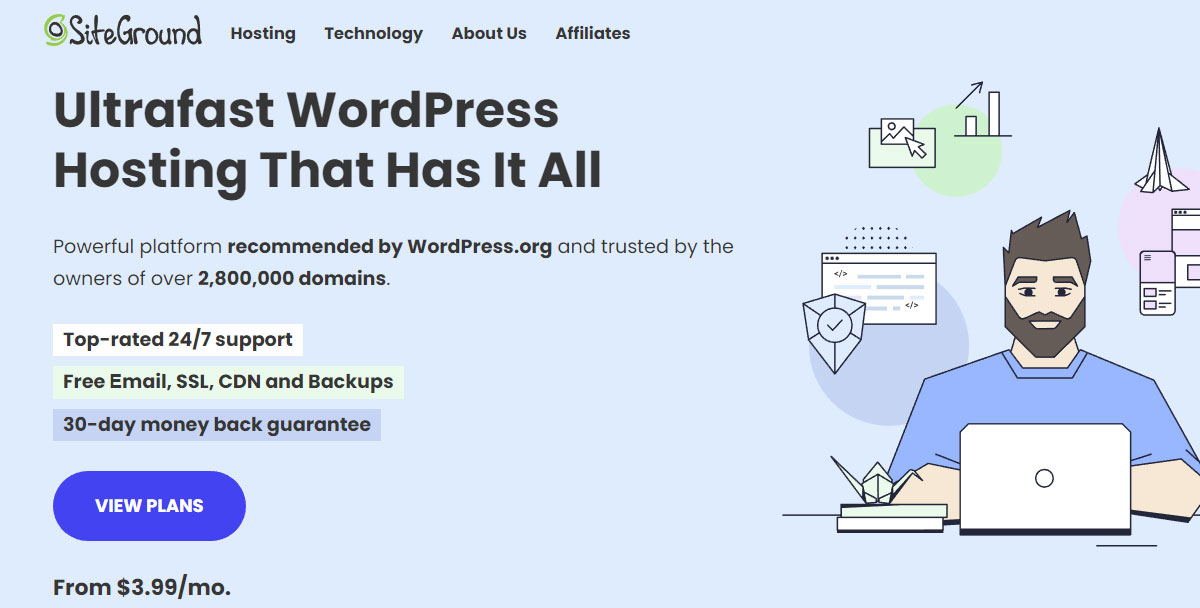 However, you are recommended to buy a VPS in the long run, especially when you have a monetized website. Additionally, install a good control panel like Vesta Control Panel for better speed and complete control over your server.
Unlike shared hosting, where there are multiple speed limits since hundreds of websites are hosted on the same server, a VPS comes without such limits.
Even the lowest-tier VPS will be faster than Namecheap's shared server.
You can, therefore, host unlimited websites and emails and install dozens of SSL certificates on a VPS without experiencing speed issues.
When you are ready to move your website to a VPS, it is better to go with other hosts:
Choose Vultr if you're a tech-savvy person.
Go for Cloudways Managed Hosting when you're a beginner or unwilling to manage the server environment.
Conclusion
Namecheap hosting is slow but still good for beginners. It is suitable for:
Small startups with limited budgets.
Website owners who expect low initial traffic.
Lightweight websites, including portfolio sites, blogs, and small business websites.
Namecheap Stellar is a good plan for the benefits it provides, but the issues arise when you start getting good traffic or installing multiple plugins.
Your website will slow down and experience declining performance. At this time choose a better host like SiteGround, Vultr, or Cloudways.

FAQ (Frequently Asked Questions)
Why is Namecheap email slow?
Namecheap's primary service is domain registration; email is only a side venture. It uses a large message queue for hundreds of email accounts that churn out all day at a very slow rate.
You won't find reasonable mail services with any shared hosting provider.
Can Namecheap handle 1k traffic per day?
No, Namecheap might not probably handle 1k traffic per day. The host provides very cheap hosting, which is an achievement in itself.
We need to be realistic about what we can get for low hosting prices, so we cannot expect Namecheap to compete with hosting services that cost 10X higher.
Yes, Namecheap is good for shared hosting but only for small websites with minimal traffic. It offers you the most basic server resources to get you started.