Are you wondering how GoDaddy can provide you with a domain for only $0.01? Do GoDaddy's low hosting prices surprise you? If yes, then here you'll find an answer to your query, why is GoDaddy so cheap?
We'll uncover the truth of GoDaddy's prices in the following sections. By the end of this article, you'll also get to know the best alternatives for domain and hosting services.
Let's first address your main question in the next section.
Why is GoDaddy so cheap?
GoDaddy is not cheap in the true sense, it is only a misconception. In reality, it is quite expensive when compared to other domain and hosting providers.
GoDaddy's low service prices appeal to its new customers, including startups and small businesses. It is because they get huge discounts and believe they are getting good value for their money.
But GoDaddy's automatic service charges and higher renewal prices allow the host to get back its money. Additionally, GoDaddy is infamous for unfair business practices like selling customer information to earn money.
Thus, you must consider the following factors before purchasing GoDaddy's services:
Low entry prices
The initial rates you see at GoDaddy don't tell the whole story. These introductory prices are available for the first time and apply only when you pay 1-3 years in advance.
The host uses this strategy to lure new customers.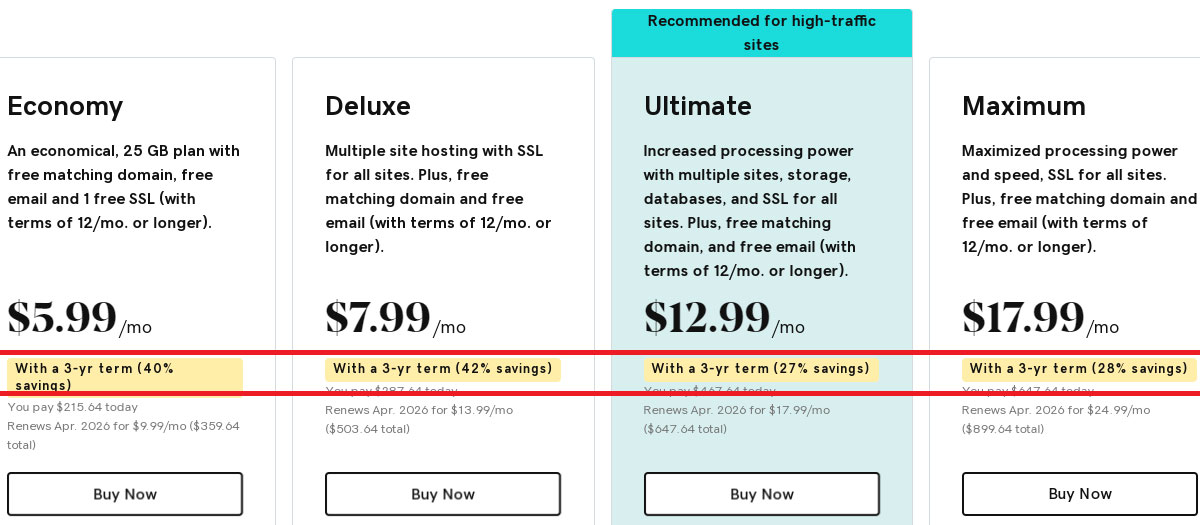 High Renewal Rates
GoDaddy often promotes service rates that apply only for the initial payment period. It is quite deceiving since the host charges much higher prices for the renewals.
Low introductory prices are only used to lock you in for expensive renewals.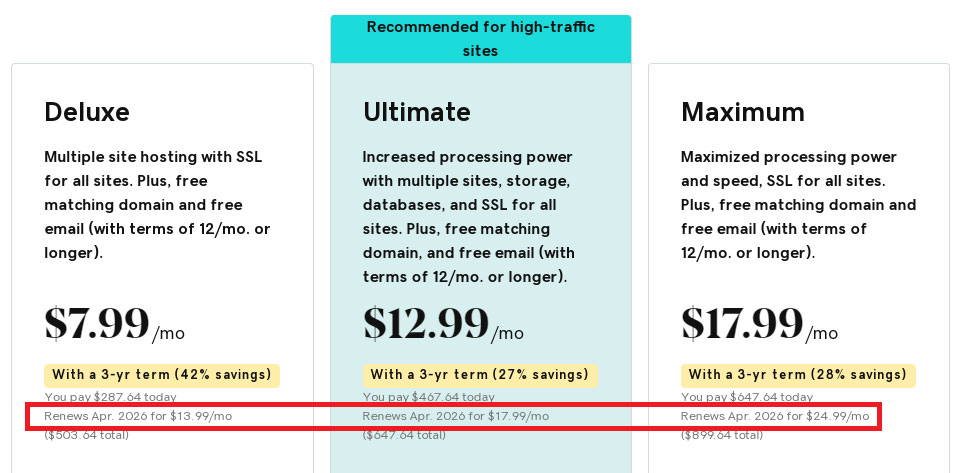 Upsells
GoDaddy charges you for many such add-ons that are available for free with its competitors. The screenshot below will help you get an idea of the situation:
GoDaddy charges for many items like SSL certificates, emails, automatic backups, and the website builder. However, you can grab all these add-ons for free with a good hosting provider like Namecheap.
Absence of 24/7 customer support
GoDaddy focuses on cost-cutting in its customer support department. Its live chat isn't accessible 24/7 though it claims to be available throughout. It simply means fewer paying hours for its staff.
Additionally, GoDaddy's support personnel are not in-house. This means that GoDaddy outsources its customer support to other countries. It further reduces the cost significantly.
Here is an open position listed by GoDaddy:
Why are GoDaddy domains so cheap?
GoDaddy knows the competitive domain market and low-profit margin in selling them. It lures new customers with low domain prices and anticipates that they will also buy hosting or other services.
All these other GoDaddy services might appear cheap but have much higher profit margins.
Another reason for cheap GoDaddy domains lies in its sales volume. The host has millions of customers, which allows it to make good money despite lower profit margins.
You must also remember that GoDaddy's domain prices are cheaper only for the first year. Renewal prices for all domains are higher.
Now that you know the answer to "Why is GoDaddy so cheap?", let's talk about GoDaddy SSL certificates.
Why are GoDaddy SSL certificates so cheap?
GoDaddy provides free SSL certificates for the first year with all its hosting plans. But these renew at outrageous prices after the initial term. You will have to pay about $70 annually for a single certificate.
Getting a third-party SSL is much cheaper. You can grab a free one or spend about $12 on a premium certificate. But GoDaddy doesn't allow using it.
The host, therefore, tricks you into buying its overpriced products.
GoDaddy REAL prices
Let's get an idea of the real GoDaddy prices:
Domain name: Regular price: $0.01/year, Renewal price: $19.99/year
Hosting plan: Regular price: $5.99/month, Renewal price: $9.99/month
SSL certificate: Regular price: $69.99/year, Renewal price: $99.99/year
Automatic Backup: Regular price: $2.99/month, Renewal price: $2.99/month
Email: Regular price: $1.99/user/month, Renewal price: $4.99/user/month
Best Alternatives to GoDaddy
Since GoDaddy has many hidden costs, here are the best alternatives for domain name and hosting:
Alternative for a Domain name
Namecheap is among the top domain registrars and an excellent alternative to GoDaddy. It is very transparent about its domain pricing so you won't receive any surprises with hidden costs later.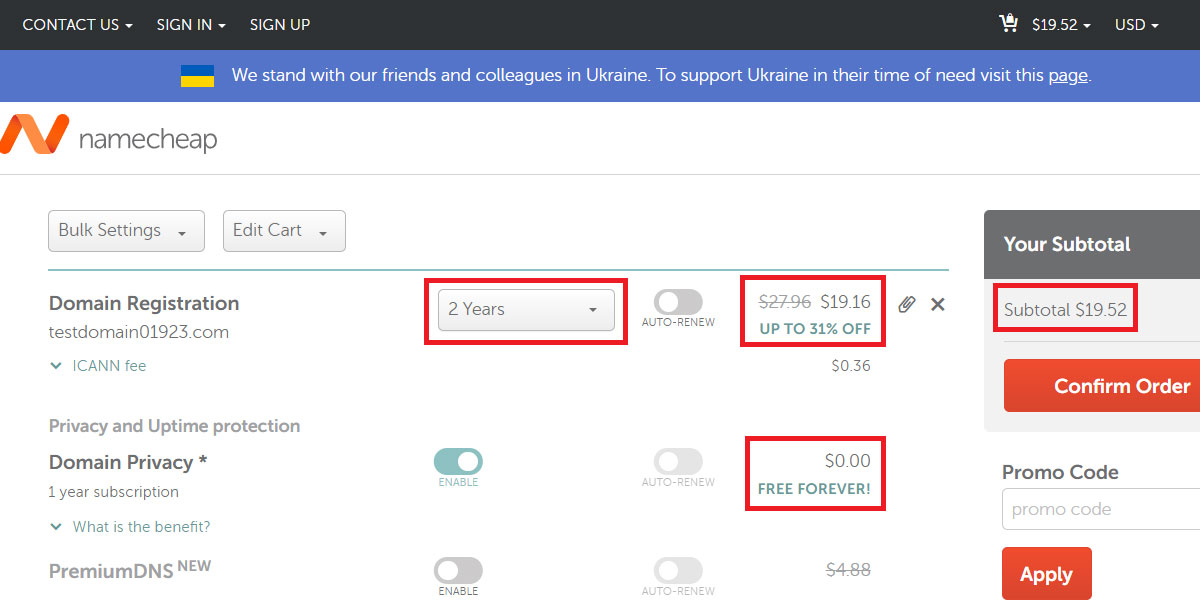 Alternative for Hosting
Bluehost is the best alternative to GoDaddy when it comes to web hosting. It has cheaper plans that start at only $2.95 per month against GoDaddy's starting price of $5.99.
Moreover, WordPress officially recommends using Bluehost because of its high-quality hosting services.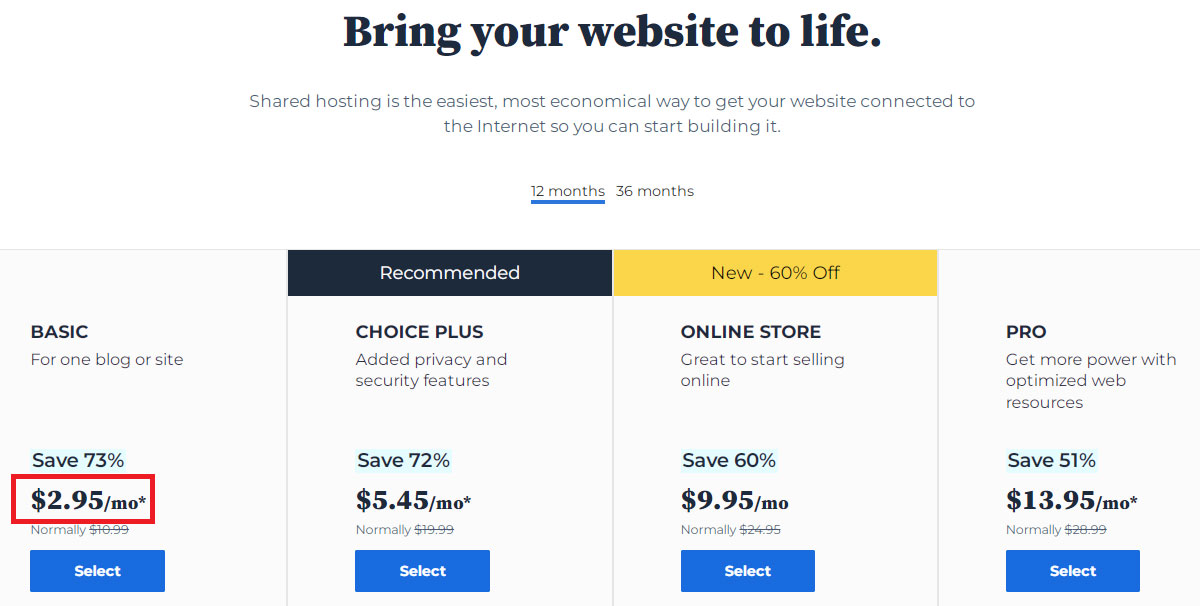 NOTE: Like most of its competitors, Bluehost also has higher renewal rates. But it remains a cheaper option overall because of better hosting services and more freebies.
Conclusion
GoDaddy might appear cheap initially, but it is expensive overall. You'll find many cheaper and better alternatives to GoDaddy, like Namecheap and Bluehost, for different services.
If you have some specific mission-critical hosting needs, look for high-quality support and service instead of focusing on price.
Entering the GoDaddy ecosystem might make you feel stuck later. Many of its services are costlier than its competitors, so GoDaddy isn't as cheap as it appears.
Do you have any further GoDaddy-related queries? Share them in the comment section, and we'll gladly address them.
FAQ (Frequently Asked Questions)
Is GoDaddy worth the money?
No, GoDaddy isn't worth the money. It has many resource limitations, which it conveniently hides in its advertisements. The host only asks you to purchase additional resources after consuming a few GBs of bandwidth.
Is GoDaddy or Bluehost better?
Bluehost is much better than GoDaddy in every aspect. It has better hosting, more freebies, and excellent customer support. You will also get cheaper initial prices with Bluehost as compared to GoDaddy.
Is GoDaddy a good place to buy a domain name?
No, GoDaddy is not a good place to buy a domain name. Though the host has recently started offering free domain privacy for a lifetime, it is still expensive.
With a two-year term, GoDaddy charges you a few pennies for the first year but recovers the money from you in the second year with an enormous renewal amount.