Have you been shopping around for a host and noticed the high prices of GoDaddy? Are you wondering why is GoDaddy so expensive? If yes, you are at the right place.
Here we'll discuss the factors contributing to GoDaddy's high prices. Understanding these pricing reasons is important for an aspiring entrepreneur, a blogger, or a small business owner alike for making informed decisions as to whether or not GoDaddy suits you or not.
Additionally, we'll also share some cheaper GoDaddy alternatives and answer the most frequently raised queries related to GoDaddy's pricing.
Let's begin.
Why is GoDaddy so expensive? (8 Reasons)
GoDaddy's plan prices tend to be higher than some of its competitors. Some major factors responsible for GoDaddy's expensive hosting are:
Reason 1 – Brand Name
GoDaddy is among the most well-known and recognized brands in the domain registration and web hosting industry. The company has put in immense effort to develop itself as a brand name over the years.
And the establishment of a big brand is always followed by a premium price tag. So GoDaddy's brand name is the biggest reason behind its high prices.
Reason 2 – Domain Registration Fees
GoDaddy is the biggest domain registrar worldwide with more than 84 million domain names registered with the company. So it usually charges a premium fee for domain registration, especially for Top-Level Domains (TLDs) like .com, .org, and .net.
Another factor contributing to the host's higher prices is its unreasonable renewal charges for domains registered through its GoDaddy.com registration service.
Additionally, the host charges an annual renewal fee for each domain you register which further adds to your yearly website maintenance expenses. This annual domain renewal cost is based on the TLD you select and can be as high as $21.99 per year.
Reason 3 – Extensive Marketing
Every company needs to market itself to become known to its prospective customers. GoDaddy also spends a lot of money on advertising and marketing. These costs are ultimately transferred to its customers in the form of higher prices.
Reason 4 – Upselling
Upselling is another reason that leads to GoDaddy's services becoming expensive for its customers. The company is known for its unfair and aggressive upselling tactics.
The host even charges money for those add-ons that are available free of cost with many of its competitors. It leads to GoDaddy users spending more money than they originally intended to.
Reason 5 – Luring Discounts
GoDaddy provides luring discounts to attract new customers. The host offers promotional discounts only for the initial service term. So GoDaddy prices seem lower in the beginning.
But what makes it expensive is its renewal costs.
The host charges you a hefty price for domain renewal to cover even its initial cost. Additionally, it also charges you for basic domain protection.
So you end up spending more money on GoDaddy renewals.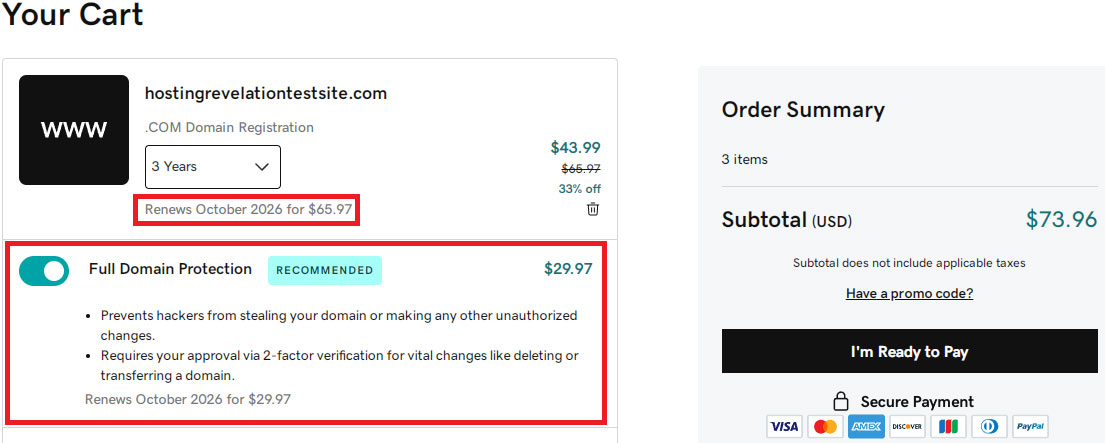 Reason 6 – Paid Email Service
Another factor that contributes to GoDaddy's hefty prices is its paid email service. Unlike many of its competitors, GoDaddy charges its hosting customers for professional email services.
The host, however, offers it for free for the first year. In our opinion, it is a cheap marketing strategy. You'll undeniably feel the need to renew your business email when you have year-long data in it.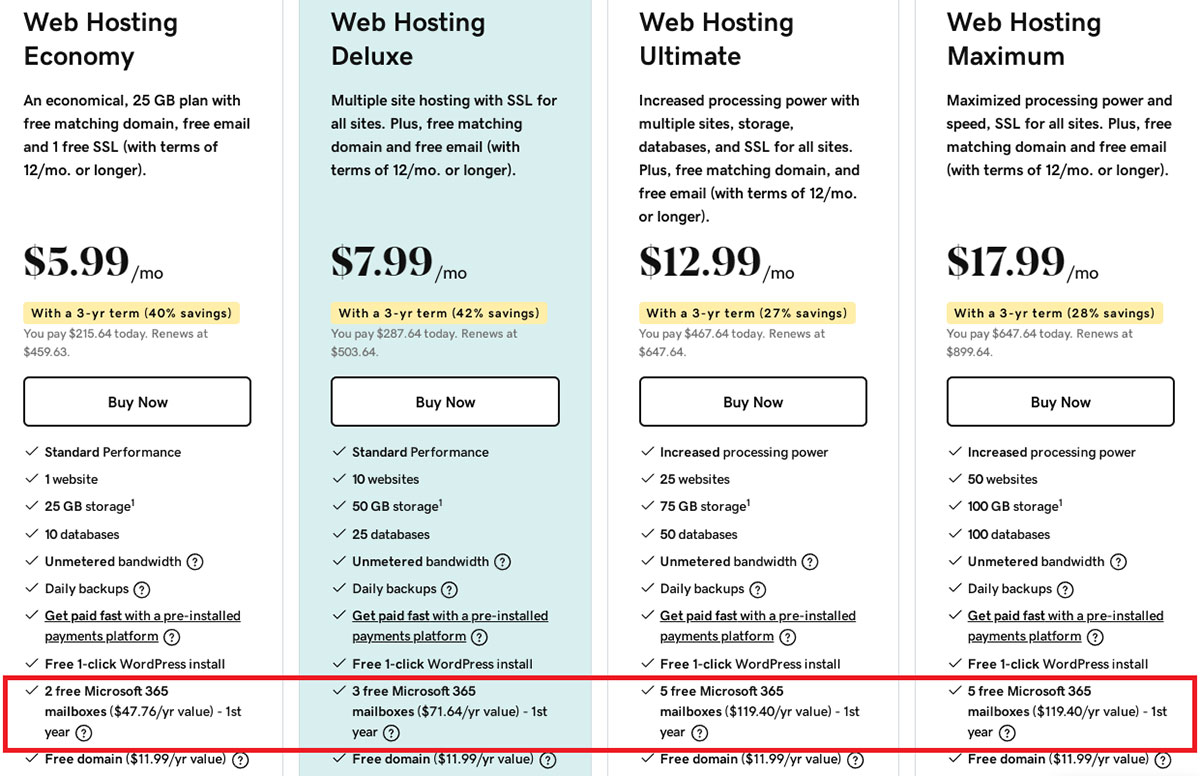 Reason 7 – Security
GoDaddy provides multiple security features to protect your website. SSL certificates, malware scanning & removal, and website backups & restore are some of these services.
All these premium web security solutions further contribute to GoDaddy's higher costs.
Reason 8 – Add-on services
Along with its basic hosting services, GoDaddy offers a lot of additional domain and hosting features including SEO tools, website builder, email marketing tools, domain privacy, and many more.
All these GoDaddy add-on services result in increased overall expenses.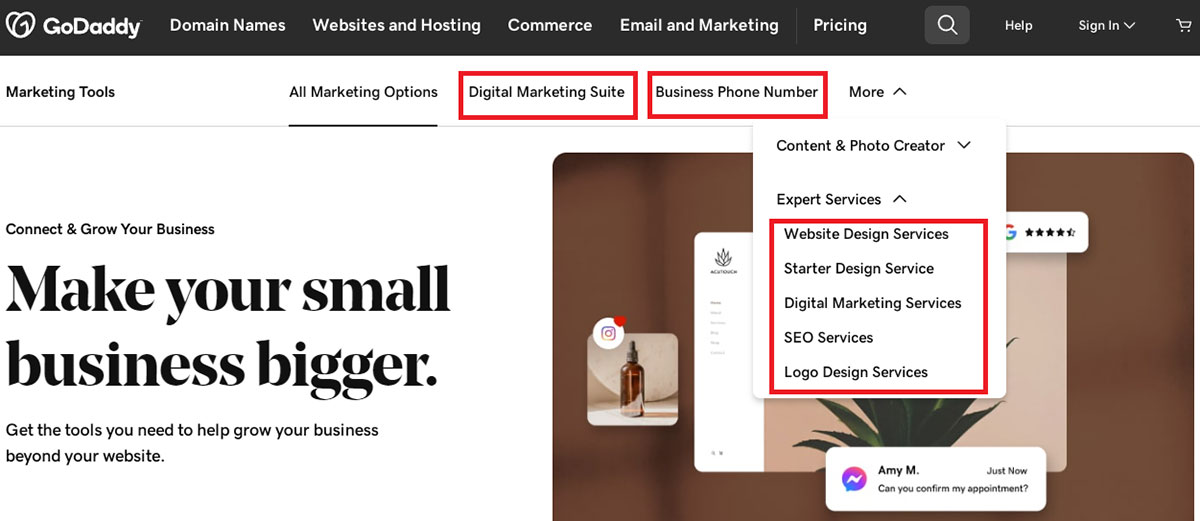 Cheaper Godaddy Alternatives?
We hope now you have a better understanding of Why is GoDaddy so expensive. Worry not, you will find many better-priced options offering good value for your money.
We've brought here the best domain and hosting alternative to GoDaddy that won't cost you much:
Namecheap (for domain registration)
Namecheap is a much better alternative to GoDaddy's expensive domain services. You can grab a .com domain only for $5.98 for the first year as against $11.99 with GoDaddy. There's a huge price difference in other TLDs as well.
Visit Namecheap

Moreover, the domain renewal prices are cheaper with Namecheap. So you will save a lot of money annually if you choose Namecheap for domain registration instead of GoDaddy.
Hostinger (for shared hosting)
It is the best alternative to GoDaddy's hosting services. It offers a shared hosting plan for as low as $1.99 per month. It is truly a budget option since GoDaddy charges at least $5.99 per month for its shared hosting.
Even the renewal price of Hostinger's plan is cheaper than GoDaddy's initial promotional price.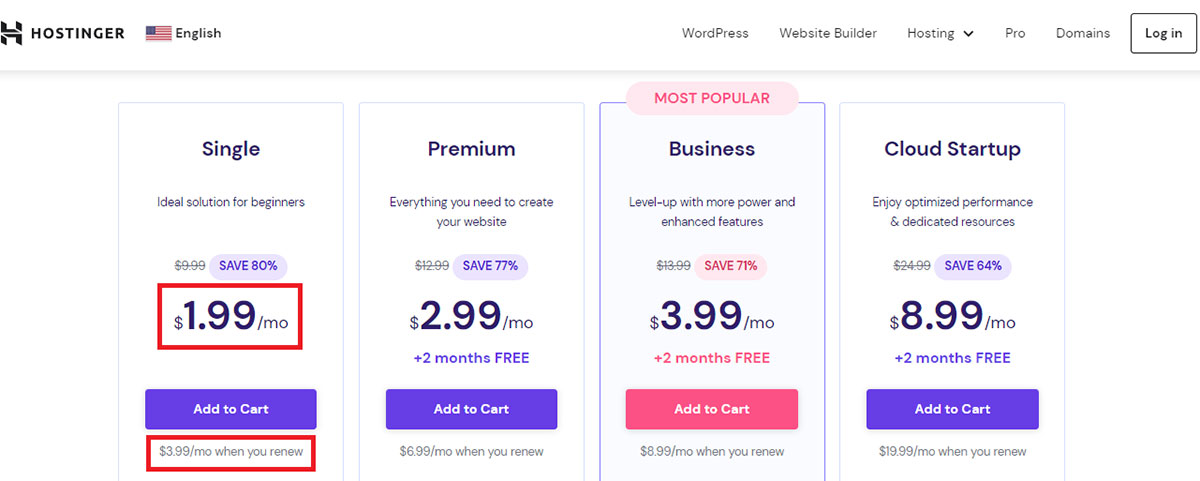 It is worth mentioning that keeping your domain and hosting with separate companies is considered the best practice. You will be able to handle things quickly and easily when moving away from any one of your service providers.
Visit Hostinger

Conclusion
GoDaddy is expensive mainly because of the big brand name it has established over the years. Its extensive marketing and premium add-on further adds to its high costs.
Overall, the final recommendation is not to go with GoDaddy under any circumstances. Avoid it at all costs and choose a better alternative.
We recommend Namecheap and Hosting as cheaper GoDaddy alternatives for domain and hosting services respectively. Both these companies are reliable and offer quality services.
Also, don't forget to keep your hosting and domain registration separate for easier website migration.
FAQ (Frequently Asked Questions)
Why is GoDaddy email expensive?
GoDaddy email is expensive since the host claims to use a superior email system. The company provides a stable and secure platform for email hosting.
So it recovers all these costs from its customers by charging more money for the service.
Why is GoDaddy domain so expensive?
GoDaddy domain becomes expensive because of its renewal prices. The host doesn't charge much for domain registration but recovers this money during domain renewals in the subsequent years.
That is why it becomes expensive in the long run.
Why is GoDaddy hosting expensive?
GoDaddy hosting is expensive because the host has established itself as a big brand name. Services from a well-known brand usually come at premium prices, the same is the case with GoDaddy.
Why is my GoDaddy renewal so expensive?
GoDaddy offers huge discounts for the initial term to attract new customers. You'll hit the true prices of its services once the first-year discounts end.
These renewals are expensive since the host recovers the discounts it provides during the initial period.
Why is GoDaddy more expensive than Google Domain?
GoDaddy domains are cheaper in the initial year but Google domains offer better value for money in the long run.
Since GoDaddy provides unrealistic discounts in the first year, it needs to recover the money later. So GoDaddy domains become expensive because of their high renewal costs.
Google domains, on the other hand, cost the same over the years.