Are you on the verge of getting hosting services from A2 Hosting? Wondering what's their email sending limit? This article covers all you should know about the A2 Hosting email sending limit!
In this guide, we will see the email sending limit for A2 hosting packages and whether they allow sending bulk emails.
Let's directly answer the question.
What is A2 hosting email sending limit?
The maximum hourly email-sending limit for A2 Hosting in their shared hosting plans is 500 emails per hour. There is a daily limit of 1000 emails per day.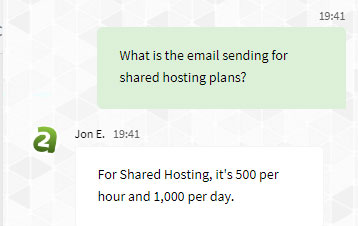 The limit is applicable per email account and not per cPanel account. Therefore, if you want to send more than 1000 emails daily, you can create multiple mailboxes and send more emails from your account.
NOTE: All of A2 Hosting's shared hosting plan allows you to have unlimited emails.
So, you can create multiple email accounts and send more emails from them.
People often think of creating multiple mailboxes and sending newsletters from different email addresses. However, this is not a feasible idea as it will decrease the credibility of your brand.
Further, it will take more of your time to do these complicated things. So, you must keep using a single email address to send a newsletter.
The above limit is for shared hosting services only. Using a VPS Plan, you can send as many emails as you want from the same mailbox.
There is still a fair use policy that you need to follow. A2 Hosting has not officially given limits on how many emails you can send via VPS or even from a shared hosting package.
Therefore, you need to be careful when you are sending newsletters or marketing emails from their mailboxes.
It's great if you want to send cold emails or transactional emails, but not for others.
A2 Hosting has also recently introduced email hosting, which uses Titan email services.
Currently, they have two plans. If you go with the yearly plan, the base plan starts at $1.99/m.
Even paid email services have some limits. With the base plan, you can send up to 200 emails per hour and 500 emails daily.
The premium plan allows you to send up to 300 emails per hour and 1000 emails daily.
If you look at the technical limits, it's not worth going with email hosting by A2 Hosting. It's not value for money, nor does it have any bold marketing features to increase your email list.
So, you should prefer other email providers.
Does A2 Hosting support sending bulk mail?
Unfortunately, you can't use A2 Hosting for sending bulk emails. Often referred to as "email blasts," people frequently add a newsletter feature to their blog, enabling them to send numerous emails to their subscribers
A2 Hosting will suspend your account if you send more than 1000 emails a day. They have clearly stated that you can't use A2 hosting to send bulk emails.
Instead, you should prefer email services for the same.
As you can see in the above screenshot, they are officially not recommending sending bulk emails to your subscribers. This applies to all the hosting packages and not just shared hosting.
Therefore, it's a safe option to use an email service to send bulk emails rather than A2 Hosting.
Email services like Mailchimp or SendGrid allow you to send bulk emails. Even A2 Hosting recommends using these services.
You will get many more features with the email services as it allows you to create a flow and automate your marketing campaigns.
We hope this clarifies everything regarding the A2 Hosting email sending limit.
NOTE:: If you have a big platform and are using A2 hosting for sending emails, you will eventually cross the limit of 1000 per day as many auto emails are sent. The newsletter will also send new posts, new registration emails, etc.
Conclusion
A2 Hosting has an email sending limit of 500 emails per hour with up to 1000 emails per day. The limit is per mailbox. You can have unlimited mailboxes.
If your hosting provider doesn't allow sending emails after a limit, you can do nothing about it.
If you want to use your hosting account to send emails beyond the limit, upgrading your hosting package to the plan where you get a higher limit or no limit at all is recommended.
The alternate option is to use a third-party email service. However, it will cost you more.
FAQ (Frequently Asked Questions)
How much is the unlimited email space on A2 hosting?
All of A2 Hosting's emails have unlimited storage and mailbox limit. There is no additional limit except inodes. You can have as many emails as you want and receive any number of emails.
What are A2 Hosting VPS email limits?
A2 Hosting VPS doesn't have any limits on email sending. You can send as many emails as you want.
Does A2 Hosting limit bandwidth?
A2 Hosting offers unlimited traffic (bandwidth). There is a fair usage policy you should keep in mind. Other than this, there are no limits.