Is your business engaged with an email outreach program or requires sending email newsletters regularly?
You need to know that every shared hosting provider has a specific limit on sending emails. Mostly, these emails are sent daily and even on an hourly basis or per minute.
Some hosting providers block your account if you run bulk email campaigns without knowing their email sending limits, this prevents spam.
HostGator is one of the leading hosting providers; let's look at Hostgator email sending limits.
HostGator Email Sending Limits
What is the number of emails that you can send daily through HostGator?
When hosting a website with HostGator, there are specific email sending limits – irrespective of the server or website size. So, let's understand how many emails you can send with HostGator daily.
HostGator Email Sending Limits Per Hour
All websites hosted on a Shared or Reseller plan have a maximum outgoing email limit of 500 per hour. This email sending limit applies to each domain hosted on HostGator's Shared or Reseller plan.
That means each subdomain and addon will have its separate limit of 500 outgoing emails daily. It is the same for mailing lists also.
However, HostGator does not allow users on Shared or Reseller hosting accounts to divide their mailing lists to access higher sending limits.
If you send more than 500 emails an hour, the emails will bounce back or fail, showing an undeliverable error. You may also get a bounce-back message saying the email has been "flagged as spam, " exceeding the hourly limit of 500 emails.
In that case, you will have to wait for the next hour to start sending emails again.
NOTE: HostGator also has a limit on email checks per hour. Each connecting IP should not go over 30 POP checks per hour. If you attempt to do so, you will receive a password error saying the "login is incorrect." The error will not show in the next hour, and your email check will unlock automatically.
Suppose you reach the maximum limit of email sending. In that case, you will receive a message that says – "HostGator has exceeded the max emails per hour HostGator."
HostGator Email Limit Per Day
For websites hosted on HostGator Shared or Reseller plans, there is an hourly limit of sending 500 emails. Any emailing list greater than 5,000 email addresses will require hosting on a Dedicated or VPS server.
You are not allowed to send 12,000 emails daily, i.e., (500 emails per hour x 24 hours) on HostGator's Shared or Reseller hosting plans.
HostGator does not allow users under Shared or Reseller plans to break down one large email list into smaller lists to access higher daily email sending limits.
NOTE: If you have a mailing list of over 900 email addresses, you can only send it during non-peak hours. This helps reduce high server loads during peak durations. Off-peak times include Saturday and Sunday all day, and Monday to Friday from 1 a.m. – 8 a.m. Eastern Standard Time.
What Is The HostGator Email Size Limit?
All HostGator servers have the following limits for outgoing email size:
Shared & Reseller Hosting on Linux-based Servers: 50 MB limit on the size of outgoing emails.
Windows Hosting on Windows-Based Servers: 30 MB limit (including the email body and attachments) sent through webmail and SMTP
What Happens If I Go Over HostGator Email Quota?
In case you exceed HostGator's daily or hourly email sending limits, your account or email sending activity may be affected in the following ways:
All emails that exceed the daily/hourly limit will fail to deliver or bounce back, showing an "undeliverable error."
Case 1: If an emailing script has exceeded the email sending limit, then HostGator will deactivate only that particular script.
Case 2: Most emails will bounce back with an undeliverable error.
Case 3: Based on past recorded events or the severity of your email sending activity, there will be a temporary suspension or review of your hosting account.
Case 4: If the intent of SPAM is evident in your email sending activities and consistently, your hosting account will be permanently terminated
NOTE: Once you exceed the daily or hourly limit, you cannot send any more emails in that day or hour. However, you can again start sending emails the next day or hour when new email sending limits get activated. So, you have to wait for 24 hours.
Other HostGator Email Limits
All accounts hosted on HostGator's Dedicated and VPS servers can send or receive unlimited emails per hour. There are no specific restrictions on email sending and receiving for the Shared and Reseller hosting accounts.
WordPress hosting users on HostGator have a limit on mailing lists – up to 25. However, unlimited mail forwards and unlimited POP3 email accounts with SMTP are available.
What Is The HostGator Email Attachment Size Limit?
HostGator limits the email attachment size you can send through your hosting account:
The large email attachment size is affected by many factors like MIME encoded messages, limits set by the clients, server attachment size, and free space available in the server in the recipient's email account.
The reliability of your internet service provider is also essential here.
How Many Email Accounts Can I Create in HostGator?
HostGator limits the number of mailing lists you can create on its servers.
Shared Hosting: 25 mailing lists under Hatchling, Baby, and Business Plans
Managed WordPress Hosting: 25 mailing lists under Starter, Standard, and Business Plans
Reseller Hosting: 25 mailing lists under Aluminum, Copper, and Silver Plans
VPS Hosting: Unlimited email addresses under Snappy 2000, Snappy 4000, and Snappy 8000 Plans
Dedicated Hosting: Unlimited email addresses under Value, Power, and Enterprise Plans
What is HostGator VPS Email Limit?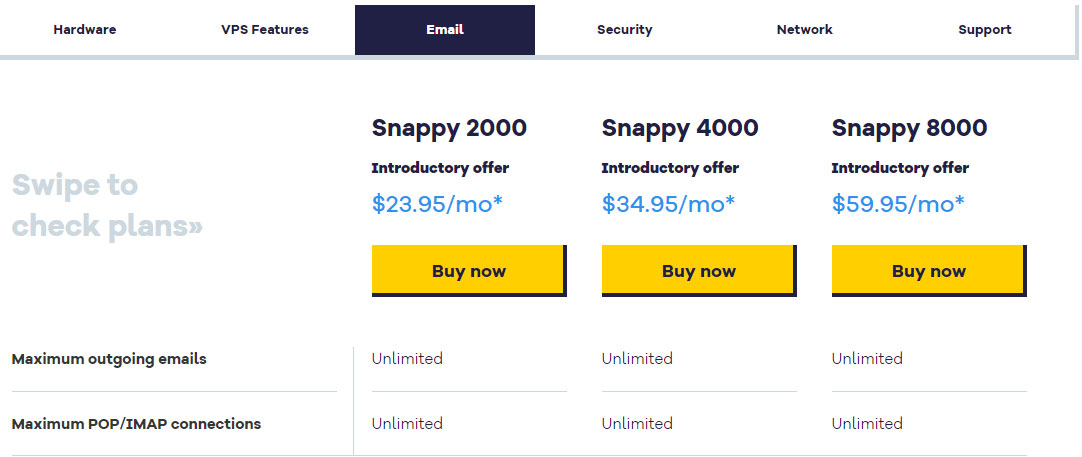 HostGator VPS hosting accounts have unlimited maximum outgoing emails. However, you must use a Safelist or Double Opt-in List to have unlimited access when creating mailing lists.
HostGator practices this to prevent spam emails from being sent through "unlimited" VPS and Dedicated servers.
Alternative With A Higher Email Limit
Hosted on HostGator, but need to send more emails than the hosting provider offers under a shared plan?
3rd Party SMTP Service
A good alternative is to use a third-party SMTP service.
An SMTP provider allows you to send emails securely and reliably. The servers are configured to ensure that the emails land in the users' inboxes and not in the junk mail folder.
Several trusted third-party SMTP providers have high email deliverability limits, mostly unlimited with paid plans.
Sendinblue is one of the top SMTP email service providers offering an intuitive platform for email marketing and transactional limits.
Sendinblue offers a free plan that enables you to send up to 300 emails daily. However, suppose you run a dedicated email campaign or send newsletters that involve sending emails in bulk.
In that case, you might consider signing up for their paid plans.
Sendinblue Lite Plan: Send up to 100,000 emails monthly + no daily sending limit+ email support. The price starts from $25/month.
Sendinblue Premium Plan: Send up to 1,000,000 emails per month + no daily sending limit+ email support. Price starts from $65/month.
Enterprise: Get a custom volume of emails to be sent per month. Custom pricing.
Another Hosting Provider With A Higher Email Sending Limit?
Bluehost is a popular hosting provider you can switch to if you want unlimited email sending limits under the shared plan.
All the hosting accounts at Bluehost have an email sending limit of 150 emails per hour. Initially, it might seem much lesser than HostGator's hourly limit of 500 emails.
However, when you sign up for Bluehost shared plans, Plus and Pro, you can set this limit to "unlimited." This means that the email sending limit is 150 per hour for the Basic plan. For other shared plans, there are no limits.
Conclusion
HostGator is one of the best hosting providers that are vigilant against sending unsolicited emails and preventing other types of spam. They have a dedicated email policy in place, and overlooking it may result in temporary suspension, termination, or deactivation of your script or account.
The email sending limits are set specifically to prevent the client's emails from being treated as spam by the server. Therefore, there is a restriction on the number of outgoing emails per hour or per day.
Any spam activity through emails may also cause your hosting account to be temporarily suspended or terminated.
HostGator also sets the limit for outward emails to prevent the shared hosting servers from crashing under unmanageable traffic. Hence, users can be assured of minimum downtime, and their websites will continue running uninterrupted.
Frequently Asked Questions
Is HostGator email secure?
HostGator seems pretty serious about their email sending limits and even POP3 checks or the number of email addresses you can create. For most of it, HostGator's email is secure.
However, when preventing spam, HostGator cannot stand up well compared to other top hosting providers.
Is HostGator email free?
HostGator offers free email with all its hosting plans, including Hatchling, Baby, and Business plans on its shared server. Whether you host a single or unlimited website, you get free emails with every domain purchase.
How much disk space do I get for HostGator emails?
All shared hosting plans offer "unmetered" bandwidth and disk space. You get unlimited disk space to store your emails on a HostGator account. Unmetered disk space means you will not be charged based on the amount of disk space you use.
If you have suggestions about HostGator Email Service, you can mention them in the comments section.