If you are looking for a CentOS alternative, AlmaLinux looks promising. For that, you will need to go with the best AlmaLinux VPS.
As the OS is relatively new, there are a few hosts which are reliable. Here, we have collected a few of the reliable hosting providers you can use.
9 Best Almalinux VPS
Let's start the list.
1. Kamatera (Best Overall)
Kamatera is the best AlmaLiunux VPS hosting when you compare the price, features, customizations, and performance. It comes with AlmaLinux 8 with 64-bit. Their simple UI and powerful API make it easier to deploy your server in a few seconds.
The VPS provider allows you to configure your server as per your need. You can also add add-ons where you are allowed to add cPanel as well. The performance is amazing. The same goes for security.
They have backup and monitoring to ensure safety. There are 18 data center locations with no single point of failure.
You can choose the server type (availability, burstable, general-purpose, and dedicated). You can choose the number of cores, RAM, and processor. Due to the nature of the server, scaling up is a piece of cake. You can scale up to 104 vCPUs & 512 GB RAM per server.
The starting price is extremely low for anyone (even individuals) to start.
Starting price: $4 per month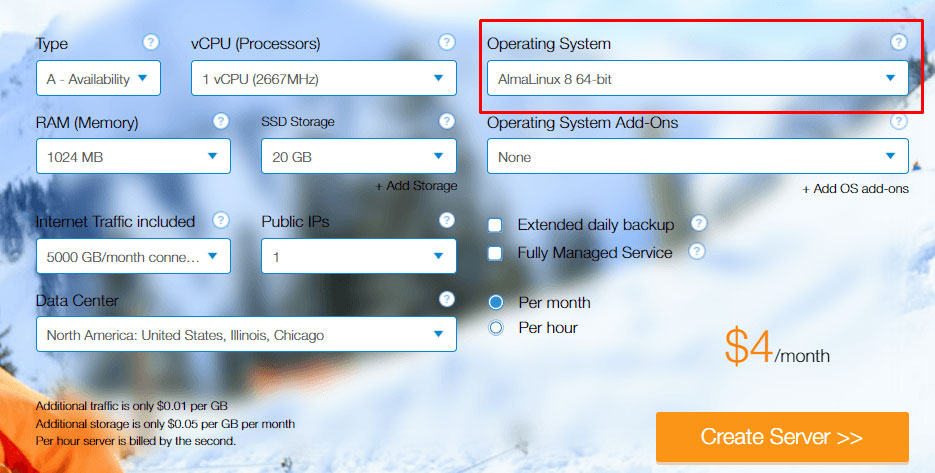 Key features of Kamatera
Instant scaling with customizable resources and low cost of ownership.
You will get 99.95% uptime.
Full control over the server including stop and restart facility.
Security or development tools can be added for better control.
Guaranteed resources.
Visit Kamatera

2. Vultr (Best Runner-up)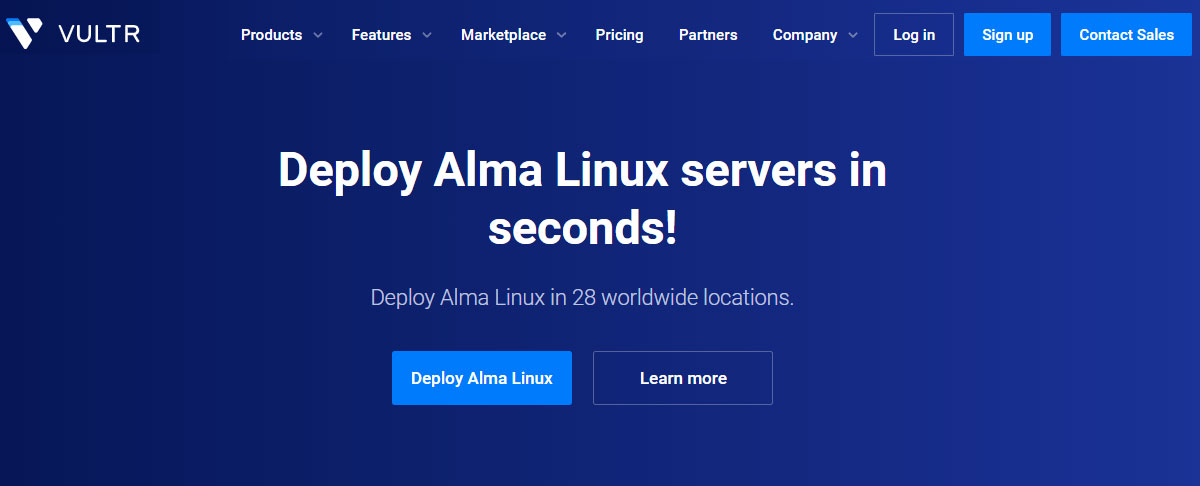 Vultr has 28 locations to host your VPS with AlmaLinux pre-installed. If you want to run a specific version of AlmaLinux, Vultr allows you to upload your ISO file and deploy the OS. It's completely reliable as they provide 100% SLA guaranteed.
Their control panel is mobile-friendly. So, if you are planning to deploy an instance quickly, you can also do it from your mobile device. It's recommended if you want to install a script as they have a marketplace with 100s of apps ready to install.
There are pre-defined multiple plans. Therefore, you can start with small and scale as you grow. Their CPU monitoring allows you to understand the usage of your cloud. There are multiple cloud servers too such as regular cloud, optimized cloud, high-memory cloud, etc.
The high-performance cloud is recommended for AlmaLinux. Don't worry, Vultr is one of the most affordable cloud servers for AlmaLinux.
Starting price: $6 per month.
Key features of Vultr
Advanced networking with 100% uptime.
Marketplace to deploy your apps with just one click.
Ability to add isolated region-based virtual private cloud.
High-performing IP network with reserved IPs.
All-in-one easy-to-use control panel.
Visit Vultr

3. Linode
Linode offers the latest updated OS ready to be installed on your cloud with one click. You can not only go with AlmaLinux 8 but they also support AlmaLinux 9. If there are any new updates, Linode will update the OS as well.
In terms of software and hardware, they stay updated with the latest releases.
They provide one of the best price-to-performance ratios. This makes them the best IAAS provider. The marketplace is there to help you in case you want to install an app. Their UI is beginner as well as developer-friendly.
For developers, you will get a powerful API for automation and Command Line Interface.
The after-sale customer support is decent. Their team has technical skills which solve the query in a few minutes.
The shared CPU is a good option to start with. You can scale up as you need up to 32 vCPUs and you will get 192GB of RAM. They provide a bandwidth of 40 Gbps in and 1 Gbps out.
Starting price: $5 per month
Key features of Linode
Fully reliable network with 99.99% uptime.
You can add any app from the marketplace, stack script, and also add a custom image.
Create container clusters in your server.
DDoS security and cloud firewall to ensure security.
Simple monitoring.
Visit Linode

4. Contabo
AlmaLinux works great for heavy loads. If you have it, you should go with a high number of cores. It's recommended if you want to host your server in Germany. They do have multiple locations. However, other locations will cost you a bit extra.
The server is fully customizable. You can add bandwidth and choose your preferred OS. In this case, you can choose AlmaLinix 8 or 9. There is an option to select the version right during checkout. So, you will get the optimized OS as soon as you get your server.
They allow you to add object storage, bandwidth, SSD NVMe, etc.
There is unlimited incoming traffic and up to 32 TB of outgoing traffic. The server is reliable as well. You will get your server within a few minutes. So, you can get started with ease. Contabo uses AMD EPYC servers.
Starting price: $8.99 per month
Key features of Contabo
DevOps features such as SSH, cloud-unit, etc.
NVMe storage with unlimited incoming traffic.
Easy scalability up to 10 cores.
Custom ISO support for OS installation.
API and CLI features along with web UI.
Visit Contabo

5. Ultahost
Ultahost provides the cheapest managed hosting. You will get NMVe storage for better read/write speed. Further, the service is fully reliable as they offer self-healing hardware. With this, your audience won't have to wait if there is any problem with the server. They offer unmetered bandwidth.
The core reason for the low cost is because of the panel. They use Hestia and Cyberpanel which decreases the cost. For AlmaLinux 8, you can select "none" in the control panel while you are checking out. If you wish to go with cPanel or Plesk, you can go with them also.
You will get more control as they use KVM for virtualization.
If you are still confused about Ultahost, you can ask for a refund within 30 days if you are not satisfied. They have 24/7 real-time monitoring.
Starting price: $4.66 per month if you pay annually ($22.5 per month if you want cPanel)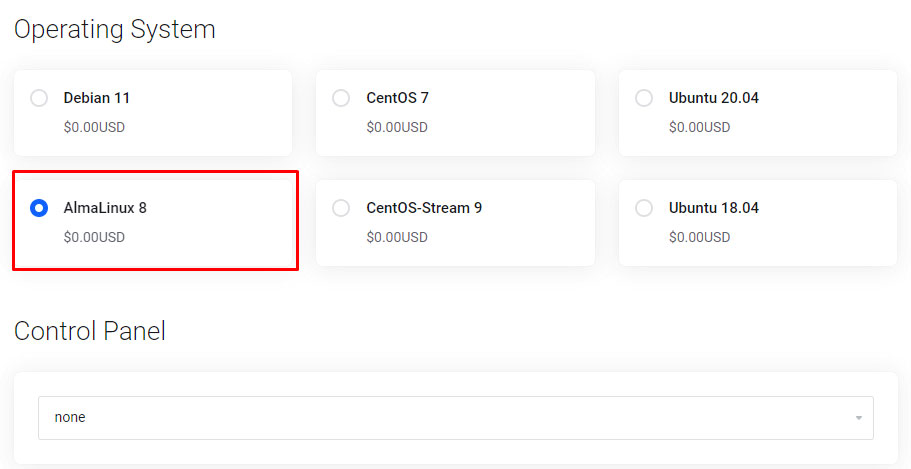 Key features of Ultahost
Managed hosting with updates, backups, and support.
Dedicated firewall with BitNinja security.
Custom ISO support.
Staging environment with team management features.
99% uptime.
Visit Ultahost

6. RackNerd

RackNerd is a good option if you are looking to host small to medium-sized projects. Due to the limited scalability of up to 7 cores, it becomes difficult to host big projects. Apart from that, RackNerd is an excellent choice. It's 100% Intel cores. If you don't want to go with Intel, you can choose a plan from AMD Ryzen VPS.
They use KVM virtualization. So, you will get better control over your server. You can start, stop, restart, and manage your server from the panel. It uses a 1 Gbps uplink. You can choose from AlmaLinux 8 or 9. If you want to have a custom version, you can open a ticket and ask them to mount it for you.
The support is available 24/7. However, it might vary in some cases.
You can host your servers in multiple locations in the US or EU. The service is optimized by Noction IRP. Therefore, the performance is excellent.
NOTE: The base plan only has 15 GB of disk space which is not enough for AlmaLinux. So, you will have to start with the 2nd plan.
Starting price: $17.99 per month.
Key features of RackNerd
RAID 10 protected storage.
100 free IPv6.
SSD cached storage.
Easy scalability and control over the server.
24/7 support.
Visit RackNerd

7. Hetzner (for Europeans)
Hetzner is the best AlmaLinux VPS hosting for Europeans. The servers are located in Germany, Finland, and the USA. They already have an image of AlmaLinux 8.5. If you want a different version, you can always go with the custom ISO.
They use AMD EPYC and Intel servers to speed up and provide optimal performance for your server. Due to more plans, you can scale up your server. If you are getting more traffic, you can also add a load balancer to control the traffic spikes.
The network can handle heavy loads as it's made with a private network and complex topologies.
NOTE: In some cases, Hetzner will require you to confirm and verify your identity. This might take some time to set up and start deploying your apps.
Starting price: €4.51 per month
Key features of Hetzner
You can assign primary IPs and they also offer floating IPs.
Data protection and DDoS protection.
Developer features including API and CLI.
RAID 10 storage with high I/O performance.
You can add extra traffic, backup space, and block storage.
Visit Hetzner

8. Mochahost
Mochahost is one of the best AlmaLinux VPS providers in terms of uptime as they have a 100% uptime guarantee. You can either go with managed servers or they also offer unmanaged servers. To manage the server, you can add your favorite panel.
The hosting panel is manageable also through a mobile phone.
Without a doubt, Mocahhost is one of the cheap AlmaLinux VPS (OS version 8). However, the base plan has a limited number of specs which decreases the overall performance of the server. As you go with the higher plans, you will get more features.
It includes malware scanning, spam checking, health monitoring, etc.
To get more discounts, you can increase the billing term. If you go with a 2 or 3-year plan, you will also get a lifetime discount along with a cheap rate. They also have a 180-day risk-free guarantee where they will refund fees for unused hosting (a minimum 1-year plan is required).
Starting price: $14.36 per month for an annual plan (renews at $15.95).
Key features of MochaHost
Unmetered bandwidth with 100% uptime.
Security and monitoring tools to protect your server.
Extra burstable RAM to ensure proper performance during spikes.
Automatic snapshots (available from the 2nd plan).
Unlimited SSL certificates for a lifetime.
Visit Mochahost

9. A2Hosting

A2hosting offers managed and unmanaged best AlmaLinux VPS. Their Turbo plans offer 20x speed for the websites. You can add cPanel to your unmanaged hosting. They use AlmaLinux 8. You can change or reload your OS anytime. Unfortunately, they don't allow custom ISO.
They have multiple data centers across the globe. You will get RAID 10 SSD storage.
You will get a discount if you go with higher plans. If you are still facing issues, you can request a refund within 30 days. They have also added renewal pricing on the pricing page. The network monitoring is available 24/7. You can scale up to 8 cores.
They have different plans that you can choose to scale your server.
Starting price: $4.99 per month
Key features of A2hosting
Command Line Interface and panel.
40% faster CPU and 3x read/write speed with NVMe SSD EPYC.
10 Gbps redundant network with 99.9% uptime.
Reinforced DDoS protection along with other security features.
Complete root access with SSH.
Visit A2Hosting

Buying guide for VPS supporting AlmaLinux
Ask the right questions
AlmaLinux works best with cPanel as it's one of the requirements to run it. Along with this, you can keep in mind the following requirements for a better server.
How many sites do you plan to host?
If you are looking to host more big websites, you need a server that has decent processing power, disk space, as well as RAM.
What kind of web hosting do you plan to do?
cPanel and WHM are the minimum requirements. Further, if you want to host streaming services, videos, music, big files, or even high-volume apps, you should look for hosting with better specs (CPU, RAM, and storage).
Specs (Processor, RAM, and Disk space)
The specs depend on the workload. If you are using it for heavy usage, you will need far different hardware. You can choose different types of servers (storage server, high-memory, file server, terminal server, etc)  as well.
Processor: Ideally, a 1 GHz processor will be good to start with.
RAM: Recommended RAM will be 2 GB. The minimum requirement is 1 GB.
Disk space: You will need a minimum of 20 GB space. However, we would recommend going with at least 40 GB.
Note: If you are planning to use CPU-intensive applications on a VM environment, we would recommend you monitor and evaluate CPU usage. You can assign more resources to increase performance. A load balancer can also help you in managing the load.
Conclusion
To summarize, these are the best AlmaLinux VPS providers. Here is a quick comparison to choosing the best.
Best Overall: Kamatera
Best Price: Kamatera
Best Performance: Linode
FAQ
Is AlmaLinux free?
Yes, AlmaLinux is free.
How long will AlmaLinux be supported?
AlmaLinux OS partners have committed to support AlmaLinux OS 8 including stable updates and security patches at least until 2029.
What is AlmaLinux based on?
It's a community project based on Red Hat Enterprise Linux (RHEL).
Almalinux vs Rocky Linux: Which one is better?
Both are similar. However, AlmaLinux has better features.