Did you get a new server? Are you looking for the best OS for VPS hosting? Here are the top operating systems from which you can choose the best.
We know it's hard to choose one even from five options. So, we have given the best OS for every use case.
Let's dive in.
5 Best OS for VPS Hosting
It's always recommended to go with Linux instead of Windows. Here are the top 5 choices along with the use case.
1. Ubuntu (For Beginners)
Looking for an OS for your private server? Ubuntu is the best OS for hosting VPS solutions. To begin with, the setup is simple. Additionally, there are a lot of tutorials and documentation available to do almost anything here. Ubuntu has a huge community helping each other.
Despite being easy to use and simple, it has all the developer tools such as mtr, nano, vi, curl, etc. It comes with a GUI interface to manage the OS. It comes with a Portainer software to manage docker containers.
You can select from multiple versions. During the installation, you are given options to install a headless or non-headless (GUI) version along with optional installations of jellyfin, nfs, etc.
Key features of Ubuntu
Simple to set up and use.
Long-term support, security, and easily scalable.
Includes all developer tools.
Customizable OS with high performance.
When to use Ubuntu: It's perfect for every beginner whether you are a developer or you are a business looking to scale up in the future.
Visit Ubuntu

2. Debian (For Development)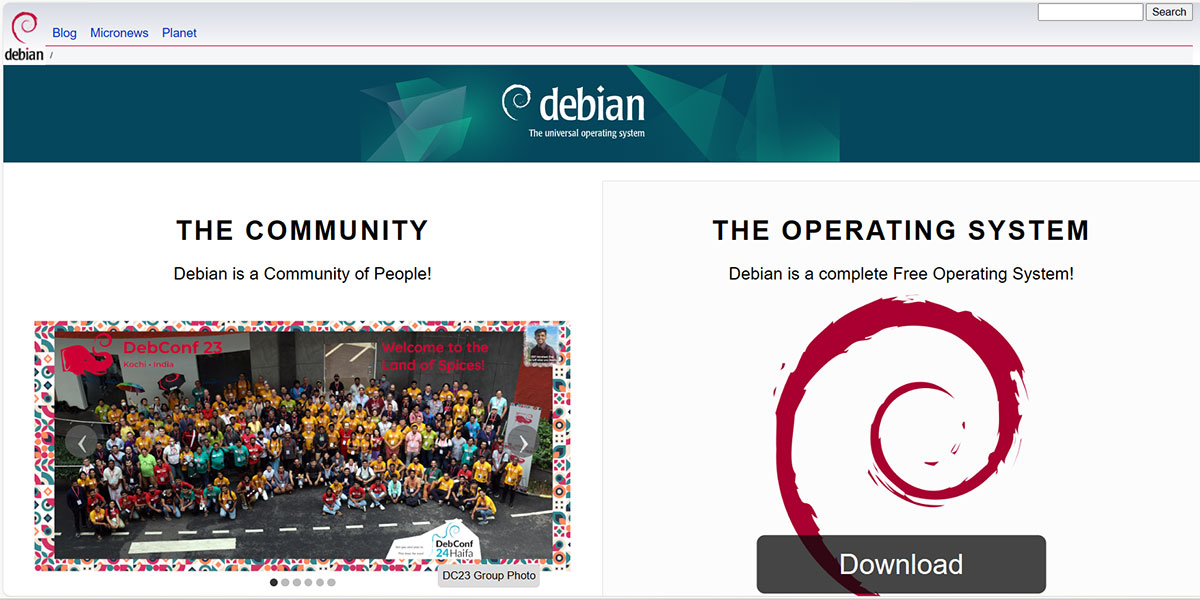 Debian distribution is considered the best OS for VPS-based hosting if you are a developer or an advanced user. Compared to Ubuntu, it's stable and provides a huge stack of developer features.
It uses APT (Advanced Package/Packaging Tool) for package (software) management. Due to its known stability and highly configurable features, there are many OS that are based on it.
Even Ubuntu is based on Debian. So, you should prefer Debian if you want advanced features and Ubuntu if you want an easy version made on top of Debian.
Debian has a huge community of developers and users supporting the version. However, their Wiki is a bit outdated. That shouldn't be a problem because of their known stability and tons of tutorials/videos available online.
Key features of Debian
High stability, performance, and security.
Fully customizable.
Advanced package management system.
Community to help you whenever you need.
When to use Debian: If you are a developer or looking for advanced features with great stability, Debian is the stable OS for VPS hosting that you can choose. It's the 2nd best option for beginners (with a bit of technical knowledge) as well.
Visit Debian

3. CentOS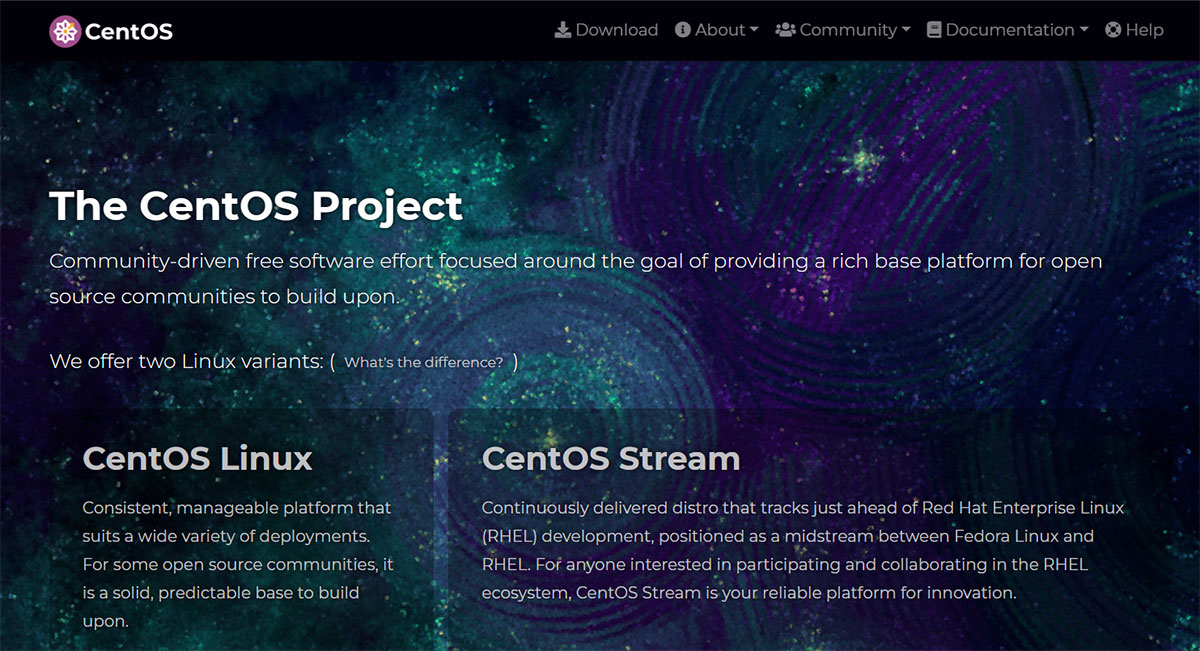 CentOS was one of the popular operating systems people used for VPS and dedicated servers.
You might have seen the name CentOS if you go with cPanel-based servers. This brings us to the most important use of CentOS. It's preferred for specific needs for cPanel and RPM packages.
The CentOS team announced a few years back that they are shifting their focus to the CentOS stream.
So, we will mostly talk about the Stream version here. The shifting is slow. Unlike CentOS, the Stream version is not stable enough. With Stream, you will need to update all the software you are dependent on to make the OS work smoothly.
CentOS and CentOS Stream are based on RHEL (Red Hat Enterprise Linux). This provides amazing security.
NOTE: CentOS is as good as dead. The new successor CentOS Stream is taking over. However, it still needs improvement and it will take some time to become stable. If not CentOS, you can always choose AlmaLinux (more about it later).
Key features of CentOS (Stream)
Amazing features for cPanel and RPM.
Their SDLC is agile. So, you will get new features quickly.
High performance OS.
Regular security updates.
When to use CentOS or CentOS Stream: As of now, we only recommend using CentOS Stream if you have specific requirements of cPanel or RPM.
Visit CentOS

4. Arch Linux
Arch Linux is an amazing OS if you want to explore Linux. Due to its high-configuration options, you can start building your dream OS from scratch. However, you must have know-how about Linux, package manager (pacman) and its technicalities.
It comes with an Arch Build System (ABS). This system allows you to customize the entire OS and change the source code without any issues. Please note that you will sometimes lose the entire installation if you make some wrong changes to the code.
If you are planning to install an app that has been previously made, chances are, you will find the same app in the Arch user repository. It's a repository of apps, software, and even games made and maintained by Arch users. It's pretty clear that they have a huge active community.
Key features of Arch Linux
ABS for building the OS from scratch.
Active community of users with extensive documentation.
Lightweight high-performing OS.
When to use Arch Linux: Arch Linux is the best OS for VPS hosting only if you wish to customize the entire from scratch or you are planning to make some changes in source code. We don't recommend it for other users.
Visit Arch Linux

5. AlmaLinux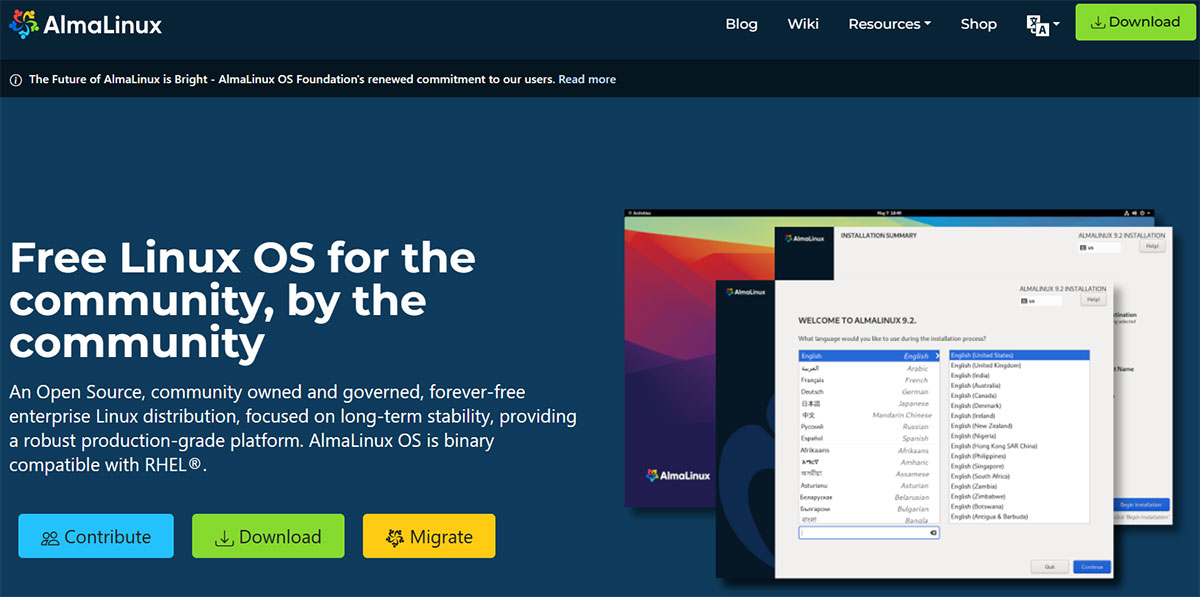 AlmaLinux has multiple versions of the OS. You can choose from cloud version, container, and regular OS, and they even have a version for LXC/LXD.
So, you can use this OS for any type of VPS/cloud. The installation is quick and easy with minimal configuration options. Despite having fewer options during installation, the OS is fully flexible and configurable.
It's highly recommended to use it for cPanel and RPM. Like we mentioned before, CentOS is almost dead. So, Alma Linux has become a good alternative to CentOS.
AlmaLinux is backed by many of the reputed companies including CloudLinux, cPanel, AWS, etc. It's based on RHEL and is binary compatible with the Red Hat Enterprise Linux.
Key features of AlmaLinux
Multiple versions for all types of servers.
Stable version with regular security updates.
High-performing OS for cPanel and RPM.
Production-ready with huge community support.
When to use AlmaLinux: It's recommended for cPanel and RPM. Along with that, if you have a different type of VPS such as a container-based server, you can prefer the LXC/LXD version.
Visit AlmaLinux

How to choose the best Operating System?
It's not hard to select the best OS for hosting VPS-based solutions. Here are a few factors to consider while choosing one.
Ease of Use
The operating system should be easy to install, configure, and use. Some of the distros are complex for beginners. It's good to have an OS with an easy interface.
Performance
The best and stable OS for VPS hosting must use fewer resources and give the best speed. A lightweight OS usually loads faster.
Features
Most of the Linux OS have similar features. However, some OS are made for specific purposes. For instance, Ubuntu is great for general purposes, Debian is for developers, Alma/CentOS Stream is for cPanel/RPM, and Arch is great for customizations.
Management & Installation
You should see if the installation is easy. Further, you can also see if there are enough options for management. Don't forget to check the community and documentation.
Security
Security plays a crucial role at an OS level for any VPS. So, make sure that you are going with a stable version with regular security updates.
Conclusion
To summarize, you can surely choose any of these best OS for hosting your VPS as per your requirements. We would recommend choosing from Ubuntu or Debian.
Here's what the other community has to say about this.
Source: https://lowendtalk.com/discussion/183922/most-favorite-operating-system-for-servers
So, which one are you going with? Let us know in the comment section.
FAQ (Frequently Asked Questions)
Is Linux server faster than Windows?
Yes, a Linux server is faster than Windows.
Which Windows server is best for VPS?
You can choose any server that fulfills your requirements and offers high performance.