When you want to host a PostgreSQL app, you should look for the best PostgreSQL cloud hosting. The servers should be optimized for Postgres.
Ideally, most of you will be looking for cheap PostgreSQL hosting for one of the following reasons
To test your web app at a cheap price.
For running a Postgres DB of a small company.
To host your hobby project.
Small projects that can scale when you grow.
Either way, this list is for you. Part 1 will cover the curated list of the best Postgres cloud services and then we will see some of the cheapest PostgreSQL hosting options.
8 Best PostgreSQL Cloud hosting
These are featured-pack services offering high performance. You can easily scale up as you start growing. Some of them offer a one-click install for PostgreSQL whereas you will have to manually do it in the rest.
Let's begin the list to find which are the best providers.
1. Kamatera – (1 click install – Free Trial)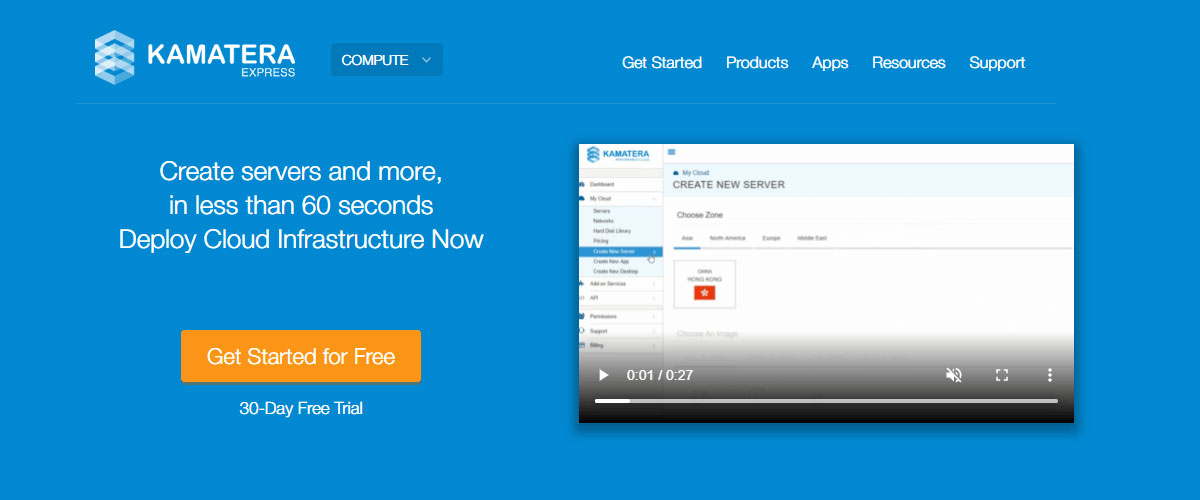 Kamatera is the best PostgreSQL cloud hosting company for many reasons. To begin with, they provide you with complete control over your server. You can choose the apps you want to install and the server configuration, and you can also select the closest datacenter to your location.
Let's talk more about PostgreSQL and we will come to the other parts later.
They always use the latest version of PostgreSQL with the updated OS. As of now, they have the latest version of PostgreSQL ready to use with Ubuntu 20.04 LTS. You can optimize your server for your preferred database solution (Postgres in this case).
With this, you will get the highest performance. Not to mention, you can monitor the usage with their simple management panel.
Coming to the specs, you can scale it up to a huge extent. As you are going with Postgres, you might want to have a complex app where you will have to add more resources fast. Kamatera allows you to do the same. You can also add individual resources. You can scale up to 104 vCPUs & 512 GB RAM per server.
They have unlimited storage space. You can keep adding the storage (for a charge) as much as you want.
There is no single point of failure. So, you can rely on the server. They provide more than 99.95% of uptime. Therefore, your web app will be up all the time. They provide complete configuration. So, you can choose your desired RAM, SSD, OS, and even the type of CPU.
By this, you are only paying for what you want to use. They have more than 15 data centers across 4 continents. You can host your cloud anywhere.
You will get a network speed of 40 Gbit a second. You can also select a different type of server such as availability, general-purpose, dedicated, or burstable. For better reliability, we suggest you go with the Availability type.
NOTE: Still confused? You can try Kamatera for 30 days without any commitment or setup fees.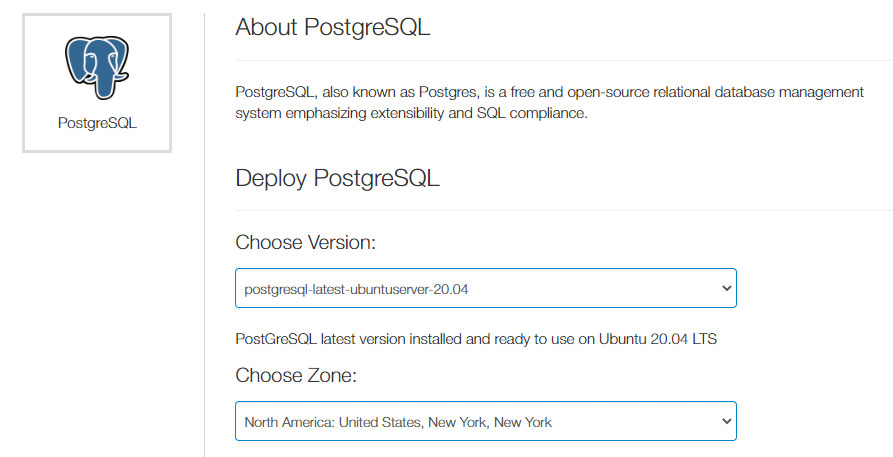 Features of Kamatera
Configuration: You can configure the server. They also allow you to pay per hour. So, you will save more money here.
Postgres Optimized: They not only use the latest version of the server but you will also get the PostgreSQL-optimized server.
Scaling up and down: It's super easier to scale up and down as they have plenty of servers.
Standard hardware: They use Intel Servers along with SSD storage. Their data centers are purpose-built with high-end hardware.
Tech and Customer support: You can not only install any app you want but if you are facing issues anywhere, you can also contact their 24/7 human support. They have a good support team.
Visit Kamatera

2. Vultr – Free PostgreSQL hosting credits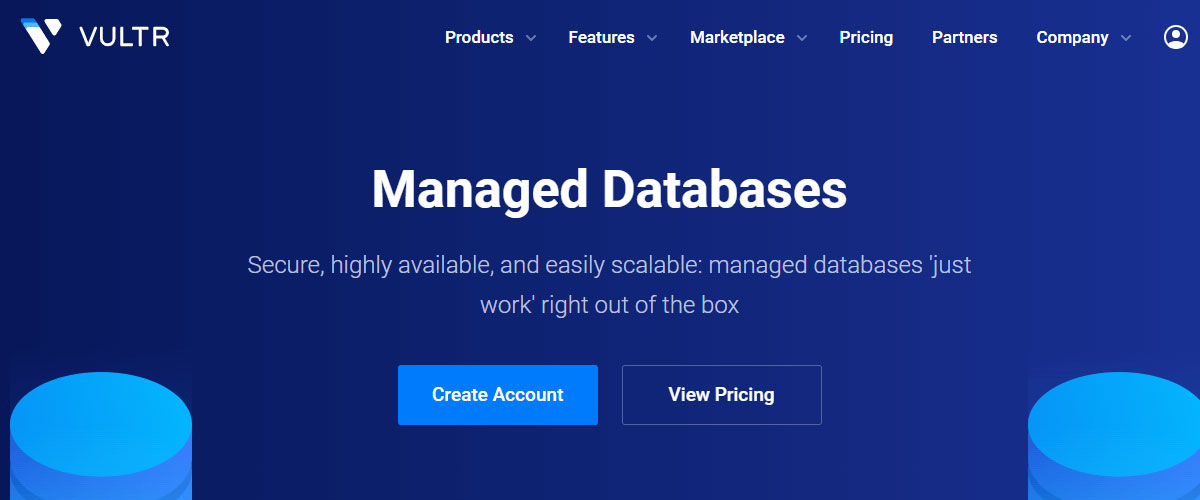 Vultr is a high-performance developers-friendly cloud server. Before we get more into that, it's important to know that Vultr currently doesn't provide a 1-click install. So, you will have to install it manually.
They have mentioned that will soon allow you to install it with one click.
To install it manually, they have a complete tutorial for it. They also have a tutorial for PGadmin installation. Even if they don't have a one-click install, the cloud server is fully optimized for PostgreSQL. For the same reason, they promise 99.99% uptime.
The managed database server comes with high availability and will be ready in minutes. You can choose from 27 locations. Once you have chosen the right location, you can scale up with ease.
They allow you to upgrade to minor or major versions of software with little to no downtime.
Vultr is known for its high-performance IP network. With their advanced networking, you will get robust performance in using managed databases such as PostgreSQL. For storage, you will get SSDs. So, your Postgres app will load at a better speed.
If you are developing complex apps with PgSQL, you will have a small team who are working for you, right? In that case, Vultr provides proper team management features. They also have a single sign-on using Okta and One-login. With that, it will be quite easier to run apps with small to large teams.
Overall, Vultr is highly recommended if you have a developers' team and want to deploy the PostgreSQL app.
NOTE: To try out the server, you will get free credits for 1-month.

Features of Vultr
Managed Database: Vultr provides managed databases. Their servers are optimized for PostgreSQL. Therefore, you can install the DB and run Postgres apps with ease.
Security and backups: The native DDoS mitigation is wonderful. Along with this, they also provide you automatic backups for your cloud at another location.
Easy management: They have an easy-to-use control panel. With that, you can manage your entire server (root access). With Vultr direct connect, you can integrate your current cloud with Vultr cloud.
Developer-friendly: The cloud is fully developer-friendly. You will also get a powerful API that lets you automate your tasks. They also have a marketplace where you can install apps with just a few clicks.
Scaling and deploying: You can scale up with almost no downtime. They have multiple packages to choose your favorite type of server.
Visit Vultr

3. Linode- Best PostgreSQL Hosting Overall
If we had to select the best PostgreSQL cloud hosting while keeping in mind all factors, Linode will be one of our top choices. The cloud is faster than AWS and is available at almost half the rate. If you want to host complex PostgreSQL apps and want to have predictable pricing, you will only get that here.
Linode is one of the fastest cloud servers with highly developer-friendly features. They also allow a one-click install for PostgreSQL. Along with this, they have proper documentation about PostgreSQL.
Not to mention, their server is also optimized for the managed database. So, it's super easier to deploy the Postgres SQL web app.
The uptime is 99.99% with 11 data centers across the globe. Linode is fully secure with DDoS protection. You will get a private network with VLAN and to increase further security, they also have cloud firewall rules.
If you want to know more about security, they have secure access. So, you can only access the database with a specific IP address. This acts as an extra layer of security. Further, you don't need to worry about the data as they have daily backups included for free.
You will get amazing 100% human support whenever you want. It's one of the award-winning customer services. Coming to scaling up, you can scale up with one click. Their infrastructure will allow you to scale down if you no longer need the resources.
So, you are only paying for you what you use. Therefore, it's suitable for all types of people.
Most of you will probably be thinking about trying out this best PostgreSQL cloud hosting, right? Well, you can always try out the server before buying. They offer $100 worth of free credits that is extended to 60 days.
So, you will have enough time to test the server before finalizing your decision.
Features of Linode
One-click install for PostgreSQL: You can install PostgreSQL with just one click. It acts as a huge time saver as you don't even need to write the command to install it.
Documentation: They have huge documentation of PostgreSQL and tutorials for all the technical tasks you might want to do. So, you will get enough help here.
Full-feature API: With their powerful feature-rich API, you can manage and automate your entire cloud.
Server management: You can use their intuitive cloud manager to manage your cloud. For more, you can also use the command line interface for the server.
Developer tools: Linode is fully developer-friendly. So, you will get features like Node balancer, Kubernetes, Ansible collection, terraform, user management, and integration options.
Visit Linode

4. OVHcloud – Best for European users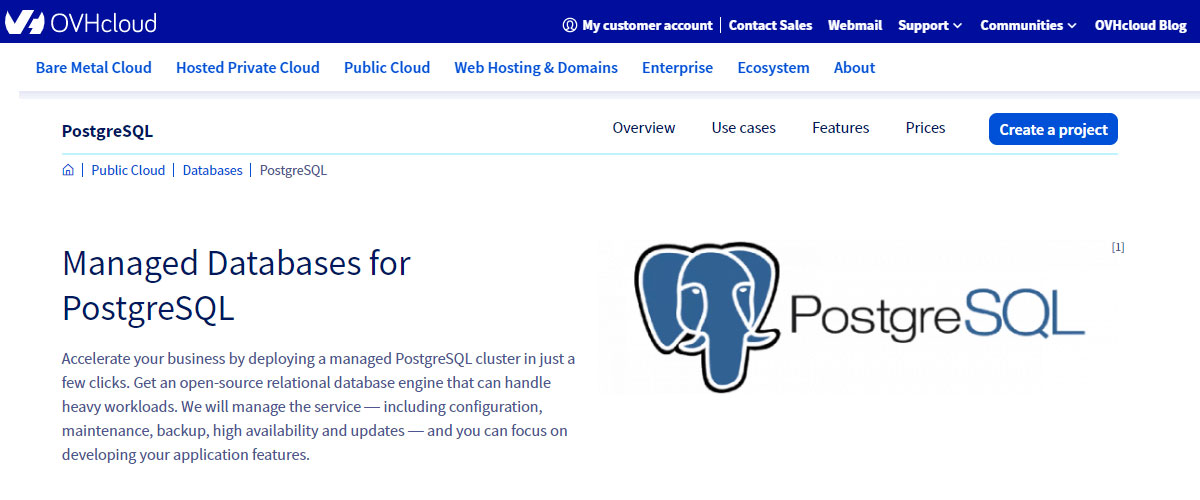 OVHcloud offers managed PostgreSQL databases with their public and private cloud. You can install it with one click. The team manages the updates, configuration, maintenance, backups, and performance. They have a cluster of 3 nodes which ensures good performance.
Depending on the plan you have chosen, you will get access to the server.
You can migrate from your older database to OVH Postgres with ease. They also allow database forking which permits you to copy your current database to another environment that affects the current website. It's very much useful to create a test and staging environment or for cloning the entire web app.
They also have read-only accessibility. By this, you can create another replica of your database and provide the access to the freelancers. This will also allow you to analyze and scale up as per your need.
OVHCloud provides multiple data centers across the globe. However, it's highly recommended if you are looking for a European server. They have 4 data centers in Europe the UK, Poland, Germany, and France respectively. The speed is great in all of these places.
They have divided their plans into packages. The base package is called Essential which has multiple plans. In the same way, there are business and enterprise packages. For the base package (Essential plan), you won't get any SLA guarantee. For the other packages, you will get 99.90% and 99.95% uptime respectively.
In the same way, several features are missing in the base package. You will have to go with the higher package if you need access to all.
So, you can choose the right plan based on the features you want. For beginners, many features are missing in the essential package. Therefore, you might want to consider other options if you want all these features.
Features of OVHCloud
Postgres Extensions: OVH provides more than 40 extensions for PostgreSQL using which you can add more features to your database. It includes PLV8, PostGIS, etc.
Managed DB: Their managed DB offers replication nodes, private connectivity using vRack, backup, TLS encryption, and much more.
Server management: You can manage it via dashboard administration and API. They will soon add automation via Terraform.
Scaling: You can scale up with just a few clicks without having to suffer downtime. You can also jump from one package to another. As it's a cloud hosting, you can easily do that.
Control over the server: OVH follows strict standards to protect your data. So, you will get full control over your data making it a great choice for apps like VPN.
Visit OVHcloud

5. Digital Ocean ($50 free credits)
Digital Ocean also offers managed database. It's a developer-friendly cloud you can use. It comes with hundreds of features that can be used by developers. They have a one-click install for PostgreSQL. It offers "worry-free" PostgreSQL where they will manage the updates and backups along with setting up the database.
The cloud is highly scalable. You can add individual resources by adding RAM, CPU, and even storage. Their Postgres panel has integrated insights to know how your DB is performing. They also have included daily backups here.
So, you don't even need to worry about the data you are storing on the server.
There are 14 data centers. All of them are high-end data centers. If you want to transfer your data from one place to another, you can do it with minimal downtime. They also have a marketplace from which you can install any app with just a couple of clicks.
The performance is decent. In case of failure, the system will automatically put the data to the standby node. This will minimize your downtime. The uptime is great as they provide 99.99% uptime. Along with this, they also have uptime monitoring. However, if you talk about the consistency of the service, the performance isn't consistent throughout.
Therefore, it's not recommended if you are planning to host a web app where you will need the best performance all the time.
TIP: It's good if you are playing around or want to host your hobby project. For serious business-oriented projects, we would prefer another reliable hosting provider. You can always try out the server for 60 days. They provide $50 worth of credits.
Let's have a quick look at the features to know more about the cloud.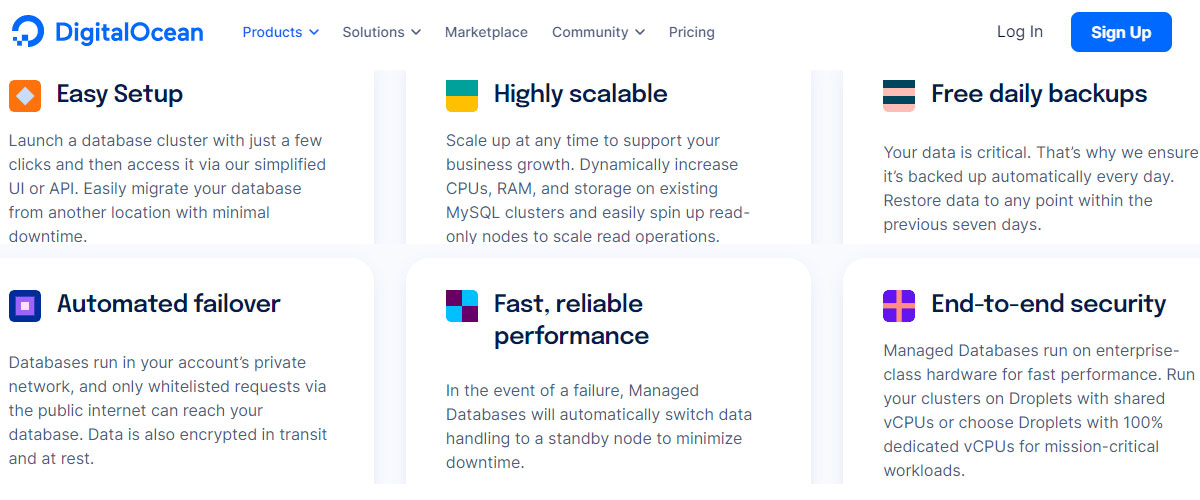 Features of Digital Ocean
PostgreSQL management: The system will not only allow you to install Postgres in one click but will also help you with updates, backups, maintenance, and much more.
Developer-friendly: Digital Ocean is known as the developer's cloud. They have features for API, CLI, monitoring, a panel to control the server, and many other similar features.
Documented journey: They have a well-documented library. The blog covers all the topics about PostgreSQL as well as about the cloud. So, a beginner can take a lot of help from here.
Insights and Integrations: PostgreSQL in Digital Ocean has various integrated features. This includes monitoring and alerts as well.
Automated failover with end-to-end security: They have automated failover where only white-label requests are accepted. You will get isolated CPUs for end-to-end security.
Visit Digital Ocean

Cheapest PostgreSQL VPS hosting
Well, sometimes, you just want a cheap option for your hobby project or a small business project. In that case, these providers are for you. These are reliable Postgres VPS that offer hosting services at a cheap rate.
6. InterServer (Cloud VPS)
InterServer provides cheap PostgreSQL cloud hosting. You can scale up to a huge extent. It's highly recommended if you are looking for a server with all the permissions. As you might have guessed, you will have to install PostgreSQL by yourself. Their support is great and available all the time.
However, their staff is not trained for Postgres. So, you can't expect technical support from their side.
Coming to the advantages, you will get top-notch security with self-healing hardware. As the server is clean, the server can run PGSQL apps smoothly without any issues. Further, if you are looking for a managed server, you can also buy one of the control panels for an extra charge.
The server is optimized for all the databases including PostgreSQL. They only have 2 data centers and both of them are in the USA. Therefore, there is limited geographic diversity with InterServer.
The scalability of InterServer is amazing. You can scale up to 16 cores and 32 GB RAM. If you are looking for huge scalability, you might also have a team working on your web app. In that case, InterServer provides team collaboration features to manage your team effectively. You can use that as well. Due to the nature of the server, there aren't a lot of features available directly.
You can install it manually. It's recommended only if you have enough technical experience or have a team who can work on it.
One of the reasons why we are not recommending it for beginners is because of the lack of documentation. They have very little documentation for the servers and apps. So, it will be of more help if you already know a little bit about the technical aspect of a VPS. You can keep in mind all the features and disadvantages before finalizing this VPS.
Features of InterServer
Vanilla Server: The server comes with fully isolated resources. As only a few scripts are running, you can take full advantage of the server.
Scalability: You can scale your server to a huge extent. So, you won't have to change the server as you go.
Self-healing hardware: If you have complex PostgreSQL apps on your server, you might not want downtime. Their AI system will automatically transfer your data to another node if there are some problems with the hardware.
Full access: Lastly, you will get full proper permissions to install any scripts or apps you want on the server.
Visit InterServer

7. Hostinger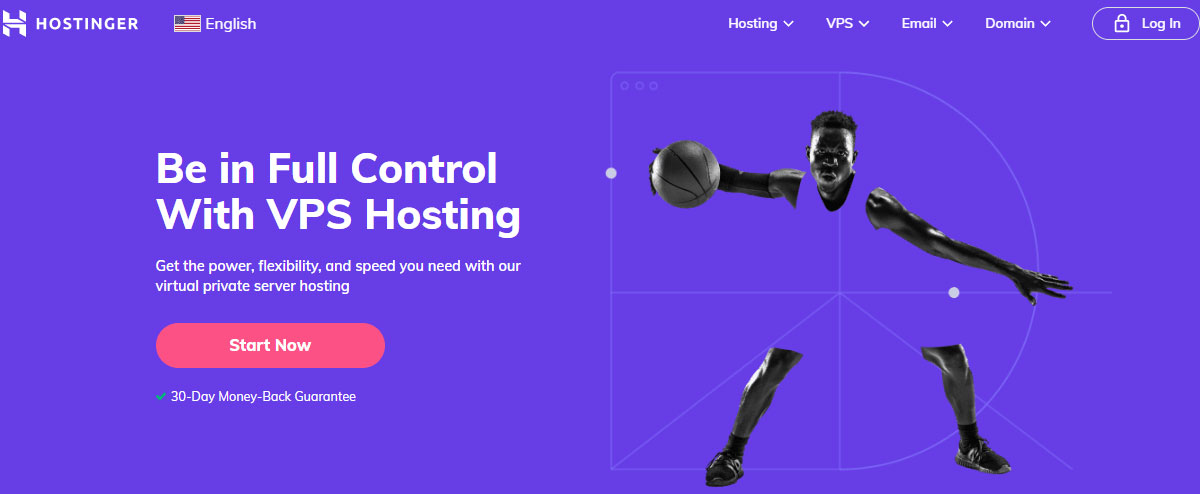 How can we forget Hostinger when we talk about cheap PostgreSQL VPS hosting? Hostinger's VPS comes with a very attractive starting price for the first invoice. So, the first year will only cost you as low as shared hosting.
However, the pricing from the next invoice will go back to normal. PostgreSQL isn't allowed in shared hosting. So, you will have to install it on your VPS.
They don't have a one-click install for PostgreSQL. So, you will have to install it manually. They have full documentation for that. They also keep updating the blogs and resources for the VPS.
Therefore, you will always have technical documentation on how you can install and manage PostgreSQL.
You can scale up by switching plans with just a few clicks. They have 8 VPS plans. So, you can scale up as you are growing. The pricing won't suddenly rise. Additionally, you will get a 100 mb/s port speed. They offer a 99.9% uptime guarantee. So, it becomes a reliable service to go with.
One of the things that you need to keep in mind while going with Hostinger is the renewal rate. Therefore, it's a great cheap PostgreSQL VPS hosting if you want to start small and grow as you go. It's a high-performance network with SSD storage for better speed.
The NVMe storage also supports NFS. With NFS, you can mount remote storage (Network File System) to expand your current storage.
Their VPS supports all the developer features to speed up the server. So, you can host the app with any technology along with Postgres. There are various limitations to the VPS. However, their transparency ensures that you can see all the details on the features page. As a result, you don't need to worry about it.
Features of Hostinger
Developer-friendly: They not only support all the technologies but you will also get the option to install your favorite app directly when you buy the VPS.
Documentation with Support: Hostinger provides perfect documentation for Postgres. If you are still facing any issues, you can always talk with their customer support.
Apps and tools: You will get multiple OS to choose from. Along with that, you can also install apps like LAMP, the control panel of your choice, a minimal version of OS, etc.
Easy management: They offer a simple control panel to manage your server. You can add a paid panel if you want more. With full root access, you can install almost anything you want.
Automated backups: You don't need to worry about the backups as well. They have automated backups for your entire server. It also captures the snapshots of the server.
Visit Hostinger

8. Hostwinds (Cheap Cloud VPS)
Hostwinds is an unmanaged server offering reasonably priced VPS. As it's unmanaged, you will have to do most of the things by yourself including installing PostgreSQL. They have fewer scripts and features for the VPS. Hostwinds focuses more on increasing performance and keeping it at an affordable rate.
The basic features are included such as performance monitoring, firewall, etc. You can monitor the resources you are using.
You surely might be wondering about the performance, so let's talk about it. They offer 99.9999% uptime. That's almost 100% of uptime in a cheap Postgres hosting service. With a 1 Gbps uplink, the traffic limit increases as you go with higher plans. You can choose your favorite OS while you configure your server.
You can also use your custom ISO if your preferred OS is not present.
There are multiple plans you can choose from. There are a total of 10 plans. So, you can easily scale up as you go. There is no downtime faced when you upgrade your server. If you want to upgrade your storage, you can also add volumes directly without upgrading the plan.
Therefore, it makes your work quite easier if storage is the main issue for you.
They lack tutorials on how to install PostgreSQL and manage it. Therefore, if you are a complete beginner with little technical knowledge, Hostwinds might not be the right choice for you.
However, if you have a technical manager, you will save a lot of money. If not, you can also go with their managed VPS plans which cost a little extra.
On the positive side, their support is awesome. Therefore, you can always contact the support team if you are facing issues. The live chat is always available for you whether you have a pre-sale question or want customer support. If you want to go with Hostwinds and you already have your website hosted elsewhere, they offer free website transfer.
So, you can use that to deploy your web app with ease.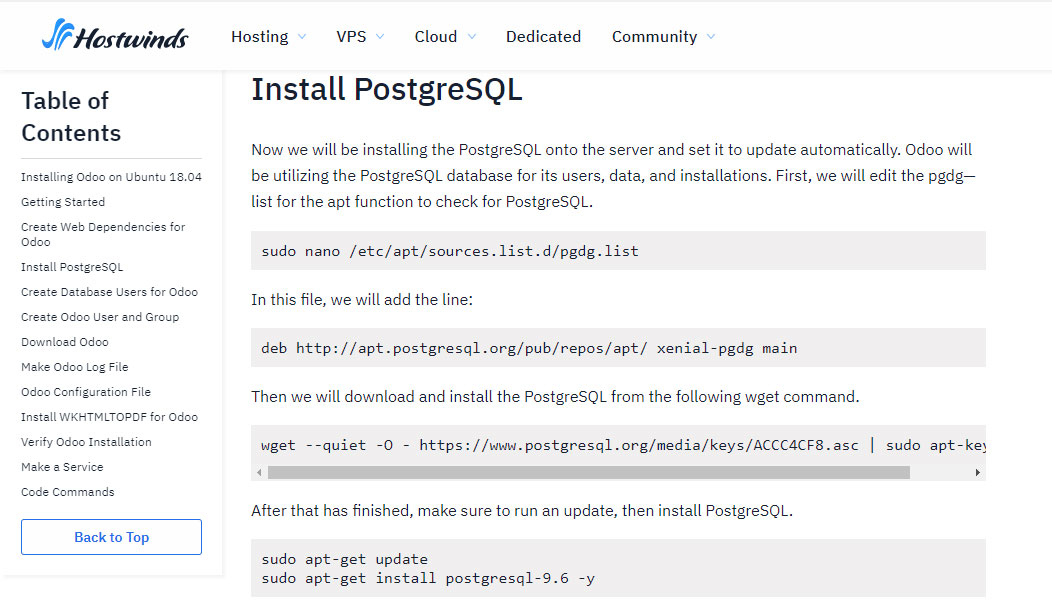 Features of Hostwinds
Performance enhancing: They offer SSD storage for better read/write speed. With more than 99.9999% uptime and a 1 Gbps port, you can rely on the server.
Optimized server: The VPS comes with isolated resources giving you complete root access. You can use the server to its best capacity.
Load balancer: You can also add a load balancer for your server to deal with sudden traffic spikes.
Backups and Snapshots: The server will take nightly backups and take snapshots. By this, you can stop worrying about the data.
Management: They offer a custom control panel to manage your server. If you don't want to go with that, you can always go with their managed services that cost only a little bit extra.
Visit Hostwinds

What To Look For in the Best PostgreSQL Hosting
1. Ease of Install: You can always see if there is a one-click install for PostgreSQL. If not, it should be easier to install with proper documentation.
2. PostgreSQL plans: There are some hosts where the base plan doesn't include PostgreSQL features. So, you can always see if the hosting has PostgreSQL plans.
3. Up-to-date PostgreSQL: You can always see if PostgreSQL is updated.
4. Customer support: Customer support is extremely important if you are a beginner. Even if you are experienced, you will need customer support.
5. Cheap prices: You can try to find the VPS for around $10. This will be the perfect price to get started and scale as you need, this brings us to the next part.
6. Scalability: Firstly, you can see if you add individual resources. If not, you can always see if there are multiple plans. So, it will be easier to scale up.
Backups/Snapshots: It will be better if you look for hosts that offer free backups or snapshots. You can also go with the paid add-ons.
Verdict
People often think of testing PostgreSQL on a local machine rather than deploying it on the cloud. It will not only consume your time but you won't get a proper idea of how it truely performs on an online server.
Instead, you can use a trial version of the cloud hosting to test the web app before you push it live.
If you are confused about which host is best for you, here are the best suggestions depending on your requirements.
Best Price: Kamatera
Best Free Hosting: Vultr
Best to Setup (easy): Linode (it's also developer-friendly)
Best for testing purposes: Vultr (offers trial)
FAQ
Can I host PostgreSQL for free?
You will have to pay for the hosting. After that, you can host PostgreSQL for free. Alternatively, you can use a trial version of the VPS.
Is PostgreSQL Free on AWS?
Yes, it's free to a certain limit. Thereafter, you will have to pay for it. The pricing for AWS is never predictable.
Is PostgreSQL free on Google cloud?
No, PostgreSQL isn't provided in always free Google cloud products. For that, you will get to buy Google cloud.
Does Godaddy support PostgreSQL?
Godaddy supports PostgreSQL on VPS plans. However, the servers are not fully optimized for it as they are very slow to perform.