Have a resources-intensive web app where you will need a cheap VPS with 16GB RAM, or perhaps a gaming server?
There are many things you need to consider for such requirements. You need to ensure that the server is scalable and the server specs should be strong enough to provide proper performance.
The list is curated keeping all that in mind.

Hosting Provider
Starting Price
Starting Price
$20.31/month
$45/month
$11.99/month
5 Cheap VPS 16GB Ram
Below are some of the best VPS with cheap prices where quality is not compromised.
1. AlphaVPS (Best Overall)
Alpha VPS offers one of the cheapest VPS services. It comes with Open VZ 7 virtualization for the isolation of resources. They use standard hardware for the servers to increase performance.
You will also get RAID 10 SSD to increase the read and write speed. The RAM given here is dedicated.
The control panel allows you to monitor your memory and other resources. You can see how much RAM your current server is using. Depending on the usage, you can plan your upgrades ahead of time. Unfortunately, you can't add RAM directly. For that, you will have to upgrade your plan. They have 5 plans which have 16 GB or more RAM.
They have a huge network of 500+ Gbps. The uplink increases as you go with higher plans. You will get full control over your server.
If you are looking for better specs with the same company, you can go with their KVM plans. It has a limit of 16 GB RAM but CPU cores are higher.
If you require more RAM, Alpha VPS has AMD EPYC plans with a huge RAM allocation. You can surely use them.
Overall, it's a great choice for people looking for higher performance at a cheap rate. The support is also fantastic.
Specs of AlphaVPS
CPU: Intel Xeon E5 4 vCores
RAM: 16 to 32 GB RAM
Bandwidth: 2 to 4 TB on 1 Gbit/s
Disk size: 120 to 240 GB SSD
Locations: Bulgaria, the UK, Germany, and 2 in the USA.
Starting Price: €20 per month ($20.31)
Visit AlphaVPS

2. Contabo (Cheapest VPS)
We have mentioned Contabo many times in our lists mainly due to the high-spec server they are offering. It's great for people who are running resource-intensive apps. Their best plan has 60 GB of RAM. Therefore, you will have the ability to upgrade your server to a huge extent.
Unlike other VPS providers, you won't have many plans to choose from. However, their pricing is cheap. So, you won't face any problems in upgrading even as a beginner.
The virtualization methods are KVM and Proxmox. You will get an isolated environment here. You can scale up by adding more storage or add-ons. However, to add RAM, you will have to upgrade to a newer plan. The number of virtual cores in the CPU is also high.
Therefore, the speed of your web app will be much faster. If you consider specs, it's one of the cheapest high-RAM VPS with standard performance.
It's a Germany-based hosting service offering high RAM. So, you will get German hardware here. However, if you go with other data centers, you will have to pay a small fee.
NOTE: Despite huge specs, performance is not consistent as they tend to load their servers with a lot of customers.
Specs of Contabo
CPU: 6 to 12 cores (AMD)
RAM: 16 to 60 GB
Bandwidth: Up to 32 TB outgoing, unlimited incoming (1 or 10 Gbps)
Disk size: 100 to 1.6 TB (SSD or NVMe)
Locations: UK, Germany, Singapore, and 3 in the USA.
Starting price: $11.99 (up to $6.99 one-time setup fee if you go for less than 12-month billing)
Visit Contabo

3. InterServer
InterServer is a recommended server if you want a high-performance vanilla server. No doubt, they have some decent add-ons and features that will be useful for you. To begin with, it has a Webuzo control panel with full control over your server. However, the server is plain to a large degree.
The RAM can go up to 32 GB (32768 MB). You can choose your favorite virtualization method to isolate your resources. They allow you to add KVM, Openvz, Virtuozzo, or Hyper-v. Their hardware infrastructure is too strong. This offers better performance.
Their AI will automatically transfer your website to another node in case there is any problem with the server. Coming to scalability, you can't just add more memory RAM. Instead, you will have to upgrade the plan.
If you go with more than 4 cores, you will get managed support here. The 16 GB Memory plan has 8 cores. So, you will also get managed support as well. The website lacks some information about the server as well as about other things. You can always contact support for more help.
The below-mentioned specs will include the rest of the details that are mentioned here.
Specs of InterServer
CPU: 8 to 12 cores
RAM: 16 to 32 GB (16,384 to 32,768 MB)
Bandwidth: 16 to 32 TB (1 Gbps port)
Disk size: 240 to 480 GB SSD
Locations: USA (Los Angeles and New Jersey)
Starting price: $45/month
Visit InterServer

4. VPSDime
If you are looking for 16 GB RAM, you will probably be completely fine with going above 16 GB, right? If so, you can go with VPSDime. The plan nearest to 16 GB comes with 18 GB of RAM. So, you can surely go with that.
One of the best things about the VPS provider is the uplink. Here, you will get 10 Gbps bandwidth. This will increase the network speed.
It was founded back in 2013 and to date, they have provisioned over 579058 GB (almost 580 TB) of RAM. Therefore, it's a reliable company to go with. They have a very simple yet interactive custom control panel where you can see performance graphs of resources and control your entire server.
If you are facing any issues, you can contact their support which usually replies in a few minutes.
Their hardware is very impressive. It comes with a diverse fiber path and redundant power. With that being said, they also offer 99.99% uptime. VPSDime doesn't oversell. So, the load is balanced and you will get dedicated performance throughout your tenure.
There are no contracts. You can go with 1 month or 1 year. The price will remain the same.
Specs of VPSDime
CPU: 4 to 12 v cores
RAM: 18 to 36 GB
Bandwidth: 6 to 12 TB (10 Gbps port)
Disk size: 90 to 180 GB SSD
Locations: UK (London), Netherlands (Amsterdam), and 4 in USA (Seattle, Piscataway, Los Angeles, and Dallas)
Starting price: $21 per month
Visit VPSDime

5. Gcorelabs (VDS)
Gcorelabs offers a developer-friendly virtual server. It's a service with a lot of data centers. If you didn't find your preferred location in the above cheap VPS providers, you will surely find it here. There are more than 25 locations you can choose from. With this, you will find the right location for you.
It's a KVM-based hosting. You will get isolated resources. The data centers are certified Tier III. So, it will also increase performance.
It comes with a flat speed with no traffic restrictions. You can scale up your server however you want. They have excellent connectivity as well. Gcore labs support all the operating systems and customizations. You can also install Windows.
The security is great here. You will get DDoS protection.
TIP: Now, it will be a bit hard to select the plan as they have shown all the plans as an individual. So, you will see 25 different plans for 25 locations. It will be hard to select the right one. Therefore, you can use their configurator to filter out your plan. The more filtering you do, the fewer plans you will see.
In this way, you can select the right plan. We recommend you select a data center and RAM.
Specs of GcoreLabs
CPU: 7 to 8 v cores
RAM: 16 to 32 GB
Bandwidth: No traffic restrictions at 200Mbit/s
Disk size: 400 to 1200 GB SSD
Locations: US (7 locations), South America (4 locations), Europe (13 locations), Asia (6 locations), Australia (1 location), MENA (1 location), and Africa (1 location)
Starting price: $41.40 per month
Visit Gcorelabs

#Bonus# Linode (memory-optimized cloud)
Linode is a cloud server offering various types of plans. You can check out their memory-optimized cloud. These plans have a high amount of RAM. It will cost you more as compared to others as Linode is a premium cloud server.
It's not only faster than all the other cloud services including AWS and Google cloud but also older than them. Therefore, a reliable cloud server is a great bonus for you.
The best thing about a memory-optimized cloud is that you will get very high RAM. On the negative side, the CPU power is limited. Therefore, it's recommended if you are planning to run RAM-specific web apps. The base plan comes with 24 GB of RAM.
They have private networking, awesome security, and monitoring tools for server usage.
They have in-memory processing that allows you to run complex data with long queries. It also comes with supercharging caching along with data retrievals. Linode's high-memory hosting is suitable for you if you are looking for more RAM and are ready to compromise a bit on the CPU.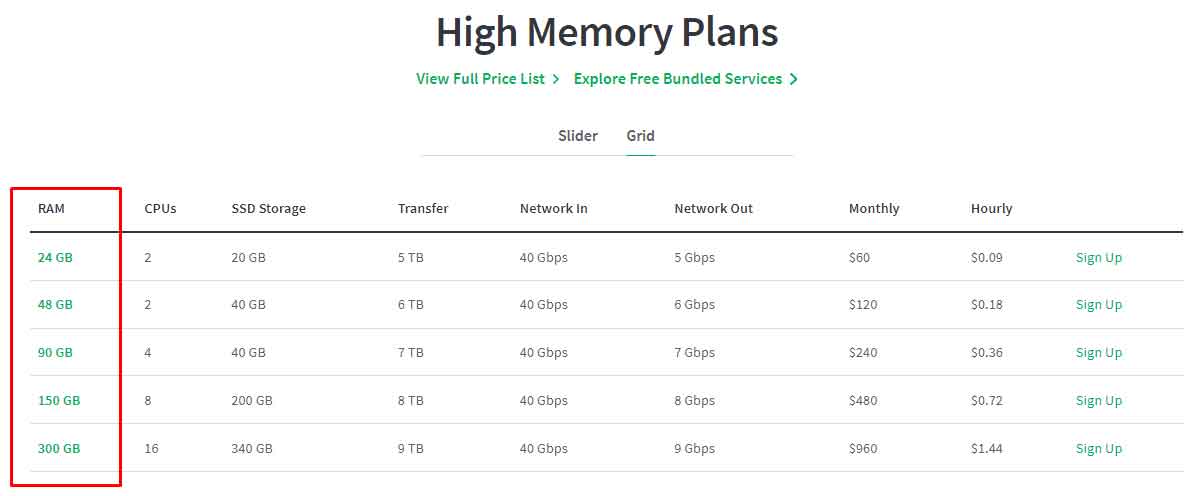 Specs of Linode
CPU: 2 to 16 cores
RAM: 24 to 300 GB
Bandwidth: 5 to 9 TB (40 Gbps network in and 5 to 9 Gbps network out)
Disk size: 20 to 340 GB SSD
Locations: Canada (Toronto), US (Neward, Atlanta, Dallas, and Fremont) Singapore, UK (London), Germany (Frankfurt), Australia (Sydney), Japan (Tokyo), and India (Mumbai).
Starting price: $60 per month
Visit Linode

What to look for in a VPS with 16GB memory?
Let's see the four important things to keep in mind.
1. Processing power
You don't just need to see the RAM of the server. You should also check how many cores the server has, what is the storage capacity, etc. These questions will tell you how powerful your server is.
This is very much important to see how fast your server will perform. So, always keep these specs in mind.
2. Scalability
You will need to scale your server as you grow. It's great if the server offers you to add extra RAM on the go. However, most servers don't allow you to add RAM. In that case, you can see what are the nearest plans you can upgrade to.
3. Pricing
Hosting with no contracts is the best VPS to go with. You can try it for 1 month and if you don't like the service, you can cancel it.
You can also see if the hosting provider offers discounts if you pay annually. If so, you can always see if they have a money-back guarantee.
4. Age of the Company
If you are looking for cheap 16 GB memory VPS providers, you should surely see the age of the company. The age should be at least 3 years and should have good reviews.
The hosts mentioned above are very old and have an amazing reputation. So, you don't need to worry here.
Final Words
These are the best yet cheapest VPS providers with 16 GB of ram that come with great scalability and performance. You can surely go with any of them as per your need.
Here is a quick selection of the hosting providers.
Best Overall: AlphaVPS
Best Price: Contabo
Best Specs: InterServer
FAQ
How much RAM do I need for VPS?
It depends on your need. For normal usage, 3 GB is more than enough for the needs. For medium to high usage, you should prefer at least 16 GB of RAM.
How many cores do I need for a VPS?
It depends on the RAM you are using. For 16 GB RAM, you should prefer 4 cores CPU. For 1 GB RAM,  1 core will do.
How much RAM do I need for WordPress VPS?
For a normal WordPress website, 1 GB RAM is enough. However, if you have more than 10 plugins and have heavy traffic on the website, you should prefer 8 to 16 GB of RAM. Make sure the RAM is scalable.
Is VPS faster than cloud hosting?
VPS and cloud hosting offer similar performance depending on the resources you have added.
What are the real advantages of using VPS hosting?
VPS offers dedicated resources for your server. No one else will be using the same resources.