When buying a hosting package in Bluehost, you will see Bluehost single domain SSL certificate as an add-on at checkout.
But wait, Bluehost advertises that they offer free SSL certificates, then how come you will have to pay for the SSL?
Well, these two are different types of certificates. So, what are they? And do you even need a single domain SSL when you have one for free?
This guide has answers to all these questions. Let's start with the basic overview.
What is Bluehost single domain SSL?
A single domain SSL is a certificate that protects your domain from malicious attacks. It can protect your information, such as username, password, etc., and protects you from middle-ware attacks when you collect customer payments.
Bluehost uses PositiveSSL to protect your website from such attacks and leaks.
With the SSL installed, you can have a secure environment for your website. To ensure your safety in collecting payments, Bluehost offers a $10,000 warranty.
To explain it in layman's terms, it adds HTTPS in front of your website URL and a lock icon that says "secure." This tells the web browsers that the website is secured and the data transferred through it directly goes to the server without getting intercepted.
SECRET: Their free SSL also does the same (more on it later).
What is the Single domain SSL certificate cost?
Now, let's talk about pricing.
When you add any hosting package to your cart and head to checkout, you will see a section called "Package Extras." From this, you can add the certificate.
The initial buying cost of a single domain SSL certificate from Bluehost is $3.33 per month, which is $39.99 per year.
To put things into perspective, the base plan of shared hosting costs $2.95 a month. So, your SSL certificate will cost you more than your hosting services.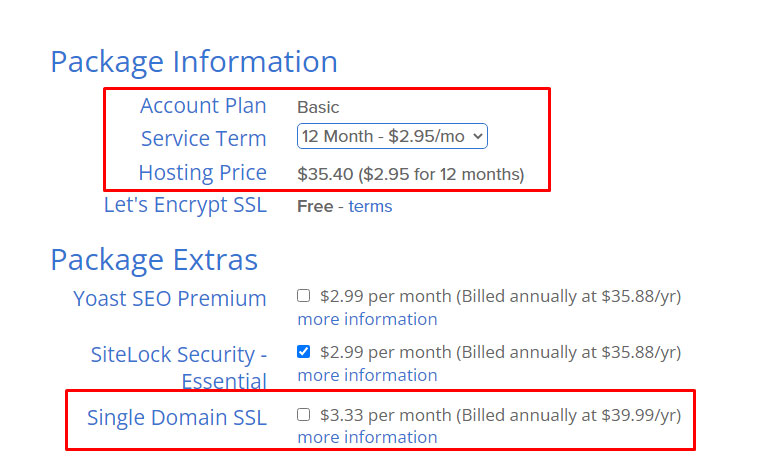 That's not even the worst part. The real game begins when the one-year term ends.
After the completion of a year, the renewal cost for single domain SSL doubles to $6.67/month (that's $80.04/year).
It's just for a SINGLE domain, and you will have to pay the same price for all your domains.
NOTE: The single-domain SSL is only valid for one domain, not subdomains. So, if you have multiple domains, you must buy SSLs for all domains individually. People often use subdomains for stores and services. So, you might pay a hefty price for all.
Does Bluehost provide free SSL?
Bluehost also provides a free SSL certificate by Let's Encrypt. The free SSL works for all the domains and subdomains. So, you can protect all of your websites for free.
This certificate is good enough for most websites.
It's activated automatically as soon as your hosting package is activated.
If not, you can head to the Bluehost control panel >> My Sites >> Manage >> Security. You will find a toggle to turn on the SSL certificate.
It's a shared SSL certificate across all the accounts. So, the security is limited as compared to a single-domain SSL.
On the positive side, it's free for all websites. Most websites you see on the internet, whether a small store or a blog website, use the free certificate.
Now that you know both certificates, you might wonder whether you should add the single domain SSL or use the free certificate. Let's discuss this in detail.
Is Bluehost's Single Domain SSL worth it?
No, Bluehost single domain SSL is not worth it.
The free certificate is enough to protect you from most attacks and vulnerabilities. Therefore, you don't specifically need to go with the paid one.
No doubt, the paid SSL certificate provides better security, but the price is not worth the security it provides.
You can use the shared free certificate. The shared certificate is the same for all the websites hosted on the same IP. When you go with shared hosting, your IP is the same as other websites hosted on the server.
Let's Encrypt will protect you from all attacks.
Most people pay for the certificate because they accept payments on their website. Well, you don't need to worry even if you accept payments, as most payment solutions use redirection (hosted checkout).
When the customer is at the checkout, they are either redirected to the payment solution website, or there is a popup to collect the payment.
So, the payment is made using their servers. In this way, the money is safe, as the payment solution will already use a high-security SSL certificate.
To protect yourself from other malicious attacks and increase speed, you can always use a CDN such as Cloudflare. The good news is that Cloudflare is also automatically activated on Bluehost, and you will see the Cloudflare option in the Bluehost control panel.
Conclusion
To summarize, Bluehost offers free Let's Encrypt certificates which are automatically activated for all the sites. Along with this, you can also buy a dedicated positiveSSL from Bluehost, known as single domain SSL.
We won't recommend buying this single domain SSL as it isn't required, and the price is too high. Instead, you can use just the free certificate, which is enough for all types of websites.
To get more into it, you don't need any extra packages Bluehost offers, and all of them are of no use.
FAQ (Frequently Asked Questions)
Is SSL free with Bluehost?
Yes, SSL is free with Bluehost. They provide free Let's Encrypt SSL.
What kind of SSL Certificate does BlueHost provide for free?
Bluehost provides Let's Encrypt SSL for free. It's valid for all the domains and is shared with all the sites with the same IP.
Do Bluehost domains come with SSL?
Yes, Bluehost domains come with a free SSL. They also provide a paid SSL (which is not worth the money) for extra security.
Difference between Bluehost free SSL vs positive SSL?
Bluehost free SSL is provided by Let's Encrypt, which is shared across all the sites with the same IP. On the other hand, positive SSL is a dedicated certificate for a single domain.
Is an SSL Certificate included with Bluehost?
Yes, a free SSL certificate is included with Bluehost. You can add a dedicated certificate if required.
How do I get Bluehost free SSL?
When you buy any shared hosting package from Bluehost, free SSLs are included with it. When you add your domain to the Bluehost control panel, they are automatically activated.