Websites are constantly vulnerable to online attacks from malicious software or malware. Cybercriminals can attack and harm a website with malware; they can steal sensitive data from website databases, change website appearance, and can also torment the reputation of the website.
When the question is about protecting a website, there are many alternatives available. Sitelock by Bluehost is one of the most popular website security solutions; you are at the right place if you are considering the Bluehost Sitelock feature.
As this review unfolds you will be able to make a reasoned decision about the Sitelock security addon.

What is Sitelock Security by Bluehost?
Sitelock by Bluehost is a paid cloud-based addon security feature. The Sitelock service is an addon extension that helps in detecting malware attacks and helps to prevent your website from appearing in search engine blacklists.
Bluehost offers Sitelock service to the customers who have a Sitelock account and to those who don't have a Sitelock account as well. In case if someone doesn't have a Sitelock account, the Bluehost team guides them with the use of various features.
A Bluehost customer can get up to an 80% discount on the retail price of Sitelock products.
If you already have one Sitelock account, Bluehost makes the task easy for you by offering several features in easily accessed menus through the dashboard.
When you sign up for any of the Bluehost hosting services, you can access the Sitelock account through the 'Marketplace' tab.
You need to click on the 'Addons' tab from the sub-menu and then click on 'Sitelock'. This will launch the Sitelock dashboard for you.
After logging in, the navigation menu is shown that consists of these 6 sections:
Dashboard
Dashboard helps to track all the details. You can see it right away after accessing Sitelock. You can check the status of the domains and manage Sitelock settings through the dashboard. The Sitelock dashboard is very useful and user-friendly.
Sites
You can have one or more sites and Sitelock added to them. The purpose of this menu is to check the status of the domains you have. You can add a new domain too from this menu.
Users
Your site can have one or more users. You can determine various rules for the other users on your Sitelock account. Bluehost offers an excellent option to give limited access to other users to view the dashboard and to use Sitelock features.
Settings
This section helps you to modify the security, email subscription, scan, and manage various Sitelock settings.
Accounts
The accounts section allows you to upgrade the account information of your website.
Support
In this Support section, you can raise or submit a ticket directly to Sitelock. You can utilize it for any query or for reporting any issue to Sitelock.
You can manage every feature of Sitelock through the dashboard, it has the following five key features:
Verification Status
This is the first section of your dashboard. It contains various details of your domain like account name and verification status of the domain/domains, address, and phone number.
A caution message will be displayed if any of the details are not verified and a checkmark will be shown beside the verified details.
Security Scan Summary
Sitelock performs a scan for malware and other threats. This summary shows you the quick status and results of your recent scans.
Trusted Seal Graph
The Trusted Seal Graph is a badge that you can feature on your website that makes the customers feel safe while browsing or visiting your website. On the Siteloack dashboard, this graph shows the status of the recent website scans performed.
Messages and Alerts
You have to turn on the email subscription alert from settings and you will start receiving information about alerts and statuses of the scans done for your website.
Trusted Seal Code
A Sitelock seal code to be displayed on your website is provided by Bluehost. Select the preferred seal; copy, paste and display it on your website to build trust among your visitors
Sitelock Security Essentials Features
Sitelock is based on the SAAS (Software delivered as a Service) platform. It protects websites from possible cyber attacks from hackers by raising an early detection alarm. If Sitelock is added to your domain backend, it can remove malware from your website server.
Depending upon the security package of your website, Sitelock provides website scans daily, removes malware automatically, checks for any type of vulnerability, and builds a web application firewall to stop malicious traffic before it harms your website.
The security features of Sitelock include the following:
Website Scanning
Malware Removal
Vulnerability Patching
Website Backup
Web Application Firewall (WAF)
Content Delivery Network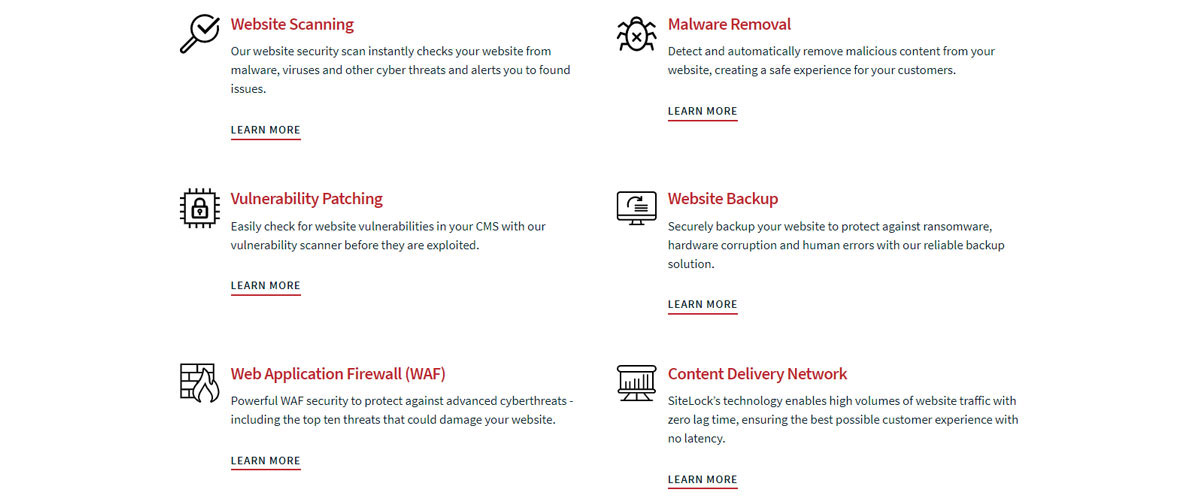 Website Scanning
Cyber-attackers always search for a loophole over the web. This scanning tool from Sitelock stops them by doing various scans like:
Malware scan
Spam scan
SQL injection scan
Cross-site scripting (XSS) scan
Application scan
SSL scan
Malware Removal
Sitelock automatically finds and removes malware from your website to ensure higher secuity. It is done through three steps:
Malware Detection
Malware Removal
Website Restore
Vulnerability Patching
If your website is vulnerable, malware can cause loss of data and can affect the reputation of your website. With the remediation technology of Sitelock, any type of issue is detected and removed before it hampers the functionality of your website.
Website Backup
Maintaining the security of the website is of the utmost priority for website owners. Sitelock keeps a backup of your website and restores it. If the website crashes due to any type of accident like hacking attacks, internal errors, or a crashed server, the website data and files can be easily restored.
Web Application Firewall (WAF)
A firewall is a shield to your website that protects it from cyber threats and bad traffic like hackers, cybercriminals, and bad bots. WAF by Sitelock filters the traffic and only lets the right traffic in. Thereby, your website and applications are perfectly protected from any type of threat.
Content Delivery Network
Sitelock protects the security and improves website performance too. It reduces the lag time and ensures the best web-visitor experience as your website pages are served faster.
Bluehost Sitelock Pricing plans
You can view the Sitelock package prices only if you have a Bluehost hosting account. The prices are shown below:


You can view the list of features that you will be getting with every Sitelock package; thereby, you can select the most appropriate Sitelock package according to your preferences.
You have two options to add the Sitelock service to your Bluehost account:
The initial phase, while signing up with Bluehost
Later, as an addon service
Initial phase
In this phase, when you sign up with Bluehost, Bluehost Sitelock Security Essentials will cost you $2.99 per month, and $35.88 is billed annually during checkout.
You will get the Sitelock addon for the entire year. If you wish to continue using Sitelock, renewal price will be $5.99 per month and an amount of $71.88 will be billed annually.

Later, as an added service
You can add the Sitelock service anytime to our domain/domains if you haven't chosen Sitelock while signing up.
In this case, Bluehost provides three Sitelock plans at present. They are SiteLock Essential, SiteLock Prevent, and SiteLock PreventPlus. You can choose to pay monthly or go with an annual billing cycle.


SiteLock Essential
This plan costs $5.99 per month per domain and costs $71.88 when billed annually. This plan works excellent for personal websites and blogs with moderate traffic.
This service provides basic features like external scan, Google blacklist monitoring, file-level scanning, Sitelock security seal, etc. In case you have any support issues with Sitelock, the response time will be 12 hours.
SiteLock Prevent
This plan is best for websites with moderate traffic and customer data. This plan costs $19.99 per month per domain and costs $239.88 when billed annually.
This plan provides all the features of the essential plan along with some additional features like DDoS protection, database scanning, and a support response time of 6 hours.
SiteLock PreventPlus
This plan costs $29.99 per month per user and costs $359.88 when billed annually. This plan works well with websites with heavy traffic and valuable data.
This plan has some added features than the other two plans like continuous scan frequency and the support response time is 4 hours.
Sitelock Alternatives
While it is true that Sitelock protects the website from malware and keeps the hackers and cybercriminals away; this is not a free service.
Bluehost provides one free scan service when you sign up for any web hosting package but you have to sign up for a Sitelock plan for overall consistent website security.
There are some free alternatives to Sitelock that you can consider – Wordfence or Sucuri, these are very efficient WordPress plugins. Among these plugins, Wordfence has better ratings and is popularly used by many website owners and bloggers.
Wordfence Plugin
WordPress is one of the most popular and adaptable content management systems that is used all over the world by bloggers and website owners.
Wordfence is a widely used WordPress plugin that functions like Sitelock, it provides security to your website from unwanted disruptions like malware and hacking attempts.
Wordfence is available as a free plugin on the plugin library of WordPress. There is a premium version, but the free version works well too.
This plugin is easy to install and provides a dashboard with a comprehensive overview of your website. It allows you to run a scan of your site and detects issues.
Wordfence also offers a Web Application Firewall or the WAF, which can handle suspicious IPs and can block them on its own.
This WAF feature is available for free for Wordfence users; you don't have to get a premium feature for using the Web Application Firewall.
Sitelock Lite Version
Bluehost has introduced a free scan feature for all the new hosting accounts. This free Sitelock scan gives you a free malware scanner. It detects infection-causing malware by scanning the sitemap of your website.
This free scan has various benefits like early detection, an immediate email alert after detection of malware so that you can take the right action at the right time for removing the malware. The free scan takes only 15-20 seconds a day, it is quickly done and you get the results at a glance.
This is a free feature that you can attach to your domains and you can also remove this feature anytime if you don't need it.
Pros & Cons Of Sitelock
Pros of Sitelock:
Scans the websites and databases to ensure higher security.
It can automatically detect and remove malware from the website.
The Sitelock essential plan allows you to run unlimited scans.
Provides a Web Application Firewall (WAF).
Grows trust among visitors with Sitelock seal.
DDoS protection is provided with the Sitelock Prevent and PreventPlus plans.
Cons of Sitelock:
Sitelock is an addon service and you have to pay additional charges for it.
The price seems expensive when compared with the features.
Few customers have a bad experience with Sitelock customer service.
Is Bluehost Sitelock worth it?
Based on all the researched details, it is evident that you don't need the Bluehost Sitelock Security addon to keep your website safe. Instead, you can use the free alternatives that perform efficiently.
Initially, when you sign up with Bluehost, you might get tempted to opt for the Sitelock security feature, because who doesn't want to invest in website protection? But the most important aspect is to understand the features you are entitled to and at what cost! The Sitelock addon is marketed well and most of the webmasters fall for this upsell, however, it is crucial to make an informed decision.
If you have highly structured and coherent alternatives that can scan your website and protect it, why would you invest in a paid feature?
Activate BlueHost Discount (67% OFF)

If you want to add up to the information given in this review or if you want to share your experience about the Sitelock feature provided by Bluehost, you can mention your views in the comments.