If you are running a video streaming website or perhaps a seedbox, it's important to get a cheap 10gbps dedicated server for your needs.
A dedicated server with an isolated environment is all that you need to fulfil all your traffic requests.
As the bandwidth port is dedicated, you get the entire bandwidth for yourself.
With that being said, let's look at some of the best 10gbps dedicated servers. We will first see the cheapest yet reliable providers and then we will head over to the unmetered bandwidth providers.
3 Cheap 10gbps dedicated servers
These are the 3 cheapest providers. Don't worry, even if the price is cheap, they are fully reliable and offer a premium experience.
1. Vultr
Vultr's bare metal server has single-tenant non-virtualized hardware with the high-performance cloud. They have various plans to choose from.
It comes with a burstable 10gbps network connection. For some plans, they also have up to 25 Gbps network. So, if you are looking for a high-speed network, you should surely check out Vultr.
You will have low latency as well as high-speed throughput. As they already have a lot of data centers, users from all the locations will get a better loading speed. There are a total of 25 data centers. So, you will always have plenty of options to host your data.
The server is dedicated. So, no noisy neighbours are stealing your resources. You will get 100% dedicated performance on all the resources.
The total bandwidth is calculated on inbound or outbound traffic, whichever is highest. So, if your outgoing traffic is more than your incoming traffic, your outgoing bandwidth is calculated.
You can also use the Vultr direct connect. It's a feature to connect Vultr to other cloud services and colocation/on-premise data centers. There is no virtualization layer. Therefore, you will get direct access to the hardware.
Starting price: $120 a month

Specs
Bandwidth: 5 to 25 TB with 10 to 25 Gbps network
CPU: 4 to 64 cores (Intel, AMD, and Nvidia)
RAM: 32 to 2048 GB
Storage: 2×240 to 480 GB SSD and 2×1.9 to 12×6.4 TB NVMe
Server locations: Americas (Canada, Mexico, Brazil, and 9 centers in the US), Europe (Sweden, Netherland, Germany, France, Poland, Spain, and the UK), Asia (Japan, South Korea, India, and Singapore), and Australia (2 centers).
Visit Vultr

2. A2Hosting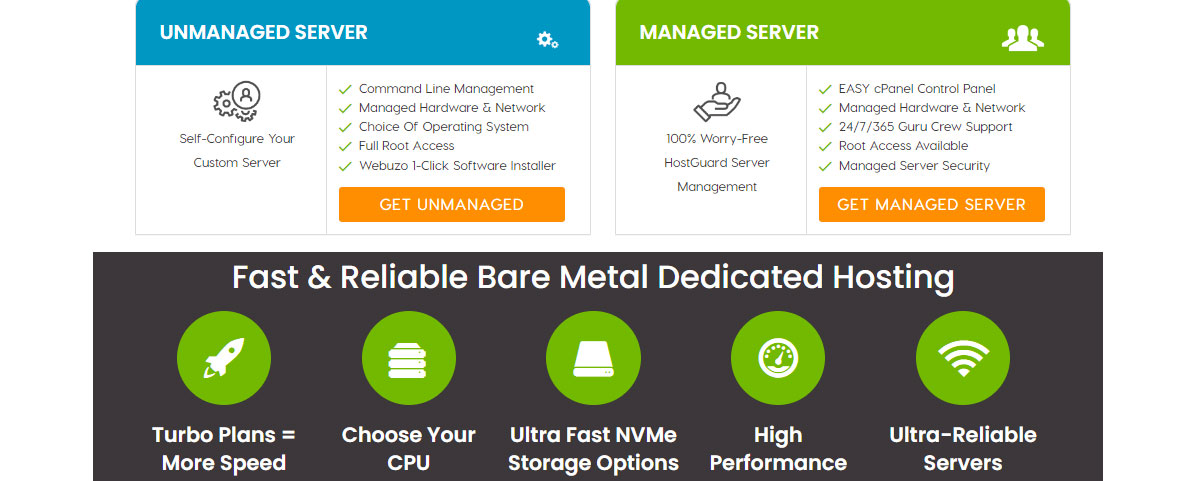 A2Hosting is very much popular for its speed and support. Therefore, it's included in our list of the cheapest dedicated servers with a 10gbps port. As you might have guessed, they have a 10gbps redundant network for all its data centers.
Their last few plans have the turbo mode. The turbo mode is capable of handling up to 9x more traffic. So, if you have traffic spikes and don't want to worry about the bandwidth, the turbo mode will always help you.
If you want to go with the cheap plan, you can choose unmanaged hosting. If you don't want to handle the commands, you can also choose their managed hosting package. The unmanaged server also includes a "Webuzo" software installer. Therefore, the unmanaged server is also good for beginners.
They use bare metal dedicated servers and offer 99.9% uptime. Overall, it's a great choice to go with. To make things clear, you will find the bandwidth usage under the "transfer" section.
The best thing about A2Hosting is the clear specs. You will know exactly which CPU your plan has. They also have a 30-day money-back guarantee.
Starting price: $110 per month (for the annual billing cycle)
Note: If you go with a 24-month billing cycle, it will cost you less. The renewal price is slightly higher at $189.99 per month for the annual plan.
Specs
Bandwidth: 6 to 15 TB with 10gbps network
CPU: 1 to 10 cores (includes Turbo CPU from Intel and AMD)
RAM: 16 to 128 GB DDR4 EEC
Storage: 2×1 TB (SSD or NVMe)
Server locations: USA (Michigan and Arizona), EU (Amsterdam), and Asia (Singapore)
Visit A2Hosting

3. Contabo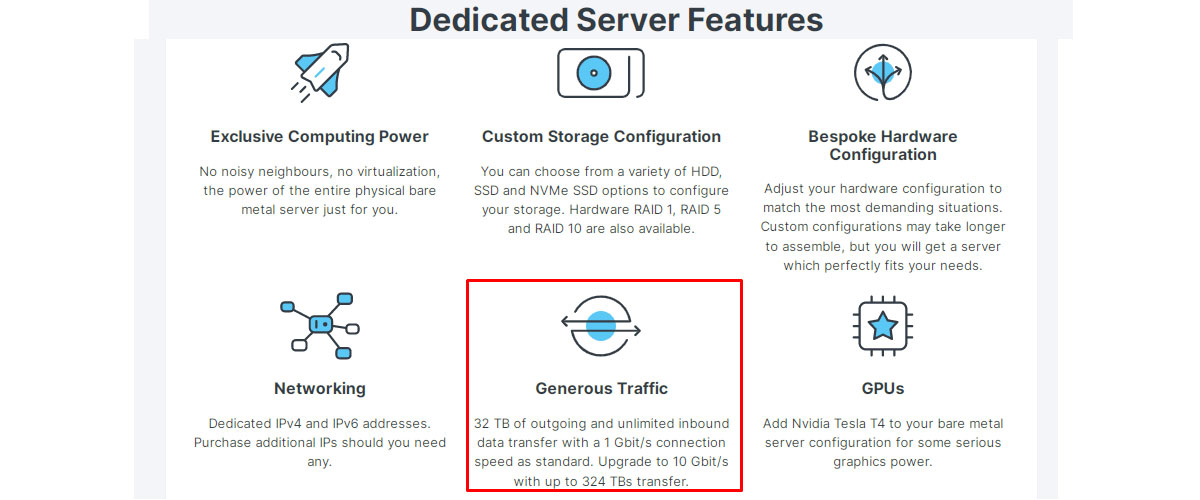 Contabo is known for providing better resources at a very affordable price.
It offers unlimited inbound data transfer. For outgoing traffic, the default limit is 32 TB. You can upgrade the traffic limit with an add-on. The upper limit is huge. You can get the add-on for up to 324 TBs transfer which is as good as unlimited.
The same goes with the bandwidth speed. By default, it offers a 1 Gbps port speed. However, you can surely add the 10gbps as an addon. The price is still cheap.
You can always configure the server and add the resources as per your need. So, the base cost is cheap but it will increase when you add the extra resources.
Further, you can have a private network and link the servers with Contabo's standard hardware. Talking about hardware, they use AMD and HP hardware. The customization makes it easier for you to add more resources. It will also increase the price based on what you select.
Starting price: $287.97per month ($129.99 setup fee for 10gbps port)
Note: The "starting" price in the plans isn't the final price. It doesn't include the 10gbps port and neither does it includes storage. So, you will have to pay for them aswell when you go to the configuration page.
Specs
Bandwidth: 32 to 324 TB
CPU: 10 to 32 cores (Intel and AMD)
RAM: 256 GB to 2 TB REG ECC
Storage: 500 GB to 12 TB (HDD, SSD, or NVMe)
Server locations: Europe (Germany), Asia (Singapore), and the US (West, East, and Central)
Visit Contabo

3 "Unmetered" 10gbps dedicated servers
Now, we will have a look at some unmetered 10gbps dedicated servers. It will cost you a bit more but you don't need to worry about the incoming and outgoing traffic.
4. Interserver
Interserver is one of the hosting providers offering unmetered bandwidth. The provider offers full customization on the servers. You can select bandwidth, storage, etc.
They have multiple bandwidth options to go with. By default, the plan comes with 150 TB of limited bandwidth with a 1 Gbps port. You can increase the traffic capacity and also set it to unmetered. In the same way, you can also increase the port speed. They offer up to 100 Gbps port with unmetered bandwidth.
The IPv4 has 5-256 IPs working on a dedicated port. Therefore, you will get a premium network. The provider uses premium ISPs. Additionally, they have server monitoring as well.
Further, you can always have your preferred operating system including Windows. The server is fully customizable. After you configure the server, there is a verification process to ensure the compatibility of the resources.
Starting price: $44 ($844 per month for unmetered bandwidth).
Specs
Bandwidth: 150 TB to unmetered from 1 Gbps to 100 Gbps port speed
CPU: 1×4 to 2×52 (Intel and AMD)
RAM: 32 to 1048 GB
Storage: 2 to 14 TB (SATA, SSD, or NVMe)
Server locations: 4 in Secaucus, New Jersey, and 1 in Los Angeles, California
Visit Interserver

5. Clouvider
Clouvider is a great hosting service to go for. They have unique affordable plans for unmetered bandwidth.
Their plans either include unmetered bandwidth or you can have the limited bandwidth at a specific speed. For instance, the base plan has 50 TB up to 10 Gbit/s unmetered Bandwidth. If you go with this type of plan, it will cost you less.
This can be a little bit confusing for the newbies. So, if you want to have "unmetered" bandwidth, you need to go with the one that doesn't have a traffic limit.
You will get dedicated bandwidth. The best thing about Clouvider is that you will get many plans that you can choose from. They have the cheapest plan for someone who just wants to get started and they also have expensive plans that have some of the best resources.
It has 9 Tbit/s and an MPLE TE core network for premium speed. With that being said, they also provide 100% SLA.
Not only do they have plenty of plans but you can also customize each plan as per your wish. It's an unmanaged server with full root access. You will also get incredible support for any kind of request you might have.
Starting price: $111.98 ($627.83 for unmetered bandwidth).
Specs
Bandwidth: 50 TB to unmetered from 10gbps to 20 Gbps port speed
CPU: 2 to 2×10 (Intel and HP)
RAM: 128 GB to 1 TB DDR4 ECC RAM
Storage: 512 GB to 960GB (SSD and NVMe, up to 10 slots)
Server locations: UK (3 in London, 1 in Manchester), EU (Amsterdam and Frankfurt), and US (Los Angeles, Atlanta, Ashburn, Dallas, Phoenix, and 2 in New York).
Visit Clouvider

6. Black.host
Black.host is known for the privacy of the users. So, if you are looking for privacy-focused hosting, it's a great choice to go with.
Even the base plan of 10gbps port speed comes with unmetered traffic. They have a few plans and when you go with the dedicated server plans, you won't get to select the RAM, storage, etc.
To have a custom configuration, you will have to head over to the "Custom dedicated server" page and ask for the pricing. It's not automated pricing.
It has military-grade storage protection. They also have a "no matter what" guarantee that protects your data from any kind of physical damage.
The provider's dedicated server plans start from 1 Gbps and go up to 100 Gbps. Here, we will focus on 10gbps uplink. They have IPv6 capability. You can also go with the monthly plan instead of going with the yearly. Therefore, there are no contracts.
Starting price: $499 for unmetered bandwidth.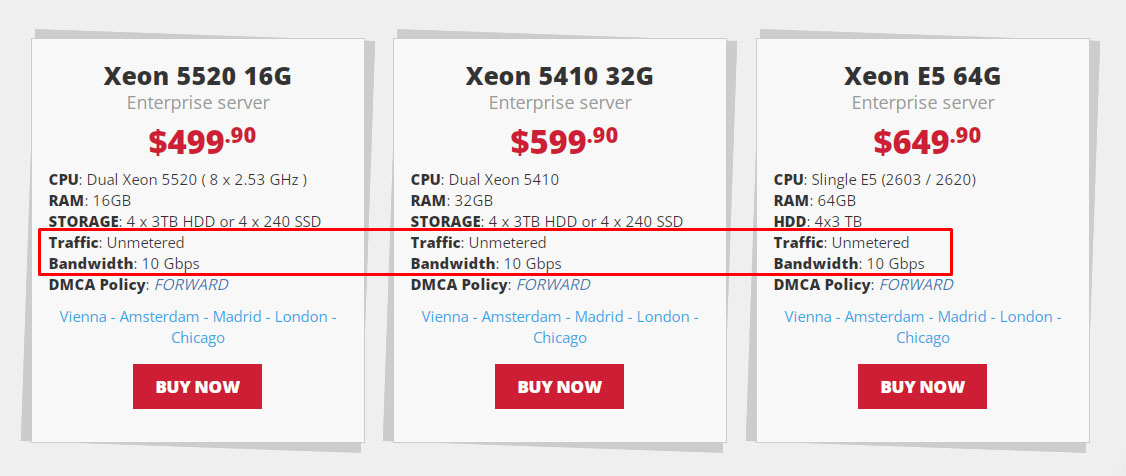 Specs
Bandwidth:
CPU: 2 to 2×10 (Intel and HP)
RAM: 128 GB to 1 TB DDR4 ECC RAM
Storage: 512 GB to 960GB (SSD and NVMe, up to 10 slots)
Server locations: UK (3 in London, 1 in Manchester), EU (Amsterdam and Frankfurt), and US (Los Angeles, Atlanta, Ashburn, Dallas, Phoenix, and 2 in New York).
Visit Black.host

Buying guide for 10gbps dedicated servers
Here are a few things to keep in mind when you are planning to buy the dedicated server with a 10gbps uplink.
Connection Speed
You need to know the connection speed that is provided. Many plans have different speeds. For instance, if you go with a 10gbps provider, there could be plans with just 1 Gbps. Therefore, you should always check the speed.
Additionally, you want to make short that the bandwidth port is not shared.
Bandwidth / Traffic amount
You need to see the bandwidth or traffic amount. Usually, the traffic is calculated as a combination of outgoing and incoming. However, some networks have different incoming limits and outgoing limits. In this way, you can always set the traffic amount.
Server Resources
You don't just need to see the server resources but you also need to see if they are dedicated or shared. Further, you can always see if it's possible to add a specific extra resource. For example, whether the provider allows you to add more bandwidth, storage, or RAM to your current server.
Pricing
Lastly, you should never forget to see the pricing. The dedicated servers have the same renewal price. However, it's always great to check the renewal price especially if they are offering a massive discount.
Conclusion
You can always choose any of the above given cheap 10gbps dedicated hosting providers.
If you are still confused about choosing the right dedicated server, here are the best choices depending on your needs.
Best Price: A2Hosting
Best Specs: Vultr
Best for Unmetered bandwidth: Black.host
You can surely go with any of these hosting services. Choosing a great hosting provider should depend on your requirements. So, you should always check out the configuration and match it with your requirements.
FAQs
What is an unmetered dedicated server?
Unmetered bandwidth means that there is no limit on monthly bandwidth usage. However, there is a fair use policy that states how you can use the bandwidth.
Why use 10gbps dedicated servers?
A 10gbps dedicated uplink will give you a huge downloading and uploading speed to your users. Further, as it's a dedicated server, you don't need to worry about other users stealing your bandwidth.
What are the advantages of a 10gbps dedicated server?
Your website won't face slow-loading times even when there is a huge traffic spike. It will also increase the speed. The video streaming will work flawlessly even if many people are watching it.