Are you looking for a cheap Windows VPS in Singapore?
Has your website outgrown shared hosting? It is time to switch to a VPS! It would help if you had more processing power and access to custom resources. VPS supports traffic hikes and provides your business room to grow.
Here is a handpicked list of the best web hosting services in Singapore that will make your decision easy.
7 Cheap Windows VPS Singapore
The following hosting selection includes both managed and unmanaged VPS providers.
1. OVHcloud

OVHcloud Singapore VPS hosting offers a customizable VPS server and scalable resources that meet your needs. Windows server provides a resilient structure as well as flexibility.
The Windows VPS solutions meet varying business needs as you can scale up the server and resources to suit your growing needs. Located and hosted in Singapore, OVHcloud ensures low latency and minimum downtime for users. This VPS hosting platform provides complete security in the form of DDoS protection.
All the hardware resources are at your disposal for hosting websites and applications.
OVHcloud is used for Minecraft, a scalable hosting solution for gamers. You can also effortlessly launch and manage your ideal WordPress setup in the cloud and deploy a flexible virtual sandbox for speeding up the path from conceptualization to production.
Priced at $7.36 per month, the basic plan at OVHcloud is ideal for website growth.
Technical Specifications
CPU: 1 vCore – 8 vCore
Memory: 2 GB – 32 GB
Bandwidth: 250 Mbps – 2 Gbps unmetered
Storage: 40 GB – 640 GB SSD NVMe
SLA: 99.9%
Automated backups: Included with all plans
Windows Licenses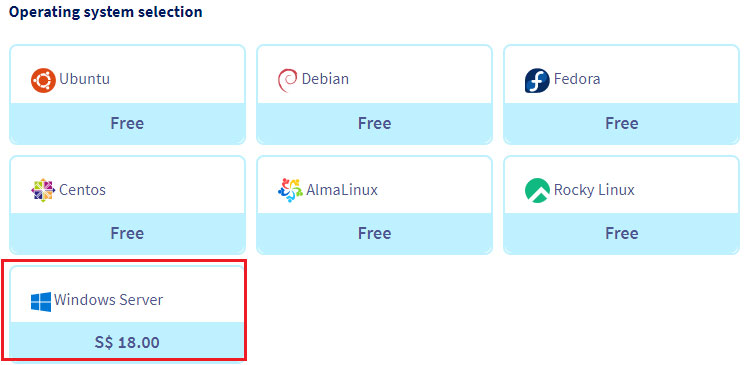 OVHcloud VPS Singapore supports Windows 2016 and Windows 2019 as a standard edition. Windows licensing price at OVHcloud is $18.00.
Visit OVHcloud

2. Contabo

The Top 10 Windows Hosting 2022 award recognizes Contabo as one of Singapore's best Windows VPS hosts. It combines performance with affordable pricing, enabling users to host their Windows server with more control and flexibility.
This managed VPS hosting provides a dedicated environment optimized for Windows.
The servers are tested against different Windows Server distributions to ensure high performance and compatibility. One of the best things about Contabo Singapore VPS hosting is that it supports multiple Windows distributions.
Additionally, there are different Windows server configurations to choose from and even custom solutions for resource-intensive Windows applications.
With a data center in Singapore, Contabo ensures high uptime and interrupted server connection to users. They also offer custom ISO, making Windows desktop installation and deployment easier and faster.
The starting price for Contabo Windows VPS hosting is $6.99/month for the Singapore server location. Additionally, you may require a one-time setup fee of $6.99. The plan price does not include the Windows license cost.
Technical Specifications
CPU: 4 vCores – 10 vCores
Memory: 8 GB – 60 GB
Bandwidth: 32 TB (unlimited incoming)
Storage: 50 GB – 400 GB NVMe
Windows Licenses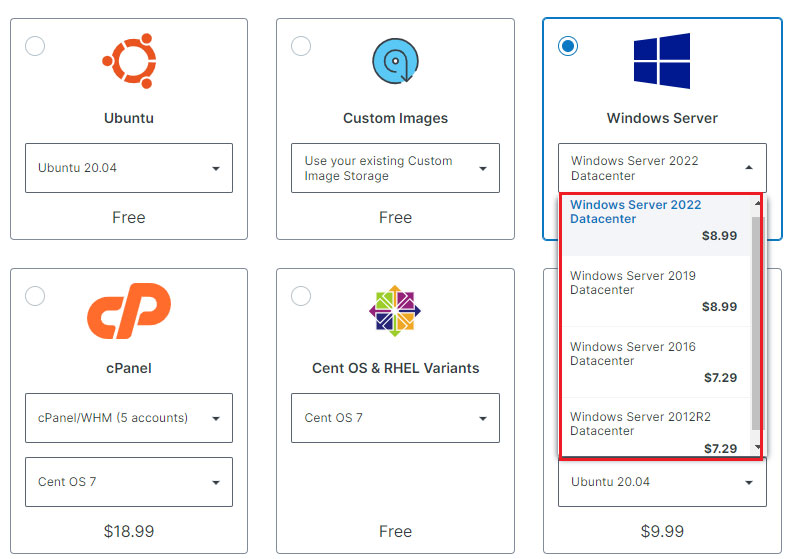 Contabo supports various Windows distributions, including Windows Server 2012R2, Windows Server 2016, Windows Server 2019, and Windows Server 2022. The starting licensing price is $7.29.
Visit Contabo

3. Shinjiru

Shinjiru offers Windows VPS hosting solutions, with delivery locations in Malaysia. It does not have a data center in Singapore but ensures high uptime. They provide offshore VPS packages powered by high-performance servers and 24/7 customer support.
The KVM Windows VPS packages and RDP ensure automated delivery.
It allows adding Litespeed Cache technology that loads the website at lightning speed. It supports Windows OS up to 2016. The Windows VPS packages are unmanaged; however, you can purchase managed services at an additional cost.
For improved performance of your VPS hosting plan, you can integrate other addons like up to 100 GB of data backup protection, anti-hacking protection, and DDoS protection.
Shinjiru Windows VPS hosting plans start as low as $16.90 monthly. These are standard KVM Windows packages with RDP.
Technical Specification
CPU: 2 VCPU – 4 VCPU
Memory: 2 GB – 100 GB
Bandwidth: 1 Gbps (unmetered bandwidth)
Storage: 50 GB – 100 GB SSD Storage
Windows Licenses
Shinjiru supports the distribution of Windows 2012R2 (for virtual desktop), Windows 2008 64bit, Windows 2012 64bit, and Windows 2016 64bit.
Visit Shinjiru

4. Vultr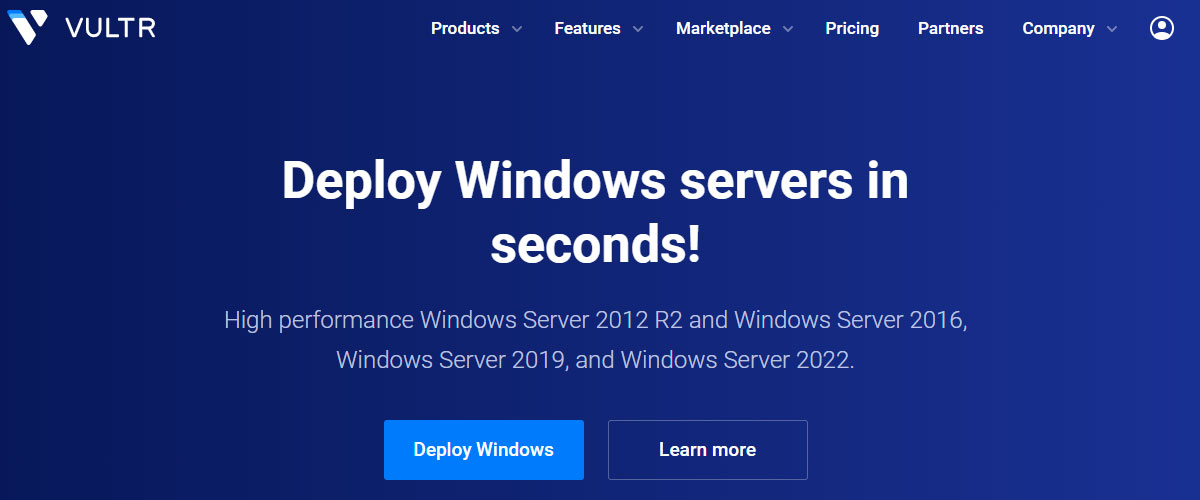 Vultr is an affordable Windows VPS hosting in Singapore that lets you deploy your Windows server in seconds. Its cloud-based VPS servers are powered by Windows, offering a wide range of features such as IIS, Active Directory, Server Manager, etc.
The advanced firewall system is impressive and helps lock down server locations.
One of the best things about Vultr is that it supports several versions of Windows, helping you host your website on any preferred server. Depending on your unique hosting needs, it also allows you to upload your custom ISO for Windows.
There are multiple plans to choose from, varying in storage spaces, CPU, memory, and bandwidth.
Vultr has a server location in Singapore and also provides you with the option to test the loading speed at that location.
The pricing is affordable, starting at $10/month, excluding Windows licensing and add-ons.
Technical Specifications
CPU: 1 CPU – 24 VCPU
Memory: 2 GB – 96 GB
Bandwidth: 2 TB – 15 TB
Storage: 55 GB – 1600 GB SSD Storage
Windows Licensing
The Windows versions available include Windows Core Standard 2022 x 64, 2019 x 64, and 2016 x 64. The Windows Standard version includes 2022 x 64, 2019 x 64, 2016 x 64, 2012 R2 x 64. The cost of the licenses is $14 per month.
Visit Vultr

5. AccuWebHosting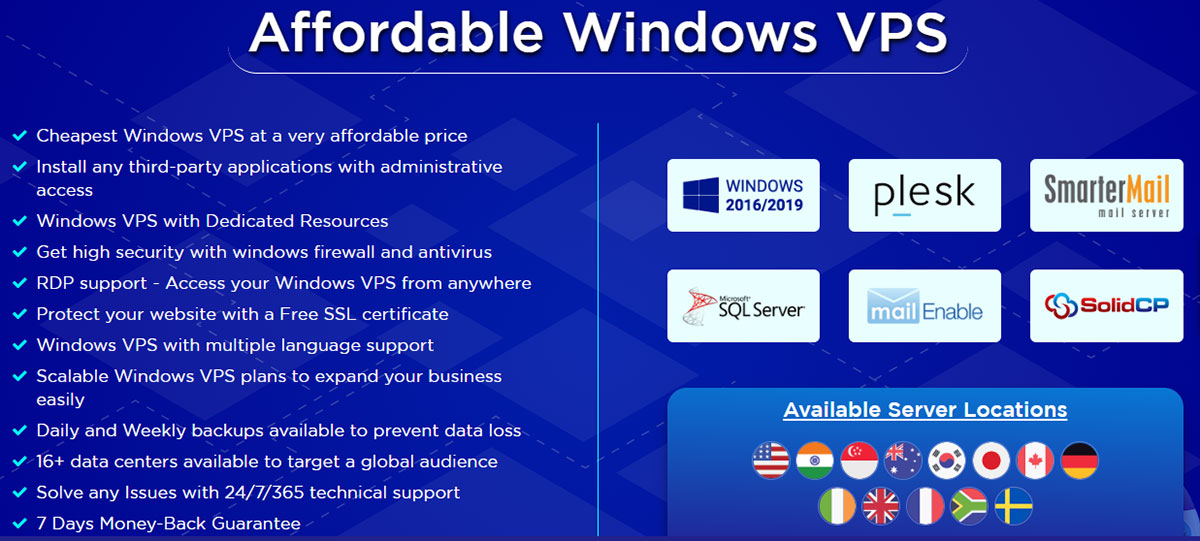 If you are looking for a high-performance Windows VPS in Singapore with dedicated resources and affordable pricing, then AccuWebHosting is a good choice. The hosting provider offers scalable Windows VPS plans that help meet your growing business needs.
It has both self-managed and fully-managed VPS solutions for Windows, with the option of an easy upgrade to a better plan with minimal dropdown.
Multiple Windows versions are supported and provide RDP support, allowing you to access your Windows VPS from anywhere. They have a data center in Singapore, ensuring fast loading time and minimum user downtime.
Self-Managed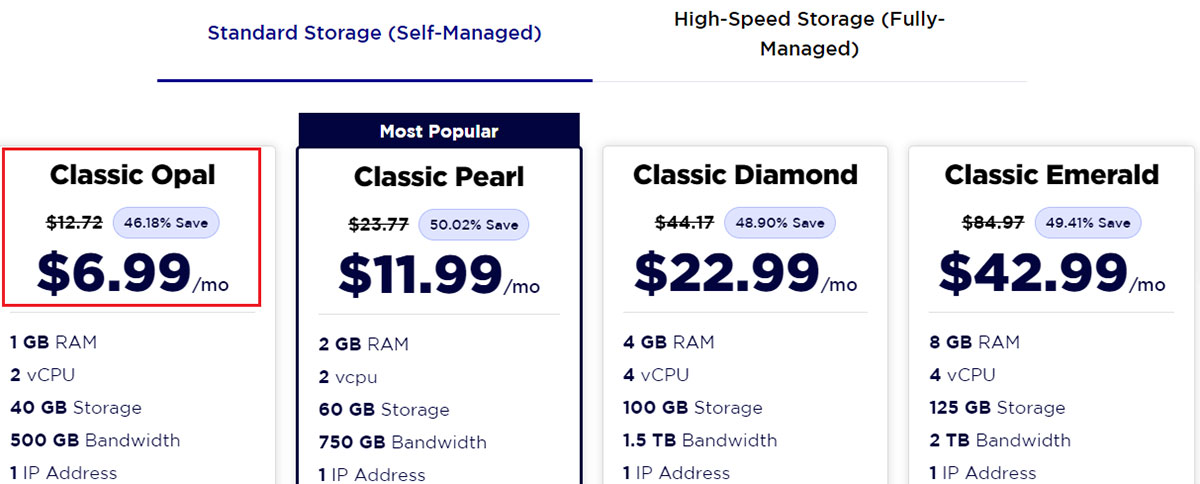 Fully-Managed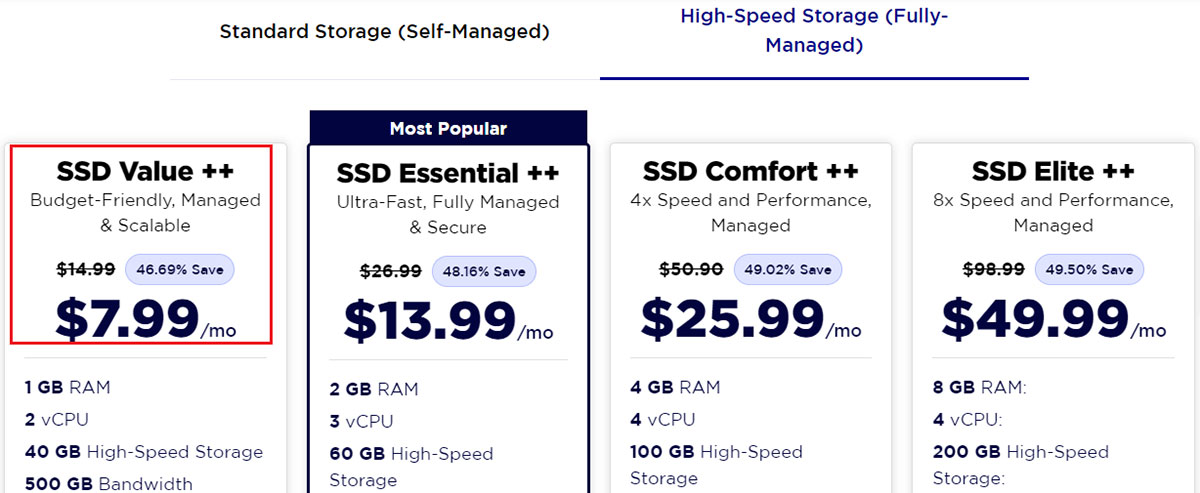 If you opt for a self-managed Windows VPS, the price starts at $6.99 per month, and if you opt for a fully-managed VPS, the price starts at $7.99 per month.
Technical Specifications
RAM: 1 GB – 8 GB (Self-Managed)
vCPU: 2 vCPU – 4 vCPU (Self-Managed)
Bandwidth: 500 GB – 2 TB (Self-Managed)
CPU: 1 vCPU – 2 vCPU (self-managed); 2 vCPU – 4 vCPU (fully managed)
Memory: 1 GB – 8 GB (self-managed); 1 GB – 8 GB (fully managed)
Bandwidth: 1 TB – 2.5 TB (self-managed); 500 GB – 2 TB (fully managed)
Storage: 40 GB – 160 GB (self-managed); 40 GB – 200 GB SSD Storage (fully managed)
Windows Licenses
AccuWebHosting provides the license for Windows Server 2012.
Visit AccuWebHosting

6. UpCloud
UpCloud is a European-based cloud service provider that offers one of the fastest Windows VPS servers with 100% uptime SLA. It has a data center in Singapore. With VPS, you can customize the hosting environment according to your hosting needs.
Cloud servers ensure you have on-demand availability of resources, including computational capacity and data storage, but without the requirement to manage the server hardware directly.
You can choose the Simple plan for pre-set configuration options at a fixed monthly cost. And where you want to allocate resources freely, pick a Flexible plan. The cost of the basic Simple plan is $5 / month.
Technical Specifications
CPU: 1 CPU – 20 CPU
Memory: 1 GB – 128 GB
Bandwidth: 1 TB – 24 TB
Storage: 25 GB – 2048 GB
Windows Licenses
UpCloud provides the options to host your Windows applications for Datacenter and Standard Windows Server versions, including Windows Server 2016/2019 per CPU core. The starting price for Windows licensing is $5.00/month.
Visit UpCloud

7. MilesWeb

MilesWeb's Windows VPS hosting in Singapore is ideal for resource-intensive and critical applications that require dedicated resources. You enjoy complete control of the server while having RDP access and your choice of the control panel.
The managed hosting plans are deployed on the Amazon Cloud Platform with built-in SSD storage for improved reliability and performance.
As a Windows VPS user, you get access to dedicated resources while having the advantage of affordable pricing. It has a data center in Singapore.
The fully-managed Windows VPS plans, powered by AWS, start at just $18/month.
Technical Specifications
CPU: 2 vCPU – 12 vCPU
Memory: 2 GB – 24 GB
Bandwidth: 500 GB – 2000 GB
Storage: 50 GB – 300 GB SSD Disk
Windows Licenses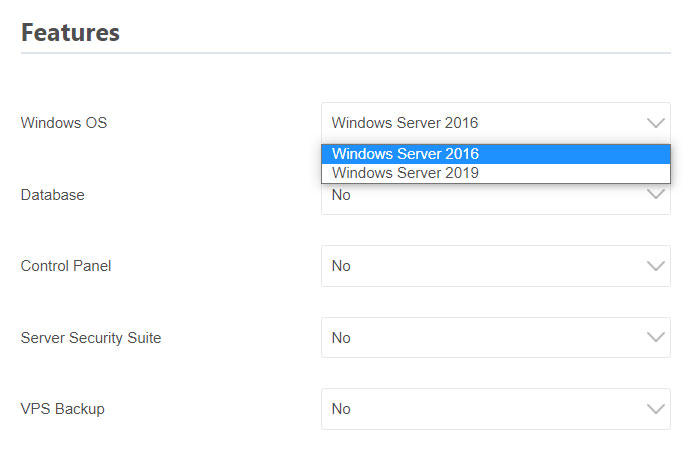 MilesWeb offers Windows Server 2016 and 2019 editions.
Visit MilesWeb

Buying Guide for Singapore VPS
Here are valuable insights on buying Singapore VPS:
Data Center Location
For faster website loading speed and minimum downtime, choose a VPS hosting provider with a data center near the target audience's location. For instance, if your audience is in Singapore, having a server in any other location won't work for you.
Operating System
The VPS plan must support Windows. There may be other operating systems but compare only the Windows VPS plans.
Prices
If you have a small website that is seeing a steady growth in traffic, pick VPS plans that are high performance, customizable and affordable. Dedicated hosting or expensive web hosting does not make sense here. Also, check if the Windows licensing and renewal prices are within your budget.
Customer Support
Ensure they provide round-the-clock support to match your time zone. Additionally, the team should have in-depth knowledge of Windows VPS and promptly provide you with the technical help you need.
Conclusion
Contabo and Vultr are the winners among the top 7 cheap Windows VPS Singapore list. They combine superior performance, access to more dedicated resources, excellent Windows licensing, and affordable pricing.
A quick look at the best VPS providers:
Best For Windows Licenses Choices: Contabo
Best For Price: Vultr
Best For Performance: AccuWebHosting
Frequently Asked Questions
What is VPS Singapore?
A Virtual Private Server (VPS) combines the performance and reliability of a dedicated server but at a much more affordable price. Additionally, it does not involve managing the server's physical hardware. A VPS Singapore means the virtual private server is located in Singapore.
How can I buy a cheap Singapore VPS Singapore?
You can buy a cheap Singapore VPS by comparing the web hosts on various factors like pricing, specifications, customer support, and security. You can buy a suitable VPS from the web hosts discussed in this review.
Does VPS Singapore have a higher quality than a regular VPS?
Yes, VPS Singapore offers better quality than a regular VPS because many of these hosting solutions are supported by KVM technology for excellent resource allocation. Additionally, the SSD or NVMe architecture of VPS Singapore also ensures high-quality performance.
If you have suggestions about the web hosts mentioned in this review, mention them in the comments section.