Are you searching for the nearest Contabo server location for a faster website? If yes, you are in luck! Contabo offers multiple server locations around the globe for your convenience.
Here I'll be covering all the Contabo server locations in different continents. You will get to know about the prices of Contabo servers and their speed. In the end, I'll also be answering the frequently raised queries about the Contabo datacenters locations.
Let's begin with the locations of Contabo servers in our next segment.
Where are Contabo servers located?
The company has strategically placed its servers in several key regions worldwide for global availability. Here is a continent-wise list of Contabo server locations:
Europe
Germany (5 data centers here including Frankfurt, Munich, Nuremberg)
United Kingdom (Portsmouth, England)
Americas
US East – New York City
US West – Seattle
US Central – St. Louis
Asia
So in total, Contabo has servers in 4 countries which sum up to 10 data centers across all continents.
Prices of Contabo Servers
The host will charge you depending on the Contabo server location you choose. The location of Germany in the European Union comes free of cost while there is a small charge for every other location.
Also, the host provides different data center options in different hosting types. So you might not get the same choice of server location when selecting a shared hosting plan as you will receive on choosing a VPS.
Let's find out the Contabo server locations available with different types of hosting plans along with their respective costs here:
 
Shared Hosting
Virtual Private Server (VPS)
Virtual Dedicated Server (VDS)
Storage VPS
Dedicated Server
Europe
Germany (free)
Germany (free)

UK ($1.25)

Germany (free)

UK ($8.50)

Germany (free)
Germany (free)
Americas
Not available
US Central ($1.25)

US East ($1.75)

US West ($1.50)

US Central ($8.50)

US East ($10.50)

US West ($9.50)

Not available
Not available
Asia
Not available
Singapore ($3.00 + setup fee of $6.99)
Singapore ($15.75 + setup fee of $24.99)
Not available
Not available
Here is a screenshot of the data center regions available with Contabo VPS on the Checkout page:
NOTE: These Contabo server location costs are over and above the monthly base price of the Contabo plan you purchase. So please keep this in mind when calculating your overall monthly budget.
How fast are Contabo Data Centers?
You can easily check the speed offered by different Contabo data centers at your specific location. Consider visiting Speedtest by Ookla to receive reliable latency and data transfer tests for any of Contabo's data centers.
Search for Contabo on the above website and turn the speed test to determine the speeds for download, upload, and ping for the chosen data center.
For instance, here is a screenshot showing latency for different regions in the US: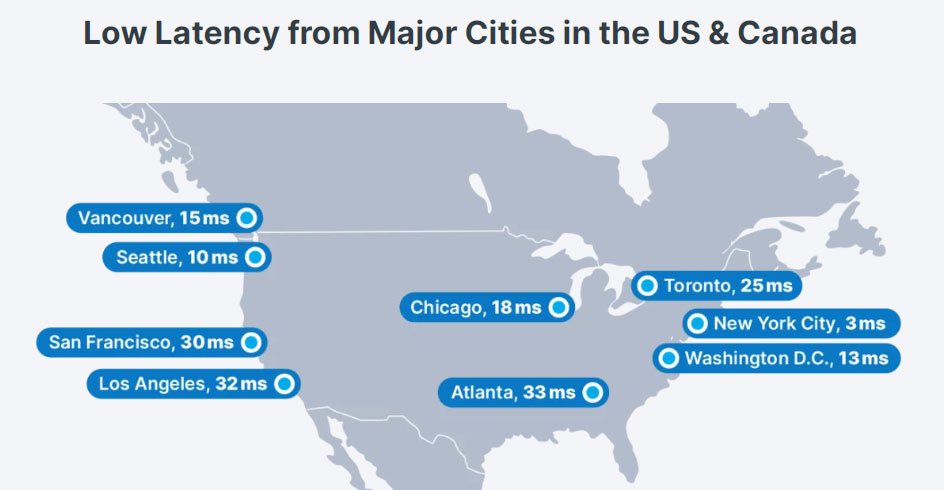 The above picture is taken from the official Contabo website just to make you aware of the ping times. You will get more detailed results with the Speedtest by Ookla tool.
Customer Reviews on Contabo Server Locations
Now that you know the data center locations available with the host, let's check out some reviews about Contabo server location from its customers: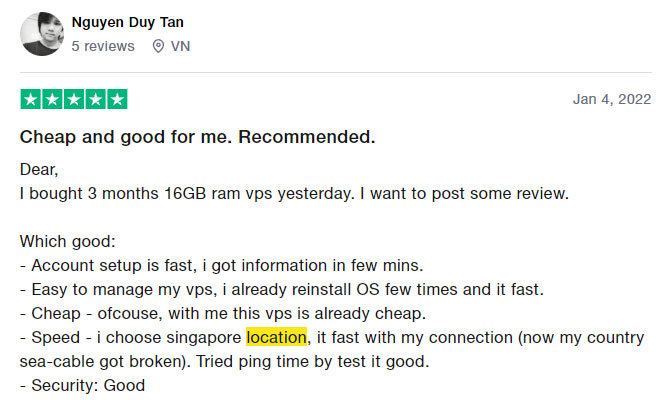 The above screenshot from Trustpilot shows a satisfied Contabo customer. The client receives good speed from the host's Singapore-located server.
The availability of a good server location is one of the reasons to choose Contabo for the customer above.
Here is another Contabo customer who migrated his server from one location to another. The client seems satisfied with the support provided by Contabo during the shifting process.
Conclusion on Contabo Server Locations
There are several Contabo server locations around the globe. The hosting provider covers the maximum region worldwide by placing its servers in the key areas around the globe.
Additionally, Contabo constantly makes additions to its infrastructure to improve its services for a wider range of people. So you can expect more Contabo data centers in new locations in the future.
FAQ
Can I change my Contabo server's location?
Yes, it is possible to change your Contabo server location at any time. The host allows you to migrate your website to a different server only if you have a Virtual Dedicated Server or Virtual Private Server without additional SSDs.
You can request such a change in Contabo server location from your control panel itself under the "Your Services" tab.
Is Contabo a cloud?
Contabo is a cloud-server provider offering varied hosting types to meet the needs of different website owners. You can purchase a virtual, dedicated, or storage cloud server from the host.
Why is Contabo cheap?
Contabo is cheap because of its unified hardware platform all over its data centers across the globe. The host is capable of getting bigger discounts on its purchases which it passes on to its customers. That is why Contabo is cheap.