Are you searching for InMotion hosting server locations? Do you want to know where InMotion's data centers are located? If yes, you'll be glad to know that here I'll be answering all your InMotion data center-related queries.
Along with covering the InMotion hosting server locations, you'll also learn about the features of these locations. Additionally, I'll throw some light on choosing the best InMotion data center location for your website.
Let's start by addressing the main question in our next section.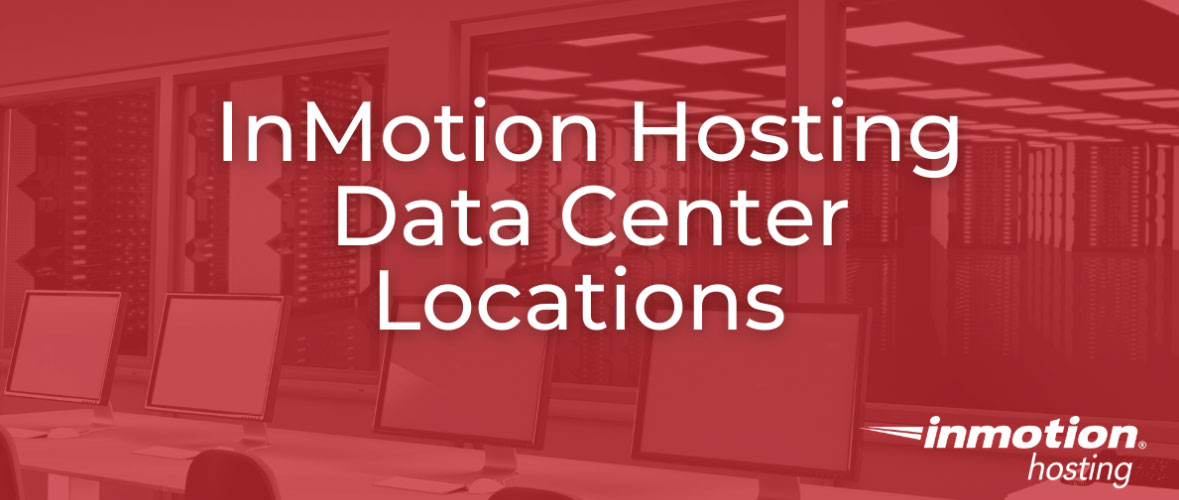 Where are InMotion hosting server locations?
InMotion has data centers only in the USA from where the host serves all its customers around the globe.
1. West Coast, US
InMotion has a data center in Los Angeles, California located on the west coast of the nation. The host ensures reliable performance for worldwide users of this server location because of its highly-advanced network infrastructure.
NOTE: You will experience the lowest latency only when using this InMotion server in the Pacific region.
Here's a picture of a hallway in the West Coast data center of InMotion:
2. East Coast, US
Another data center of InMotion lies in Ashburn, Virginia located on the east coast of the nation. Because of server-side optimization and the use of advanced fiber optic technology, you will experience high performance, no matter where you are located.
NOTE: The server users in the Atlantic region will observe the lowest latencies when connected to this InMotion server.
How to choose InMotion server locations?
InMotion does not provide you with an option to choose your preferred server location during the initial sign-up. The host randomly selects a data center for your website, so you don't get to select the coast.
Since the InMotion hosting server location is randomly selected for your account, you won't know the data center associated with your website.
But you can determine your server location from your InMotion account.
Look for Account Technical Details in your Account Management Panel. Then, find your server name here. If it starts with the letters "ec", your website is hosted on the InMotion server located on the East Coast of the US.
In any other case, your account is linked to the West Coast server.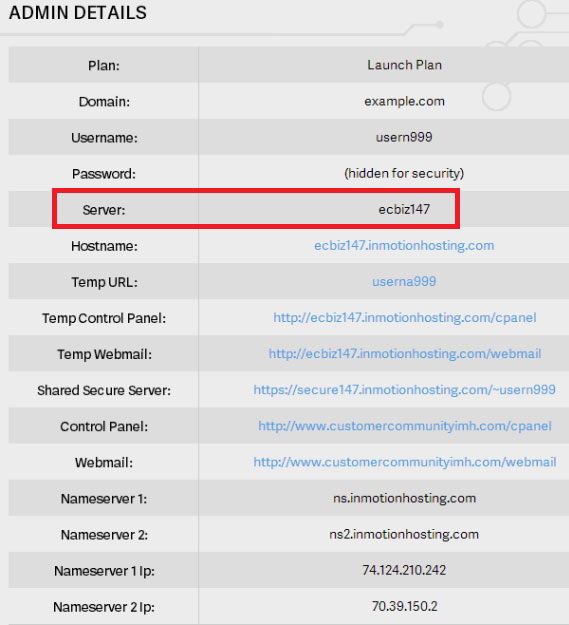 Once you are aware of the coast your website server is located, you can consider an account migration. Yes, InMotion does not allow choosing your server location initially but it is possible to change it later!
Is it possible to change InMotion DataCenter Location?
The host accepts migration requests through its technical support team. So if you want to host your website from a specific region, submit a verified ticket request. InMotion's customer care team will do the needful.
NOTE: If your InMotion account has multiple websites, all of them will be moved to the new server location. The host does not have a provision to migrate a single website but the whole account to your preferred data center location. So, you must consider this before requesting any server migration.
Here's a comment thread on the official InMotion website that discusses the server migration:
5 Features of InMotion Data Centers
Both InMotion data centers are PCI compliant. So you can be sure of hosting your website at a secure place when choosing InMotion hosting.
Let's look at the other features of InMotion data centers here:
1. Environment-friendly data centers
InMotion is the first host to open a green data center in Los Angeles. The host utilizes 70% less power for cooling its servers by using Advanced air cooling technology.
So InMotion data centers leave much less carbon footprint than the environmental impact left by its competitors.
2. Physical security
InMotion ensures controlled access for its servers. Its data centers are secured by locked vaults and hand scanners. The host also has armed guards to protect the server area.
3. Redundancy
InMotion utilizes N+1 power systems on servers with RAID 5 technology for full redundancy. The host has multiple power sources and battery backups available to keep your website online at all times.
4. Reliability
The host has servers in Category A data centers. Their server network uses Unix and Linux operating systems for added reliability.
Additionally, InMotion servers link to the Border Gateway Protocol 4  (BGP4) network and 4 Tier 1 Internet Service Providers (ISPs). It ensures website availability and high uptime even in the case of a natural disaster.
5. High performing
InMotion data centers are built upon powerful UltraStack technology. Additionally, the host performs automated software deployment and management.
The use of advanced technology results in high-performing, faster websites for InMotion customers.
InMotion Data Centers – Customer Reviews
Let's look at the reviews from InMotion customers to know their experiences with the host's server locations:
Final Words
InMotion offers data centers only in the US locations but it is an excellent host. It owns the equipment in its data centers and operates them super-efficiently.
Lastly, if you are looking for one or multiple data center locations outside of the US, you can go for a Content Delivery Network (CDN). Connect your website to a free CDN like Cloudflare and you will be able to deliver faster load times to your website visitors worldwide.
A CDN is also beneficial for websites receiving traffic from more than one region. So when you are located in the US but your website receives traffic from other parts of the world in addition to the US, I'd recommend using a CDN for better website performance.
FAQ
Is InMotion Hosting any good?
Yes, InMotion hosting is excellent as it offers good uptime and speed. It is especially a great choice for website owners receiving their major site traffic from the US.
The host also has a 90-day money-back guarantee scheme which allows you to try its services for your hosting needs.
Does InMotion Hosting use cPanel?
Yes, InMotion provides you with a single cPanel for managing all your websites. Additionally, with the host's VPS and reseller hosting plans, you can have multiple cPanels for different accounts.
Is InMotion Hosting fast?
Yes, InMotion hosting is quite fast, especially for its server users in the US. Since the host uses advanced technology at its data centers, the non-US server users will also experience a reasonable speed.
But I'd recommend using a CDN for better performance if you have non-US visitors to your website.