Are you planning to buy a web hosting plan from InMotion Hosting? Did you notice that the host automatically added a Backup Manager solution to your bill on the Checkout page?
InMotion Hosting used to have a free backup feature for all its customers earlier. But the host started charging for it on 21st October 2019.
If you are wondering what this InMotion add-on is all about, this detailed review will help you know about it. You will also learn about the features, pricing, and alternatives to the tool from this InMotion Hosting Backup Manager review.
Let me introduce you to this InMotion Hosting solution in the next segment.
What is InMotion Hosting Backup Manager?

InMotion Hosting Backup Manager is a paid service offered by the host. This addon helps integrate your cPanel with the automated backups stored remotely.
The host creates separate remote backups for the databases and files/folders in your hosting account.
Let's look at the pros and cons of this InMotion Hosting tool at a glance here:
Pros of InMotion Hosting Backup Manager
It performs automatic backups of your files and databases.
You can customize your backups and their scheduling.
The tool offers a 1-click restore option.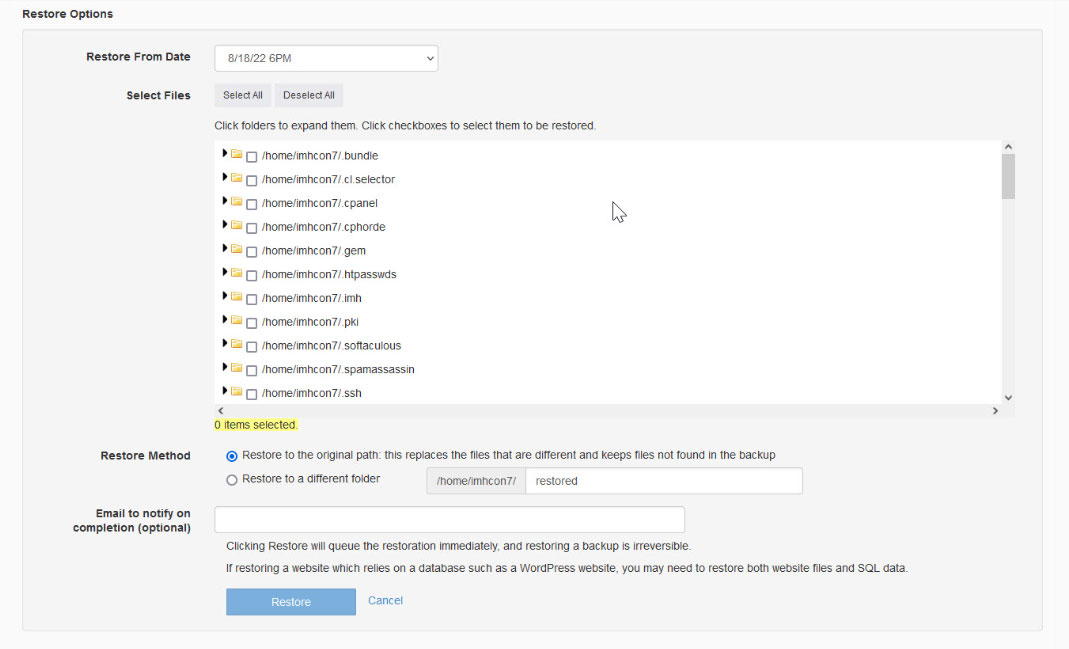 Cons of InMotion Hosting Backup Manager
It is a paid backup tool with recurring monthly or yearly costs.
Due to the incremental pricing structure, you will have to pay more when your website grows.
Since this tool comes with both positives and negatives, let's move further with our InMotion Hosting Backup review to determine if it is worth investing in.
Features & Benefits of InMotion Hosting Backup Manager
Let me introduce you to the detailed features of this InMotion backup solution here:
Automatic backups
InMotion Hosting Backup Manager is capable of performing automatic backups of your account data. So you don't have to worry about creating a backup manually every time.
Data redundancy
This InMotion tool stores the backup data off-server at the host's Ceph storage clusters. It is quite helpful during a server crash or when the data from the whole server wipes out.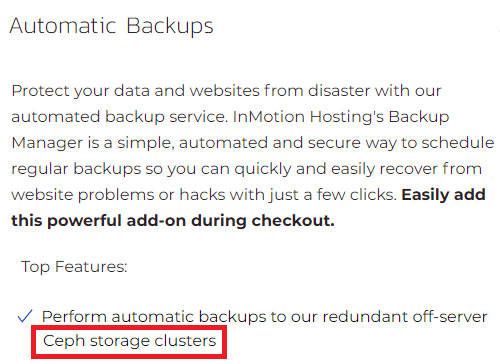 Complete customization
InMotion Hosting Backup Manager allows you to customize in detail the backup schedule. You can easily establish the backup frequency in terms of the number of times or days.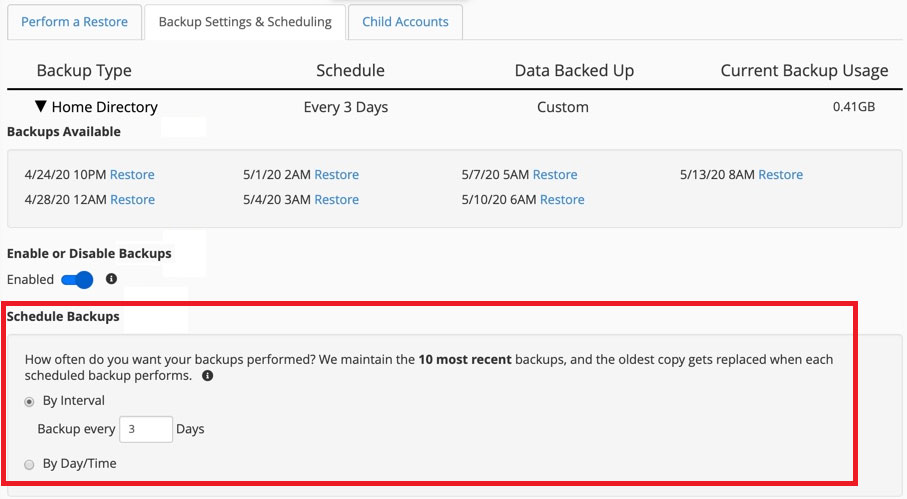 Full Control
This InMotion backup solution provides you with full control over the data you wish to create a backup of. You can, therefore, select the mailboxes, files, and databases that should be stored off-server by this tool.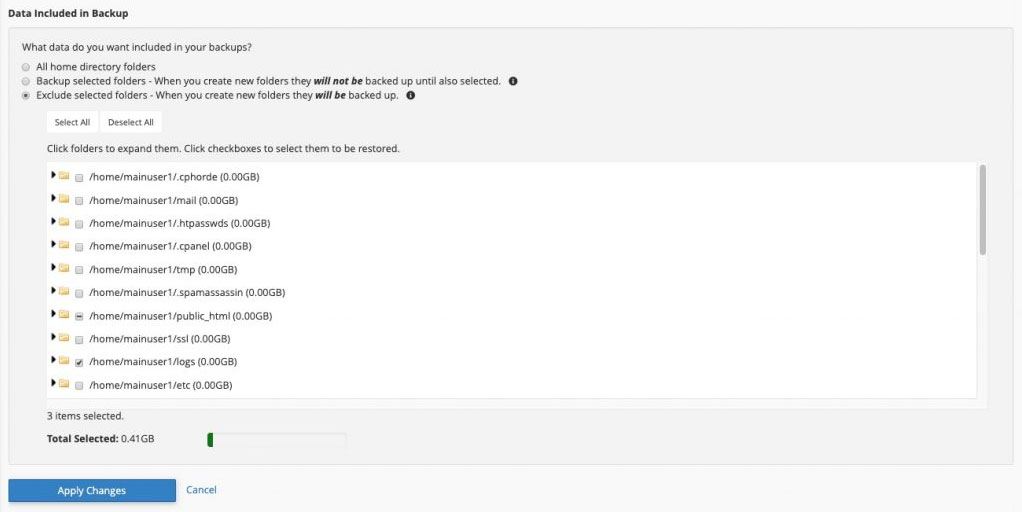 One-click restore
The host allows you to restore your data with only a single click with the help of this backup tool. Whether you want to restore just the database, file, or perform a full restore, Backup Manager is capable of doing it all.
Multiple restorations
InMotion's Backup Manager tool allows you to queue multiple restoration requests, thereby saving a lot of your time. In such a case, you can also watch your data restoration progress in real-time.
How much does the InMotion Backup Manager cost?
InMotion Hosting has kept an incremental pricing structure for its Backup Manager tool.
It costs $2 per month for the first 10 GB of backup storage space you utilize.
Thereafter, the host charges $1 per month for each additional 10 GB of backup space.
So, the more data you back up, the more you pay for this service. For instance, if you need to back up only 5 GB of files, you will be spending only $2 per month on this tool.
However, if you have 85 GB of files and databases in your InMotion account and you want a backup of all, you will be paying $10 per month, calculated as follows:
| | |
| --- | --- |
| Backup Space | Charges per month |
| Up to 10 GB | $2 |
| 10 – 20 GB | $3 |
| 20 – 30 GB | $4 |
| 30 – 40 GB | $5 |
| 40 – 50 GB | $6 |
| 50 – 60 GB | $7 |
| 60 – 70 GB | $8 |
| 70 – 80 GB | $9 |
| Above 80 GB | $10 |
| Highest charges for maximum storage | $10 |
What do the InMotion customers say about this backup tool?
After scouring the internet, I found quite a lot of negative reviews about InMotion Hosting's malpractices. The majority of InMotion customers are complaining about charging for this Backup Manager tool without any prior notice.
Here is what the customers say about the InMotion Hosting Backup Manager tool:
Consider checking out the entire Reddit discussion of the above review here.
Free Alternatives to InMotion Hosting Backup Manager
InMotion Hosting offers many benefits but it comes at a recurring price. So here are some free alternatives to the InMotion Hosting Backup Manager tool:
SiteGround Backups
SiteGround maintains free automatic daily backups for all shared and cloud hosting customers. These backups cover all your files, folders, emails, and MySQL databases.
Additionally, the custom Backup tool from SiteGround also allows you to create on-demand backups. You can then restore either all your data or certain parts of it that you might need.
Here is how SiteGround's custom Backup tool is different from InMotion Hosting's Backup Manager:
The biggest benefit of this tool over InMotion's backup service is its free price tag.
Unlike InMotion's backup tool, you cannot customize backup scheduling with SiteGround Backups since the host creates them daily by default.
This free SiteGround backup tool comes in handy for small websites looking for a free backup solution.
Third-party backups (plugins)
If you are not ready to change your host yet, you can also consider using a third-party backup service like a WordPress plugin. UpdraftPlus is a very useful plugin when you want to manage everything from a single place.
This WordPress plugin is capable of creating daily backups of all your account data. You can easily schedule your backups and restore your data directly from your WordPress dashboard.
UpdraftPlus differs from the InMotion Hosting Backup Manager tool in the following ways:
It is free to install and use UpdraftPlus while InMotion's backup solution adds to your monthly hosting bill.
UpdraftPlus saves your data on multiple cloud storage services, including Dropbox, Amazon S3, and Google Drive. On the other hand, InMotion Hosting stores your backups off-server on its Ceph storage clusters.
UpdraftPlus is suitable for all businesses and websites of all sizes. Cloud storage of your data makes this backup tool much more reliable than any other backup solution, including the InMotion Backup Manager.
Verdict: Is InMotion Hosting Backup Manager worth it?
No, InMotion Hosting Backup Manager is not worth buying. When you can get a better backup tool for free, why would you invest in one? You will find many good alternatives to InMotion Hosting's backup solution that are completely free to use, including the ones listed above.
In my opinion, hosting providers should offer a backup feature for free since your data is their responsibility because you are paying them. They shouldn't charge you anything extra for securing your data over and above the normal plan price.
So consider not paying for this InMotion Hosting addon and choose a free solution like UpdraftPlus. But if you still want to go for it, keep in mind that the monthly fee of this tool will add up to your overall hosting cost.
With time, it will add up more amount to your monthly budget because of incremental pricing.