DirectAdmin VPS hosting is a great alternative to the traditional cPanel. Due to the huge popularity of cPanel, its pricing is increasing.
So, people are shifting to other reliable panels such as DirectAdmin.
If you are looking for the best VPS hosting provider which offers multiple licenses for the panel, you are at the right place.
We will see some reliable and fast VPS providers where you can easily install DirectAdmin.
5 Best DirectAdmin VPS hosting providers
We will see some of the best VPS providers offering one-click installation for DirectAdmin or allowing you to install it. Some providers offer free panels, while you have to pay for a license for some other providers.
If the VPS has an extra cost for the license, we have mentioned it in the starting price.
1. Hostinger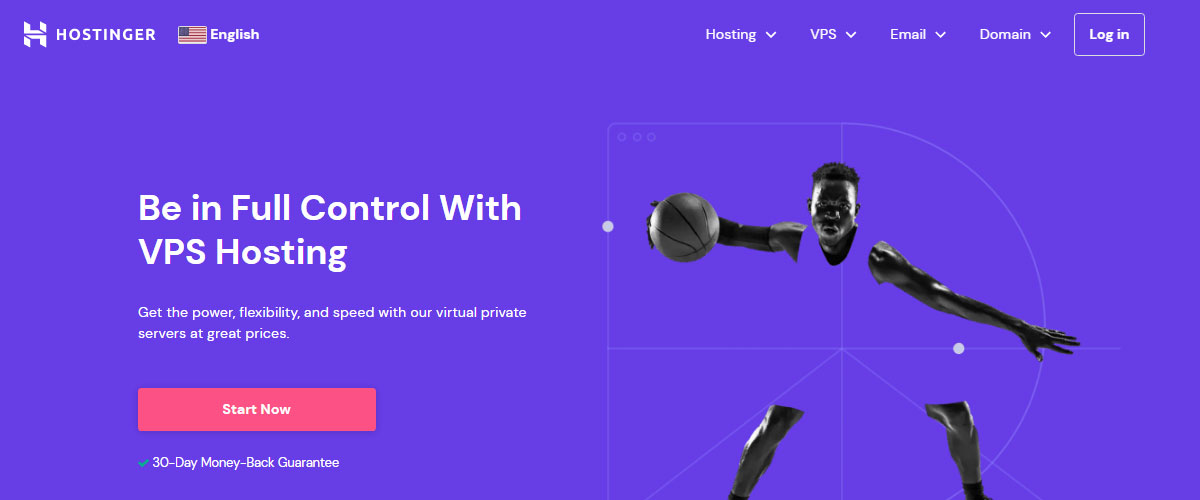 Hostinger is an excellent cheap DirectAdmin VPS host to start with. The servers come with a high Geekbench score and weekly backups.
Currently, they only support DirectAdmin personal licenses along with CentOS 7 64 Bit. You can select the OS and panel during the setup or you can even change it later on. To secure your server, they have an AI-powered firewall.
The plan also comes with 99.9% uptime at 100 Mbps.
If you have further questions, you can check out their resources page for your assistance. Their support is also available 24/7 to help you with your needs.
There are hundreds of resources available on their blog page to get help with DirectAdmin and managing your server.
To get the best out of VPS resources, they use OVZ as virtualization. With this, you don't need to worry about your neighbors stealing your resources.
It comes with NVMe SSD for high processing power.
Starting price:   for the annual plan (renews at $8.99/m for 12 months)
Key features of Hostinger
30-day money-back guarantee.
Up to 8 plans to scale your VPS.
Multiple data centers in the USA, Lithuania, Brazil, the UK, Singapore, and the Netherlands.
Dedicated IPv6 is included.
Visit Hostinger

2. Vultr
Vultr is one of the best DirectAdmin cloud hosting services. It comes with many OS templates that you can choose from. Here, you won't get a one-click installation for the DirectAdmin panel. Instead, you will have to manually install it.
They have tutorials on how you can install it for all the top operating systems.
Coming to the advantages, they have a 100% uptime guarantee. You will get full freedom in selecting the right data centers as they have 30 locations available worldwide.
It's one of the cheapest DirectAdmin servers you can try out. Once you are familiar with the server, you can scale up your server up to 96 cores.
Please note that you will have to purchase the DirectAdmin license manually from the official website of DirectAdmin.
Starting price: $2.50/m for VPS, $2/m for personal DirectAdmin Licence.
Key features of Vultr
Custom ISO supported for OS.
User-friendly control panel for the console.
Powerful API to further automate your server.
Private network with a high-performance IP network.
Visit Vultr

3. InterServer
InterServer offers self-healing virtual servers with great scalability. You can scale your server up to 16 cores.
Coming to DirectAdmin, you will have to pay a little extra to get access to DirectAdmin. It comes with unlimited accounts. You can also go with the personal license that is available for free.
One of the best advantages of using InterServer with DirectAdmin is the skin. Unlike others, you will get a custom skin that stands out from the market. Standard support is included in all the plans.
Moreover, you will get managed support if you go with 4 slices (4-core) or more.
They have data centers located only on the east coast and west coast (USA). Unfortunately, there are no other locations available. You can add their remote backup services as an add-on (starting at $3/m). The VPS has a 1 Gbps port.
Starting price: $6/m for VPS, Free DirectAdmin panel or $8/m for DirectAdmin standard license
Key features of InterServer
Easy to scale to a huge extent.
Custom skin for DirectAdmin.
99% uptime guarantee.
Self-healing hardware with dedicated resources.
Visit InterServer

4. Time4VPS
Time4VPS is a KVM-based DirectAdmin VPS hosting provider. The data centers are located in Lithuania, Europe. You will get a 100 Mbps port by default. However, you can add 1 Gbps as an add-on to the service.
You will get IPv6 support and one IP is included for free.
DirectAdmin is not included in the VPS. You can add it as an add-on during checkout. They have 3 licenses available. You can add 2 of them from the checkout whereas the personal license should be purchased individually.
DirectAdmin Lite allows up to 10 accounts. If you want unlimited accounts, you can go with DirectAdmin Standard.
As the panel is to be added as an add-on, the base price of the server increases. Therefore, it's recommended only if you want to go with higher plans (4 cores or more). You can get a huge discount if you increase the billing cycle.
Starting price: €6.49/m ($6.97) for the annual plan and €15.00 ($16.10) for DirectAdmin.
Key features of Time4VPS
The uptime guarantee is 99.98% uptime.
Customizable Linux kernel (you can add or remove modules).
RAID-protected SSD with Intel Xeon processors.
Amazing 24/7 support from the team.
Visit Time4VPS

5. Hostens
Hostens is an unmanaged DirectAdmin VPS hosting. It's a small company offering servers with limited scalability. You can only go up to 3 cores. Therefore, it's recommended only if you want to play around with the server or host a hobby project.
You will also have to pay extra for the license. Therefore, the overall cost of the VPS increases.
The reason we have included it in the list is because of its performance. They use DDR4-2666 ECC REG RAM with Intel Xeon servers and can support incredibly fast performance.
So, you can try out various workloads if you are using it as a testing server.
Starting price: $7.50 monthly (decreases to $3.75/m in an annual plan) and an extra $15/m for a Lite DirectAdmin license.
Key features of Hostens
Cloud server with great redundancy.
Easy upgrade without restarting the server.
1 Gbps port available as an add-on.
Incredible technical support along with live chat.
Visit Hostens

Why Choose DirectAdmin For VPS Hosting?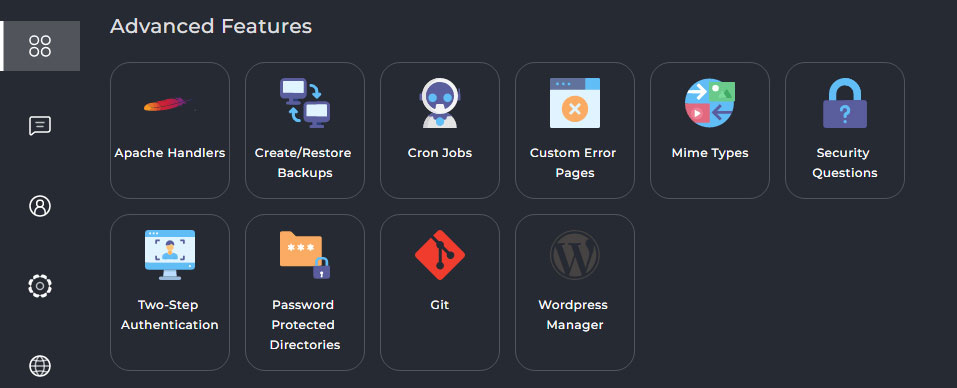 Let's have a look at some of the top reasons to choose DirectAdmin VPS hosting.
It's lightweight and easy to use with a simple dashboard.
The panel is flexible with a low-cost license.
It supports a multilingual interface.
You will get less downtime and more stability.
The panel is fast in working.
It comes with all the necessary features, unlike other panels where you will get almost useless features.
Conclusion
DirectAdmin VPS hosting is a great alternative to the expensive cPanel hosting. DirectAdmin misses some command-line features. However, their ready-to-use plugins and functionality make up for it.
Here is a quick summary of the best VPS you can use for DirectAdmin.
Best Overall: Hostinger
Best Price: Vultr (considering renewal price too)
Best Performance: Time4VPS
Want to try out a different panel? You can also check Best CyberPanel VPS.
FAQ (Frequently Asked Questions)
What is DirectAdmin VPS?
DirectAdmin is a user-friendly control panel to manage and control your VPS.
Is my VPS DirectAdmin faster than a regular VPS?
Yes, DirectAdmin provides an easy interface that increases your working speed compared to regular VPS.
Is DirectAdmin secure?
Yes, DirectAdmin is completely secure and comes with regular updates.
Is DirectAdmin better than cPanel?
DirectAdmin is a cheaper and better choice with advanced features as compared to cPanel.
This text doesn't really fit the image above. I'd say something along the lines of "DirectAdmin hosting panel" (but feel free to rephrase what I've written)
The caption is not directly seen by the readers. So, I usually add keywords in the caption to make it SEO-friendly. As we are not adding more keywords, it's good to add more keywords at such places.
I will try to add the context wherever possible.
Could you confirm that the DirectAdmin license is included at no additional cost?
They have not mentioned it anywhere. However, if the panel has an extra cost, there is a little "?" icon next to the panel. So, it's safe to say that DirectAdmin is free.