Doing cloud computing on a live server can be a little bit complex as you might not know whether the server is suitable for your needs or not.
In that case, you might want to try out free cloud computing with no credit card. If that's your requirement, you are at the right place. We will see some of the best cloud computing servers that offer a free trial.
If you are planning to test out cloud computing, you might need to provide card details for a few services. The good thing is that you won't be charged anything.
All of them are reliable cloud providers and it's safe to give your credit card details. We have mentioned everything you need to know about the trial here. So, if there are any requirements (or charges), you can find them right here.
With that being said, let's start the list.
Best Free cloud computing with no credit card
Product
Trial Period
Trial Period
30-Days Free Trial ($100 credits)
$50 free credits valid for 1-month
Credit Card
Credit Card
CC Required
CC Required
Starting price
Starting price
$4/month
$6/month
We will now see the best 5 free cloud computing where you can get a free trial.
#1 Cloudways (No CC Required)
Whether you are a beginner or developer and you want to try out managed hosting with high computing instances, Cloudways can provide you with just that. Here, you will get 3 days of a free trial. They surely know what it takes to test the server.
Now that you know about the trial period, let's talk about this hosting company. Cloudways is known as the Beginner-friendly cloud. It completely integrates with Docker, Slack, Gitlab, or any other software you might be using.
One of the things that are unique about Cloudways is the pricing model. You only get billed for the resources you use. So, it becomes easier to predict the price.
NOTE: Only AWS and GCP plans provide high computing instances. However, the free trials are only available with the other providers, so you can test and try their services and migrate afterward if you are satisfied with the performance.
You can either get a standard, general-purpose, or CPU-optimized server. Starting from deployment to management, Cloudways makes things easier.
Trial Details
You will get 3 days of a free trial.
No credit card is required.
You can cancel at any time.
Data Centers
Cloudways offers a choice of 65+ Data Center Locations across 4 continents thanks to their cloud infrastructure partners.
Best Features of Cloudways
Free SSL & Automatic Backups.
Staging environment.
You can keep complete control of costs with hourly billing.
A complete marketplace to find the best apps for your cloud computing.
The cloud is suitable for every service whether it's SaaS or you are planning to have something unique.
Due to easy configuration, it becomes a cost-effective way to do cloud computing in the Cloudways. The price is reasonable.
Try for 3-Days

#2 Kamatera (Requires CC)
Kamatera is a professional cloud network wherein you can find many products to choose from. They provide 30 days of free trial to test out the services. There are no commitments or contracts here. You can cancel anytime if you don't like it.
It's known for its performance and the support they provide. The server is fully configurable. You can choose the OS, resources, and you can even select the type of server you will need.
There are many types of servers available such as general-purpose, dedicated, and a few more types of servers across the globe. They have 13 different data centers to choose from.
With Kamatera, you can set up the server in less than 60 seconds. They make it extremely easy to scale up (or scale down) the server.
The simple management and API make it easier for beginners to do cloud computing. If you can't figure out something, you can surely contact the support.
They have 24/7 human support available to help you with your queries.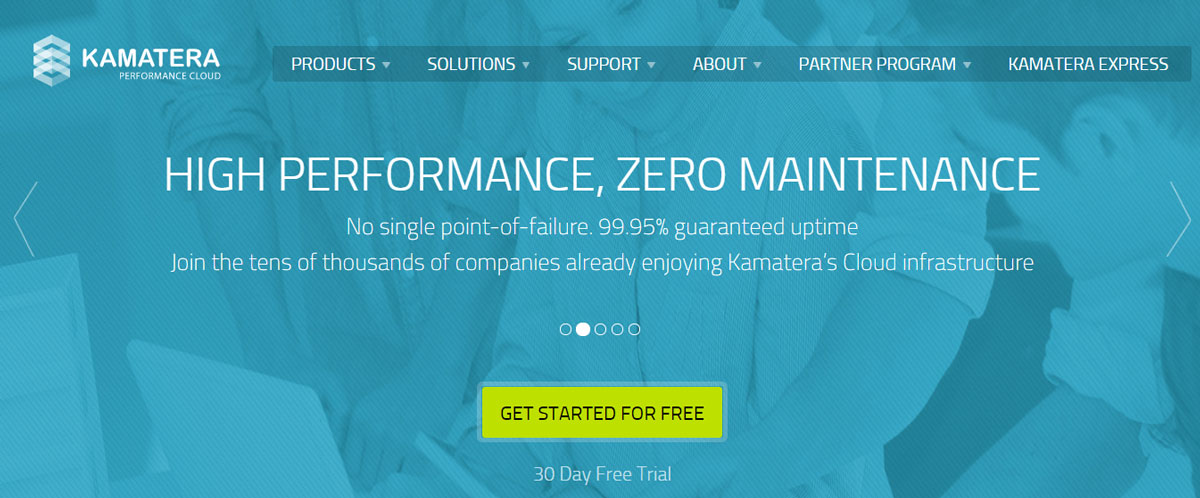 Trial Details
30 days of a free trial.
There are no commitments, you can cancel anytime.
You will have to provide your credit card but you won't be charged.
There is a small limit of 100 GB Block Storage and 1000 GB Outgoing Internet Traffic in the trial period.
Data Centers
They have 13 data centers in Santa Clara, Dallas, New York, Toronto, London, Amsterdam, Frankfurt, Tel Aviv, and Hong Kong.
Best Features of Kamatera
Easy scale up and scale down.
You can add load balancers, security add-ons, or any other things you want.
95% uptime.
More than 100 operating systems to choose from.
Awesome hardware with Intel Xeon Platinum/Cascade Lake Processors to speed up your cloud computing tasks.
They have fully configurable servers. Therefore, you can remove unwanted services and decrease your overall cost.
Try Kamatera (30-Days free)

#3 Vultr (Requires CC)

Vultr is a beginner-friendly cloud service. It's not just cost-effective but also has a simple user interface. The intuitive control panel allows you to manage all the services easily. They have 100% SSD-based servers with powerful API.
Talking about the network, they have a high-performing IP network with private networking. It also includes DDoS mitigation along with other security features.
It comes with a multi-homed network with a redundant network design. Overall, it's great for all types of cloud computing.
Here, you can configure the server as per your wish. You can choose the OS, and the resources. if you want, you can also upload your ISO file.
There are many plans to choose from. It doesn't matter whether you are a beginner or running a business, you will find a perfect plan. This also makes it easier to scale up the server.
Trial Details
The trial period is valid for 30 days.
You will get free credits worth $50.
You can use coupon code "TRY50" to get the trial.
A small catch is that you will need a credit card here but you won't be charged.
Data centers
They have 19 global centers. This includes Chicago, New Jersey, Dallas, Seattle, Los Angeles, Atlanta, Amsterdam, London, Frankfurt, Silicon Valley, Sydney, Toronto, Paris, Tokyo, Seoul, Miami, Singapore, Stockholm, ad Mexico.
Best Features of Vultr
You get complete configuration features here. You can even upload your ISO for the OS.
The security is great. You get a complete backup system with a firewall. Not to mention, all the plans also include DDoS protection.
Vultr provides a 100% SLA uptime guarantee.
With 100% Intel cores, you will get powerful hardware for your server.
You will get many great features like team management, enabled sign-on, and easy management for APIs.
There is a marketplace to install the best apps.
Claim $50 Free Credits

#4 Linode (Requires CC)
Linode is one of the best cloud computing servers you can go with. It's the best cloud service if you are a developer and want to use some developers' tools. When it comes to infrastructure, they have one of the best hardware and network you can use for your web app.
They offer two types of cloud CPU from which you can choose. One of them is the shared CPU which will cost you less but the resources are divided.
On the other hand, if you want all the resources to yourself, you can use their dedicated CPU. Linode also has managed and professional services if you have more budget.
You get 100% CPU power. Therefore, if you are planning to host a game server and looking to try out the server, Linode is the best choice to go with. They have a global center with awesome support anytime you want.
Trial Details
They offer 60 days of a free trial.
There is $100 worth of credits given to try out the service.
You need a credit card to apply for the trial.
If you already have an account at another cloud, they can also provide free migration services.
Data Centers
They have 11 data centers across the globe including Atlanta, Dallas, Frankfurt, Fremont, London, Mumbai, Newark, Singapore, Sydney, Tokyo, Toronto.
Best Features of Linode
Predictable pricing.
Shared and dedicated CPU to choose the best cloud as per your budget.
Consistent performance if you go with the dedicated CPU.
The support is great. They can help you with technical issues along with regular support query.
DDoS protection, cloud firewall, etc. are some of the extra benefits you will get here.
It comes with a completely scalable infrastructure and a fully-featured API.
Activate Linode Free Trial (60-Days)

#5 UpCloud (Requires CC)
If you are looking for reliable and effortless cloud computing you should check out UpCloud. Luckily, it has a small trial period to test out the service.
The trial period is short but it's enough to test the server. You will only get 3 days free trial. Here, most of the things are already done for you. For the same reason, they market themselves as an "Effortless cloud infrastructure".
When it comes to storage, they are a bit better than everybody else. You will get MaxIOPS block storage which is faster than SSD. When MaxIOPS is compared to AWS EC2 and Cloudways¸the results are surely on UpCloud's side.
Therefore, we can surely expect better speed from this cloud. They have 100% SLA uptime which is yet another great thing about UpCloud.
For cloud computing, they have an easy-to-manage control panel. You can set up the server and use the automated tasks to make your work easier.
UpCloud has the best features and tools to automate your cloud computing. Therefore, we can tell it's an effortless cloud.
Trial Details
You will get 3 days free trial here.
The resources are very limited. You will only get 1 GB memory, and 1 CPU.
The storage is limited to 25 GB and transfers up to 1 TB.
The card is required but won't be charged. $1 will be charged for the authorization which is refunded.
Data Centers
Sydney, Helsinki, Madrid, Frankfurt, Amsterdam, Warsaw, Singapore, London, Chicago, New York, and San Jose.
Best Features of Upcloud
100% SLA.
It uses MaxIOPS which ensures the speed is better.
The security features are included.
UpCloud makes it easier to automate your cloud computing with the server.
The support is great.
Enterprise-grade hardware to have peace of mind.
Consistent network performance.
Try Upcloud

FAQ (Frequently Asked Questions)
📌 Is OVHcloud free?
No, OVHCloud is not completely free. However, they do offer a small free trial to test the cloud. So, you can try the cloud for 7 days where you will also get $200 worth of free credits.
📌 How do I create a free VPS?
You can use Kamatera to create a free cloud VPS (trial). All you need to do is create an account at Kamatera and deploy the server. Not to mention, you will have to either choose a plan or select the requirements for your VPS.
📌 How do I create a free cloud instance?
You will have to choose a cloud provider like Digital Ocean. First, you need to configure the cloud instance with your needed resources. Thereafter, you can create the server with just one click. It takes less than a minute to deploy the server.
📌 How do I get a free VPS without a credit card?
If you want to go with VPS, the only option you have is Kamatera. Unfortunately, you will need a credit card to test Kamatera. Don't worry, you won't be charged anything. It's just to verify that you are not a spammer. You can also use a virtual credit card if you don't want to use yours.
Conclusion
To conclude, these are a few options you can try for cloud computing. There are no fully free cloud computing servers available.
You can get the trial for a few days and then decide which one is best for you. All the above-given cloud computing servers are great. Here are a few recommendations depending on your requirement.
Depending on which category you fall under, you can choose the best server.