So you are searching for the Hostinger email sending limit? To your luck, this article will answer your query!
I currently use Hostinger's hosting services but only for testing purposes for now.
I was looking for a reliable email provider and had high expectations from Hostinger. But I'm disappointed with the email service offered by the host.
So, I'll be sharing my experience of using Hostinger email in this article, including:
The number of emails you can send with this service.
The number of emails that can be created with Hostinger.
The disadvantages of using this service
The best alternative to the Hostinger email.
Let's begin.
Is Hostinger email free?
Yes, Hostinger offers a free email service as part of its shared hosting package. We can safely assume that the cost of email is included within the hosting plan's regular rates.
How many emails can be sent from Hostinger?
Hostinger allows you to send 200 to 500 emails per hour depending on your plan. You cannot depend on Hostinger for sending mass emails daily in the form of newsletters or marketing emails.
Check out the daily limits of Hostinger's email service here:
The host has a clear limit set to its email service so if you are using Hostinger for marketing, plan your campaigns accordingly. Please check out the Hostinger email sending limits for different plans here before signing up with the host.
How many emails can you have with Hostinger?
Though Hostinger promotes its email service to include an unlimited number of emails, it is not truly unlimited. You can have up to 100 emails for each of your domains hosted with Hostinger.
Since the host allows you to have unlimited domains and you can create 100 emails or forwarders for each, it claims to offer unlimited email services.
But it is very impractical to buy additional domains only to create unlimited emails with Hostinger. So, in my opinion, the Hostinger email service is not practically unlimited.
3 Disadvantages of using emails with Hostinger
Hostinger email services are decent enough to use since they offer basic features that are sufficient for beginners. But if you are considering using it as a professional, look for these disadvantages of Hostinger email services:
Impractical
If you have a flourishing business with more than 100 employees, you will have to provide an email with different domains to them. The first hundred will get a personalized email built on your official domain while others will receive an email with a new domain.
For instance, the image below shows professional emails created on different domains. The first one uses your official domain (john@yourdomain.com) while others are created on additional domains.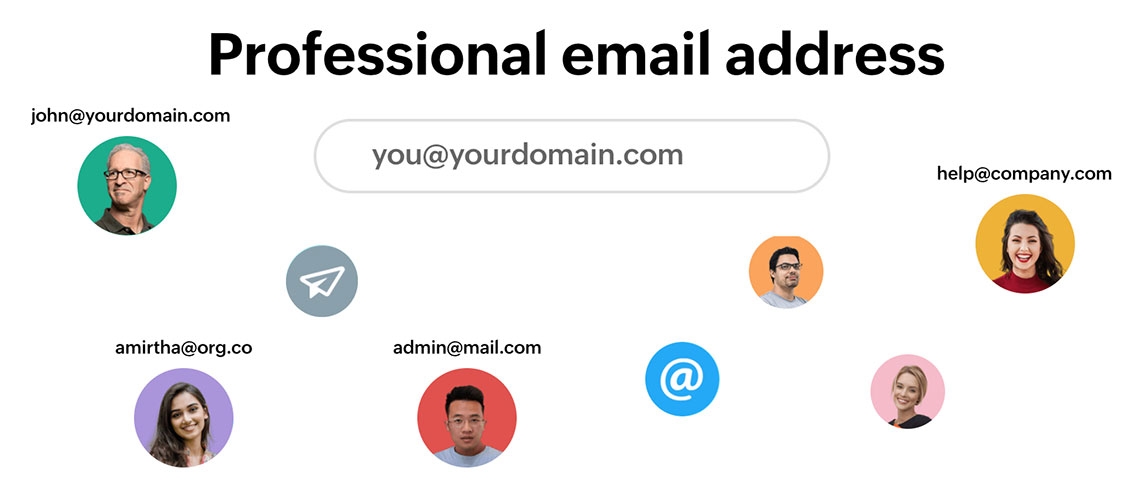 Such a practice leads to a decline in uniformity and professionalism for your organization. It will look shady both to your employees and customers. So it is quite impractical to use Hostinger as your main email provider.
Poor spam protection
Hostinger doesn't have the best spam filter to manage unwanted emails. So the emails provided by the host have higher spam rates as against the spam rates offered by top email providers.
Additionally, many Hostinger email customers are complaining about phishing emails these days. It further highlights the lack of security measures taken by the host to protect its email hosting environment.
Here is an example of a phishing email reported by a Hostinger email user:
You will, therefore, experience difficulty in dealing with spam and phishing emails daily due to weak email protection from Hostinger.
Risk of IP blacklisting
When you choose a shared hosting plan from Hostinger, your website shares the server with hundreds of other websites.
Along with other server resources, you will be sharing the IP address of your website with all these neighboring sites. Here comes the bad news, if a website owner on the same server uses Hostinger email for spamming, his IP will be blacklisted.
So you will have to bear the brunt of someone else's mistake since you are sharing the IP address with a spammer. Your emails will also get blacklisted and you will no longer be able to receive any benefit from your marketing campaigns.
Customer reviews for Hostinger email service
Now that you know the email sending limit and disadvantages of Hostinger email service, let's look at some reviews from its real users:
As seen in the above review, the customer lost his email data and subdomain but instead of helping him, the Hostinger executive showed unprofessional behavior.
The client above complains about losing email data due to Hostinger's fault to which the host also agrees. But the company doesn't have any backup of this data so it is gone forever!
This Hostinger email user finds the email service quite complicated to use, so it is not very beginner-friendly.
As seen in the above screenshot, the customer is on the verge of losing his clients because of a technical glitch in Hostinger's email service.
Best Alternative to Hostinger emails
Unlike its competitors, Hostinger does not allow you to purchase more email accounts for your domain. In a nutshell, Hostinger lacks the flexibility of increasing or decreasing the email limit, so it is better to look out for an alternative to this service.
I've found the best alternative to the Hostinger email service in Zoho Mail. Let's find out more about Zoho and know the advantages of using its email services here:
Zoho Mail
Established in 1996, Zoho is an Indian company offering productivity tools to businesses across the globe. The company focuses on offering email services to its customers, so you can expect to receive the highest quality of email services for your website.
Zoho email packages start at just $1 per month per user. It is the best email solution for growing businesses since you can create as many email accounts for your official domain as you require. Just pay for additional emails whenever you hire new employees.
3 Advantages of using Zoho Mail over Hostinger
Zoho Mail offers the following benefits over the Hostinger email service:
More storage
Zoho Mail comes with a minimum storage capacity of 5 GB while the Hostinger email offers only 1 GB storage per mailbox. Zoho also provides 10 GB and 50 GB storage for each user in its big-tier plans.
So, with Zoho, you will get at least 5 times of Hostinger email storage.

Availability of email backups
Unlike Hostinger, Zoho allows you to set policies for backing up your email data from different user email accounts. You can easily create a backup of all your data or only the deleted emails and retrieve them whenever needed.
Effective anti-spam policy
Zoho has a strict anti-spam policy, unlike Hostinger. It doesn't allow any of its customers to abuse its mail service, so the chances of your IP getting blacklisted are close to zero. Consider checking out Zoho's anti-spam policy here.
Apart from the above-listed benefits, you can also try out Zoho's email service for free. On the other hand, there is no such provision with Hostinger's email service since you will have to purchase its hosting plan to know whether its email is good for your business or not.
15-day free trial without asking for your credit card details. So, you can try out the services offered by the email provider before paying for them.

Verdict on Hostinger's Email Sending Limit
It is always better to choose a specialized email service provider for your email hosting needs. Even top hosting companies offer to purchase Google Workspace Email Hosting and other such reputable specialized email services because of this reason.
So Hostinger is good for shared hosting but I wouldn't recommend the host's email services for your business. It is much better to sign up with a professional email provider like Zoho Mail for a reliable business email solution.
I tried to cover all relevant details about Hostinger's email service and its suitability for your website in this article. Still, if you have any questions, I'd love to address them in the comment section below.
FAQ (Frequently Asked Questions)
Is Hostinger's email good?
The answer to this question can be a yes or no, depending on the purpose for which you want to use the Hostinger email service.
In my opinion, Hostinger can be used as an email provider for a small personal website. But it is not a good choice for your online business or a website you will be monetizing soon.
How do I increase email storage in Hostinger?
Hostinger allows you to purchase premium email plans from your hosting account. These plans provide you with 10 to 30 GB of storage per email account. You can, therefore, select the desired plan according to your storage needs.