Hostinger is a European web hosting provider with a worldwide server presence. Established in 2004, Hostinger now serves 29 million users in 178 countries around the globe.
If you are searching for the best Hostinger server location in India, you are at the right place. By the end of this article, you will know the most suitable server location for Hostinger's Indian users and an alternative to it for a further performance boost to your website.
Does Hostinger have servers in India?
Yes, Hostinger does have servers placed in India. The company has deployed its servers in 7 different regions throughout the world:
Asia (India, Singapore)
Europe (UK, Netherlands, Lithuania)
America (USA, Brazil)
As seen above, fortunately, the host has 2 good data centers for this region, one that is located in India, and near it, there is Singapore if your target audience is in Asia. You can choose from Hostinger's data centers in India & Singapore for low latency when hosting your website in Asia.
Check Hostinger Data Centers

NOTE:
Worth mentioning, Starting of December 2021 Hostinger added their new server in India since the host was becoming an increasingly popular choice among Indian website owners.
So what is Hostinger's alternative server location for India?
As we discussed above, Hostinger has two data centers in the Asian continent, it's located in India and Singapore. Also, it is best to choose a data center closest to your target website audience for faster loading times.
So out of the 7 Hostinger data centers located near India, Singapore remains the second-best choice since it is located closest to India. This applies to your website only if you are targeting a national audience.
If, however, you are planning to target an audience from a different region while still hosting your website from India, you should choose a server closest to your audience. In this case, the location of your website audience matters more than your location.
For instance, if you are planning to render your services, generate content, or sell your products in London through your Hostinger website, you should choose the UK server offered by the host instead of the Singapore one. Your website will, therefore, load faster at your visitors' end.
How to select a Hostinger data center?
You can select a data center initially as well as at a later stage with Hostinger.
Selecting a data center initially
Hostinger allows you to select a data center of your choice during the signup process. As soon as you make an account with the host and purchase a hosting plan, you can select the desired data center location for your website.
Selecting a data center at a later stage
It is also possible to change your website's data center location later for better performance of your site.
For instance, if you initially expected your website visitors to be from India alone and selected the Singapore server but later you receive more visitors from the Australian continent, you can consider switching to the Hostinger server located in Singapore since it will be closer to your primary audience.
You will have to contact the customer support team of the host through live chat to receive technical support for carrying out this server change for you. The host states that your website might be unavailable during this server change and advises you to plan your transfer accordingly.

Is Hostinger good in India?
Yes, Hostinger is an excellent option for hosting a website in India. It is because of the following aspects offered by the host:
Dedicated local website
Hostinger has a dedicated website for its Indian users. The host targets the Indian market through this local website with a country-specific domain extension and offers all its services here.
It also provides a free .in domain with its Premium Web Hosting and Business Web Hosting plans when you purchase hosting for at least 12 months upfront with the host.
Claim your Free Domain

Website in local language
Hostinger has not only made an effort to bring you a country-specific website but also provides you an option to view its website in your local language for your convenience. When choosing the desired website language, you will notice that India is the only country for which the host offers two language options.
So you can select English or Hindi, as desired, to scroll the website in the language you are comfortable with and check out the services offered by Hostinger.
Pricing in local currency
When you are about to spend Indian Rupees to purchase Hostinger hosting, why not have a look at their prices in the same currency? The host provides you the prices of all its services in your local currency so you don't have to do the maths or Google USD to INR rate for each of its offerings.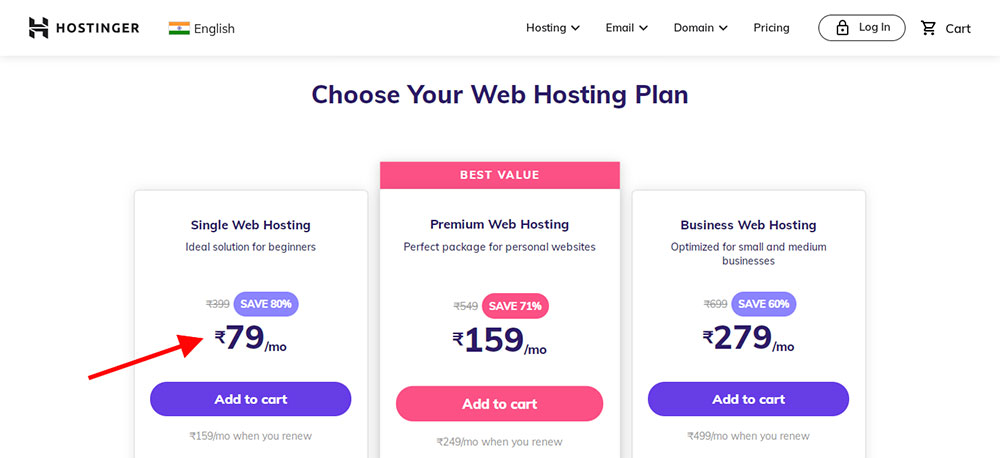 Check Hostinger Pricing

Customer support in local language
Hostinger offers customer support to its Indian customers in the local language. You have an option to send your message either in English or Hindi and the support team will respond to you in the same language. In the case of Hindi, a translator is used to reply to your messages.
Local payment methods
Hostinger offers multiple payment methods for purchasing its services. Along with the global payment options like VISA, Amex, Mastercard, and PayPal, the host also allows you to pay via India Net Banking, Paytm wallet, RuPay card, and UPI.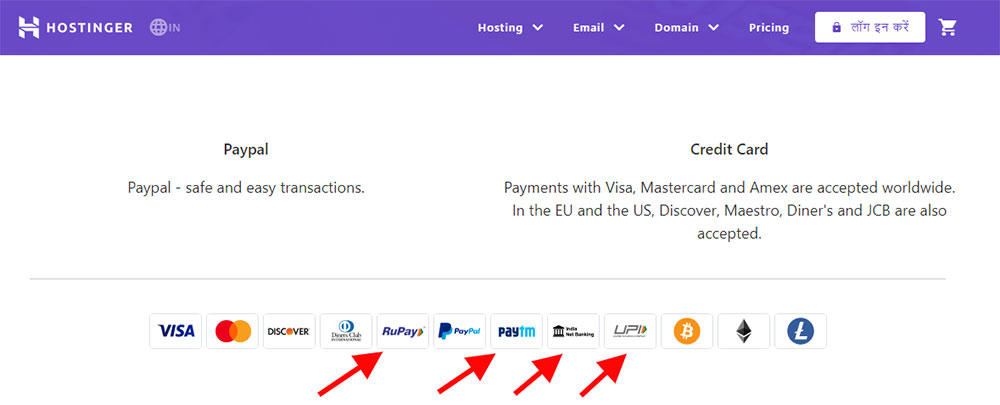 This allows you to choose a payment method as per your convenience when purchasing hosting services from Hostinger.
With all the above special efforts made by Hostinger for its Indian customers and the availability of its Asian data centers, Hostinger is a good choice for hosting a website from India.
Alternative to Hostinger server location in India
Since you are planning to host your Hostinger website from India, you can go for a better alternative available with the host. Using a Content Delivery Network (CDN) is a very good option to boost the performance of your website.
Hostinger offers Cloudflare CDN for free through which you can host your website from a server located in India. It can be used in addition to the desired physical server location like Singapore. Let's find out how:
What is Cloudflare CDN?
Cloudflare CDN is a global network for the efficient distribution of your website content. Cloudflare has data centers widely distributed across different geographical locations around the world.
So when you use a Cloudflare CDN for your website, multiple copies of your website data are kept in proxy servers throughout the globe. These copies allow immediate processing of data requests from the location nearest to your website visitors.
How is Cloudflare CDN better than choosing just a server location in India?
Choosing just a single server location like Singapore limits your website's capabilities. Your content is hosted on just one server for your visitors coming from around the globe.
All the data requests are handled from this main Singapore server, thereby causing unnecessary load on your website server. Also, your website will take more time to load when a visitor accesses it from another continent, say Australia.
On the other hand, adding a CDN to your Hostinger website in India will result in caching of your website content from over 100 countries. This will greatly improve your website speed since your content will be cached from the server that is located nearest to your visitors.

So if a visitor accesses your website from Australia, your website will load much faster since Cloudflare will cache the requested content from its server located in Australia. You will, therefore, greatly benefit from the wide network of the CDN provider.
In addition to speed, Cloudflare CDN offers the following benefits for your website:
It ensures the privacy of your data and prevents your website from Distributed Denial-of-Service (DDoS) attacks.
You can customize security settings for your website to block potential online threats.
Cloudflare offers a free SSL certificate to encrypt your website traffic.
Faster load times might result in better Search Engine Optimization (SEO) for your website.
Using Cloudflare CDN will reduce your bandwidth consumption since your website content is cached from multiple servers instead of transferring the data from the main server for each request.
With the above-listed benefits, you will see a considerable improvement in your website performance when using a Cloudflare CDN for your website. Hostinger offers easy Cloudflare integration for your convenience.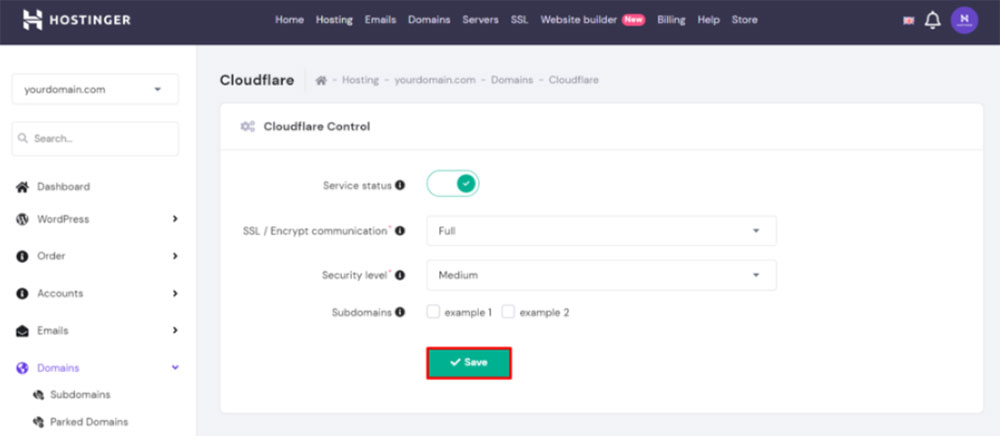 So, it is best to use a CDN along with the Singapore server when hosting your Hostinger website from India. The main server will keep and manage all your data while the CDN will take care of handling data access requests for better website performance.
Cloudflare has several servers located in India. So by using this alternative, you can enjoy Hostinger's hosting services while taking advantage of the Cloudflare server network.
Conclusion
Hostinger is a reliable hosting provider offering affordable plans, advanced features, and support in the local language for its Indian customers. It has made many special efforts to serve the needs of websites hosted in India.
Adding a Cloudflare CDN to your Hostinger account will expose you to hundreds of servers around the world. You can, therefore, host your Hostinger website globally with a CDN instead of hosting it from a single location in the Asian region.
Still, if you would like to go for a hosting provider that has a physical server in India, Bluehost would be another good choice. It offers many feature-rich plans at competitive prices for all sizes of businesses and has a data center in Mumbai – the commercial capital of India.
Bluehost also has a dedicated website for its Indian customers with a .in domain extension that lists all its hosting and other services in the local currency.
Additionally, you can expect to receive support in the local language with Bluehost's customer support executives speaking in Hindi, unlike Hostinger where a translator is used to converse in the local language.
Get Started with Bluehost (India)

I hope the above information will help you choose the best server location for India in Hostinger.
So, would you choose a host like Hostinger with the data center in India and use a CDN to boost your website speed or go for a host like Bluehost that has a physical data center in the country?