Are you considering Hostinger to host your WooCommerce website? Does it offer the desired features for your business? Is Hostinger good for eCommerce? Let's find out.
Not all hosting providers are suitable for eCommerce websites, so you need to choose the right host. In this article, we'll discuss whether or not Hostinger is suitable for your WooCommerce website.
Let's begin by answering your main query in our next section.
Is Hostinger Good for eCommerce?
Yes, Hostinger is good for eCommerce. But you must consider the following three factors before buying a plan from the host:
Size of your eCommerce store.
Expected monthly visitors to your website.
Features of the Hostinger plan you select.
Hostinger is among the cheapest eCommerce hosts, but choosing the right plan is the key to your store's success. When selling online, it is best to go with the Woo Premium plan or pick a package from the host's VPS or cloud hosting offerings.
Let's look at the suitability of different hosting types available with Hostinger for your eCommerce store:
Shared Hosting: Hostinger's shared hosting is great for new store owners. Go with a shared plan when you are starting a new business and running on a very limited budget. You can set up an eCommerce store for as low as $1.99 per month with Hostinger's shared hosting.
VPS hosting: Hostinger has a lot of VPS options with varying server resources. We recommend choosing the VPS 2 hosting plan when starting an eCommerce website. It costs $5.99 per month with a 12-month term.
Cloud Hosting for E-Commerce: You need to consider many factors when running an eCommerce website. Setting up the necessary infrastructure, optimizing your website, and using high-quality product pictures require much time and effort.
When you are investing so much into building a business, we recommend choosing a Cloud hosting plan from Hostinger. These plans hold better value for an eCommerce store. So go for one of them if you can extend your budget a bit.
WooCommerce hosting: Consider Hostinger's WooCommerce hosting plans when you are looking for managed WordPress hosting for your eCommerce store. You will get cheaper plans with prices comparable to shared hosting and performance better than a VPS.
We do not recommend any other Hostinger plans for your eCommerce website because they do not offer as good value for your money as the shared, VPS, Cloud, and WooCommerce hosting plans offer.
Are you still unsatisfied with the answer to "Is Hostinger Good for eCommerce?" Continue reading for further clarification.
Visit Hostinger

Does Hostinger offer eCommerce hosting plans?
Yes, Hostinger offers eCommerce hosting plans, specifically for WooCommerce and PrestaShop.
Hostinger WooCommerce plans
Hostinger offers three different plans for WooCommerce with powerful features, including:
Ease of use: You can easily set up your WooCommerce store with a pre-built template or design.
Customer service: Hostinger has WooCommerce experts to provide you with excellent technical support.
SSL Certificates: The host offers a free SSL certificate with every WooCommerce plan to ensure the security of transactions carried on your eCommerce website.
Fast loading time: You need blazing fast load times on adding more products to your website to maintain a good customer experience. Hostinger can deliver excellent page load speed even when your store grows.
Servers: The host optimizes its back-end servers to deliver the best performance for WooCommerce sites.
Disk Space & Bandwidth: You will get a lot of space and bandwidth for the smooth functioning of your store.
Hostinger aims to provide a complete and optimized solution for your website with these WooCommerce plans. It allows you to focus on growing your business rather than managing the technical aspects of running a WooCommerce store.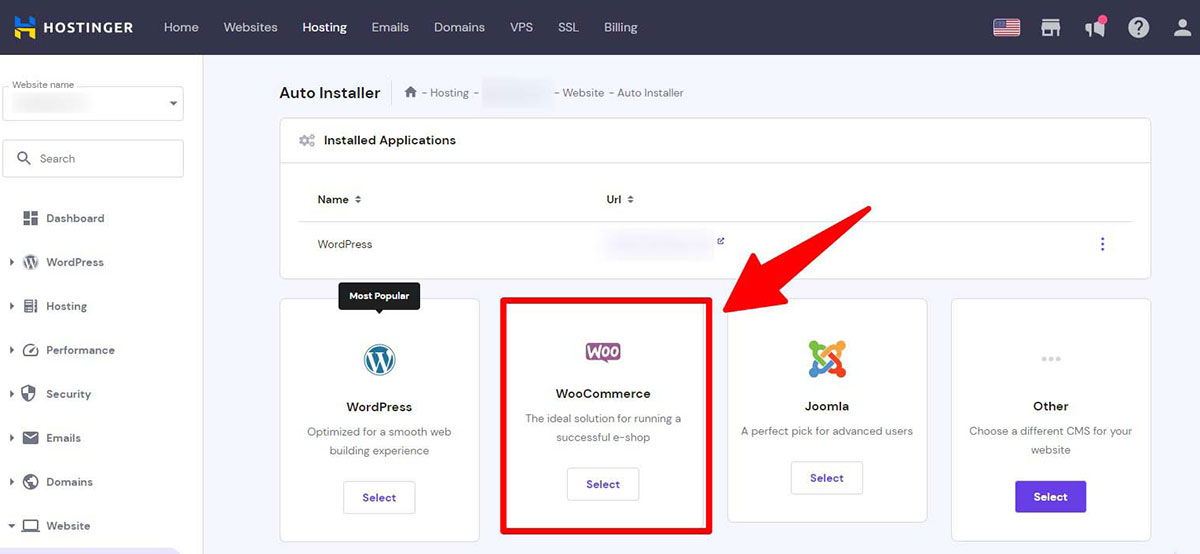 Hostinger WooCommerce plans are expensive compared to the host's regular shared hosting plans. It is because the host uses a separate server compatible with the WooCommerce application to deliver optimal performance.
Hostinger PrestaShop plans
Hostinger has three PrestaShop plans offering the majority of features you get with its WooCommerce plans. However, it is essential to note that the host provides the new users a €50 PrestaShop MarketPlace credit.
NOTE: If you plan to install any other eCommerce platform like Magento or OpenCart, it is possible to do it with Hostinger's 1-click install feature.
Does Hostinger include e-commerce capabilities?
Yes, Hostinger includes the e-commerce capabilities and features needed to run a successful WooCommerce store. Undoubtedly, it is a good option for your eCommerce website.
Here are some of the powerful features that make it a good eCommerce hosting provider:
1-click Install
Hostinger has a 1-click install feature for WooCommerce and WordPress applications. It lets you easily and quickly start your new online store.
LiteSpeed
The host uses the LiteSpeed cache for WordPress. It runs on the server level and is, therefore, very powerful. It helps your website visitors experience faster page load times.
Unlimited bandwidth
Unlimited bandwidth is useful when you receive a lot of traffic and comes in handy during product launches on your eCommerce website.
Hostinger offers unlimited bandwidth on all its hosting plans excluding VPS plans and the "Single" shared hosting plan. So you get to choose from a wide variety of Hostinger plans with unlimited bandwidth.
Daily backups
Hostinger offers daily backups to protect your eCommerce website from any data loss. You will get this feature with all Hostinger plans except for its VPS plans and a few low-priced plans.
Multiple data centers
Hostinger is capable of delivering excellent performance overall. It has high-quality servers at the following data center locations around the globe:
USA
Brazil
Singapore
India
UK
Lithuania
Netherlands
France
Multiple server locations ensure your eCommerce store's availability at all times. It also results in faster page loading, regardless of where your store customers are.
Unlimited Free SSL certificates
All eCommerce plans from Hostinger come with unlimited free SSL certificates to ensure the security of all transactions carried on your online store.
When to use WooCommerce hosting plans?
People generally choose shared WordPress hosting, which might not offer the right optimization, speed, and technical support for a WooCommerce website. Thus, selecting an eCommerce hosting plan will be the best option depending on the following scenarios:
Who the WooCommerce plan is for?
Small and medium businesses with a lot of products.
Website owners who want to focus on their business growth and let the host take care of everything else.
People with limited technical knowledge.
Who this is not for?
Businesses with only a few products.
Advanced WordPress users who can manage their WooCommerce store without any hassle.
People with limited hosting budgets since WooCommerce-specific hosting is costlier than regular shared hosting.
Therefore, we do not recommend using Hostinger WooCommerce hosting for large businesses. There have been reports of compatibility issues in such cases. Also, the host cannot offer adequate customer support for WooCommerce-related issues.
Here's what a Hostinger customer shares:
Conclusion
Hostinger is good for eCommerce, especially for small and medium businesses looking for a user-friendly and affordable solution. You can choose from the host's WooCommerce or PrestaShop plans or install other eCommerce platforms like OpenCart or Magento as well.
Hostinger has all the powerful features and eCommerce capabilities you need to run a successful online store.
Do you have further Hostinger-related queries? Ask them in the comment section below, and we'll address them as soon as possible.
FAQ (Frequently Asked Questions)
Is Hostinger good for WooCommerce?
Yes, Hostinger is good for WooCommerce. It offers WooCommerce-specific plans with all the necessary features you might require.
Is WooCommerce free with Hostinger?
Yes, WooCommerce is free with Hostinger when you purchase web hosting from the company.
Does Hostinger support eCommerce services?
Yes, Hostinger supports eCommerce services and offers a custom eCommerce website builder to create online stores. However, we recommend using WooCommerce with WordPress for better website performance.