Are you planning to buy Hostinger hosting and wondering why the host offers cheaper plans than its competitors? If yes, here you will find an answer to your question, Why is Hostinger so cheap?
The biggest fact is that we all desire to buy web hosting on a budget but when someone offers it at a cheap price, we doubt the quality of their services.
The same is true for Hostinger since it has extremely affordable hosting plans.
So, how is the company able to offer such competitive prices? We are here to reveal the facts from the research we conducted.
Why is Hostinger so Cheap? (6 Reasons)
Hostinger provides you with a hosting plan that costs you only $1.99 per month when you sign up for a long-term plan of 48 months.
Though its renewal price jumps to $3.99 per month, even then it remains a cheap option.
Let's find out how Hostinger is capable of offering hosting plans at such cheap prices:
Reason 1: The host does not use cPanel
Unlike other top hosting providers, Hostinger does not use cPanel for its hosting. Rather, the company has its custom-made hPanel.
Offering you an in-house control panel allows the host to save license costs. So, Hostinger does not need to add the license fee of cPanel to your bill.
It considerably brings down the price of their hosting plans.
Reason 2: Huge Signup Discounts
Hostinger offers huge signup discounts to encourage more and more people to sign up for its hosting plans. It helps the company to expand its customer base.
But you must remember that Hostinger offers this big discount only during registration. So you can avail it just for a single time.
Once the initial period ends, the hosting provider charges higher amounts for its services in the form of hosting renewal charges. It helps the company compensate for the profit that it foregoes while bringing the customer on board.
TIP: It is recommended to choose a longer hosting period initially to receive a higher discount value. After all, you don't want to close your business in a few months. So why not take advantage of the deep hosting discount?
Reason 3: No heavy Ads investment
You must have seen GoDaddy and other hosting providers investing heavily in marketing their services. But, Hostinger does not spend much money on advertisement campaigns.
As a result, you come across more ads from GoDaddy and hardly any from Hostinger.
Because of the aggressive marketing strategy, the cost of GoDaddy's hosting is higher. On the other hand, Hostinger saves a lot of money and passes this profit to its customers in the form of heavy hosting discounts.
So you get to receive cheaper plans from the host.
Reason 4: Limited Customer support
Hostinger limits its customer support by responding quickly to its new customers. Its 24/7 support is fast only for the newly signed-up users who are covered by the host's 30-day money-back guarantee.
For its old customers, Hostinger does not maintain the same quality of support. The responses from its support executives are not as fast as they are for the new users.
Here is a customer complaining about the slow support from Hostinger on Trustpilot:
So the host saves money by employing a limited number of people on its customer support staff. These savings are, in turn, passed on to the customers to offer cheaper hosting plans.
Reason 5: Limited hosting features
Hostinger offers limited features with its entry-level hosting plans. For instance, the shared "Single Web Hosting" plan from Hostinger comes with:
Only 1 website
1 email account
No free domain
Limited bandwidth of only 100 GB (the host puts a clear limit on the bandwidth available with its cheapest plan)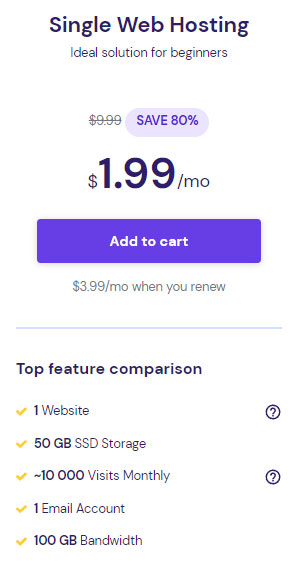 This strategy helps the host distribute its server resources to a larger number of website owners. That is why Hostinger can offer cheaper hosting services than its competitors.
Reason 6: They serve the masses
Hostinger is a huge company with vast hosting resources and infrastructure that is capable of serving the masses. For instance, Hostinger is the number 1 choice in India, a country with over 1 billion people.
So the host has a lot of clientele from that country.
Since the company has a big customer base, it can divide the cost of its infrastructure and resources among a large number of people, thereby charging less money from a single customer.
NOTE: Serving masses with the same infrastructure means dense tenancy of resources. In such a case, a lot of hosting accounts are stuffed into a single server. It leads to substandard performance and a lack of protection against resource abuse, including high traffic and external threats against hosting tenants.
Conclusion
Hostinger offers cheap hosting by saving costs on different business aspects. The host's main tactic is to provide affordable entry-level plans with limited resources to help you launch your website.
But once your website starts gaining traffic, you will have to upgrade to higher hosting plans from Hostinger to get access to more resources.
Who is it for:
Hostinger is suitable for people on a tight budget.
It is perfect when you want to launch a small website that will get less traffic initially.
You can choose Hostinger when you need limited hosting resources.
But be careful with the host since a growing website receiving large traffic need to be handled instantly if any problem arises.
FAQ (frequently asked questions)
Can Hostinger be trusted?
Yes, Hostinger is a trusted name in the hosting world. It has been in the hosting business since 2011.
Moreover, its existing customers are happy with its services and have given a rating of 4.5 out of 5 on Trustpilot. So you can completely trust Hostinger for all your hosting needs.
Does Hostinger cost more when you renew?
Yes, Hostinger costs more when you renew any of its hosting plans. The company offers a huge introductory discount for the initial period to attract more customers.
The prices of its hosting plans jump to double the initial cost when you renew them.
Which one is better: Hostinger or GoDaddy?
When comparing Hostinger and GoDaddy, Hostinger, for sure, is a better choice. It offers a much better quality of hosting services than GoDaddy and has lower plan prices too.
You will also receive a higher standard of customer support with Hostinger.
Is Hostinger a good hosting for beginners?
Yes, Hostinger, most definitely, is a good hosting provider for beginners. You will get high-quality hosting services and support at extremely affordable prices with the host.
Moreover, Hostinger has a user-friendly interface that is quite easy to understand even for newbies in the hosting world. So it is a good choice from every perspective.