Are you wondering why is Bluehost so expensive? If yes, you are at the right place because here I'm addressing this question in great detail.
I'll be covering the hosting costs involved, the discounts available with the host, and some cheaper Bluehost alternatives.
In the end, I'll also be answering the most frequently raised queries about the Bluehost costs. But before that, let's find out why Bluehost is so expensive in our next section.
Why is Bluehost so expensive?
Bluehost offers competitive prices when it comes to shared hosting plans. But the problem lies in the sudden hike in plan charges on the expiry of your initial hosting term. You will have to pay more than triple the price of the introductory cost.
For a plan of $2.95, you will have to pay almost $10 as the renewal price which is such a big addition to your website maintenance expenditure, and that too, recurring. Though the host explicitly mentions on its official website that the introductory prices are valid only for the first term, it doesn't change the fact that renewals are very expensive!
Here is what Bluehost mentions about its promotional hosting prices: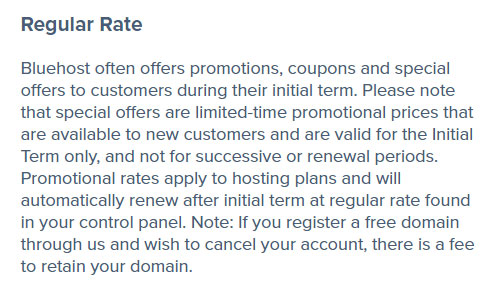 Apart from the high renewal costs, Bluehost also tries to upsell you multiple add-ons during the initial purchase of your hosting plan. Choosing these add-ons will further increase your overall plan costs, thereby making it more expensive.
Again, the renewal costs of these add-ons are also higher than their initial costs.
Here is how these add-ons appear on the Bluehost Checkout page when you select a shared hosting plan for your website:
NOTE: The host itself selects three package extras for you, as shown above. So you need to be careful while purchasing a Bluehost hosting plan to avoid additional costs.
To know which Bluehost add-ons are worth paying for, consider reading this topic.
Although Bluehost plans might appear inexpensive to a beginner, the costs rise significantly for existing customers. That is why Bluehost is considered expensive by many website owners.
Visit Bluehost

How much does Bluehost cost?
To further find out how expensive Bluehost is, let's dig deeper into its hosting and domain costs.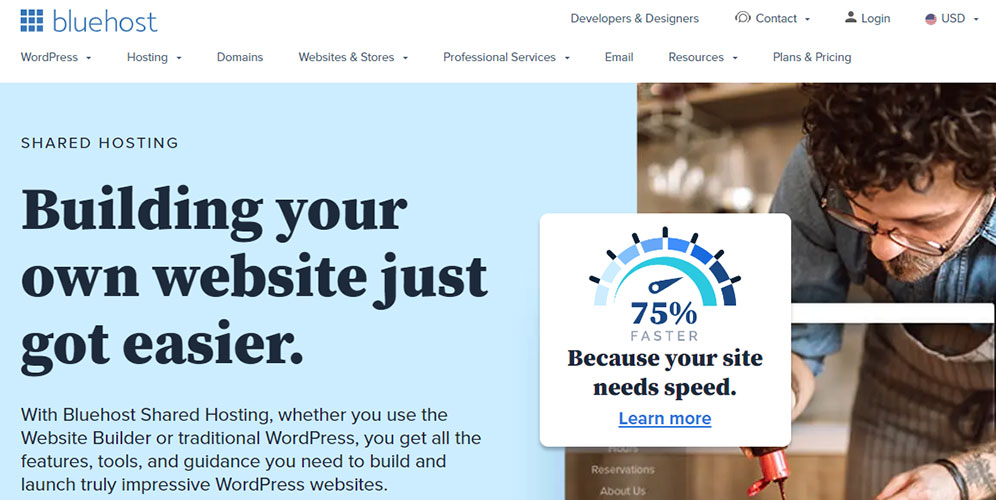 Bluehost offers four shared hosting plans, namely:
Basic
Plus
Choice Plus
Pro
These Bluehost plans come with the following pricing structure:
Bluehost allows you to select either a term of 12 months or 36 months initially. The introductory prices of all its shared hosting plans remain the same, no matter which hosting term you choose.
| | |
| --- | --- |
| Bluehost shared hosting plan | The initial price per month |
| Basic | $2.95 |
| Plus | $5.45 |
| Choice Plus | $5.45 |
| Pro | $13.95 |
As discussed above, the renewal prices of the Bluehost shared hosting plans are quite expensive as compared to their initial prices. Let's look at them here along with the different term lengths offered by the host for renewal.
| | | | | | |
| --- | --- | --- | --- | --- | --- |
| Bluehost shared hosting plan | Per month renewal price for a 1-month term | Per month renewal price for a 6-month term | Per month renewal price for a 1-year term | Per month renewal price for a 2-year term | Per month renewal price for a 3-year term |
| Basic | $10.99 | $10.99 | $9.99 | $9.49 | $8.99 |
| Plus | $16.99 | $16.99 | $13.99 | $12.99 | $13.99 |
| Choice Plus | $20.99 | $20.99 | $18.99 | $17.99 | $16.99 |
| Pro | $32.99 | $32.99 | $28.99 | $27.99 | $26.99 |
Bluehost Domain Cost
Bluehost offers three types of domain names:
Original top-level domains
Generic top-level domains
Country-code top-level domains
Since the original top-level domains are the most preferred choice among website owners across the globe, let's look at the Bluehost pricing for them here:
Bluehost original top-level domain initial cost
Bluehost offers five different original top-level domain name extensions with varying initial or registration costs. The table below presents them in the order of ascending cost, i.e., from low to high:
| | |
| --- | --- |
| Domain name extensions | Yearly registration cost |
| .org | $9.99 |
| .biz | $9.99 |
| .info | $11.99 |
| .com | $12.99 |
| .net | $18.99 |
You will also have to pay $15 to the host as domain privacy charges since it is not included in the domain registration price.
Bluehost's original top-level domain renewal prices
Like the Bluehost hosting renewal costs, the Bluehost domain renewal prices are also much higher than the initial domain price. Let's see the renewal rates of original top-level domains with Bluehost in the same order as presented above:
| | |
| --- | --- |
| Domain name extensions | Renewal cost |
| .org | $17.99 |
| .biz | $16.99 |
| .info | $15.99 |
| .com | $18.99 |
| .net | $18.99 |
Why is Bluehost renewal expensive?
Bluehost is one of the biggest names in the hosting industry. And when a business establishes itself as a big brand, it starts charging money for its brand name. Bluehost follows the same strategy.
But the problem lies with the host luring new website owners with high promotional discounts for the first term. Once a customer signs up for its hosting service, Bluehost offers no further discounts and expensive renewals follow.
The first year's discount is also recovered by the host from subsequent payments.
The host even charges higher renewal prices for all its add-on services:

The above screenshot is taken from Bluehost's official website where it displays the renewal costs of all these add-ons.
It is a cheap marketing strategy from Bluehost which works well for the company but not for its customers.
The innocent website owners suffer financially in the long run because of this poor and misleading marketing gimmick.
You will be surprised to know that this strategy is not only used by Bluehost but also by many other top hosting providers. So, I'd suggest you sign up with a host only after looking at their hosting renewal costs.
Bluehost cost – Customer reviews
Now that we know the overall costs charged by Bluehost, let's look at some of the reviews posted by its customers all over the internet:
The customer above complains about the increased hosting cost over the years because of the constant recommendation of high-tier plans.
The above user review shows how Bluehost charges its customers a higher amount than it mentions.
The above screenshot shows how Bluehost becomes so expensive for its existing customers!
Here a Bluehost customer warns another about its high renewal costs.
Bluehost Cheaper Alternatives
Since Bluehost is quite an expensive host, it is better to choose an alternative to its hosting and domain services. I've brought here the best hosting and domain alternative to the Bluehost services that won't dig deeper into your pockets like Bluehost:
Hostinger (Hosting Alternative)

Hostinger is the best alternative to Bluehost's hosting services. The company offers three shared hosting plans with the cheapest one available for just $1.99 per month. Here's a quick overview of Hostinger's shared hosting plans and their pricing:
| | | |
| --- | --- | --- |
| Hostinger shared hosting plan | The initial price per month | Renewal price per month |
| Single | $1.99 | $3.99 |
| Premium | $2.99 | $6.99 |
| Business | $4.99 | $8.99 |
As seen in the table above, Hostinger's renewal prices are also more than the initial plan prices. But these costs are not as high as the ones charged by Bluehost.
Moreover, the smallest Hostinger's shared hosting plan ($1.99) is almost a dollar per month cheaper than Bluehost's entry-level shared hosting plan ($2.95). So, it is quite a good alternative to Bluehost's expensive hosting services!
The above-mentioned prices relate to a 48-month hosting term. Hostinger also offers a 1-month, 12-month, and 24-month term length for your convenience. Initial and renewal prices for all these terms are different, so consider having a look at them on the Hostinger's Checkout page.
Visit Hostinger

NameSilo (Domain Alternative)

NameSilo is a much better alternative to Bluehost's expensive domain services. Instead of buying a domain from a hosting provider like Bluehost, purchasing it directly from NameSilo or other reputed domain registrars will help save a lot of money.
Let's see the price difference between the domain name costs of Bluehost and NameSilo here
| | | |
| --- | --- | --- |
| Domain name extensions | Registration cost with Bluehost | Registration cost with NameSilo |
| .org | $9.99 | $10.79 |
| .biz | $9.99 | $5.75* |
| .info | $11.99 | $3.79* |
| .com | $12.99 | $9.95 |
| .net | $18.99 | $11.79 |
* The prices for .biz and .info domain names are currently under special discount.
NOTE: Apart from the price of .org, you will be making huge savings when buying your original top-level domain from NameSilo instead of Bluehost.
It is worthwhile to mention that NameSilo does not charge you for WHOIS privacy. So you will be further making a saving of $15 towards domain privacy costs with Bluehost.
Ultimately, you will save money even if you choose to purchase the .org extension from NameSilo.
Visit NameSilo

Conclusion
Bluehost charges higher renewal rates to its existing customers. It is also expensive because of the big brand name it has developed over the years.
So, as a cheaper and better alternative to Bluehost, Hostinger and NameSilo are my recommendations for web hosting and domain registration respectively.
In the end, I'd suggest you keep your hosting and domain registration separate. In such a case, it is much easier to migrate your website to a new host in the future, if and when the need arises.
If you have any further questions, ask them in the comment section and I'll be more than happy to address them as well.
FAQ
Why are Bluehost domain renewals so much more expensive than GoDaddy?
GoDaddy is the largest domain registrar in the world with over 84 million domain names registered with them. It focuses on domain reselling more than its hosting services, unlike Bluehost.
So, GoDaddy can get bulk discounts when purchasing domains that it passes on to its customers like us. That is why GoDaddy domain renewals are cheaper than Bluehost.
Why is Bluehost WordPress more expensive than Bluehost WooCommerce?
Bluehost WordPress is not as expensive as Bluehost WooCommerce. Only the highest WordPress plan is costlier than the lowest WooCommerce plan with Bluehost. It is because the largest WP hosting plan from Bluehost comes with a lot of features suitable for high-traffic business websites and blogs.
Why is Bluehost cheap?
Bluehost is not cheap overall, only its initial hosting costs are low. The host follows a cheap marketing strategy of attracting more customers with insanely low prices in the beginning.
Later, the plan renewal costs are substantially increased at the end of the initial hosting term.
So, Bluehost might appear cheap to some people because of its low initial plan prices but it is expensive for a website owner in the long run.