If you recently bought your domain name from Namecheap, you must have noticed a recommended subscription option of Premium DNS offered by the host. It guarantees 100% server uptime along with many other benefits.
Being a user of Namecheap, I know the ins and outs of the services offered by the company. Through this article, I'm sharing my viewpoint about Namecheap Premium DNS based on my personal experience.
If you are looking for a short answer to the question of whether Namecheap Premium DNS is worth it or not, the answer is a big NO.
Let's find out more about Namecheap Premium DNS in this review.
What is Namecheap Premium DNS?
Namecheap Premium DNS is a service that helps in the prevention of dropped queries due to any kind of DNS problems. It improves your website loading speed, closes security gaps, and provides security to your domain from hacking attempts.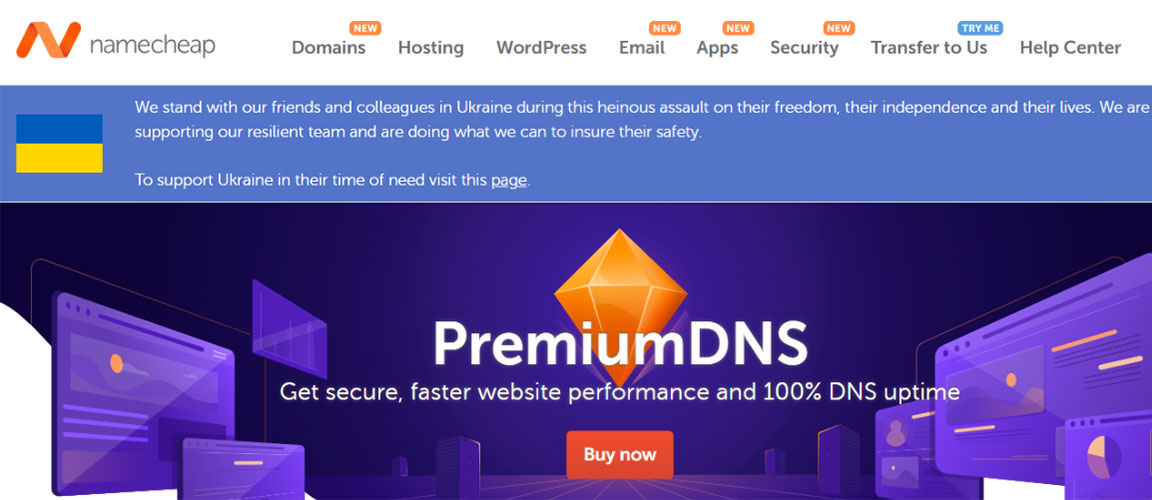 How does the Namecheap Premium DNS work?
Namecheap Premium DNS uses a global Anycast network of servers to handle loads of queries simultaneously. Your DNS information is spread across this network and a query is completed from the server that is geographically located nearest to your visitor.
In this way, the Premium DNS responds to DNS queries extremely fast, thereby improving your website speed. It also prevents website downtime because when the closest server fails, the next closest can respond to the query made by your visitor.

DNS is a prime target for Distributed Denial of Service (DDoS) attacks but a global Anycast network helps in the prevention of such attacks on your website. Only a significantly larger attack can bring down the entire system when DNS information is stored on such a widely spread global network.
Is Namecheap DNS fast?
Yes, Namecheap DNS is fast and helps you improve your website speed by reducing the time to respond to the queries by several milliseconds.
It is, however, worthwhile to mention here that the response time of your server is not controlled by the Premium DNS. The Namecheap DNS will bring the query to your server and deliver the response to your visitor.
Whatever happens in between depends completely on your server and website optimization.
TIP:
Along with using the Premium DNS service, it is important to optimize the speed of your website so that your server can handle a higher number of queries quickly.
Pros and Cons of Premium DNS by Namecheap
Before discussing the pros and cons of Namecheap Premium DNS, let us compare it with the DNS services offered by other companies. Here is an image that compares the pricing and features of the Namecheap DNS with the DNS of four other providers:

The above image clearly shows that Namecheap Premium DNS offers better value when compared with other top DNS services.
Pros of Premium DNS
Let us now look at the pros of Namecheap DNS in detail here:
Provides DDoS protection
Namecheap Premium DNS offers high-level security from Distributed Denial of Service (DDoS) attacks. The host distributes your DNS information on more than 30 Anycast servers to re-route your website traffic to a different node when the need arises.
The DDoS protection offered by the Namecheap DNS mitigates Internet Layer 1-4 DNS attacks. It protects from both DNS DDoS Flood and DDoS Amplification attacks.
Offers 100% uptime
Namecheap Premium DNS ensures to keep your website up and running all the time. It offers a 100% DNS uptime guarantee with a Service Level Agreement (SLA).
The host achieves this through its global Anycast servers and has collaborated with the market leader, Neustar Security to provide you with an uninterrupted connection. So there aren't any risks of outages or service disruptions.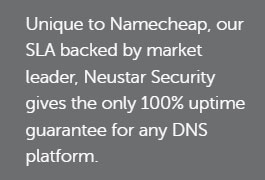 Comes with DNSSEC
Namecheap Premium DNS comes with Domain Name System Security Extensions (DNSSEC) that protect your DNS layer from fake traffic. It ensures to prevent your visitors' data from hackers and combats DNS attacks.
Prevents website spoofing
The Premium DNS offered by Namecheap prevents an attacker from spoofing your website and impacting your visitor count. DNSSEC secures server queries and prevents your website from being redirected to another fake website.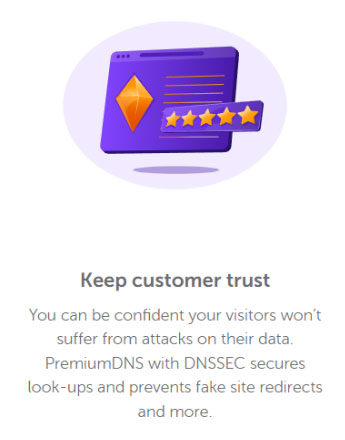 Easy-to-use dashboard
Namecheap Premium DNS comes with an easy-to-use DNS zones management dashboard. It allows you to easily create new zones and manage the existing ones.
Improves website loading time
The Anycast network used by Namecheap improves your website loading time. It connects your website visitors to the closest server location to provide them with a faster response.
Cons of Premium DNS
Along with the benefits listed above, Namecheap DNS has some inherent shortcomings which are listed hereunder:
Limited DDoS protection
Namecheap Premium DNS does not offer any protection from DDoS attacks on the end-server level i.e. the server that hosts your website. It does not work on the IP level so it cannot protect your website from an attack if it is hosted elsewhere.
Limited availability of DNS security
Though Namecheap offers DNSSEC for all domains hosted on its platform, the service is not available for the domains hosted on third-party platforms. So you won't be able to enable DNSSEC under Namecheap Premium DNS settings when using a third-party domain.
No automatic changes to IP address
Namecheap Premium DNS is unable to update your IP address automatically. So if your hosting provider makes any changes to your IP address, you will have to update your IP manually under the Namecheap Premium DNS settings.
Cannot import DNS zone file
Namecheap Premium DNS is unable to import the DNS zone file when you point your Namecheap domain to a different server. You will have to manually add all the DNS records when importing them to the Namecheap DNS.
Problems with Namecheap DNS control panel
Many Namecheap users experience difficulties operating the DNS control panel. They also complain about the complications involved in the DNS setup.
Comes at a price
DNS management and its security are very basic services that are available for free with other top companies like Cloudflare. But you will have to pay a price for Namecheap Premium DNS, so it is an unnecessary expenditure.
Is Namecheap Premium DNS worth it?
No, Namecheap Premium DNS is not worth it. Paid DNS with web hosting providers can largely be called a marketing tactic. So Premium DNS is not necessary at all.
If you are not sure whether you need this DNS service, then it is likely that it won't be worth it for you. In such a case, it is better to choose a DNS provider who specializes in this service against a hosting provider or domain registrar providing it as an add-on.
Is it any Good?
Namecheap Premium DNS does the job it promises and nothing more than that. You can count on Namecheap services for sure.
But, as mentioned above, Premium DNS from Namecheap has many shortcomings and the host's support staff also mentions them in the following screenshots: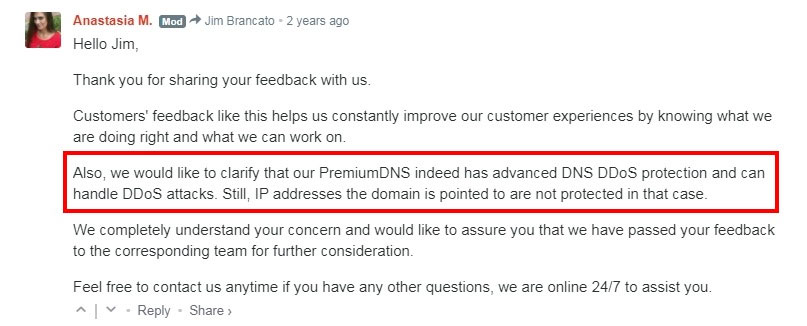 As seen in the images above, Namecheap does not guarantee DDoS protection for websites hosted on a third-party platform. It does not assure you of your website uptime either.
So if you go for Namecheap Premium DNS, you will have to manage these aspects on your own.
Alternative to Namecheap DNS
The best alternative to Namecheap Premium DNS is Cloudflare DNS. It offers excellent value since it has all the features to manage and protect your DNS data, and is available for free.
I shifted from Namecheap to Cloudflare free tier and found out that the number of options available is overwhelming. But I received much more DNS features than the ones available with Namecheap Premium DNS and, that too, for free!
Cloudflare is among some of the top fast DNS providers and offers DDoS protection as well. Unlike the protection offered by Namecheap Premium DNS, Cloudflare offers complete DDoS protection for your website, no matter where it is hosted.
Cloudflare DNS acts as a security layer for your website to protect it from all types of outside threats before they reach your web server. So, in my opinion, it offers the best value if you are looking for security and speed.
NOTE: You can use a third-party DNS service even if your domain is registered with Namecheap. So you don't need to worry about shifting your domain if you want to try out any other DNS for your domain.
When to use a third-party Premium DNS?
You can go for a third-party Premium DNS in the following cases:
When you have a commercial or a large website, using a Premium DNS will ensure its safety and constant availability to your customers/visitors.
When you have a critical application and cannot do with even 99.8% uptime, a Premium DNS can ensure super-fast name-to-IP conversion and 100% availability.
Personal Opinion: One should NOT be charged for basic services such as DNSSEC. Cloudflare offers the same functionality and even more with its free tier.
Concluding on Namecheap Premium DNS Review
Namecheap Premium DNS does not offer much value for your money. So shifting or upgrading to the Premium DNS is not at all necessary if you are currently satisfied with the DNS you are using.
If you are constantly experiencing massive DNS attacks on your Namecheap domain, you must know that the registrar receives the highest number of attacks in the world. Here is a screenshot that shows this ranking:
Though I haven't experienced any such issues, if I do I'd go for a third-party service from a specialized DNS provider.
FAQ (Frequently Asked Questions)
📌 Is Premium DNS free on Namecheap?
No, it comes at a fixed annual cost which is discounted for the initial term.
📌 Is Namecheap Premium DNS good?
Premium DNS is an average product offered by Namecheap. This paid service offers the reliability and security that you can get for free with Cloudflare.
📌 Does Namecheap have DDoS protection?
Yes, Namecheap Premium DNS offers protection from DDoS attacks by distributing your DNS information on more than 30 Anycast servers around the world.
But it cannot offer any DDoS protection if your website is hosted elsewhere since it doesn't work on the IP level and cannot prevent attacks targeted at the end-server hosting your website.
📌 Namecheap Basic DNS vs Premium DNS: What's the difference?
Namecheap Premium DNS offers better security, faster performance, and better reliability than Namecheap Basic DNS since the latter does not use the Anycast network.
📌 How much is Premium DNS on Namecheap?
Namecheap offers Premium DNS at an annual cost of $4.88 initially. The renewal cost of Namecheap Premium DNS is $9.98 per year.